Chrome OS is a relatively new operating system. А lot of hardware and software are still not fully compatible with it. So don't rush to buy a new laptop when you find out that your Chromebook won't turn on — in most cases, this issue can be quickly solved at home. We have gathered a full list of possible solutions in one place.
Before we start
Save your time and let professionals resolve your issue in minutes!
Want to start solving your problem immediately? Experienced Howly troubleshooters can fix your issue ASAP. They're already waiting for you in the chat!
The benefits you'll get while troubleshooting your issue with Howly experts:
Qualified help with laptops HDD

Quick advice right in your device 24/7/365

Expert reply within 60 seconds

Clear step-by-step guidance

Limitless number of follow-up questions

Understanding and empathetic help till your laptop HDD issue is fully resolved

All answers you need in one place
Why ASUS laptop won't turn on: possible causes
There are a few different reasons for this issue. You can troubleshoot most of them at home — just keep this article near you. There are three main groups of reasons why the ASUS Chromebook won't turn on:
hardware issues (internal and external);
charger problems;
software bugs.
Before going to the service center, try to fix these issues at home. In most cases, you can fix it at home. It will save you a lot of money (more than $100) just by not going to the repair center. So, check out our recommendations on how to turn on an ASUS Chromebook and use them to solve your issue.
ASUS Chromebook Troubleshooting: 10 steps to fix your laptop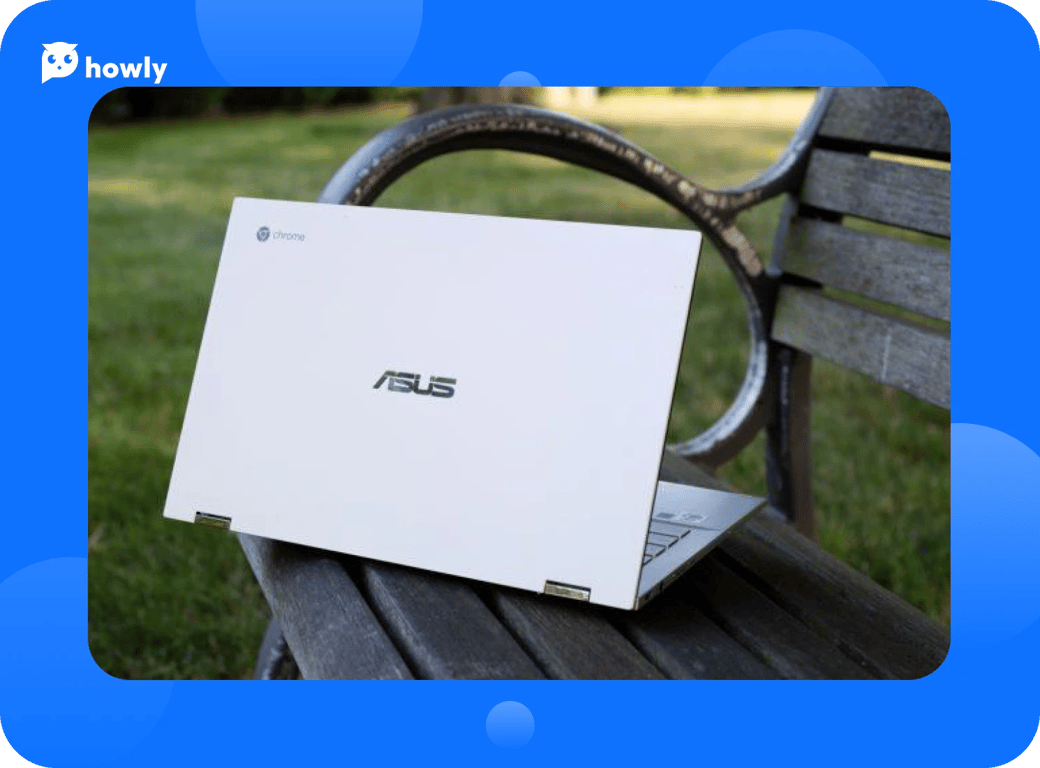 First of all, check the device for obvious reasons: swollen battery, broken charging cord, overheating, and incorrect brightness settings.  Check for external hardware issues: reconnect all third-party devices and connect them one by one to find a possible source of the issue.
If those steps don't help you, consider software measures. Delete freshly installed apps, update the system, and re-login to your Google Account. The next step of the troubleshooting process is the factory reset. It deletes all data and settings from this PC. If this didn't help you, the laptop has a hardware issue.
Swollen battery
Examine the device. The laptop has a swollen battery if it's bulging somewhere in the Chromebook body (most commonly in the keyboard section). The only way to turn on an ASUS Chromebook is to change it to a brand-new one.
Don't try to replace a swelling battery, if you don't have enough skills. Go to the nearest computer service center instead. But if you are confident in your skills, contact Howly expert to get a personalized step-by-step guide. Each laptop is different, so it would be better to have instructions that are tailored to your device.
Check out if your Chromebook can charge or not. If the laptop battery doesn't get higher than 1%, that means your battery is dead, and you need to change it to the new one.
No charging light
Plug the power cord into the socket and the notebook. Check if it has a charging light near the charging port. If the indicator is not on — there may be a problem with the charger. Also, check the indicator's color — it may vary. The most popular color meanings are in the sheet down below:
Plug the power cord into the socket and the notebook. Check if it has a charging light near the charging port. If the indicator is not on — there may be a problem with the charger. Also, check the indicator's color — it may vary. The most popular color meanings are in the sheet down below.
Color of the indicator and it's meaning:
Slowly flickering orange - the laptop is in sleep mode.
Solid orange - the laptop has less than 20% of battery power.
Solid blue - the Chromebook is working, and it has a lot of battery power.
Solid blue and orange - the laptop is charging.
No lights - the battery doesn't have any power.
If your ASUS Chromebook is not charging, connect it to a new suitable charging cable. After you do this:
Leave your laptop for 30 minutes or more, and turn it on again after.
If this doesn't help — try to move the charger from side to side while it is still in the socket to find out whether your laptop "sees" this charger. If some lights turn on, maybe the problem is in your charger port. Take your laptop to the service center.
If no lights on your laptop turn on, proceed to the next step.
Damaged charging cable
Have you noticed that your laptop is charging only when you hold the cord in an odd way? If so, your laptop has a problem with the power cable. It may be a reason why the new ASUS Chromebook won't turn on.
You can try to fix it if you have fine repair and electrician skills. But if you are unsure, go to the nearest service station. A certified professional will repair the cord within minutes.
Device overheating
If there are no active indicators when you try to turn on the Asus Chromebook, but the device is hot — it may be overheating, and that's the reason why your laptop won't boot.
Turn off the laptop and take it to a cool place for at least 15-20 minutes. It will be perfect if you leave the PC deactivated for 1-1,5 hours. During this period, your Chromebook will cool down to room temperature if it's too hot.
If it boots after this — it was an ordinary overheating. Avoid placing it on soft surfaces, such as beds and cushions.
Dust inside the charging port
If you work at a dusty place, check the charging port. It may be clogged:
Turn on the hairdryer at its minimum power and coldest temperature.
Direct the airflow from the hairdryer to the charge port for 10-20 seconds. It will be enough to remove the dust.
Warning: Don't try to use your hairdryer at middle and maximum power and hot temperature. It can damage the laptop
Brightness settings
Check the brightness settings of your screen. It just may be dim. Many users accidentally set brightness to the minimum level.
If the brightness of your screen is 0-10%, your display may look as if it shut off completely, but other parts of the system work normally. It's one of the most popular cases on forums when people ask why their ASUS Chromebook won't turn on but the power light is on.  Change the settings and set the laptop in a location with soft lightning.
External hardware issues
If you have external devices connected to the laptop, unplug all wired and wireless gadgets from it. Sometimes devices may interfere with the booting process. It can be a reason why ASUS Chromebook is not turning on.
Then, launch your Chromebook. If it boots up — one of the external devices was the "criminal". Reconnect devices one by one to see which was the issue source. Reset the settings of the glitching device. If this doesn't help, buy new external hardware.
But if the Chromebook still refuses to turn on, don't connect other devices to it. Continue to troubleshoot Chromebook with software measures.
Delete freshly installed apps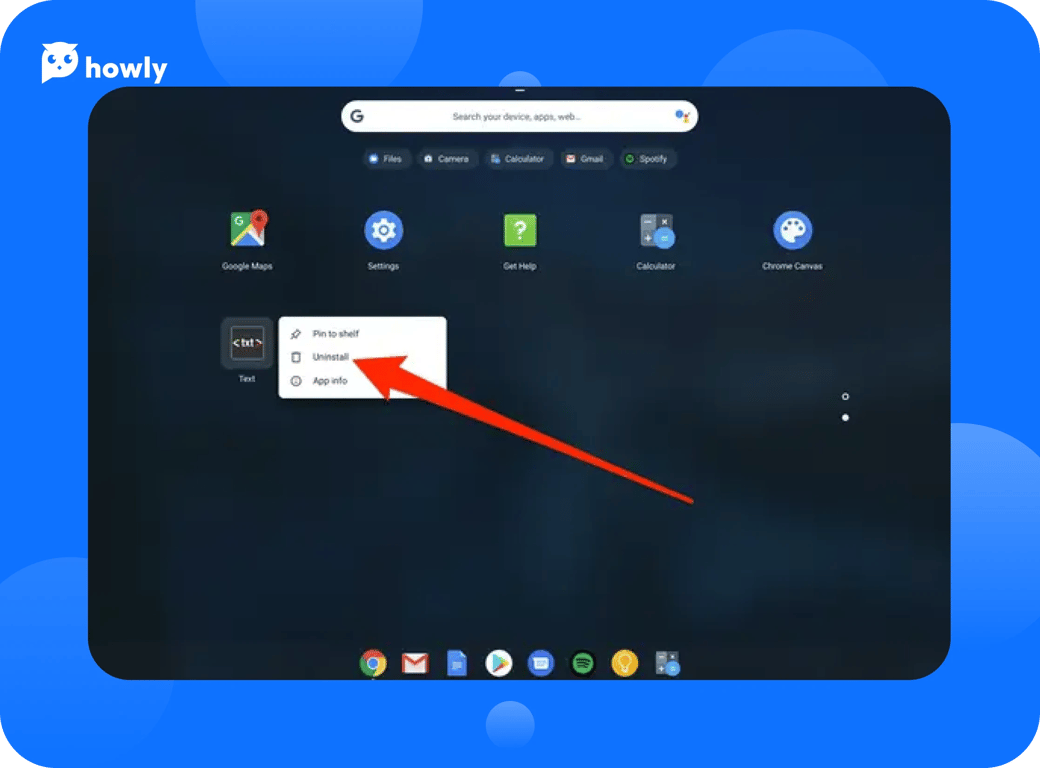 Sometimes, freshly installed apps may cause system glitches. Delete them, to check if it's your case. Here is the instruction on how to do it properly:
Tap on the Launcher. It's the big circle on the bottom left corner of your screen.
Click on the arrow. It helps you to view all apps installed on your current Chromebook.
Right-click on the app you want to delete. If you don't have a mouse — tap the trackpad with two fingers.
Сhoose Remove from Chrome or Uninstall in the drop-down menu.
Tap Remove to confirm your intentions.
Update the system
It's another common reason for Chromebook glitches. Some of your apps may require a new system version while you still work on the old one. That may cause many bugs and issues.
Go to Settings.
Open About Chrome OS.
Tap Update the System.
Remember: You should be connected to the Internet during the whole process of upgrading. Otherwise, your PC won't be able to get new software from the manufacturer's cloud.
Re-login to Google Account
Incorrect syncing with your Google Account is another reason why your Chromebook won't turn on or can repeatedly crash. Sign out from your current account and re-enter again:
Go to the bottom right section of the screen.
Click on the Time.
Choose to Sign out.
After that, sign in to another account or create a new one.
Hard reset (software and hardware)
If all the mentioned above did not help, make a hard reset. It will clear all the data from the PC and back it to the original settings and version of the system. It will delete all personal data, including photos and videos. Check that you save important data to some third-party resource (flash drives, other HDD, or cloud storage).
When you'll are ready to reset your PC, follow these steps:
Sign out from the system.
Hold this combination: Ctrl + Alt + Shift + R.
Choose Restart. You will see a big box on your screen.
Tap Powerwash and Continue.
Follow the instructions.
Also, you may try to reset the hardware. Don't worry: if your data is on the Cloud, it won't affect it.
Follow these steps:
Turn off the Chromebook.
Hold the Refresh button + tap on the Power key.
When your laptop boots up, release the refresh button.
If you don't have a refresh key, check the official instructions from Chromebook Help Center.
If you see the "Operating System Not Found" message, you have a corrupted OS. To fix it, power off your laptop in an unusual way. Hold the Power button for 6-7 seconds until the device shuts down. Turn it back again. If this doesn't work, press the Refresh and Power keys until you see a login screen.
But what to do if the ASUS Chromebook won't charge even after the hard reset? It's a severe hardware issue. Contact the Howly expert to get a personalized hardware troubleshooter. It will save you a service fee.
F.A.Q.
What's the best way to cool down an ASUS Chromebook to prevent shutdowns?
If you want to keep your laptop at the optimal temperature, it's best to purchase a cooling stand. Choose a device according to your user experience. If you're using a laptop for gaming, opt for more powerful cooling pads with 4 or more fans.
Why won't my brand-new ASUS Chromebook turn on?
One of the reasons why your brand-new laptop may not turn on is mechanical damage during transportation. Also, your ASUS Chromebook may be running out of power. So connect the charging cable and try to start the device again.
What temperature does the processor need to reach for an ASUS Chromebook to turn off?
When your CPU reaches certain temperatures, the BIOS shuts down the laptop to protect it from burning. The exact maximum temperature is set in the BIOS settings. It usually ranges from 80 to 100 degrees Celsius.
Final thoughts
The first things you need to check are swollen battery, the cord, the device's temperature, and the screen's brightness. Unplug all external devices and reconnect them one by one.
Check the software if your Chromebook turns on but constantly freezes and crashes. Delete most recent apps, update the ChromeOS, and re-login from your Google Account. Factory reset the laptop. But if this doesn't help you, there may be a severe hardware issue. Contact Howly experts to get personalized instructions.