It happened to many of us that when restarting the phone or other actions with the SIM card, we had to enter the PIN code, but after entering the incorrect PIN code three times, the SIM card became unavailable. If this has happened to you for the first time, don't worry. You can unlock it with a PUK code.
Before we start
Save your time and let professionals resolve your issue in minutes!
Want to start solving your problem immediately? Experienced Howly troubleshooters can fix your issue ASAP. They're already waiting for you in the chat!
The benefits you'll get while troubleshooting your issue with Howly experts:
Qualified help with laptops HDD

Quick advice right in your device 24/7/365

Expert reply within 60 seconds

Clear step-by-step guidance

Limitless number of follow-up questions

Understanding and empathetic help till your laptop HDD issue is fully resolved

All answers you need in one place
PUK code is literally a personal unblocking key designed to reset the PIN code of a SIM card. Generally, the PUK code is given along with the SIM card and is written on a special plastic card from which you need to remove the SIM card.
After entering the incorrect PUK code ten times, the SIM card is blocked forever and must be replaced.
Qlink is an American company that provides mobile services through the Lifeline program. Lifeline is a federal program that provides access to mobile communications for subscribers.
So Qlink PUK code – is a code that subscribers of Qlink should enter when their phones are locked and require it.
So let's figure out where to find the PUK code and how to reset the PIN code without a Qlink PUK code.
Where to find the Qlink PUK Code?
So you are using a Qlink mobile provider, and your SIM card asks for a Qlink PUK Code. This could happen because of the following reasons:
PIN code entered incorrectly three times.
PUK code was required by the provider because the payment was overdue.
You are trying to use a SIM card of another carrier using a phone that was bought in connection to a different mobile phone provider and was locked to use only SIM cards of this company.
The mobile company blocked the phone due to the fact that it was allegedly stolen or lost.
If you bought a SIM card as a starter package, then the PUK code must be on the plastic card in which the SIM card was placed. By the way, the PIN code must also be written on this plastic card.
Find this plastic card and enter the PUK code correctly. After that, the PIN Code will be reset, and the next time you replace the SIM card or restart the phone, it will ask for the PIN code again.
If you want to independently change the SIM card to a SIM card of another mobile provider, then first contact the mobile provider that you previously had. You may need to buy a smartphone from this company before using it with another carrier or phone number.
What to do if the Qlink Wireless SIM card is not working?
Imagine you use a mobile provider Qlink Wireless, and your SIM card asks for a PUK code or is completely blocked and does not work. You need to contact Qlink Wireless support.
You can do this in three ways – write an email, call the hotline or send a letter.
Send an email
To do this, go to the official Qlink Wireless website to submit the form. You can use the link.
Next, you need to fill in your name, phone number, and email address, select the topic to which your question relates, and briefly describe your problem. After that, press the button Send Your Request.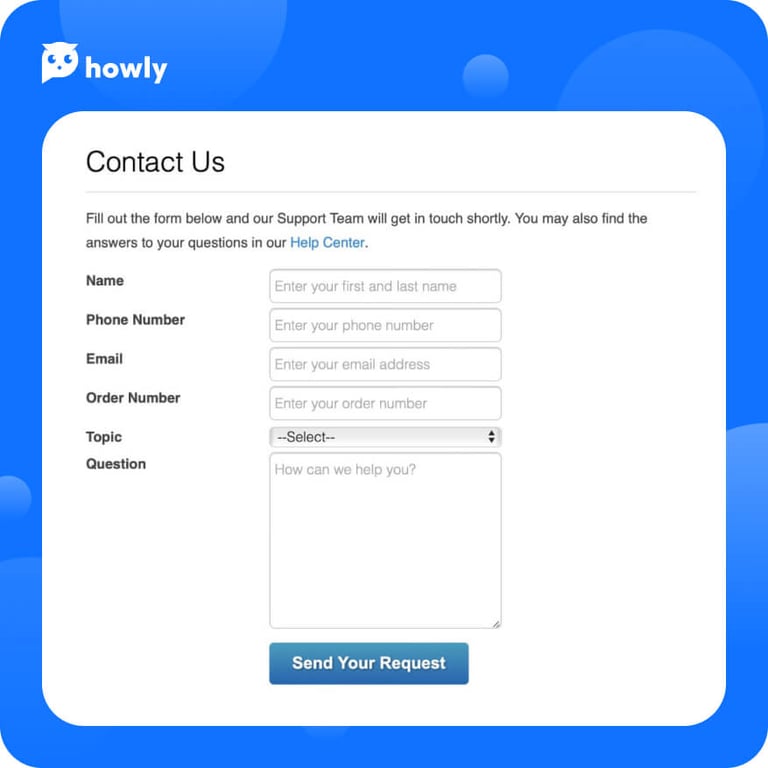 Then wait for a response to your email address. Support promises to send a response within 72 hours.
Contact the support by phone
Since your SIM card is blocked, try borrowing the phone to dial the number: 1-855-754-6543.
Then follow the voice prompts.
Notice:  Qlink Wireless Support is working Monday through Friday from 8:00 AM EST to 12:00 AM EST, and Saturday through Sunday: from 8:00 AM EST to 8:00 PM EST.
Send a mail
If you do not have an email address and there is no way to call the Qlink support service, you can send a letter. Just write your name and contact details and describe the reason or problem you need help with. Send a letter to the following address:
Q Link Wireless
499 E Sheridan St, Ste 200
Dania, Florida 33004
Summary
Then we sorted out the sum up in which cases the Qlink PUK code may be required. Following these instructions, you can easily unlock your SIM card and no longer be puzzled over the question, "Why is my Qlink sim card not working"?