In this modern age of advanced technologies, you'll hardly find someone who doesn't use a mobile phone. Indeed, people have no trouble living without a  smart TV or smartwatch, but spending at least a day without a phone proves to be almost impossible. The device is good for a variety of purposes. People use it for storing their personal data, playing games, watching movies, and most importantly, keeping in touch with the world and those they love. So, the quality of the network plays a crucial role as its signal affects the functionality of numerous smartphone features. But what is the preferred network type? And what type will fit you best? Let's figure it out.
Before we start
Save your time and let professionals resolve your issue in minutes!
Want to start solving your problem immediately? Experienced Howly troubleshooters can fix your issue ASAP. They're already waiting for you in the chat!
The benefits you'll get while troubleshooting your issue with Howly experts:
Qualified help with laptops HDD

Quick advice right in your device 24/7/365

Expert reply within 60 seconds

Clear step-by-step guidance

Limitless number of follow-up questions

Understanding and empathetic help till your laptop HDD issue is fully resolved

All answers you need in one place
What is preferred network type?
You don't believe that your smartphone provides you with an Internet signal using an antenna, do you? You stay connected thanks to the selected network mode. Internet technology has evolved greatly over the past 25 years. So now, you have an opportunity to enjoy the top-quality signal and go online even at the peak of the mountain or while hiking in the forest.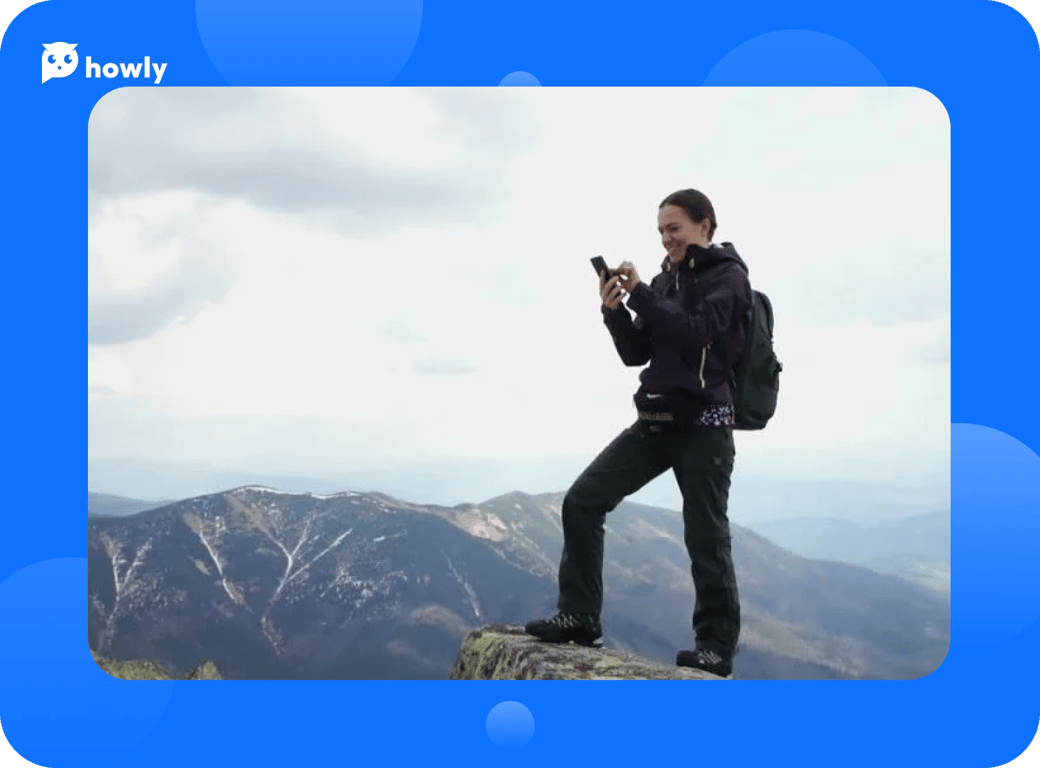 To puzzle out the essence of the preferred network, it's worth considering it from the perspective of its types. And this is when the difficulties typically begin and users come to Howly asking "what network mode should I use?" In general, there are three main network types, which we'll describe for you below. Each of them has its perks you should know about to make the right choice. It might even turn out that all of them are perfect for you. Explore their features to sort things out.
What network mode should my phone be on?
You can use the internet in a whole variety of ways. Understanding how each type of network works will help you stay online easily even when you're not at home and traditional Wi-Fi is unavailable to you right now. So which network mode is best?
LTE/GSM/UMTS
In some locations, GSM/UMTS may be the only available network to you. But what does it mean? The GSM network mode is the best option for those traveling abroad as it provides a relatively good signal globally using both 2G and 3G communication standards. Speaking about UMTS, it's a 3G network which works according to the universal protocol based on GSM. And what about LTE? This is perhaps the most popular network mode offering quality signal and high internet connection speed. Also, this cellular technology operates using 4G standards. LTE is the best network type for Android or iOS owners seeking the fastest online experience.
CDMA
The CDMA network is better suited to those willing to get a good signal in particular locations. Its protocols are used in 2G and 3G communication standards. Therefore, any time you're located in a hard-to-reach place and LTE is unavailable to you, it's better to opt for CDMA to ensure better signal quality.
Global
You can activate the WAN type to get the best signal possible wherever you are. By choosing this network mode, you can access any modern internet technology available in your location. What's more, the global network is rather intuitive. Thus, your smartphone won't disconnect completely but will make attempts to reconnect to any other available technology automatically and set the best possible network configuration for your device.
How to switch to the best-preferred network type?
If you've already selected the preferred network mode for your device but don't understand how to activate it, Howly is ready to provide you with easy steps to follow. Everything is simple no matter whether you are an owner of an Android or Apple phone. Let's explore the fastest ways to change the network manually on your device.
How to switch network on iPhone
iOS works pretty well with any network. However, you still can change the iPhone network mode according to your needs and location. Here are your steps:
Access Settings -> open the Cellular section -> pick Cellular data options.
Hit the preferred option (Voice & Data or Data Only).
Choose the best network mode which fits your needs.
How to switch networks on Android
Switching networks on Android is just as easy as on iPhone. How to do it quickly? Howly offers just a few steps to change the Android network mode:
Access Settings and hit SIM card & Mobile Networks.
Tap your SIM card at the top of the screen.
Hit Network Mode and select the preferred network type for your device.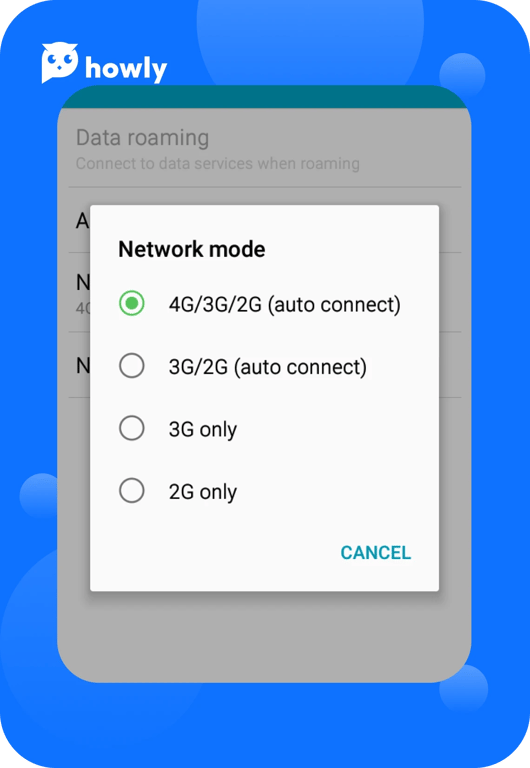 Change 2G to 3G to 4G LTE only network mode in Android Phone via USSD code
This is another handy option to change networks on your Android. The point is that the code *#*#4636#*#* resets preferred network type, allowing you to get a better signal. It's easy to use the code:
Open the Phone app and dial *#*#4636#*#* (also, the codes "##626*" and "##786#" may work for your Android).
Pick Phone Information from the list.
Scroll down to Set Network Type.
Pick the Android preferred network type you'd like to use.
Keep these instructions in mind since they will help you to ensure a better network signal on your iOS or Android device. All the guidelines are easy and quick and provide you with an opportunity to select the preferred Verizon or another network mode whenever you want.
F.A.Q.
What is the best-preferred network type for 4G?
While 5G technology is gaining in popularity, 4G is still the preferred global network type. And 4G is divided into two types - LTE and HSPA+. If you are seeking a faster network solution, it's better to opt for LTE since its speed reaches 300Mbps.
Why can't I set the preferred network type on my iPad and connect to LTE?
The reason may lie in a system glitch, so try restarting your iPad. After that, ensure your carrier is set correctly. Access Settings -> tap General -> choose About -> pick Locate the Carrier.
How to change the Android preferred network type on my Redmi Note 11?
The procedure is easy. To set the preferred Android network mode on your Xiaomi phone, access Settings -> choose SIM card and mobile network -> hit your SIM -> pick Preferred network type -> select the desired mode.
Conclusion
What should my preferred network mode be? Only you can determine which mode will fit your needs. If you use the internet just to text friends but not to watch movies or play online, a simple 2G or 3G network may serve you well. And it's worth selecting a 4G network type if you're an active internet user and need the best possible signal. Anyway, it's always a good idea to talk with professionals. Indeed, Howly experts will help you determine the best network type for your device taking into account various external factors. Have questions on the issue? Ask them to Howly and resolve your problem immediately!