Starting from iPhone 7, Apple's phones received protection according to the IP67 standard, which should make this and further models water-resistant and provide painless short-term water protection. However, Apple does not exclude the possibility of liquid (in most cases fresh or salty water, sometimes juice, etc.) getting into the device after a year of operation and disclaims responsibility for possible consequences. Legally this means that if your iPhone got wet and started malfunctioning, you should not count on warranty repairs.
Before we start
Save your time and let professionals resolve your issue in minutes!
Want to start solving your problem immediately? Experienced Howly troubleshooters can fix your issue ASAP. They're already waiting for you in the chat!
The benefits you'll get while troubleshooting your issue with Howly experts:
Qualified help with laptops HDD

Quick advice right in your device 24/7/365

Expert reply within 60 seconds

Clear step-by-step guidance

Limitless number of follow-up questions

Understanding and empathetic help till your laptop HDD issue is fully resolved

All answers you need in one place
But even when they introduced the IP68 standard of protection in later models (Xs and further), they are not always secure from water penetration. So we are giving some useful advice on how to act with your water-damaged iPhone and will bust some myths on that matter.
Keep reading this article to find out:
Why can water damage happen to an iPhone.
What an iPhone water damage looks like and why it is a bad thing.
What to do if you exposed your iPhone to water.
Useless (and harmful) iPhone water damage myths.
How to avoid the water damage.
Liquid Damage Happens When You Least Expect It
During Apple events and presentations, we keep hearing that the new iPhones starting from iPhone 7 and later, all have water protection and are not afraid of getting exposed to liquid. So we may get surprised if we drop the device into a bathroom for a split second, only to take it out already water damaged. When this happens unexpectedly (which is almost always the case) we may get lost and not know what to do to keep the phone functioning. Let us get prepared for this unpleasant situation.
What Does iPhone Water Damage Look Like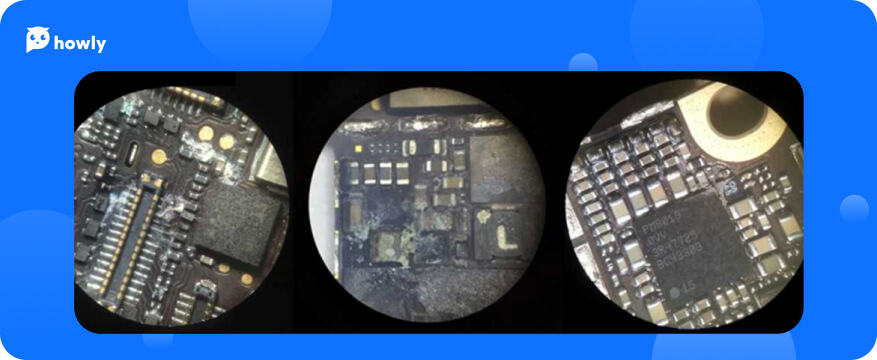 What happens to the insides of the iPhone, its motherboard at the moment when moisture gets inside the device? Apple uses lead-free soldering in its devices.  This means that all soldered elements are extremely corrosive. Apple claims they use such materials in accordance with the international standards, but the fact remains that iPhones' boards, cables, etc. are highly susceptible to destruction under even slightly aggressive environments (which water definitely is in this case). When the phone is operational its SMD components and Microcircuits are under voltage. So, when the slightest drops of water get into the system a series of short circuits happen, causing rapid oxidization of these components and, as the result – the failure of electronics. That is why if any contact with liquid has occurred, it is important to clean your device from any moisture as soon as possible.
Emergency! I Just Dropped My iPhone In Water. What Should I Do?
Immediately after you take your device out of the water, do the following steps quickly:
Shake the remnants of water out of all ports and slots of your iPhone. Wipe the device from liquid.
Turn off your iPhone. With this action, you will reduce the system board load.
It is extremely important to not connect the phone to the charger and STOP charging your device immediately, if you started before reading this article.
Contact our specialist for assistance as soon as possible. In case the water got inside the phone, the only way to stop corrosion will to disconnect the battery from the board and clean it with a special composition that removes oxidation. Our specialists will advise on how to safely remove water from iPhone screen and other parts.
The situation gets aggravated if the phone fell into salty water, most commonly into the sea. But even in such situation there will be ways to handle it.
What To Do When Your iPhone Gets Water-Damaged
If you did all the steps listed just above and yet you see that your device is hurt by water, you can still try to fix water damaged iPhone screen. Do not open the SIM card slot for at least the next six hours. It is advisable to turn off the device for a while. Once these steps are done, you may contact our specialists to help with further actions or help you find the nearest trusted workshop.
What You Shouldn't Do: Water Damage Myths
The Internet is full of various articles with tips on what one can do to fix a water-damaged iPhone 11 (or any other model for that matter), how to dry it at home. To be honest, for the most part, the advice found in such articles are misconceptions that do not help but only waste valuable time. Time is important as if you delay the correct treatment, corrosion will destroy even more elements of your damaged device.
The iPhone 'porridge'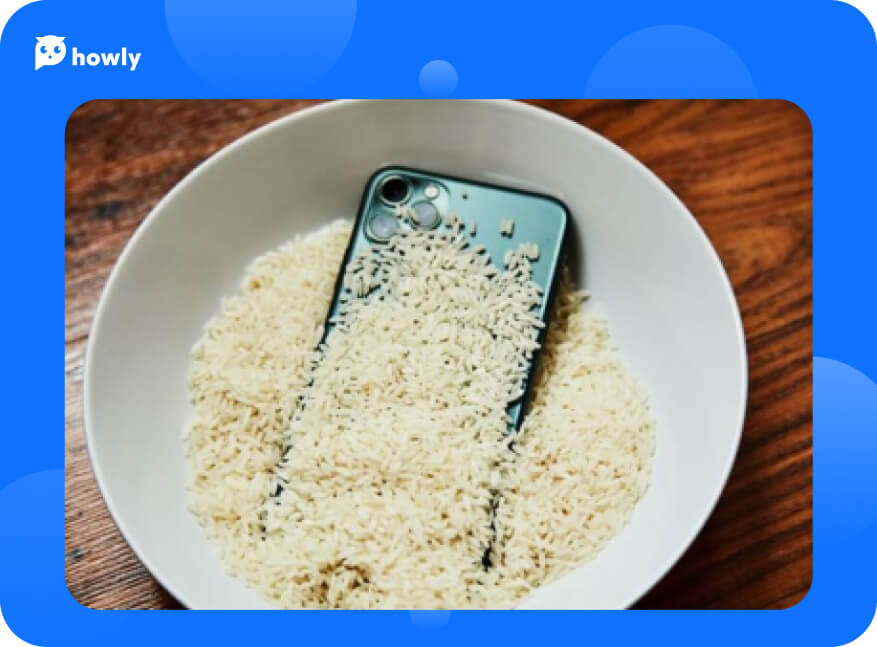 The most common "harmful" advice is to put your phone in raw rice. We have no doubt that most of our readers can cook pretty well, but you should not cook such an exotic dish. Because although rice is highly hygroscopic, it cannot help dry the smallest gaps between the microcircuits, where the liquid can easily penetrate. Such an approach will not repair the device, but may instead cause more trouble.
Apple's iPhone 'juice'
One will also encounter the advice to put a wet device into a pack of dried fruit (we saw an article that claimed such dried fruits should definitely be dried apples). It was an important condition that the device must previously be dropped into salty water and not into fresh water. Now, this may be a joke the authors of that article can understand, but we are positive some people will take it seriously and waste some precious time trying to fix water-damaged iPhone x, xs, 11, 12, or later models. Your question may be how to fix a water-damaged iPhone 6 which is an older model and does not even have the weak IP67 standard protection. Well, the actions with this model are similar to any other water-exposed iPhone.
Drying the screen with how air
Another myth is that it is enough to dry your wet gadget with a hairdryer or put it on a battery. Of course, this will contribute to the evaporation of moisture from the screen, open slots, possibly from the Simcard holder. Yet, hot air will not get inside the phone, so the process of 'drying' will be so slow that important time will be lost and the insides of your device can start rotting. Plus, using a hairdryer or other heating devices can easily damage the electronic components or the display of the phone.
F.A.Q.
Can a water-resistant iPhone be damaged by water?
If you have an iPhone 12, it's actually pretty well protected from liquids. But don't rush to take a bath with your device! The iPhone 12 can withstand water for up to 30 minutes at a depth of up to 19.6 feet.
What to do if I just dropped my iPhone in the water?
The first thing to remember is that you shouldn't charge your iPhone after you've dropped it in the water. It's better to leave the device in a well-ventilated place and let it dry. Wait at least 6 hours before charging your iPhone. If your device was turned off after the incident, do not turn it on.
Can water damage my iPhone screen?
Small drops of water don't harm the iPhone screen. But this cannot be said about serious water damage that may cause a dark or dim screen. Things are even worse if your phone is cracked.
Conclusion
As you can see getting an iPhone water-damaged is bad and should definitely avoid. So here is some advice on how to do it.
The most common cause of falls is sweaty hands. As body of the device is metal and glass it can get slippery very quickly if you use your iPhone without a case. So it may be a good idea to get one.
Avoid putting your smartphone on the table while eating. Firstly, one can knock it off the table with a random movement. Secondly, the probability of flooding it with food or drinks is pretty high. Or knock off the table with a random movement.