iPhone photos that are made in dim environments can hide unpleasant details, such as red-eye and pixel noise. It's almost impossible to remove noise without interrupting a picture's quality. But it's achievable to remove a red eye.
This effect can sometimes be too noticeable, making the subject in the photo look strange. However, the issue is easily solved using standard applications. Thanks to the ultimate guide from Howly experts you will get handy solutions on how to remove the red eye on the iPhone. Stick to our directions to find what fits you most.
Removing red eyes on iPhone's Photo app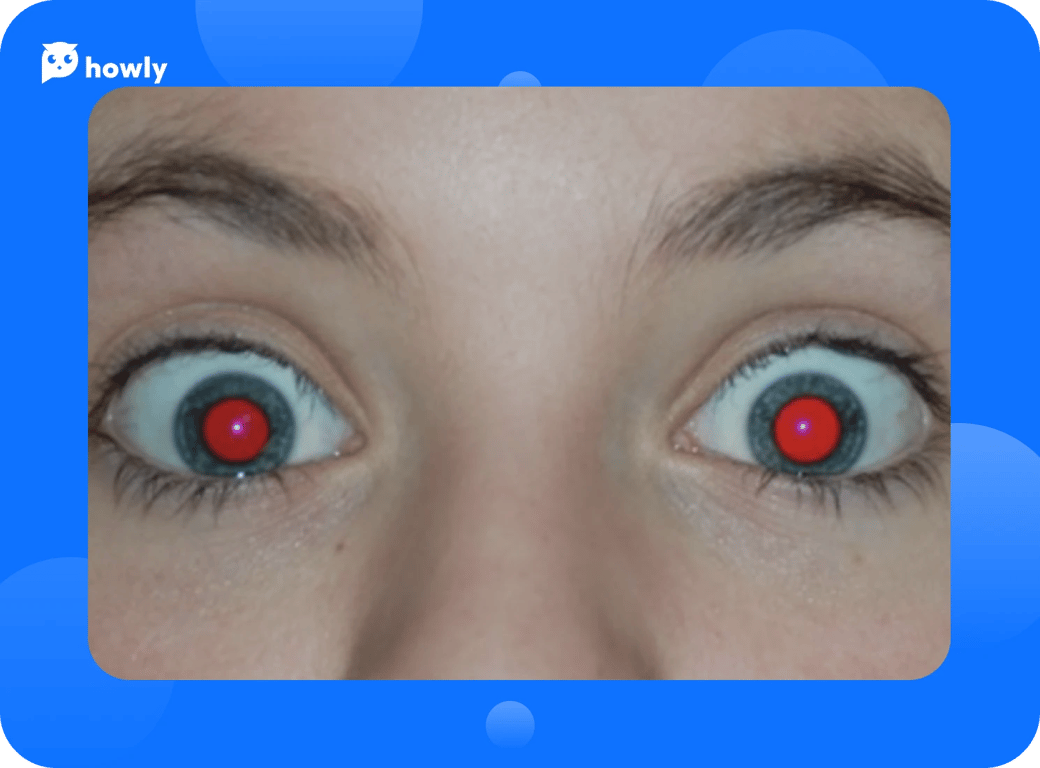 There are several reasons why people or animals get red eyes on an iPhone:
Enabled flash. It's common to caught under this effect when you shoot a photo in a dark environment. This can be explained by the fact that the human fundus is red: the rays that hit the eye are reflected, and we can see this red color in the photo.
The subject is looking directly at the phone. When looking directly into the camera, more light enters the eye, which is then reflected. And it can lead to the "iPhone's red eye" case.
To fix the red eyes on your already-done image, you can use built-in functions on your iPhone. You don't even need to install different apps. Here is how you can remove a red eye on the iPhone:
Select the photo that you have taken with a flash.
Tap on the Edit.
Tap on the icon to launch the "anti-red" feature.
Tap on the eyes that you want to edit with this tool.
Save your changes.
You can get rid of red eye iPhone only with pictures that have been shot on the relatively modern iPhone (7 and later) with enabled flash. In other cases, consider third-party apps to terminate this defect.
Correcting red eyes through specialized apps
If the app doesn't help to fix a red eye on the iPhone, people usually write about it. Try to look at several options, and don't stop at one to find out the best option for you.
Snow. Use this app if you need more than just a red-eye correction on the iPhone. This application has various useful features and can change your facial features. You can use this app to remove a red eye on Android.
Quick Remove: Red Eye Corrector. The great thing about this app is that it will give you the most natural adjustment result. The program has built-in AI, so it automatically fixes the red eye on the iPhone. So you don't even need to touch the screen.
Photoshop Express. The classic solution can smooth skin and fix red eyes on Android and iPhones. The mobile tool accurately selects areas for adjustment.
Snapseed. An ultimate mobile editor from Google developers. It can whiten teeth, remove acne and wrinkles and get rid of red eyes on iPhone.
In most apps from this list, you can save a new version with an edited red eye on the iPhone as a copy. It means that you still have the original files on your device.
How to revert the red-eye image to the original on iPhone
You may not like the result after editing the red eye on the iPhone, or you may want to try enhancing the picture in a different application. To bring back the original image, tap on the Revert option in edit mode. This feature is also useful if you have applied multiple filters and want to remove them all. After completing this step, your photo will take on its original look.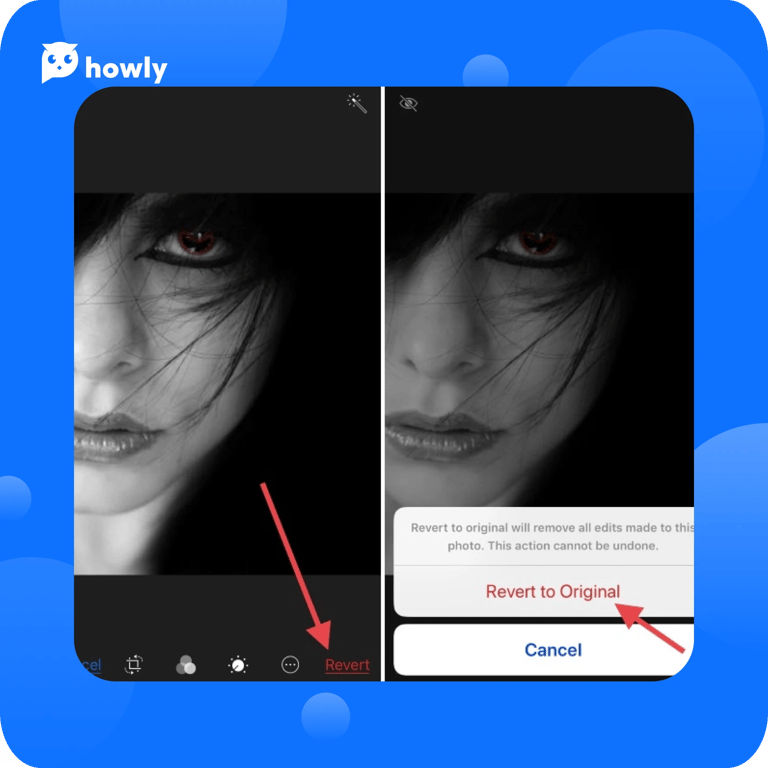 How to avoid red-eye photos
In order not to get the red-eye in the photo beforehand, adhere to the following points:
Don't look directly at the camera. It is best to take a photo of the object so that it is standing in profile or slightly turning its head to the side. With this position, their eyes are unlikely to change appearance. So you don't need to launch an iPhone red eye removal procedure.
Choose a well-lit room. Flash enables automatically in dim environments. So the most effortless way to fix a red eye is to not let it happen in the first place.
F.A.Q.
Is it possible to remove the red eye on an iPhone without external tools?
Yes, if you shoot a photo on iPhone with an enabled flash. Open a shot in the Photo application and tap on Edit. Select an icon with the cross-out eye to correct the red-eye on the iPhone within seconds.
How to edit red eye on iPhone?
If you take a photo on iPhone with enabled Flash, you can edit it in the Photo app. In other cases, you should use external tools. They will help you to fix a red-eye on an iPhone.
Does red eye correction work on animals?
Not always. If you photograph animals, the red-eye effect may be a different color. Red-eye correction only works on red.
Conclusion
In our short guide, we told you about the main reasons and several ways to edit red eyes on iPhone. If you still have something to ask, contact Howly experts. We will give you detailed guidelines on red-eye removal on iPhone, which perfectly suits your situation. You can also ask us any tech-related questions, even about hardware parts. We will quickly solve your problem.