Even the best iPad sometimes needs a restart. There can be various reasons for this action: software bugs, troubles with freshly installed apps, or the necessity to sell your device. But you can quickly solve this puzzle if you know how to reboot the iPad Pro quickly and easily. We at Howly have gathered all ways to restart this model of Apple tablet, so you can find an option suitable for your situation.
Before we start
Save your time and let professionals resolve your issue in minutes!
Want to start solving your problem immediately? Experienced Howly troubleshooters can fix your issue ASAP. They're already waiting for you in the chat!
The benefits you'll get while troubleshooting your issue with Howly experts:
Qualified help with laptops HDD

Quick advice right in your device 24/7/365

Expert reply within 60 seconds

Clear step-by-step guidance

Limitless number of follow-up questions

Understanding and empathetic help till your laptop HDD issue is fully resolved

All answers you need in one place
Force restart your iPad Pro
The force restart (or soft reboot) is an action where you remove temporary files from the tablet's memory. Apps, settings, and personal files stay untouched. iPad Pro doesn't have a physical Home button, so the reboot algorithm is different from the usual one. Here is your instruction on how to reboot the iPad Pro this way:
Press and release Volume Up. Right after this, press Volume Down and release it after 1-3 seconds.
Hold Power until you see the Apple logo.
Wait until your tablet boots.
Note that temporary files often help tablets boot faster. So it could take more time to start after a force restart. Usually, the booting process takes up to 1-2 minutes.
But if this action still doesn't help you fix the glitches, consider a hard (factory) reset. You should also make a factory reboot if you want to sell the device. This action removes all information from your iPad, including iCloud. So the next owner will be able to set up the system for their own needs.
Back up your iPad Pro with iCloud before the factory reset
We recommend you back up all important data before the factory reboot of the iPad Pro. The easiest way to do this is to use Apple's proprietary cloud service — iCloud. Check that you have enough storage space on the cloud.
If you see that there isn't enough space to store the data, delete some files or rent a larger storage. We've collected the prices for you:
50 Gb — $0,99/month;
200 Gb — $2,99/month;
2 TB — $9.99/month.
When you are ready to back up your iPad Pro, stick to this guide:
Open Settings.
Find your name on the top of the display.
Look for iCloud → Backup.
Switch the toggle iCloud Backup, then tap on the Back Up Now button and wait until it uploads the data on the cloud.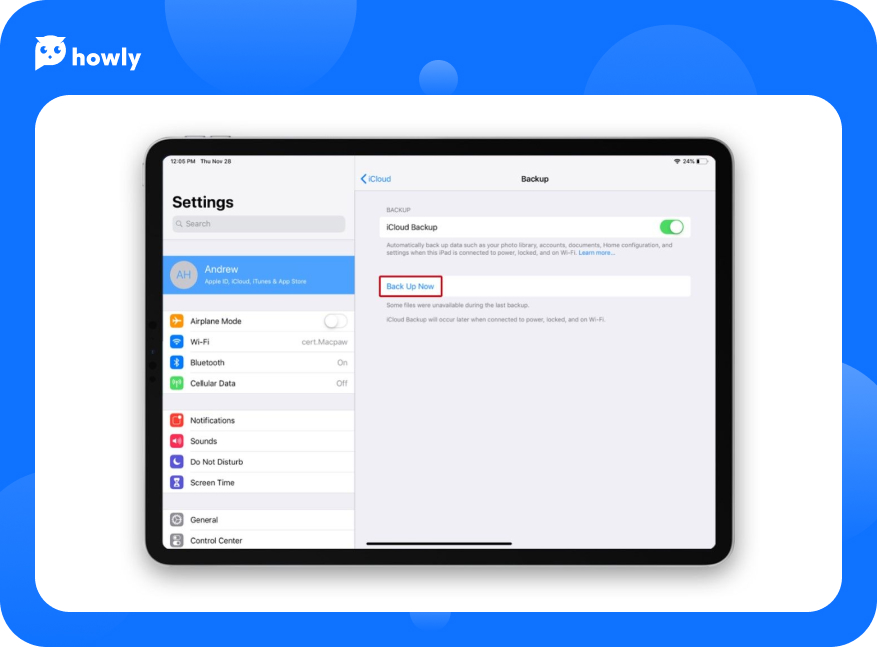 Your iPad will start automatically uploading info to iCloud when it connects to stable Wi-Fi. The duration of the backup process may vary depending on the amount of data and internet speed.
Follow the next path to find the time of the last backup:
Settings → Your name → iCloud → Device Backups.
Factory reset your iPad Pro via Settings
As we've told you before, this action will wipe all data from the device, including personal information and all settings. So ensure you haven't skipped the previous step and uploaded all data your need to iCloud.
When you are ready to erase all data from your tablet, stick to this instruction on how to reboot the iPad Pro:
Open Settings → General.
Find the Transfer or Reset menu.
Select Erase All Content and Settings.
Type the device's passcode and AppleID password.
After iPad has been restored, you will see the setup screen where you need to enter your AppleID. During this process, you will have 2 options: set it up as new, or restore it.
Factory reset your iPad via Find My service
If you forgot the passcode, you can still factory reset your tablet with Find My service. But you should remember your AppleID login and password. Otherwise, you won't be able to activate the device. Use this guide on how to reboot the iPad Pro without a passcode:
Open the Find My app on any Apple device or visit iCloud.com.
Look for Devices. Find the iPad Pro in the list and choose it. You will see the map with the last known location of the tablet.
Choose the "I" virtual button. It will open the additional options sub-menu.
Find the Erase this Device and follow further instructions on the screen.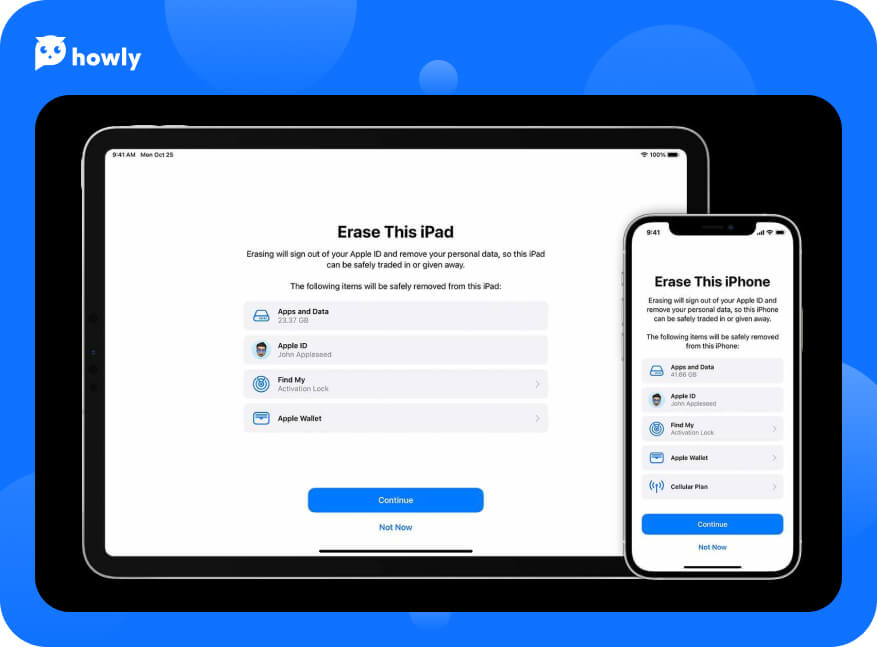 Consider this way to reboot the iPad Pro only if you remember the AppleID login and password. Otherwise, you won't be able to activate it. So, you can lose access to the device permanently. And the only way to restore it is to visit the nearest Apple Store with bills that prove your ownership.
Final thoughts on how to reboot iPad Pro
There can be various reasons why you want to delete information from the tablet. When you want to reboot the iPad Pro, you should choose why you need it and what type of information you need to save before you start.
If you've faced glitches and want to remove temporary files, a soft reset will be enough. You can do it by pressing Volume Up and Down keys one after another. Right after this, long-press the Power to start the soft reboot.
Consider a factory reset if you want to delete all information from your iPad Pro. You have two ways to do it: via Settings or via Find My service.
Note that if you choose the second option, you will need to log in with your AppleID. Otherwise, your tablet won't let you in. If you type the wrong login and password, the system could mark the iPad as stolen. So you could lose any access to the device and information in it.