So you are faced with a dead pixel on the screen of your device… Let's see what you can do to fix this issue.
Before we start
Save your time and let professionals resolve your issue in minutes!
Want to start solving your problem immediately? Experienced Howly troubleshooters can fix your issue ASAP. They're already waiting for you in the chat!
The benefits you'll get while troubleshooting your issue with Howly experts:
Qualified help with laptops HDD

Quick advice right in your device 24/7/365

Expert reply within 60 seconds

Clear step-by-step guidance

Limitless number of follow-up questions

Understanding and empathetic help till your laptop HDD issue is fully resolved

All answers you need in one place
Dead pixels can appear on a monitor, tablet, smartphone, or laptop screen at any moment of its life. There are many reasons for this, from poor device quality to various external factors such as overheating or electrical and electromagnetic influences.
There are several types of pixel malfunction:
Dead pixels or defective pixels are pixels that have failed due to certain external actions. You can identify them by the fact that they do not display any image or color. They are just black. Fixing dead pixels of this type is practically impossible.
A bright or hot pixel is a pixel that has an incorrect dependence on the input or output signal. It has a permanent bright white color while the display is on.
Dependent pixels are pixels that do not correctly display color depending on the color of nearby pixels.
Stuck pixel. It is a pixel that constantly displays the same exact signal. That is, the pixel does not change color relative to what is needed for the image. Such pixels receive a glow of constantly one color: blue, pink, red, yellow, or turquoise. Such pixels are the most noticeable and irritable. But it is precisely them that have a high probability of being quickly fixed.
Below we will analyze several methods on how to fix dead pixels on your device.
Go to the service center
If your device is still under warranty, take it to a service center to fix dead pixels. Note that the warranty usually does not apply if there are just 1 or 2 dead pixels – only if their number is much higher. Based on this, you will most likely have to pay the service to fix 1 or 2 dead pixels on your device.
Knowing this, when buying a monitor or any other device with a screen, it is better to check it for dead pixels before paying for it. To check dead pixels, there are many software testers and online services. Also, when buying a monitor, the store may offer a service for checking for dead pixels for an additional fee.
Do the dead pixel test
There are many programs and online pixel testers. In fact, most of these are just pictures of basic colors displayed on the whole screen, but there are also more advanced testers in the form of tuning tables.
To check your monitor or screen of a laptop, smartphone, or tablet, you need to:
Wipe the screen of your device well when it is turned off to clean it of possible dirt.
Open a browser on your device and follow this link. You can also find video pixel tests on YouTube.
On the site that opens, click Start Test.
After that, your screen will turn completely white. Inspect the dead pixels.
Next, press the spacebar or the left mouse button. If you are using a smartphone or tablet, just tap on the screen. This action will help you open to the next picture.
Then, the screen will change its color to black. Inspect the dead pixels and move on.
Wait until your screen turns red. Inspect the dead pixels and continue.
After that, your screen will become green. Inspect the dead pixels and move on.
Next, your screen will turn blue. Inspect the dead pixels again.
Then the program will start repeating these steps. Press Esc when you need to exit the test. If you are using a smartphone or tablet, press the Back button or just close the app.
If you haven't found dead pixels, congratulations! Otherwise, mark for yourself the position of the dead pixel on the screen.
If you've detected a dead pixel on the screen of your device, do not panic. There is still a chance to fix this dead pixel. To do this, follow the instructions below.
Ways to solve the "dead pixels" issue
If the pixel is dead, i.e., permanently black, then the chances of fixing it are very small. But if you deal with a stuck pixel that looks like a white dot or dot of a certain color, then it is quite possible to fix this computer screen issue.
Attention! Most dead pixel-fixing programs use flashing lights. If you are suffering from epileptic seizures, do not look at them.
Solve this issue online with JScreenFix
You can use different software or online services. The most common way is to fix this issue with the help of the JScreenFix online tool. It can be used on a computer as well as on a smartphone or tablet:
First, launch a browser.
Go to the JScreenFix site or use this link to open it.
On the site, click Launch JScreenFix.
After that, a blinking square will appear on your screen. Turn on a full-screen mode on the green color switch. Move this square to the place where you found the dead pixel.
Wait for 10 to 30 minutes. Do not close the page or turn off the screen.
After the time has elapsed, close the window by clicking on the red button.
Turn on the pixel test program and inspect the dead pixel.
If you do not have a good Internet connection or this instruction did not help you, then move to the next step.
Fix dead pixels on a monitor with UDPixel
UDPixel is a popular tool to deal with the dead pixel issue because it does not require an internet connection, and you can continue using your computer while it's checking your screen. Also, it has a built-in dead pixel test.
Try these steps:
First, you need to download the UDPixel program and install it on your PC (Windows only) or laptop. You can use the link to do it.
Then, open the program.
In the opened window, you will see the preliminary settings and the ability to run a test to determine where the dead pixel is located.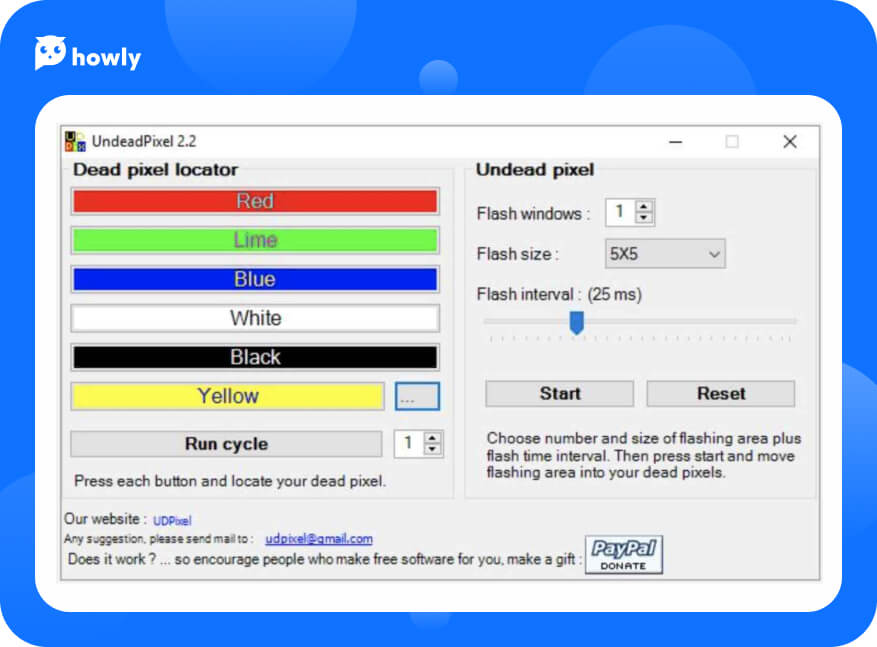 Set the required values.In the Flash windows field, you can set the number of blinking squares.
In the Flash size field, select the size of the flashing square. You can set the smallest one. This is very convenient because you can continue to use the screen for work, but you need to point the blinking square at the dead pixel very accurately.
In the Flash interval field, set the pixel refresh rate.

After that, click on the Start button.
Drag the flashing square or squares to the places where you see dead pixels.
Let them work for about 20 minutes. If the pixel starts blinking, it's a good sign.
If nothing has changed, then set the highest speed and leave it to work for a longer time. In especially difficult cases, you may need to let the program fix your screen for 10 hours. If, after 10 hours, the broken pixel has not disappeared, then this method is unlikely to help you.
Don't forget that while the program is running, you can continue to use the device, but you can't turn off the computer.
After the time has elapsed, check if the dead pixel is fixed.
If this method doesn't work for you, try the next one.
Fix dead pixels on the phone
So you have found this issue on your smartphone or tablet. First, restart the device. Perhaps this will be enough. If this does not help, then you need to use an application to eliminate dead pixels. That's how you can do it on an Android device.
Open Google Play.
Search for "dead pixel".
Find the app named "Dead pixel test and fix" and install it.
Open this app.
Tap on the field "Check dead pixels".
After that, the application will show you the presence of a dead pixel.
Tap on the field "Fix dead pixel".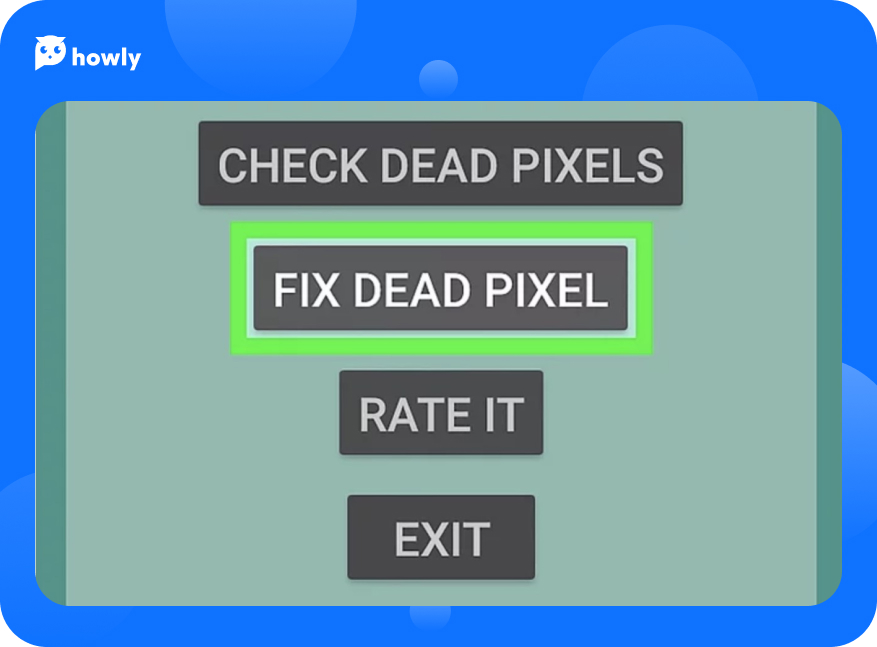 The app will start fixing your problem. Depending on the complexity, this can take from a few minutes to an hour.
After the application is finished, tap on the field "Check Dead Pixels" again and inspect the dead pixels.
If that doesn't help, try the following method to fix dead pixels mechanically.
If you have an iPhone or an iPad, search for similar software in the App Store.
Try mechanical fixing
If all else fails in fixing the dead pixels, you can try massaging the screen. This method is quite risky, but in some cases, it really helps.
To fix a dead pixel mechanically, follow this guide:
First, you need to remember or mark with an erasable marker the place where the dead pixel is located.
Then, shut down the screen of your device.
Take a blunt narrow object, something like an eraser on a pencil or a cotton swab.
Lightly press on the place where there is a dead pixel. Attention! Do not press too strong or use sharp objects as this may further damage the screen.
Continue for 5-10 minutes.
After that, turn on the screen and inspect if the dead pixel has been fixed.
If that doesn't help, you can also use 2 methods at once. Turn on the pixel fixer and, at the same time, massage the screen with a soft object.
In more difficult cases, this may take up to 15-25 minutes.
F.A.Q.
Should I take my phone to a service center because of a dead pixel?
Dead pixels are usually harmless. They neither spread nor harm the screen of your phone. The only inconvenience is the spoiled appearance of your device. So if a dead pixel annoys you or prevents you from seeing the image on the screen, it's worth contacting a service center, especially if the warranty is still valid.
Can a dead pixel harm the screen?
Dead pixels are LCD defects that can appear as a result of various external factors or factory faults. They don't do any harm to your phone or computer but only cause visual inconvenience. Luckily, you can fix dead pixels yourself by following our tips.
Do dead pixel repair tools really work?
In general, dead pixels may go away on their own, but this is a rarer phenomenon. So you can use different repair tools to get rid of the annoying screen problem. UDPixel and JScreenFix programs are really effective and can fix dead or stuck pixels in less than 10 minutes.
Summary
To sum up, the appearance of dead pixels is always unpleasant and unexpected, even for the most accurate users. We looked at how to fix dead pixels on your own. If none of the solutions helped you, you could still contact the service center for a fee, but they will not give you a 100% guarantee for a fix.
If you still can't fix the dead pixels, don't be discouraged. This will be an additional incentive to buy a newer and better monitor or laptop.
And if you need a more detailed guide, feel free to contact us. Our experts know the answers to all technical questions you have!