Even the most reliable models of ASUS laptops can sometimes malfunction. There are several types of failures that occur most often, and these are not always the manufacturer's fault. Users themselves sometimes treat devices carelessly. Let's discuss the typical malfunctions of ASUS laptops in more detail.
Before we start
Save your time and let professionals resolve your issue in minutes!
Want to start solving your problem immediately? Experienced Howly troubleshooters can fix your issue ASAP. They're already waiting for you in the chat!
The benefits you'll get while troubleshooting your issue with Howly experts:
Qualified help with laptops HDD

Quick advice right in your device 24/7/365

Expert reply within 60 seconds

Clear step-by-step guidance

Limitless number of follow-up questions

Understanding and empathetic help till your laptop HDD issue is fully resolved

All answers you need in one place
When users themselves cause the problem
If the jacks on the gadget are in disrepair and with some cracks, you most likely have abruptly pulled out the wires and cords while using your device.
The screen is another part that often suffers from the owner's careless actions. Dropping from a height, unexpected bumps against hard objects are not in vain for the state of the matrix. A broken screen is a subject for replacement. Unfortunately, this unpleasantness is one of the most common.
The integrity of the keyboard and its performance are also often affected by human hands. Very often, the problem occurs due to water ingress.
Of course, it is not always just the person who is to blame for the fact that the laptop stops working properly. Other causes are also widespread.
Power supply failure
It is not difficult to notice that the charger was broken. In this case, the device stops turning on, and there is no indication of the process's success. This can happen due to a short circuit inside the unit. In such a situation, the electronics can be repaired. But if the cause is something else, purchasing a new unit and its reinstallation is inevitable. Only an experienced technician can understand what really happened.
In today's market, there are universal models of charges. All you need to do is to choose the most suitable option.
Video card problems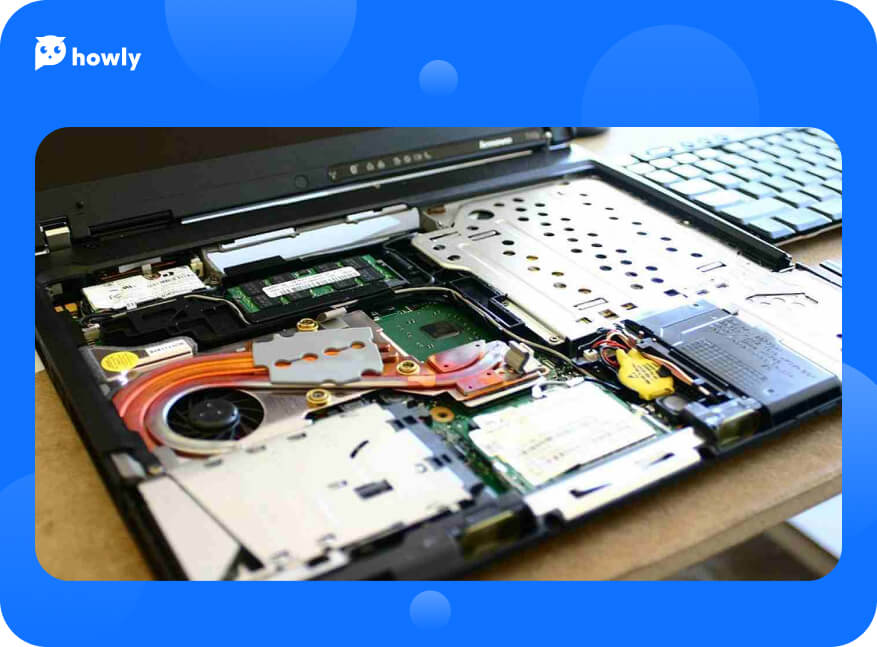 This type of failure is quite complicated. The actions to be taken depend on the type of video card itself. The situation is as follows.
If the elements are located on the motherboard, the video chip or the contacts underneath it must be replaced. A complete replacement is a feasible solution.
If the video card is a separate component, it must also be replaced. However, it is important to find an option that is most closely compatible with the other components. This is not always easy to do.
Without the help of experienced professionals, this problem is almost impossible to solve successfully.
Failure of the cooling system
This problem is not so serious at first glance. But it is also widespread, and if you ignore the need to solve it as soon as possible, other device elements will quickly deteriorate. In this case, the notebook begins to overheat and become very noisy.
The cause of the malfunction is heavy dust contamination and fan failure. To fix the problem, you either need to clean or replace the fan. The technician will tell you more exactly.
The motherboard or power connector is damaged
It is another common situation. The repair cost is usually not very low, but successful recovery is possible. This is done by replacing the microchips.
In the case of a broken connector, the old component is removed, and the new one must be soldered in.
Who can help you
Have you noticed that your ASUS laptop is unstable? Has careless use damaged the device? Amateurism can only worsen the situation. Entrust your laptop to Howly professionals.
All you need is to type your question in a special box, give your specifically chosen expert several minutes and pick your quickest step-by-step solution.
Our experts have been working in equipment repair for many years, and each has 1000+ successful cases. Unsolvable problems just do not exist for them. Just write to us and ask for advice. You will forget the breakdown like a bad dream!