Keep the system up to date
Before we start
Save your time and let professionals resolve your issue in minutes!
Want to start solving your problem immediately? Experienced Howly troubleshooters can fix your issue ASAP. They're already waiting for you in the chat!
The benefits you'll get while troubleshooting your issue with Howly experts:
Qualified help with laptops HDD

Quick advice right in your device 24/7/365

Expert reply within 60 seconds

Clear step-by-step guidance

Limitless number of follow-up questions

Understanding and empathetic help till your laptop HDD issue is fully resolved

All answers you need in one place
Many users try all the possible methods to turn off updates on their Windows. But you should understand that updates help to fix bugs that cause performance degradation. They also contain new versions of hardware drivers. Therefore, system updates can, in theory, reduce the power consumption of your PC.
By default, Windows 11 only updates when the computer is connected to a power outlet. Therefore, you should periodically plug your laptop into a power outlet so that the system can download new security and performance patches.
If you wish, you can also do this manually by clicking "Start" → "Settings" → "Windows Update Center" → "Check for updates".
Change the display settings
The main source of power consumption in your laptop is the display. The brighter it is, the more it consumes battery power. Therefore, it is a good idea to change this setting.
There are two ways to do this:
Press the dimmer button on the notebook keyboard in the F-key row above the number pad.
Open "Start" → "Settings" → "System" → "Display" and adjust the slider under "Brightness".
Adjust the power consumption of your system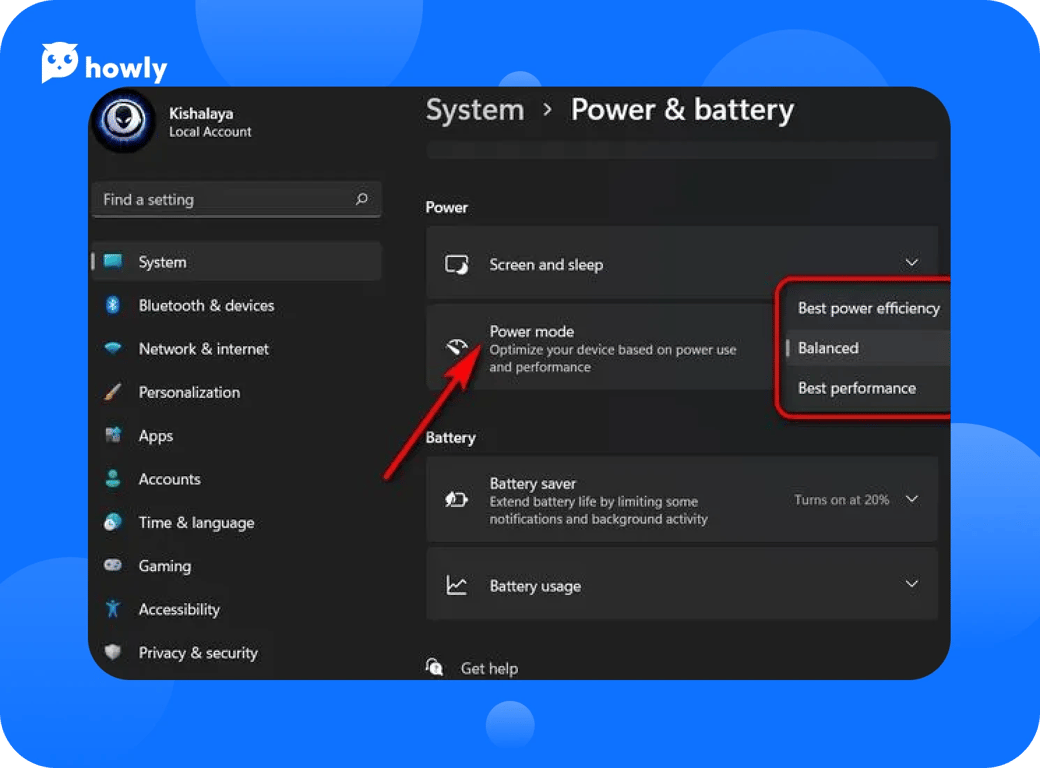 System power consumption mode determines how actively Windows 11 will allow your computer to use its processor, memory, and other resource-intensive components.
If the economy mode is enabled, the processor will not be overclocked above a certain frequency. The performance will decrease, but the battery life will increase. To launch the economy mode press Start → Settings → System → Power and Battery and select Max Power Efficiency under Power Mode.
Most importantly, don't forget to return the Balanced or Max Performance mode when you plug in again and want to play games or run voracious software, otherwise, the computer will be slowed down.
Activate battery power-saving mode
When in the battery-saving mode, Windows 11 reduces the brightness of the screen and the number of notifications and limits background app activity. Normally, the system activates it automatically when a certain percentage is reached.
But you can also turn it on manually. To do so, tap Start → Settings → System → Power and Battery, and under Battery Saving click "Enable Now".
Another option is to select "Always" from the drop-down list under "Automatically enable battery saving" and check "Decrease the screen brightness in battery saving mode". In this way, you will significantly increase the battery life.
Set up background application activity
Windows 11 is overflowing with built-in applications of all kinds that like to consume your battery power. So it's a good idea to limit those programs that you don't need all the time.
Tap "Start" → "Settings" → "System" → "Power and battery" and under "Battery usage" look for the applications that consume the most power. Then click on the three dots icon and select "Manage background activities". In the "Allow apps to run in the background" field, select "Never".
Repeat this for any programs you use rarely.
Adjust the computer's sleep time
Another great way to increase the battery life of Windows 11 is to make the system go into sleep mode when the device is not in use. By default, the computer turns off the screen after 5 minutes of inactivity and goes to sleep after 10 minutes. But these timespans can be reduced.
To do this, tap Start → Settings → System → Power & Battery and under Screen & Sleep specify the activity time. For example, 1 minute. Now, even if your PC is idle, energy will not be wasted.
Lower the quality of the video being played
Some built-in Windows 11 apps like Microsoft Edge, Photos, and Movies & TV, as well as Microsoft Store apps like Hulu, Netflix, or Vudu, know how to adjust the quality of the video they play to your battery life.
If your laptop is running on battery power, the system will play the clip in lower quality, which will reduce the load on the device and save more power.
Click "Start" → "Settings" → "Applications" → "Video Playback" and activate the "Lower resolution video playback on battery power" option.
Do not leave the computer plugged in at all times
In general, different manufacturers have diametrically opposed views on whether their laptops can be kept plugged in all the time.
For example, Asus advises discharging their devices to 50% at least once every two weeks and not keeping them connected to power all the time. And Dell does not consider this to be a problem. The company recommends installing the proprietary Dell Power Manager utility, which will prevent either too low or too much battery overcharge.
But when plugged in, the notebook also warms up more than usual, which is bad for lithium batteries. Therefore, in order to maintain the maximum service life, you should find a compromise: do not allow the device to discharge, but also do not keep it on the wire for too long.
It's best to plug the computer in when you want to get maximum performance for games or heavy software and unplug it after charging to avoid overheating or overcharging the battery.