You bought a Windows-based laptop, but want to listen to music from iTunes or watch a video shoot on an iPhone? Your computer should use Apple Application Support.  It's not a customer support team, as someone may think. Apple Application Support is a toolkit that allows Windows users to interact with Apple's software.
So when you ask yourself "How can I download the Apple Application support and what it is about?", we can say that you may need it if you want to listen to iTunes or play videos on a QuickPlayer. In this article, the Howly team will give you detailed instructions on how to properly install this app.
What is Apple Application Support? How can I find it?
You may see dozens of questions like "What is Apple Application Support 32-bit? What is a 64-bit?" on forums.  As previously mentioned, it's a toolkit that allows Windows users to interact with Apple's software.
QuickTime, iTunes, and other Apple apps use Application Support. All those apps will work only if you have this tool. Moreover, it also synchronizes iOS-driven gadgets. If you want to send pictures from your phone to your computer or download files to iCloud from File Explorer,  you should have this tool on the computer.
There is no need to get to application support on Mac: Apple computers already work with iPhone and iPad files. But if you are using a computer outside the Apple ecosystem, you should get this toolkit from some Apple programs.
How to install Apple Application Support?
The Apple Application Support install process is pretty simple. It will take only a few 2-3 minutes! If you already have iTunes, the Support is mostly on your PC. So, if you want to get this tool, but don't want to search for it, Apple iTunes removal may help you. Here is the easiest instruction on how to download the Apple Application Support on Windows 10:
Delete the iTunes from Windows. Remove this app from your system.
Re-download iTunes for Windows. You can visit the official Apple site or get it on Microsoft Store.
Install it and sign in with your current Apple ID.
That's it! The whole process took less than 2-5 minutes. If you download it from a store, the system will install a suitable version immediately.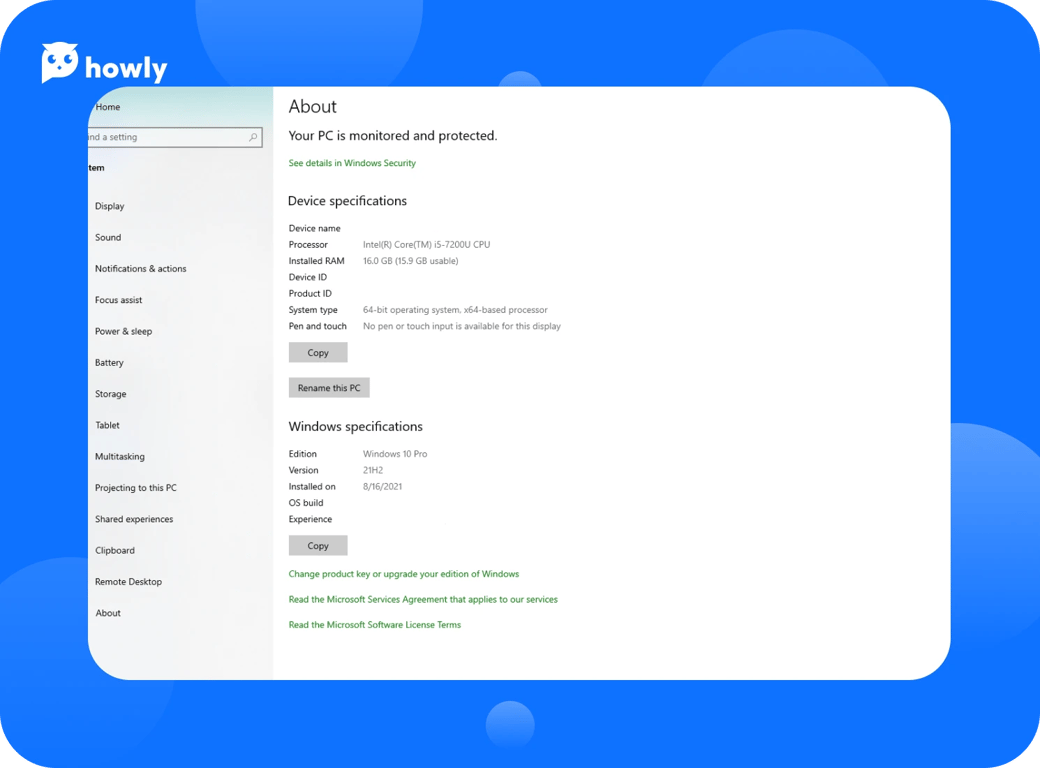 But how to choose the correct iTunes version if you choose to download it from the Apple website? Many forums are filled with questions like "Do I need apple application support 32-bit and 64-bit?" Find out the bit version of your computer and choose the same iTunes. Follow this guide:
Press Windows and choose Settings → System → About.
Select the Device Specifications, and find a System type.
Here you'll find your system bit version. All applications on your PC should run on the same bit version.
Difference between 32 and 64-bit Apple Support
Are they different? Yes, you can install the x32 version on an x64 Windows, but not vice versa. But why?
The main difference between those two systems is processor (chip) power. Long story short, x64 is much more powerful than x32. That's why x64 computers could work with 32-bit apps, but not vice versa. The x64 processor can run the x32 app and still have free RAM space. But the x32 chip simply doesn't have enough RAM space to run x64 apps.
So when you ask yourself "Which iTunes should I install? Should I run the Apple Application Support 64-bit or it would be better to launch a 32-bit version?" look at the system settings.
If you have an x64 chip, you can install any iTunes version. But if you have an older computer, download Apple Application Support (32-bit). It will better suit your system requirements.
Why does the PC can't find Apple Application Support?
Do you have iTunes but still witness the "Installation of Apple Application Support did not complete successfully"? Here are the main possible causes:
outdated iTunes;
outdated Windows;
poor Internet connection.
Reconnect to the same network, and check and update the Windows version. If those actions didn't help, reinstall iTunes. If this didn't help, remove the cache from the system. Also, some freshly installed apps may cause this issue as well. Reinstall them and try to open iTunes again.
You also can install other Apple apps. Try to run the QuickTime video player. It's the original Apple app, so it will need support files. That's why you should consider the QuickTime Apple Application Support download. It helps when you can't launch iTunes for some reason.
How to solve the problem when Apple Application Support doesn't work or isn't found
Sometimes, the PC can show this error no matter what you are doing. Your future actions depend on your current needs. You can still use Apple services but with third-party apps or online versions:
VLC — to watch iPhone videos.
iTunes web version — to listen to music and podcasts.
AirDroid, MobileTrans —  for file exchange.
Apple Music website — to listen to Apple Music, iTunes, and podcasts.
It's not a seamless user experience, but it allows you to interact with Apple services. If you want to work with the iTunes app, consider troubleshooting. Check the compatibility of the app and your system. Remove temporary files and fix the system register with third-party apps. Try to install iTunes as an admin or download it from Microsoft Store. The most severe troubleshooting measure is to factory reboot your computer.
Apple Application Support was not found
What should you do when you see this error note? In most cases, you'll see this memo, when iTunes fails to complete its installation. The installer can't access crucial files or it can't find suitable documents for your system in the package.
You have a few solutions to fix the failed installation of Apple Application Support. First of all, check the compatibility. If you have an x32bit system, you can't install the x64 version. The same thing applies to the x64 systems: although you technically can run x32bit apps, sometimes the system restricts you from this.
Also, you should try to run the installer as the administrator. If you try to open the launcher as a regular user, the installation wizard may not "see" the crucial system documents which allow it to find suitable installation files. So you may witness the "Please, install the Apple Application Support" memo. This instruction is simple:
Find the iTunes launcher file and right-click on it.
Select Run as Admin.
Confirm that you want to install iTunes.
Follow the wizard instructions.
Apple Application Support isn't working
What to do if those actions didn't help you? It depends on what you want and how far you have prepared to go to install iTunes and get Apple Application support.
The easiest decision will be to visit the official Microsoft Store and download the iTunes app from here. It may not be the freshest version, but you'll get that iTunes version that will be almost 100% suitable for your PC configuration. If you have a 64-bit PC, the app store downloads 64-bit Apple Application Support. The same thing applies to a 32-bit version.
Some sites may confirm you to archive the iTunes installation and try to open it inside the archive app. But those complications won't fix this bug.
There may be corrupted file issues. Use third-party tools to clean the system cache and repair the system registry. The most popular apps in this category are Glary Utilities, CCleaner, CleanMyPC, and Clean master.
But if this didn't help you, consider severe measures. One of them is the factory reset. It deletes every app from your PC. You can also remove settings and personal data.
Transfer data between iOS and Windows
Sometimes even the above's actions may not be enough to fix this issue. So you can just use external tools to share information between both devices. It can be apps like AirDroid or MobileTrans.
But if you are unsure about those tools, use Google Drive or similar cloud tools. They can act as the middle ground between those two operating systems. Send documents from your mobile phone to the cloud and let it load. After that, log in to this cloud with a PC and download those files to the computer.
F.A.Q.
Does the Apple Support app cost money?
No. The Apple Support app is free to download and use.
Does Apple have a support email?
Apple has no published email address for Customer Service. Apple handles most issue, technical and customer service, only via telephone or in-person at an Apple Store.
Final thoughts
Many Apple-related forums are filled with questions like "I saw the Apple Application Support: what is it?". And we understand user concerns. Apple didn't tell anyone what Apple Application Support is, so people try their best to figure out more about it.
Some users try to find this as a separate app, while others look for where they can download Apple App Support. And sometimes search engines give curious users suspicious websites, where they download malware instead of the actual toolkit.
While in reality you just need to reinstall iTunes. Application Support is a built-in toolkit in iTunes and QuickTime apps. Once users install it, they can use Apple software, transfer files to/from iCloud, listen to Apple Music, and watch videos that are shot on the iPhone.