If your desktop screen suddenly becomes upside down or turned sideways, don't panic. In this article, you will find several simple solutions on how to fix the screen on the computer when it is sideways.
Before we start
Save your time and let professionals resolve your issue in minutes!
Want to start solving your problem immediately? Experienced Howly troubleshooters can fix your issue ASAP. They're already waiting for you in the chat!
The benefits you'll get while troubleshooting your issue with Howly experts:
Qualified help with laptops HDD

Quick advice right in your device 24/7/365

Expert reply within 60 seconds

Clear step-by-step guidance

Limitless number of follow-up questions

Understanding and empathetic help till your laptop HDD issue is fully resolved

All answers you need in one place
Why is your computer screen going sideways?
The most likely cause of the laptop screen turning sideways is the accidental clicking of some keys combination that changed display or orientation settings. It may happen out of inattentiveness or when you are tired.
Are you not the only person who has access to your monitor? They could have changed the orientation.
Actually, this feature can be rather handy for such purposes as creating vertical presentations, spreadsheets, posters, etc. This article will explain how to fix a flipped computer screen on Windows 7,8, 10, and 11 and why this happens to your computer.
How to fix it?
Use keyboard shortcuts
A keyboard shortcut is a combination of keys that you need to press simultaneously to perform a particular function, in this case – to turn your PC screen. This method is the fastest one as it only takes a couple of seconds to change screen orientation with it. There are 4 shortcuts that start with Ctrl+Alt for Windows computers :
Ctrl + Alt + ↑
This shortcut might fix your issue. If your screen doesn't rotate, try the shortcuts below.
Ctrl + Alt + →
Rotates your screen 90 degrees.
Ctrl + Alt + ↓
Rotates your screen 180 degrees.
Ctrl + Alt + ←
Rotates your screen 270 degrees.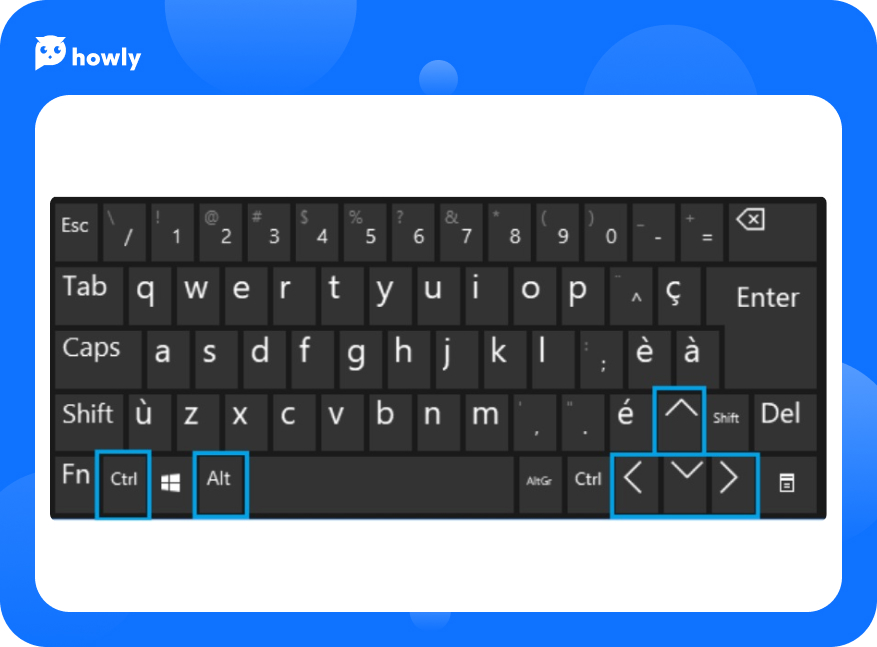 This action is almost universal: it may be successfully used for Windows operating systems from version 7 to 10.
If the upside screen didn't change when you press these combinations, your hotkeys might be disabled. Enable hotkeys using this guide:
Right-click in an empty place on your desktop.
Select Graphics Options.
Select Hot Keys.
Select Enable.
Now you can try these key combinations once again. In most cases, it should be enough. Try the methods we described below if the shortcuts didn't fix the inverted computer screen.
Rotate the screen with Graphics
You can also fix your computer screen from being sideways by using Graphics Option. To do this, you should follow these steps:
Click right on the empty space of your screen;
Choose "Graphics Option";
Go to "Rotation";
Select "Normal".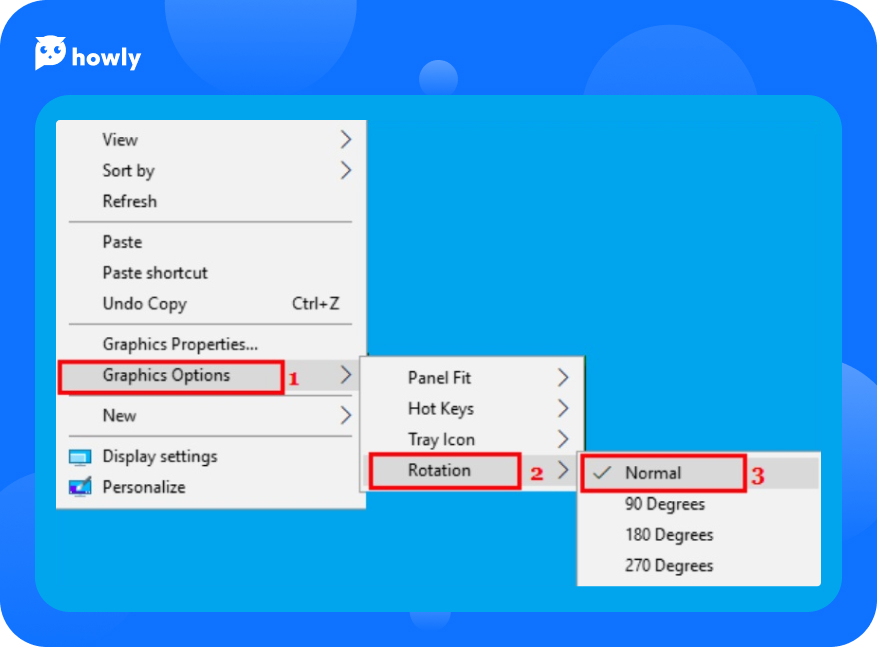 Adjust the computer settings
Another way to fix the screen on a computer when it is sideways is to change display settings. Follow these directions to change screen orientation:
Open "Settings";
Go to "System icon";
Click on the "Display" tab;
Scroll down and choose "Display adapter properties";
Find "Graphics Media Driver";
Choose "Graphic properties";
When you see a "Graphic settings screen", click "General settings";
Choose "Rotation" and set the rotation value to normal or 0.
Check screen orientation
To fix the computer screen upside down, you need to check orientation in Display settings. To do this on Windows 10 and 11, you need to:
Right-click in an empty place on your desktop.
Select Display Settings.
In the new window, select Display on the left menu.
Next, select the Orientation menu on the right.
Then, select Landscape (or keep choosing other options until you get the correct orientation).
Finally, click on Keep Changes below.
For Windows 7 and 8, the process is a bit different from Windows 10 and 11 but has the same logic:
Click the Start button (it is in the bottom left corner).
Select Control Panel on the right.
Select View by category in the right upper corner of the Control Panel.
Go to the Appearance and Personalization section and select Adjust screen resolution.
Click on the menu next to Orientation and select Landscape (or keep choosing other options until you get the correct orientation).
Finally, click on Keep Changes below.
Use your graphics card
You can use your graphics card to fix the upside-down computer screen. You just need to alter the same settings as the standard ones in Widows OS.
Follow these steps:
Right-click in an empty place on your desktop.
Select Intel Graphic Settings or NVIDIA Control Panel.
Select Display.
Select the display orientation you need if you use Intel. For NVIDIA, select Rotate display and the orientation you need.
Final words
A computer screen turned upside down is a common problem. The simplest solution to rotate the screen on Windows 10 is to press an arrow pointing to the direction you want to rotate the screen with Ctrl+Alt. The other methods of flipping your laptop screen include using Graphics Option, computer settings, system restore, and checking screen orientation.
All in all, an upside-down computer screen is not a difficult issue to fix. Therefore, you can quickly turn the screen on a laptop and change its appearance with no specialist assistance required. But if your case is more difficult and you think you need assistance, Howly experts are always ready to help you. Just send us a message – and we will solve any tech issue you have.
F.A.Q.
How do I rotate screen 90 degrees in Windows 11?
1. Go to your display settings.
2. Click on "Display Orientation".
3. Select the orientation you want.
4. Press "Keep Changes".
How to unlock rotation in Windows 10?
Click "Notification Center" in the lower right corner of the taskbar. See rotation lock icon. A gray icon means the swivel lock is disabled and a blue icon means the swivel lock is enabled. To disable the auto-rotate feature, make the icon blue.
How to rotate a web page?
Press CTRL + Alt + up arrow to rotate upside down. To rotate 90 degrees left or right, press Ctrl + Alt + Left arrow or Ctrl + Alt + Right arrow, respectively.
Summary
One day you may look at your monitor and find that your laptop screen is upside down. The usual cause of it is the accidental click on some keyboard combination. Don't worry – this issue can be easily fixed.
Firstly, you can use keyboard combinations of Ctrl+Alt and the arrow of the direction you want the screen to rotate.
Secondly, you can flip the laptop screen by choosing "Normal" in Graphics Options. You can also adjust the screen rotation in computer settings and check screen orientation by clicking "Landscape".