Zelle — a transfer app that allows people to send money between banks. Money flows from one bank account to another without safekeeping on some third-party storage. You don't need the recipient's card number — an email or US mobile phone number will be enough.
Before we start
Save your time and let professionals resolve your issue in minutes!
Want to start solving your problem immediately? Experienced Howly troubleshooters can fix your issue ASAP. They're already waiting for you in the chat!
The benefits you'll get while troubleshooting your issue with Howly experts:
Qualified help with laptops HDD

Quick advice right in your device 24/7/365

Expert reply within 60 seconds

Clear step-by-step guidance

Limitless number of follow-up questions

Understanding and empathetic help till your laptop HDD issue is fully resolved

All answers you need in one place
But what to do if your Zelle profile is locked? What causes this problem? How to unsuspend your Zelle account as soon as possible? Check this guide where the Howly team provides detailed responses to all these questions.
List of causes
People think that if Zelle suspended the primary account, there might be some serious reasons, like significant safety policy violations – fraud or selling illegal stuff. It's not always true.
Here are the 5 most popular reasons why this service can block you: from multiple unsuccessful login attempts to fraud operations. Each of them looks suspicious to the Zelle crew, so try to avoid this behavior in the future.
1. You forgot your password
You tried to log in to your account but had more than 3 unsuccessful attempts. In this situation, Zelle suspects that another person is trying to gain access to your account. The easiest way for the company to stop this and protect your money is to freeze your account temporarily.
If you fail to log in more than 2 times, use the "Forgot password?" option. You will get an email with the link, following which you can create a new password.
2. You use Zelle for commercial purposes
It is one of the most popular reasons why Zelle suspends the account. You can use this service only for private reasons like sending money to a friend or relative. Note that if the Zelle team suspects you use the app for business purposes (as some freelancer who tries to avoid taxes do), they will freeze your account.
3. You do some weird operations that look like fraud or scam
Check your email for a message that Zelle locked the account due to dubious activity. If you have got it, the service could find your behavior suspicious.
Don't be afraid to send a large amount of money through Zelle. The service will not block you for a $1000 transaction. But it can suspend your account if you do this 2-3 times per day. Especially if you usually send such amounts of money much less frequently.
The reason is that this behavior is drastically different from your ordinary one. If you are asking in the forums, "Why is my Zelle account locked?" seek the answer in your last transactions.
4. You violate other Zelle policies
This service suspends every account that violates its rules. So instead of asking, "Why is my Zelle account permanently locked?", look at their policies. You could violate some of them.
5. You don't update your info when Zelle asks you to do this
Periodically Zelle asks users to provide additional information.  If the person refuses to do it for a few months in a row, the service temporarily freezes their account. To unlock the Zelle account suspended due to this reason, you just need to verify your account by sharing up-to-date information about yourself.
How to unlock the Zelle account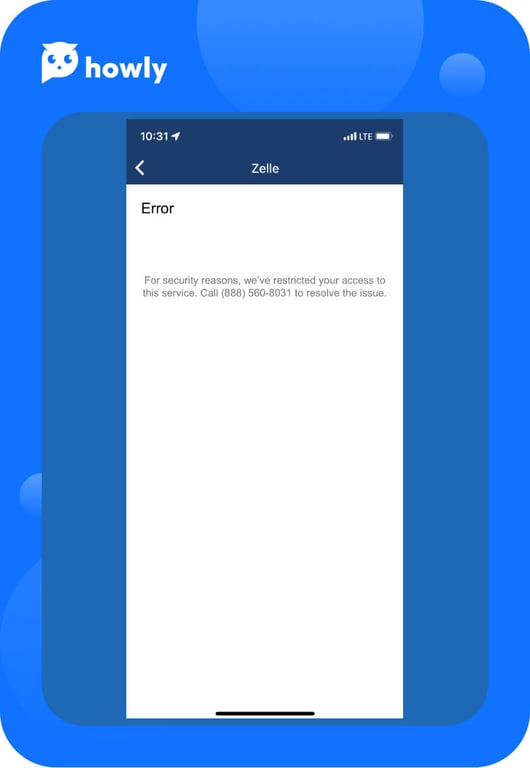 First, make sure that you are trying to enroll only debit cards issued by Visa or Mastercard for US banks. You can't add a credit card or card of another issuer. If you have trouble with adding a suitable card, contact your bank. That's what the Zelle customer support says.
If you were using the right card and then your account was suddenly banned, contact Zelle support.  You can do this via hotline or by filling in the form on their site. Ask them, "Why is my Zelle account suspended?" and share your view on the situation. The Zello support agents will give you an answer and advice on what you should do to unlock your account.
If you choose to call them, be aware that the call center works only from 10 AM to 10 PM.  They DON'T work on Thanksgiving, 25 December, and 1 January. Zelle's hotline number is 1-844-428-8542.
If you choose to use the online option, go to the support page on the Zelle website. Choose the "Other" line in the menu. Then, fill in information about yourself and describe your situation.
Finally
Digital payment apps make our lives a lot easier. But these services have strict rules that you need to follow. Otherwise, these services will suspend your accounts. To avoid this issue, make sure you remember your password, use Zelle only for private purposes, and don't take any suspicious actions.
But if the service already locked your account, think about why they did this or ask the support team. Online forums don't give you an answer to the question, "Why is my Zelle account locked?" Only the Zelle team is eligible to provide you with a detailed response in this case.
If you don't know what could cause the suspension of the account, or you don't know what to write to the Zelle support, contact Howly experts. We will gladly help you with any tech issue.