We often begin to appreciate the banalest things when we lose them. Most will agree that we take it for granted to have some sort of sound system in our laptop or PC and scarcely notice it unless some issue occurs. Then we start appreciating that calls, watching films, and listening to music, will not be possible till we fix the device's system sound.
Before we start
Save your time and let professionals resolve your issue in minutes!
Want to start solving your problem immediately? Experienced Howly troubleshooters can fix your issue ASAP. They're already waiting for you in the chat!
The benefits you'll get while troubleshooting your issue with Howly experts:
Qualified help with laptops HDD

Quick advice right in your device 24/7/365

Expert reply within 60 seconds

Clear step-by-step guidance

Limitless number of follow-up questions

Understanding and empathetic help till your laptop HDD issue is fully resolved

All answers you need in one place
The problem with a laptop or PC audio can happen for a variety of reasons, starting from mere lack of an audio card driver to some technical issue with the speakers, the necessity to reinstall Windows, etc. In this article, we will go through the most common problems and share the simplest ways to fix sound on Windows 10 devices which include:
Restart your computer;
Check the sound settings;
Update your audio driver;
Perform sound troubleshooting.
Step 1. Fix the sound problem on Windows 10 by restarting your computer
If your laptop's or PC's audio port is not working, it could be due to something as trivial as Windows not loading correctly. When you try to boot the system but it doesn't work properly, it may be a Windows system temporary (or not so temporary) error.
Sometimes the problem may not be the startup but the process of shutting down Windows, which is causing your sound problem.
If your Windows 10 laptop was forced to shut down or crashed for whatever reason, then the next time you turn it on, some programs and applications may not load properly. So, the simplest solution you can try to fix the sound on a computer (laptop) is to restart Windows via the Restart button or Ctrl+Alt+Del > Restart.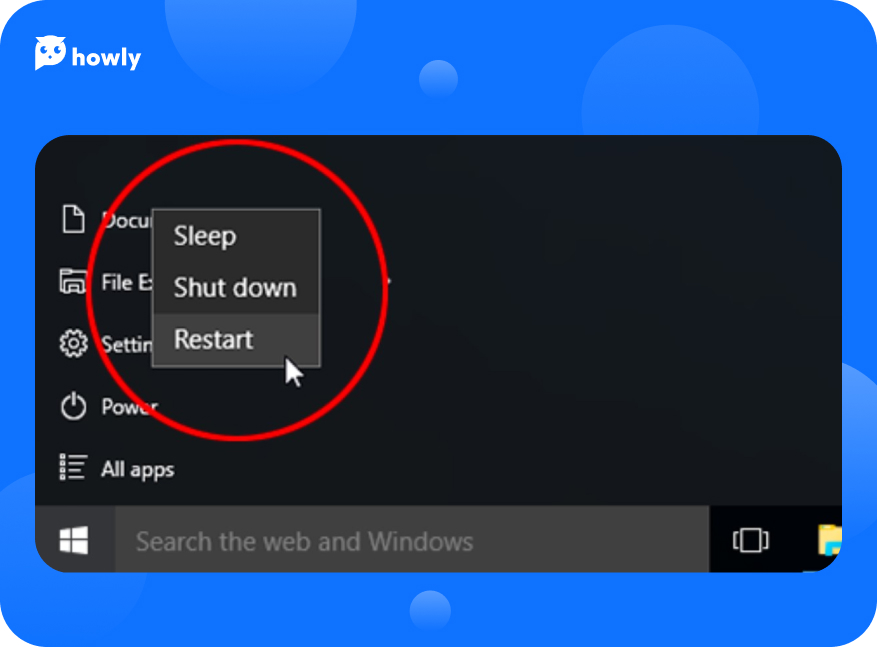 Step 2. Check the sound settings to fix audio on Windows 10
Sometimes the problem with audio on a laptop or computer is caused by a system bug due to misconfigured settings. Here are several ways to test if that's the case and fix the audio problem.
Check the volume configurations
Navigate to the volume icon on your laptop's taskbar and see if the problem is caused by setting the volume too low.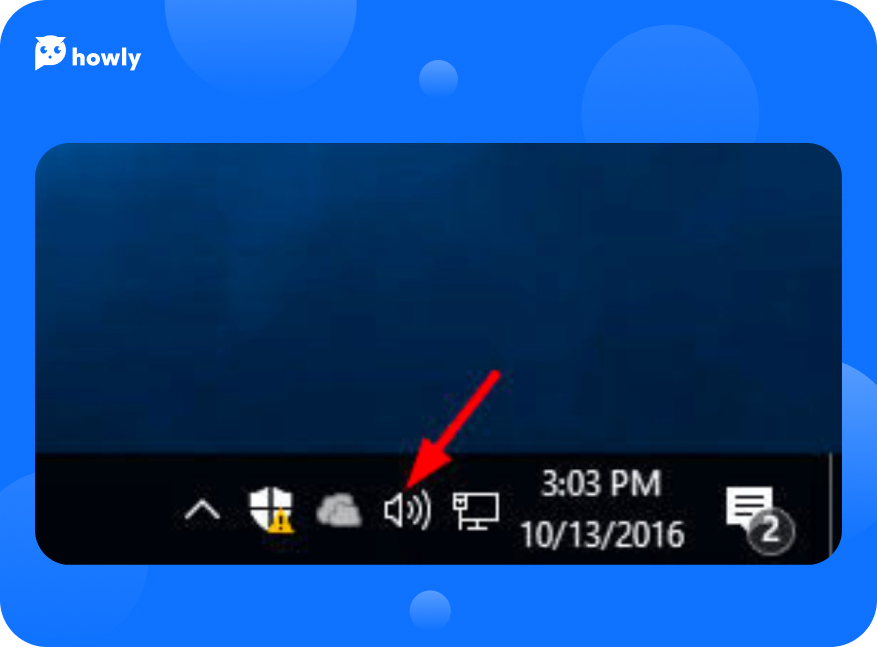 Try switching between different volume levels.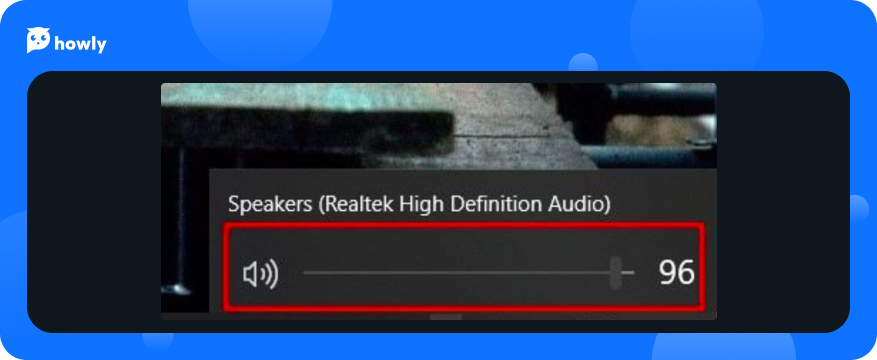 Turn on the Silent and Normal modes one after the other to see if this helps fix the sound issue.
Check if your audio device is set as the default
If the sound device on your PC or laptop is not set as default, it may cause errors and doesn't work properly.
To view your default sound devices, do the following:
Navigate to the volume icon on the taskbar and right-click on it.
In the pop-up menu, select "Sounds".
After that, the system will redirect you to the "Sounds" mini-window, where you need to click on the "Playback" tab.
Then, if you see that no sound "output" on your device is set as default, please select one (as a rule there will be just one pre-installed device to pick) and click on the "Set as default" option and then click on "OK".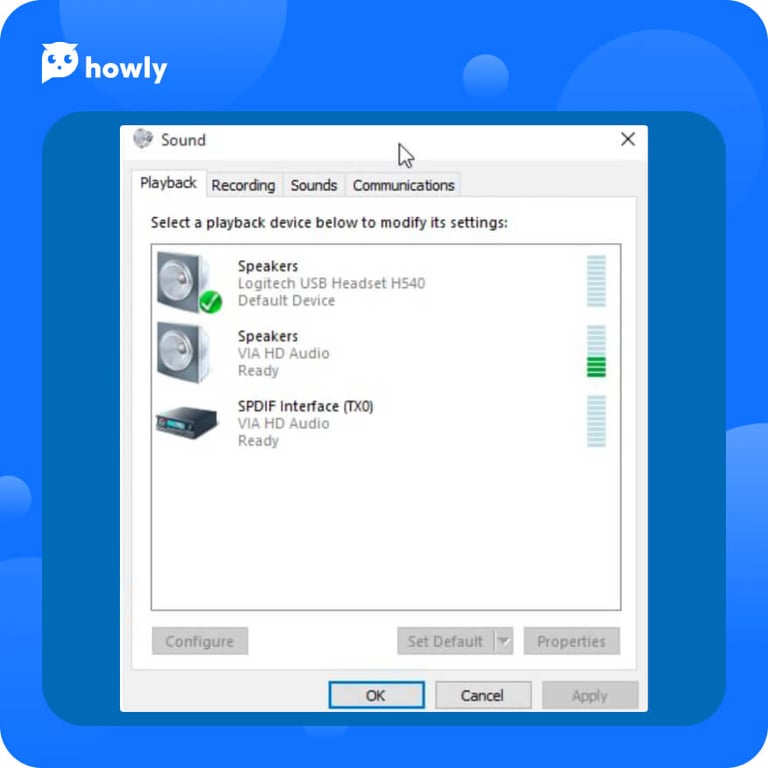 If there are two or more "outputs" in the list, you should try the first one to see if picking it resolves the issue. If it doesn't, then try the second one. In the end, the audio on a computer or laptop should be fixed.
Step 3. Update the audio driver on your device
Outdated Windows audio drivers can cause trouble with the sound on a laptop or PC. If you are still asking, "How to fix the sound on my computer?" try to update audio drivers. Here is how you can do it:
Type in "Device Manager" in the search bar of your device.
Then click on the "Device Manager" in the search results to open the corresponding list.
In the "Device Manager" window, go to the "Sound, video and games controllers", then double click to expand it.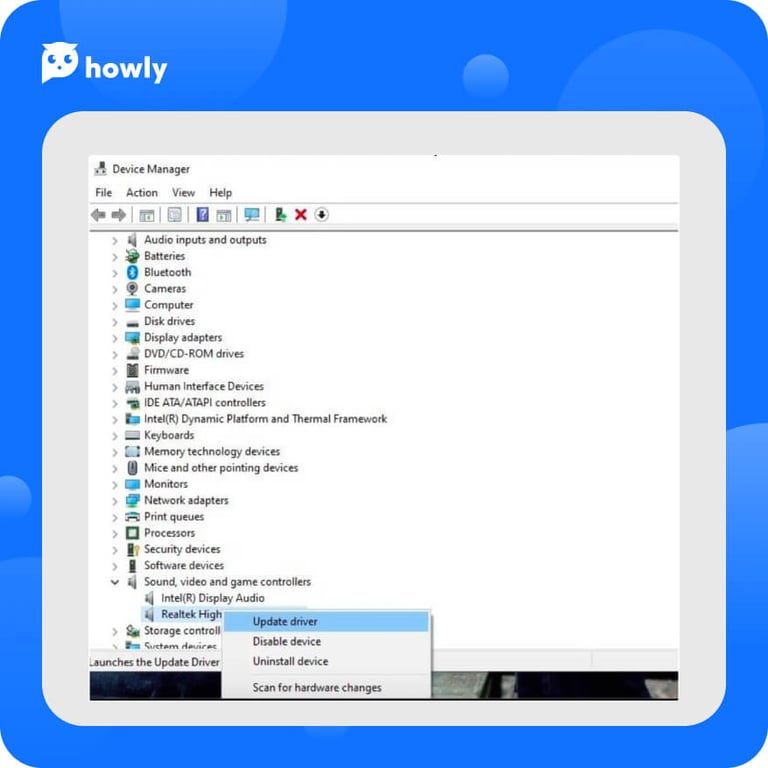 Select your audio device in the opened list (as a rule, there will be just one device) and choose the "Update Driver Software" option.
If you see several devices in this list, just press update on each. You will be prompted to choose between "View updated drivers from your system manually" or "Search and automatically download". Select any of the options – and Windows will start updating your drivers.
Step 4. Fix audio on Windows 10 with the built-in troubleshooter
Finally, if none of the above methods worked, the reason for the lack of sound could be hardware issues. If you have a hardware problem, the best thing you can do is fix it with an audio troubleshooter for Windows 10.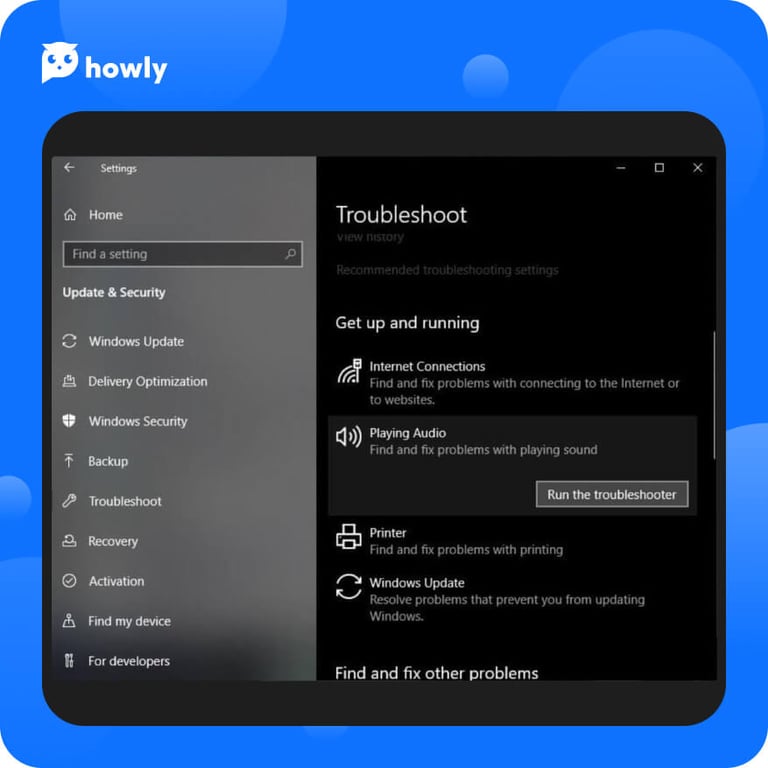 Follow these instructions:
Open the "Settings". To do that, just type in "Settings" in the search bar. Then click on the "Settings" icon in your search results.
Select "System Preferences" and navigate to "Updates & Security". There, go to the "Troubleshoot" tab.
Select "Additional troubleshooters" and then "Playing sound".
Below it, you will see the option "Run the troubleshooter". Click on it, and Windows will automatically start the troubleshooting process. Follow the instructions on the screen to complete the process.
F.A.Q.
Why does my Windows 10 computer have no sound?
Check your cables and volume. Verify your speakers or headphones are plugged into the proper jacks, and the volume is turned up. Then, check your volume levels within Windows. Right-click the speaker icon in your system tray, then select Volume Mixer from the list of options.
Why is my Realtek audio not working Windows 10?
Common sound problems on Windows are outdated, corrupt, or missing drivers. To fix this issue, downloading and installing the latest driver is recommended. This can be done either manually or automatically.
Does Windows 10 need Realtek audio drivers? Do I need to install Realtek High Definition Audio Manager?
No, the driver is not crucial for running your PC audio properly.
Final Thoughts
We hope these 4 quick solutions helped you to fix sound problems on your Windows 10 laptops. If you need more detailed guides for other operation systems – read more articles on our website or ask Howly experts for assistance. They are always ready to provide you with customized solutions to any issue you have.