How often do you think people have such a problem? According to statistics, everyone experienced a Blue screen of death at least once, and every fifth claims that a simple restart of the computer did not help. Therefore, it is always good to learn more about possible PC bugs to understand how to proceed.
Before we start
Save your time and let professionals resolve your issue in minutes!
Want to start solving your problem immediately? Experienced Howly troubleshooters can fix your issue ASAP. They're already waiting for you in the chat!
The benefits you'll get while troubleshooting your issue with Howly experts:
Qualified help with laptops HDD

Quick advice right in your device 24/7/365

Expert reply within 60 seconds

Clear step-by-step guidance

Limitless number of follow-up questions

Understanding and empathetic help till your laptop HDD issue is fully resolved

All answers you need in one place
If suddenly a Blue screen of death appears on your computer, it may be for different causes. Restart your device. If it does not help, you need to check several other options to fix it.
How to Fix Blue Screen of Death: Useful Tips
You were working on your computer or decided to turn it on and suddenly saw a Blue desktop instead of the usual one, saying that your computer has a problem and needs to be restarted. Most likely, this is a Blue screen Windows issue. If you have not experienced it before, this may be a one-time glitch that's easy to fix. Nevertheless, if this problem arose before and you were inactive, it is time to manage it.
So, how to fix the Blue screen of death? We will repeatedly raise this question throughout the article because if the first method does not work, then you need to move on to the second, and so on.
BSOD is one of the most common PC bugs. When people encounter it, they may start to panic a little. This error can occur after turning it on or at any time while working on the computer.
However, there is a particular algorithm for resolving this problem, which must be performed in stages. The error may resolve after the first step or even the last one. Below, we will explain in detail what it is and how it can be resolved.
What Is It: "Blue Screen of Death"?
You can immediately define the problem with the Blue screen if you have it. This problem can be on any operating system. It is shown when your computer or laptop crashes. You will see a strange picture with a sad smile on a blue screen. There also will be information about the type of the problem. Most often, a simple restart of the computer helps. Other popular causes include driver errors, operating system errors, and hardware problems. A newer version of operating systems (Windows 10 or 11) is more resistant to this problem, but it still happens. If the reboot did not help and the Microsoft Blue screen of death appeared even more often, you will need to delve into the problem in more detail.
How to Troubleshoot Blue Screen of Death?
If you have a screen problem, you should carefully read what is written on your laptop's screen and remember what exactly you have been doing lately. You will also see a QR code on the monitor screen. Scan it by your phone and follow the link to read the problem. If you cannot do this, write down the code or copy it to Google search. It may help narrow down your troubleshooting. A list of some common errors is below:
Critical Process Died
Memory Management
Inaccessible Boot Device
System Service Exception
Unexpected Store Exception
If you have recently installed new programs or visited dubious sites, this is most likely the problem. Further, after rebooting, you should use antivirus software and remove dangerous programs to avoid repeating the error. If the error has not disappeared or you have not done BSOD troubleshooting above, let's learn it step by step.
1st Step: Uninstall Incompatible Software
Starting with simple algorithms may help you solve Blue screen Windows errors. Most likely, the incorrect operation of the application (new or old) caused this error. You need to update it or delete it and redownload it. If the problem persists, the error may be in applications running in the background. Try to determine which application gave you a Blue screen. It would help if you checked all the applications on your computer and reinstalled the faulty one.
So how to fix the Blue screen of death on Windows 10? Click on the following in such order:
Start menu;
Settings;
Apps & Features;
Then find the faulty app, and click "uninstall," as shown in the image below.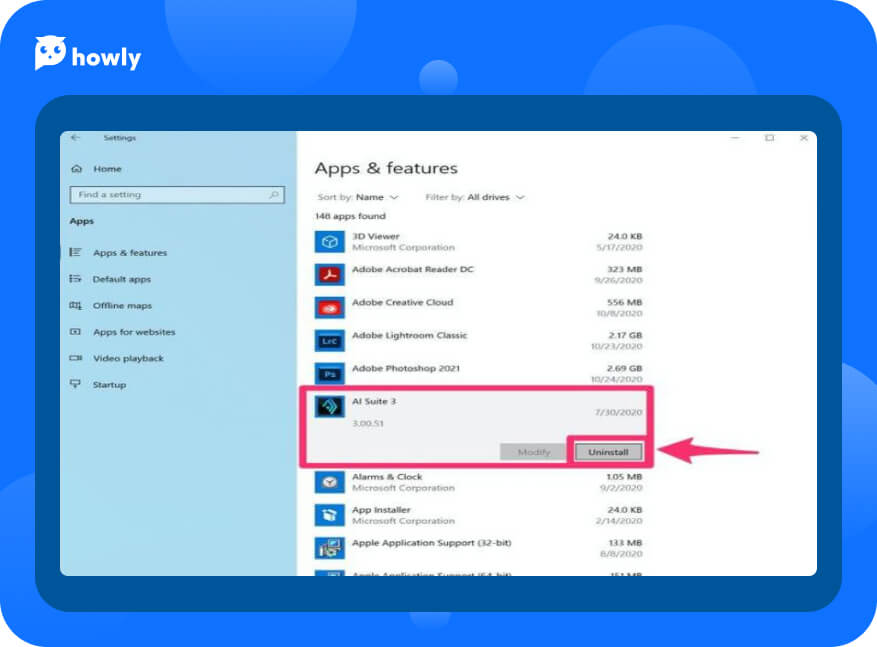 2nd Step: Redownload Installation Files
If your installation files are corrupted, they need to be reloaded using Windows Update. Set up Disk Cleanup tools to remove old files. When you do this, Windows will automatically download new files or prompt you to do this for the normal functioning of the computer and its operating system.
How to fix Windows Blue screen in this case?
Menu Start (at the left corner)
Settings of Windows
System of PC
Storage
Select your hard drive (Windows (C:).
Click on the "Temporary Windows installation files" box and confirm the deletion.
Next, recheck the applications for updates. If the problem were in installation files, Windows 10 BSOD would not appear again on your computer.
3rd Step: Run a Memory Checker
Another cause that needs a Blue screen troubleshooter is defective memory - namely RAM (random access memory). This error may appear frequently and not just occasionally. Luckily, Windows has a special memory test tool.
Type memory in the search and go to the Windows Memory Diagnostic.
To run the test, click "Check for problems the next time." Then restart your computer.
After restarting, look at the test results. They are available in the Event Viewer.
On the left, click Windows Log – System.
Find Memory for Diagnostics (right side of the screen). Here you will find the description of the main problem and instructions on how to stop the Blue screen in this situation.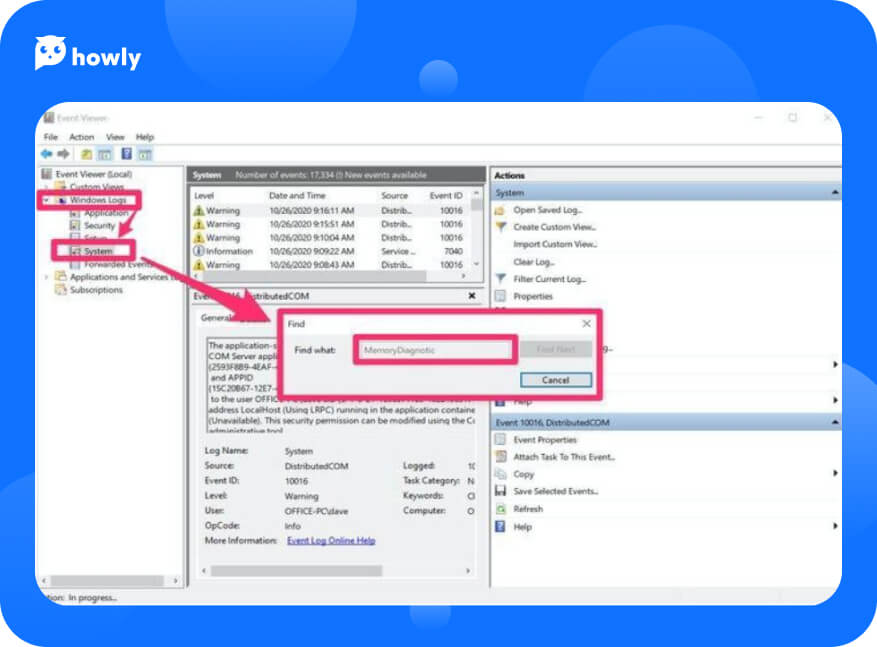 We advise you to run memory tests from time to time.
Here are 4 reasons why:
Memory tests help find faults and fix them.
They restore the stable functioning and performance level of your computer.
They help control the performance of all assembly components.
They reduce the likelihood of failure of components at the most inopportune moment.
4th Step: Analyze Upgrade Problem
The error screen can be related to Windows update errors. Each system has a special troubleshooter, a built-in tool that helps fix such errors.
On your keyboard, press the Windows and I keys simultaneously.
Click the Update & Security as shown in the picture.
Then click on the "Run the troubleshooter" button to fix the laptop's Blue screen.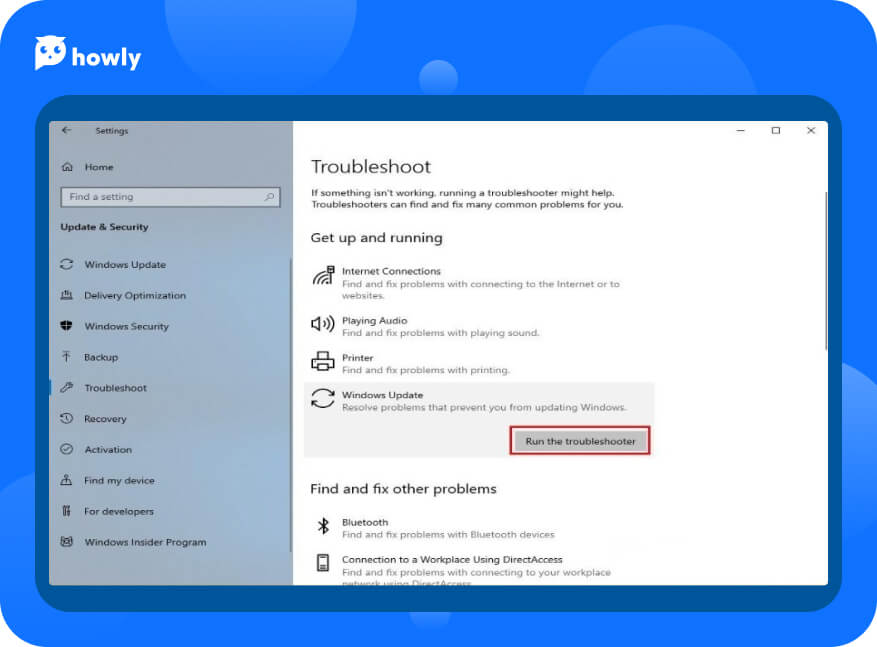 5th Step: Delete Non-Essential Peripherals
Hardware-related issues can cause the system to crash. Therefore, it is always a good idea to disable all unnecessary peripherals. It may include problems with printers, faxes, hard drives, monitors, phones, and other devices.
To update and troubleshoot Blue screen errors in this case, you require only your computer/laptop and wi-fi connection.
After installation, it is better to reconnect peripherals. However, if the problem persists, there may be a more serious issue. The Blue screen errors can usually be quickly resolved by installing and downloading a new driver version for the affected device from the manufacturer's support website.
6th Step: Perform Clean Installations
If you cannot update the current installation or this does not solve the problem, then start a new installation. It will also help avoid any similar errors in the future and make a significant improvement in system performance. However, before you begin fixing PC Blue screen, click the following:
Installation media
Windows Setup
Install now
Agree that you don't have a product key
Choose the edition of your Windows system
Accept all terms
Select what part needs to be installed and click Delete as in the picture below.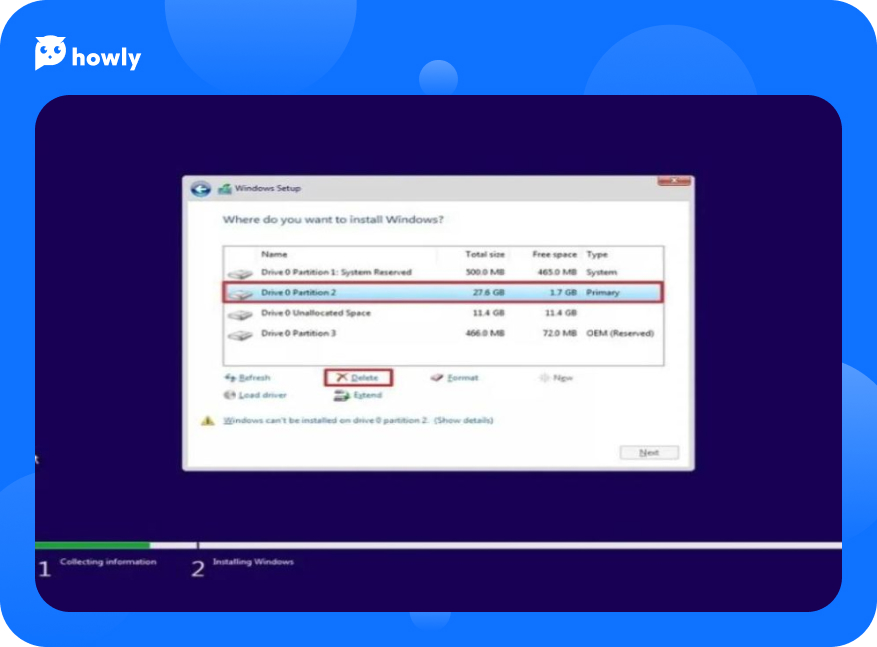 7th Step: Replace Defective or Incompatible Expansion Cards
If none of the previous methods helped solve the problem, it is time to move on to more serious steps – removing cards and installing new ones. It may take much time, but the result is worth it. In particular, graphics and sound are the sources of video card problems. Therefore, try to connect the monitor to the integrated video card of the motherboard. To do these options, you need to look at a separate HDMI port on the back of your PC or the side of your laptop.
Further, uninstall the Nvidia or AMD graphics card driver software before starting to fix BSOD. Their operation may interfere with the problem. However, if you go into safe mode, disabling them is not required. If you suspect this is the main reason for the frequent occurrences of a BSOD, then it is better to contact a specialist.
8th Step: Check Hard-Drive Errors
A hard drive is a storage device used in many computers prone to failure but provides high performance. Furthermore, its errors can cause Windows Blue screen problems.
To check for errors, enter "This PC" in the "Start Search" field and click it when it appears in the search results
Right-click the "C" drive and select "Properties"
Choose the Tools tab in the hard drive properties window
In the Error Checking section, click the Check button and follow the instructions to check your hard drive manually
Previously, if the reason lay in this, it could lead to slow computer operation and its final breakdown. When the computer detects hard-drive errors, it ignores them in further work. The data in this sector are moved, so the system will not read and write this sector. Modern hard drives support SMART and record the number of moving sectors.
9th Step: Run SetupDiag after a Failed Windows Update
You can also use the SetupDiag tool to fix the Blue screen of death on Windows 10. It is a tool provided by Microsoft as an optional download for diagnosing and determining why an update cannot be used. You need to:
Open the SetupDiag download page
Click the Download button
Choose a destination folder to save the file
Open File Explorer
Highlight the folder where you uploaded the file
Right-click "SetupDiag.exe" and select "Run as administrator"
Right-click the SetupDiagResults.log file and select Open
After finding an error, you no longer need to google "How do I fix the blue screen on Windows 10". The log will contain all the details to determine why the device is blue-screening while updating, and if it is a known issue, you will also get troubleshooting steps.
F.A.Q.
Where did the name blue screen of death come from?
This name was given by the users. In the first Windows operating systems, this was a very unpleasant and sudden event, which was accompanied by a blue screen with a lot of numbers and letters.
How to restart the blue screen?
For laptops, hold down the power button for five seconds, and for PCs, press the reset button. Perhaps this problem will disappear by itself.
Should I be worried about the blue screen?
If this happened once, then there is nothing to worry about. But if it starts to happen frequently, you have a problem that needs to be fixed. A blue screen can be a sign of a variety of problems, but if it occurs under the same circumstances, then it will be easier to solve.
Conclusion: How to Troubleshoot BSOD?
We are sure that one of the above tips will help you, and you will be able to perform troubleshooting steps in regular operation. However, if your problem is too complicated, an error may be a warning that your computer needs a diagnostic. Therefore, go into safe mode in settings. It allows you to load a basic Windows configuration with only the required components. However, it does not allow third-party programs to interfere with normal operations.
If you work in safe mode and the problem does not pop up, it is related to the installed program. In Safe Mode, you can run malware scans, use System Restore, and troubleshoot other issues. However, even a completely healthy computer can, in rare cases, encounter this problem for no apparent reason - due to errors in drivers, installed applications, or hardware components.
Then you do not need to panic googling "How to fix the Blue screen?" because everything will be resolved after restarting the computer. If errors with BSOD pop up regularly, you need to look for the cause and fix the problem. Most importantly, remember that your actions determine how your desktop or laptop will work. If one of the points has worked, you do not need to move on to the next one.