Many users face the problem when their laptop keeps shutting down by itself. There are certain solutions to get rid of this, which have helped many laptop users. The problem can be caused by many reasons, such as malware, missing/incorrect drivers, and battery problems. To get rid of it, follow the methods we have listed.
Before we start
Save your time and let professionals resolve your issue in minutes!
Want to start solving your problem immediately? Experienced Howly troubleshooters can fix your issue ASAP. They're already waiting for you in the chat!
The benefits you'll get while troubleshooting your issue with Howly experts:
Qualified help with laptops HDD

Quick advice right in your device 24/7/365

Expert reply within 60 seconds

Clear step-by-step guidance

Limitless number of follow-up questions

Understanding and empathetic help till your laptop HDD issue is fully resolved

All answers you need in one place
Ways to solve this problem
Laptop users may experience problems more frequently than desktop users. The main reasons for this are the high risk of damage to the device, overheating problems, and insufficient hardware features. Of course, there can also be some other reasons. One of these is the problem that the laptop shuts itself off.
The problem can be caused by software, operating system, or hardware malfunctions. Sometimes all causes happen simultaneously. And if you cannot define the exact cause, it is better to apply all solutions.
Run a full virus scan
Start by running a virus scan. When antivirus programs detect malware, your computer may start turning off and on. With some viruses, the person behind the malware can manually shut down your device or take other actions. Therefore, run a full virus scan. A full scan is a must, as a quick mode virus scan is not enough.
Update your drivers
If your laptop shuts down spontaneously, you must check your drivers and update outdated and missing ones. The Windows operating system installs most drivers with updates. If you find missing drivers despite updating, you need to install them manually.
To find out if your drivers are missing:
Type Device Manager in the search field and click on the result.
Pay attention to whether there is a warning sign on the devices listed on the screen that opens. If there is, download your driver from the Internet according to the device's brand and model.
Make sure the download site is official.
If your drivers are installed, you will not see any warnings. For this reason, updating your important drivers, such as video cards, with the method we mentioned is useful even if you do not see any problems.
Turn off the Quick Launch feature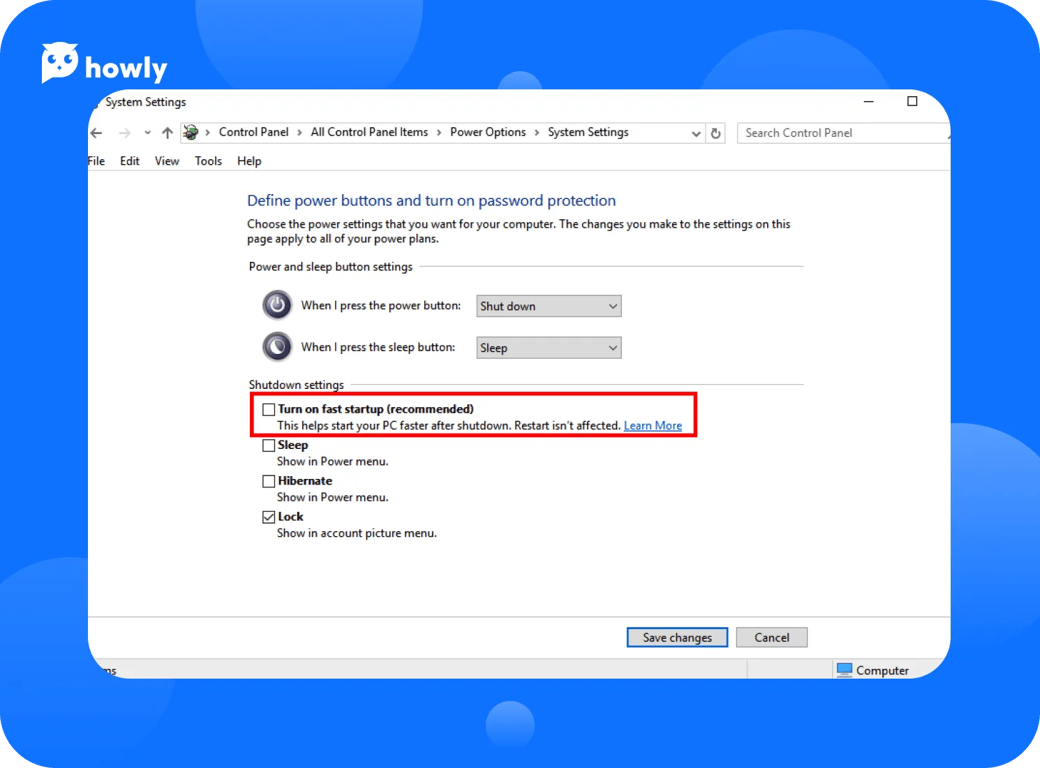 Experts say that the Windows fast startup feature can cause the laptop to shut down independently. Follow the steps below to turn it off:
Click on the Start button and the gear icon in the bottom left corner, i.e., Settings.
Go to the System section in the settings window that opens.
Click on Power Options in the left menu.
Then click on the Additional power settings button under the Related settings heading at the bottom of the right pane.
Then click on the Define power buttons and turn on password protection on the left side of the open window.
In the pane that appears, click on the Change currently unavailable settings button under the heading.
Finally, disable the Turn on fast startup (recommended) option listed under shutdown settings and click on the Save changes button.
Check your charger and battery
A faulty battery or charger can cause the laptop to shut down. You can check battery health with various third-party software or Windows commands. If you encounter this problem more often with the battery installed, it is more likely that the battery is the problem. You can find out the charger's condition with an expert's help.
Solve the overheating problem
The heating problem is a problem with all electronic devices. But in laptops, this situation is encountered more frequently because the compartment where the hardware is located is quite narrow, and the hardware is very close to each other. The laptop can turn itself off to protect the hardware when it overheats.
There is a cooling fan inside the laptop to prevent heating. However, when the inside of the laptop is filled with dust, the fans cannot cool it sufficiently. For this reason, your laptop's internal cleaning should be done at intervals of 6 months or 1 year.
Avoid overclocking
If your laptop has started shutting down, overclocking may be one of the reasons. Overclocking is fine when done deliberately and consciously. However, novice users may exaggerate overclocking, and a laptop may shut itself down when the maximum values are exceeded. In addition, even if the shutdown problem does not occur when overclocking is exaggerated, the hardware wears out more quickly. Thus, a computer you could use for 10 years may become unusable after 3-5 years.
Format your laptop
Operating system problems can cause the laptop to shut down on its own. Getting rid of operating system problems is a complex task. Especially if there is a problem and you don't know its origin. Then you can get rid of these problems with formatting. Resetting the computer can also be a solution, but the formatting is more effective.
Check for hardware failures
An inoperative fan can indirectly cause the laptop to shut down. A hardware contact failure can also cause various problems in our computers. If you have tried the solutions we have shared but have yet to conclude, seek support from a technical service or an expert to detect and solve hardware problems.