Whether we download .pdf, .zip, or .jpg documents, we are using our smartphones as adequate storage for numerous files. While in the beginning, it seems easy and straightforward to keep the files organized, it gets more challenging to manage documents as the amount of them grows unstoppably. In such a case arises a need for an effective solution, which can be implemented with the help of a proper file manager app.
Before we start
Save your time and let professionals resolve your issue in minutes!
Want to start solving your problem immediately? Experienced Howly troubleshooters can fix your issue ASAP. They're already waiting for you in the chat!
The benefits you'll get while troubleshooting your issue with Howly experts:
Qualified help with laptops HDD

Quick advice right in your device 24/7/365

Expert reply within 60 seconds

Clear step-by-step guidance

Limitless number of follow-up questions

Understanding and empathetic help till your laptop HDD issue is fully resolved

All answers you need in one place
Widely Used File Manager Apps on Android in 2022
1. File Explorer
Possessing a user-friendly interface and being extremely easy to use, File Explorer can attract all users of the Android system on both desktop and mobile. The app allows easily swapping the files from your computer to the remote device through the Web Access feature. Additionally, files can also be exchanged via phone, which is possible with the help of the FX connect feature.
File Explorer also allows app users to access the content and size of every file in a particular Usage View function. In contrast, the pre-installed variety of additional options allows you to make text edits and file extractions and view an array of supported file extensions.
2. Solid Explorer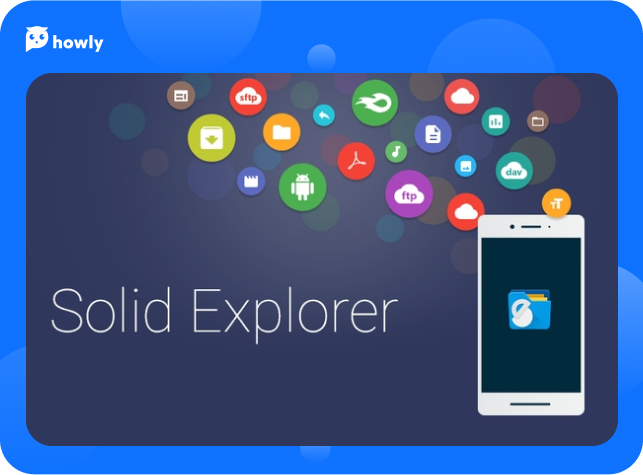 Solid Explorer is convenient and allows us to see all stored files in a single thread, which makes it incredibly easy to navigate. The application is best known for its security since it utilizes an encryption feature making files extra protected against possible losses or thefts.
One more convenient feature deserves to be mentioned – when hovering over the file, a small options window on the right appears, allowing you to choose what you would like to do with the file, very much like in a desktop version. Several customization and personalization options are further unlocked and available for use. However, for all of these conveniences, one should expect to be charged – the app is freely available only during the first 14 days.
3. File Expert
One of the best file managers for Android, File Expert, allows users to seamlessly access files from a variety of locations, such as memory cards, cloud services, and Server Message Blocks – SMBs. In an automated manner, this application will sort the majority of files in a proper location, such as videos, audios, eBooks, photos, and apps. Besides, the files can be tagged and named differently, with corresponding colors applied. With a USB cable, it also allows you to print out the needed document.
4. ES File Explorer
The ES File Explorer provides a straight and effective way for file management and is suitable for both local and networked use with numerous users. Safety and simplicity are further primary features that describe this application. Files can also be managed remotely through the desktop version on the mobile device.
All of the stored files can be accessed, whether it's cloud storage, a phone's memory, or a local network. The ES File Explorer is also easy-to-navigate and is therefore installed by nearly every Android user.
5. MiXplorer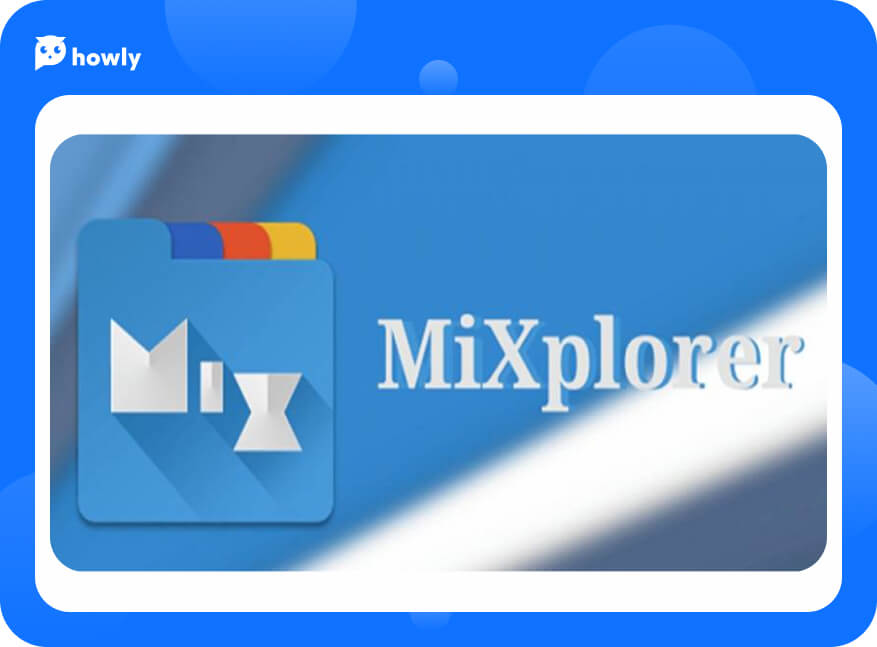 The MiXploreris trending because it's equipped with numerous customization features and enables creating a thread of commands through the function called "Tasks". In-app integrated options permit you to browse all files disregarding the extension, edit the text, view images and play media files.
6. File Commander
A straightforward interface and variety of supported files are what make the File commander so great. The broad functionality permits a wide range of supported functions, such as deletion, removal, and .zip of files. File Commander is also permitted to stream music, videos, pictures, as well as other docs.
More advanced features come with a premium version where users can encrypt files, analyze the storage, and remove or restore the previously erased versions.
7. Asus File Manager
A well-designed and completely free Android app of high functionality, the Asus File Manager enables smart organization through categorization and labels. These are made in an attractive design and a convenient interface. While supporting a whole range of cloud storage services – Google Drive, Dropbox, and OneDrive, it also permits compressing and zipping files while linking them to the internet source.
Being extremely functional, the Asus File Manager does not support any advertisements and thus provides users extra convenience.
8. Gira File Manager
Making it intuitive for navigation, the Gira File Manager provides simple yet effective functionality and an elegant interface. Just in a few clicks, it allows you to access and manage files from a variety of sources, such as internal storage, cloud storage, and memory cards. For extra security and peace of mind, this application allows making an automatic backup of all of the files within Gira File Manager.
What adds on top to its already stable features is the multilingual support: with about 29 available languages, it is supported in English, German, Dutch, French, Spanish, Italian, Arabic, Korean, and many additional ones.
9. Astro File Manager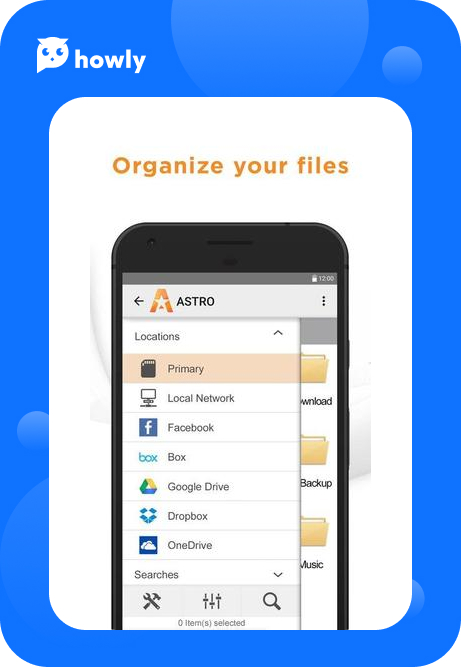 Astro File Manager is another ad-free application for all those individuals who like to work uninterrupted. It provides users with extensive functionality around .rar and .zip file extensions, allowing users to compose and decompose them. It also serves as a great way to clean the device's memory.
In addition to storing and managing the files clouds, it also has in-bound media running feature that allows you to play video, and music, navigate the collection of pictures within the app, as well as easily and comfortably browse through the rest of the files.
Final Verdict
Choosing the right file manager is essential to keep the stock clean and files well-organized. For this, a proper Android app may play a decisive role.
However, it is necessary to approach the app selection with rigor and accuracy, which will help to ensure that the app supports a needed range of file formats and provides a broad array of functions. By using an app for file organization, it will be easy to access and convenient to navigate the sea of digital information we are faced with daily.