We are living in a digitalized generation with fast-growing technologies. And a classic example of this evolution is the calendar which used to be seen in every household on the wall or the tabletop.
Before we start
Save your time and let professionals resolve your issue in minutes!
Want to start solving your problem immediately? Experienced Howly troubleshooters can fix your issue ASAP. They're already waiting for you in the chat!
The benefits you'll get while troubleshooting your issue with Howly experts:
Qualified help with laptops HDD

Quick advice right in your device 24/7/365

Expert reply within 60 seconds

Clear step-by-step guidance

Limitless number of follow-up questions

Understanding and empathetic help till your laptop HDD issue is fully resolved

All answers you need in one place
Today the same is now preferred to be updated over mobile phones, and almost all smartphones have a calendar application pre-installed to keep us organized and handy. If you are bad with dates and time, there are a few advanced apps with upgraded features like event management and reminders which are easy to access and read.
Out of many apps from the app store, here is a list of the top 5 Android calendar apps that have high reliability, productivity, and accessibility.
5 Best Free Android Calendar Apps
1. Google Calendar
An easy-to-understand and safest Android calendar app developed by Google, which is also easy to use and approach. It is accessible to both Android and iOS users and has now started to come in-built with Android smartphones. It brings to you various useful and convenient features like event creation or editing with display in a week, day, or month view according to the user's comfort.
All of your saved events are automatically synced with Gmail and are added to your schedule, so you don't have to worry about changing devices or losing any data. You can check all your past, present, and future events like birthdays/anniversaries, travel bookings, etc., with the schedule view feature.
2. aCalendar
A basic Android calendar app that customizes itself into the traditional calendar accordingly. It comes with all the default features like reminders, event management, dates, information, etc. It also helps you smoothly transit between day, week, and month displays.
aCalendar provides you with holidays, festivals, and also the daily moon phases. It has various themes, supports Google calendar, and also includes tasks, all of which are customized settings.
Since the app can be downloaded free from the app store, it contains ads. Hence, the app has come up with the premium version, which provides ad-free usage for the users.
3. TimeTree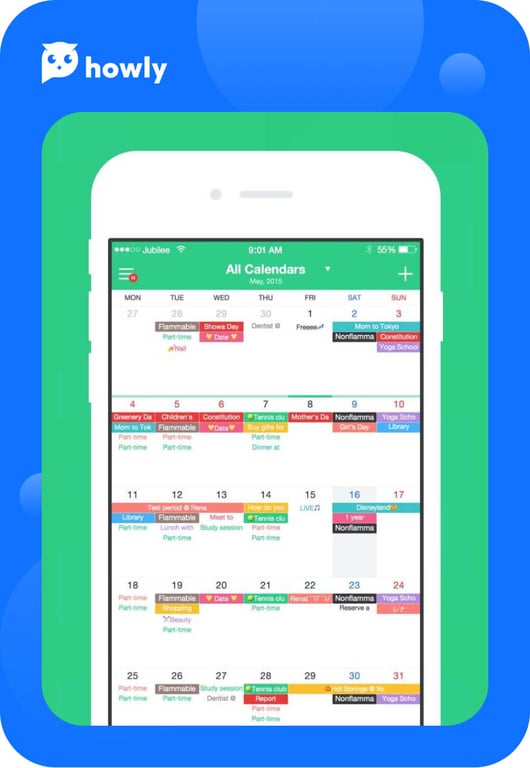 This app is an all-in-one app, and one does not need to search for any more apps for the organization as this one makes up the best calendar app list. It not only has the provision of reminders, widgets, advanced sharing, and invite features but also supports Google calendar, Outlook calendar, and Apple calendar.
It is highly user-friendly and provides the best sharing feature than any other calendar app, so you can have the schedule of your colleagues, friends, family, and loved ones in one calendar.
TimeTree contains a communication section in the app which allows you to upload photos and comments. The only drawback with this app is an ad because it is free to download from the app store. Otherwise, it is an easy-to-use app with an intuitive interface.
4. Simple Calendar
Like the name, it is a basic app that does not provide you with upgraded features like the apps mentioned above. It does not support and sync with other calendars, which is in a way a good security feature if you want to keep your dates, schedules, and events safely and privately with you.
All the information and data are stored locally on the device, and only ask permission to access contacts and storage. Compared to Google, the level of privacy is undoubtedly splendid in the Simple calendar.
5. DigiCal Calendar
The last app to make a list is DigiCal which has a clean design and provides you with more than one agenda display that can help in saving your time for scheduling.
It is easy to use and has seven different types in which you can view your calendar, nine themes for display, and up to six widgets. Apart from this, it also provides you with add-on features like sports calendars, TV schedules, weather forecasts, time zone, location searches, etc.
DigiCal syncs well with Google calendar, Outlook calendar, and Exchange. It is free on the app store for download, and the limitation is that it comes with ads.
Conclusion
Android calendars have now become a necessity and have proved to be extremely useful for our organization and productivity. All of the five apps mentioned have their own unique features and provide the best approach for our day-to-day events and schedules.
At last, we wish to provide you with the best of our knowledge about the applications, and with the hope that it helped you find your interest in the app, we close the article.