In this article we will show you what you should do if, at one moment, the error "There is a problem with the proxy server, or the address is incorrect" appears in the browser on your computer or on your phone. The instructions in this article should help you solve any proxy server error that appears quite often in Windows or phones and tablets on Android.
Before we start
Save your time and let professionals resolve your issue in minutes!
Want to start solving your problem immediately? Experienced Howly troubleshooters can fix your issue ASAP. They're already waiting for you in the chat!
The benefits you'll get while troubleshooting your issue with Howly experts:
Qualified help with laptops HDD

Quick advice right in your device 24/7/365

Expert reply within 60 seconds

Clear step-by-step guidance

Limitless number of follow-up questions

Understanding and empathetic help till your laptop HDD issue is fully resolved

All answers you need in one place
Most often, the error appears in the browser Google Chrome or Opera. In other browsers, such as the standard Microsoft Edge, this error message looks a little different. But in any case, the browser will say "No connection to the Internet" (or network) and ask you to check the proxy settings. This error can suddenly appear both on a computer and on a phone that runs on Android, or iOS (iPhone, iPad).
This problem is caused by incorrect proxy server settings. When a proxy server is enabled in the Windows or Android settings, the wrong addresses are set, or the server simply doesn't work. As a rule, proxy server settings must be disabled.  It is not uncommon for users to turn them on themselves, following some instructions or by accident. Or some programs do it. Perhaps even malicious ones. To let your Internet connection through their servers.
Therefore, to remove the proxy error, we need to disable these settings in the Windows settings, in the browser, or in the Android settings (if you have this error on your phone).
There was a problem with the proxy server... what to do in Windows?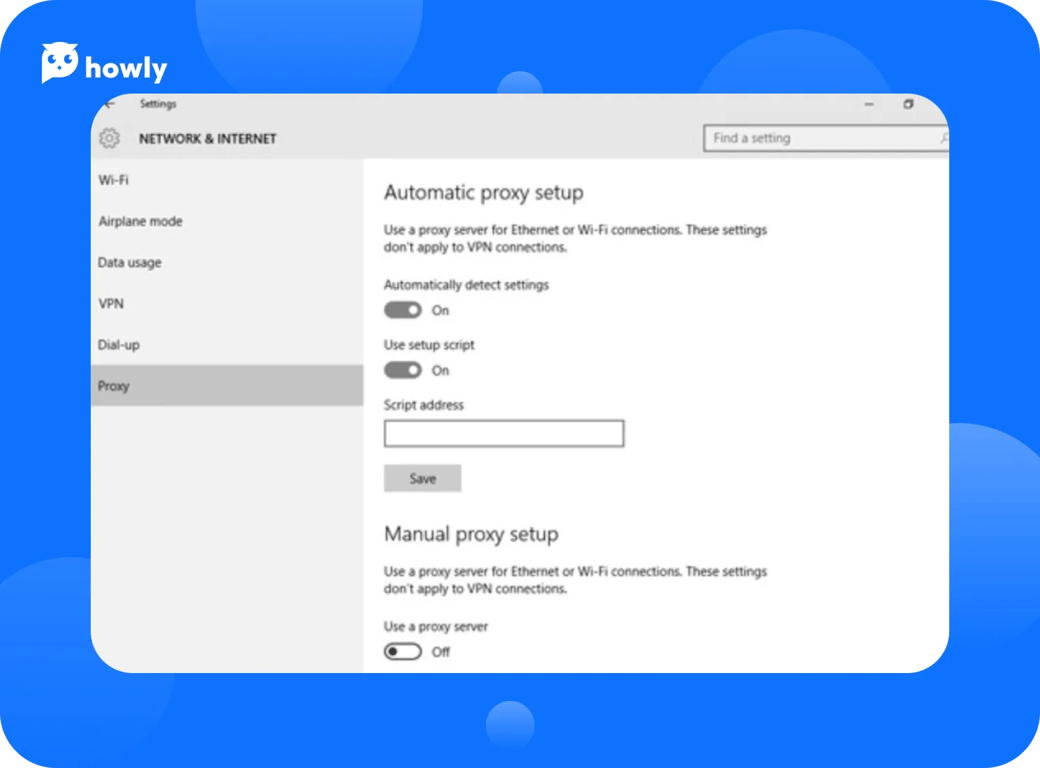 If you have Windows 10, start searching for the word "proxy". And open "Network Proxy Settings".
This will open the proxy settings, where you need to disable all three items:
Define parameters automatically.
Use the setup script.
Use a proxy server.
After that, the error with the proxy server in the browser should disappear, and the sites will start to open.
Universal solution: for Windows 7 and other versions
The method above only works on Windows 10. If you have Windows 8, or Windows 7, you can use another solution.
It is necessary to open the Control Panel. This can be done through the Start menu. Or press Win + R, type control and press Ok.
Switch to "Small Icons" and find "Browser Properties".
Next, on the "Connections" tab, click on "Network Setup", uncheck all the boxes and click "Ok", then "Apply".
What to do if the solution doesn't work?
Check if other sites also open in a different browser.
If you use a VPN, disable it.
Turn off all add-ons in your browser.
Perhaps the error "Proxy server has a problem or the address is incorrect" was caused by some kind of virus or malware. You should check your computer with an antivirus program.
On the Android phone: There is a problem with the proxy server, or the address is incorrect
The solutions here are the same as on the computer - you need to disable the proxy server. It's not hard to do.
Open the Wi-Fi settings and click on the Wi-Fi network through which you are connected to the Internet. Or click on it, hold it and select "Properties".
Next, you must find the proxy settings and select "No".
If disabling the proxy did not help, then pay attention to programs that allow you to use a VPN connection. They are also often installed on Android. Disable the VPN connection, or uninstall the program. You can also perform a network reset in the Android settings.