This article comes up with solutions to the problem when the Wi-Fi indicator light on the laptop is not lit, which signals the malfunctioning of the wireless module on the laptop. It doesn't matter how you got this problem. Immediately after buying the laptop, after reinstalling Windows, or when the Wi-Fi indicator light suddenly turns off. I think that the tips in this article will help you fix the problem. We will look at solutions using Windows 10 as an example. But if you have Windows 7, or Windows 8, you can apply all the solutions to your operating systems. The same goes for your laptop model. The following tips will work for different manufacturers: ASUS, HP, Lenovo, Acer, Packard Bell, etc.
Before we start
Save your time and let professionals resolve your issue in minutes!
Want to start solving your problem immediately? Experienced Howly troubleshooters can fix your issue ASAP. They're already waiting for you in the chat!
The benefits you'll get while troubleshooting your issue with Howly experts:
Qualified help with laptops HDD

Quick advice right in your device 24/7/365

Expert reply within 60 seconds

Clear step-by-step guidance

Limitless number of follow-up questions

Understanding and empathetic help till your laptop HDD issue is fully resolved

All answers you need in one place
To begin with, you need to find out what your case is:
More often than not, when the Wi-Fi indicator on the laptop is not lit, then, respectively, the Wi-Fi does not work. And this is quite obvious. Solutions to this particular case we will consider below in the article.
It also happens when your notebook connects to wireless networks without any problems, everything works, but the light indicates the wireless network operation does not function. In this case, I advise you to ignore it. If it is working, then fine. But if you still want to fix it, try reinstalling the drivers.
The wireless network indicator itself can be located anywhere on the notebook. It all depends on the specific model. It is not uncommon for it to be built into the button that turns the wireless modules on and off.
Remember that the light will be off when you turn on airplane mode in Windows 10. And in Windows 7, it was the Wi-Fi module that was being controlled.
In the same way, this light is unlikely to be lit if the laptop does not have a wireless adapter driver installed. But first things first, try these solutions below.
Turn on the Wi-Fi indicator with the keys on the laptop
So as not to get into trouble, let's try a simple method. On almost every laptop there is a key combination that is responsible for turning the wireless modules on and off. Sometimes it is a separate switch on the chassis.
Combinations for different manufacturers are listed below:
ASUS - FN+F2;
HP - Fn+F12;
Lenovo - Fn+F5;
Acer - Fn+F3;
Samsung - it's the Fn+F12, or Fn+F9 keys;
DEL - Fn+F2, or Fn+F12.
How to check and enable the status of the wireless adapter
We need to go to "Network Connections" and check whether the adapter "Wireless Network" or "Wireless Network Connection" is enabled. To do this, do the following:
Next, right-click on "Wireless Network" and select "Enable".
After that, the wireless network on the laptop should work.
If in the window "Network Connections," you do not find the adapter "Wireless Network", or "Wireless Network Connection", then the problem is most likely that you do not have the Wi-Fi adapter driver installed, and it needs to be installed.
Wireless network driver and indicator
You need to open the Device Manager and see if there is an adapter that is responsible for the Wi-Fi connection. Then follow this instruction:
Press Win + R, type the command mmc devmgmt.msc, and press Ok. Or start the Device Manager another way that is convenient for you.
Immediately open the "Network Adapters" tab, and see if there is an adapter with "Wireless", "Wi-Fi", or "WLAN" in its name. Most likely, you won't see it there.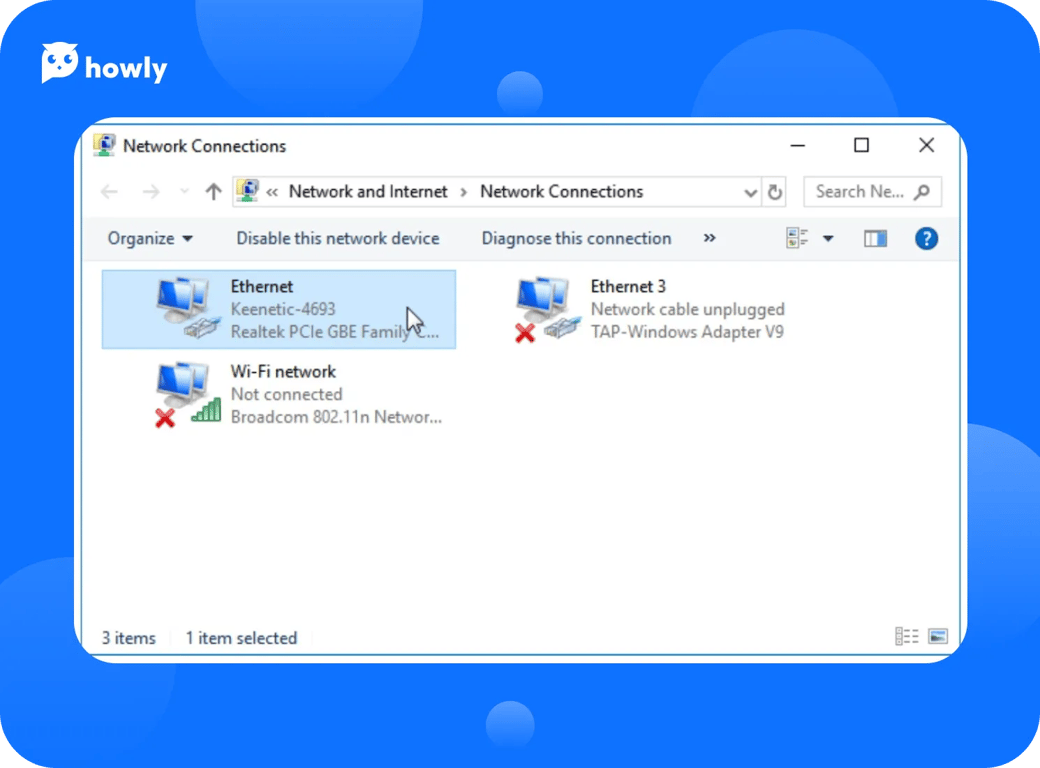 But in Device Manager, there will be at least one unknown device with a yellow icon.
This means that you need to install the Wireless adapter driver. This driver can be downloaded from the manufacturer's website, necessarily for your laptop model and version of Windows. Or install it from the disk if it was included with your laptop.
After installation, the Wi-Fi driver should work, and the indicator light should be on.