Many parents who use Apple devices, actively utilize the Screen Time function to limit the amount of time their child spends in different programs. However, this feature can be useful to you too - especially if you've switched to remote work and face difficulties organizing yourself. A note here: the function is only available in macOS Catalina.
Before we start
Save your time and let professionals resolve your issue in minutes!
Want to start solving your problem immediately? Experienced Howly troubleshooters can fix your issue ASAP. They're already waiting for you in the chat!
The benefits you'll get while troubleshooting your issue with Howly experts:
Qualified help with laptops HDD

Quick advice right in your device 24/7/365

Expert reply within 60 seconds

Clear step-by-step guidance

Limitless number of follow-up questions

Understanding and empathetic help till your laptop HDD issue is fully resolved

All answers you need in one place
When you work from your home computer or laptop, it is not easy to concentrate on your work: online movies, social networks, and games constantly distract you. As a result, in the best case, you will manage to do all the things at the last minute, but in the worst case - you will have to overwork or remain without a bonus. Here's how you can use Screen Time to make your computer work for you, not against you.
Know your enemy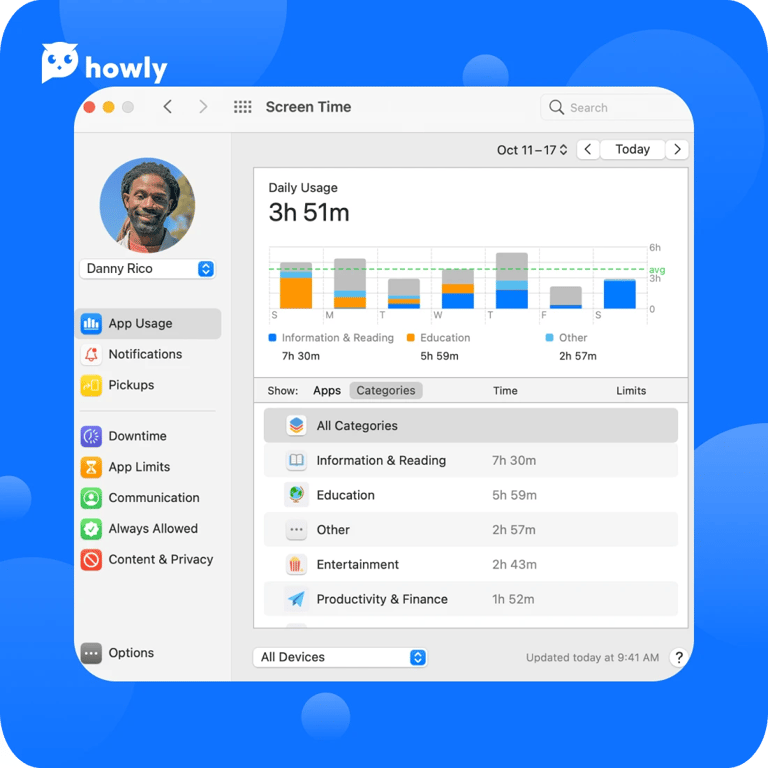 We all get distracted by different things, so your first task is to figure out what's keeping you from being productive. For example, you don't play games at all, but you can spend long hours scrolling through Twitter, arguing with strangers, and reading miles of threads. Or vice versa: you found an exciting game, and your hands reach for it every minute. If it's that simple, you're one step ahead and can move on to the next point.
However, if you do not really understand where your time goes, it is worth opening your home laptop, and checking out the "Screen Time" report. This is how you can do it:
Open "System Settings" → "Screen Time".
At the top left of the screen, select the desired user and click on "Using Applications".
You'll see a list of frequently used apps and a graph broken down into categories - Entertainment, Productivity, Social Media, and so on. If you use Safari, you'll also be able to see which sites you spend the most time on.
Under "Notifications" you can also see how many notifications you get per day and from which programs, and under "Lifting" - how many times you've picked up your smartphone (if you have an iPhone and have enabled "Screen time" synchronization between your devices).
Configure application restrictions
Limiting the usage of applications
Click the "App Limits" tab and check all the apps and categories you want to limit. In the box below, you can set how much time per day you can spend on a particular program or group of programs.
Choose the allowed always apps
If you only need a couple of programs to work and everything else is a distraction, you can take a slightly different route. Close access to all programs via "Application limits" (the button at the top of the list), and under "Allowed always" select useful services: for example, Safari, document apps, and Zoom for meetings. You'll be able to access these apps at any time, regardless of the limits.
The main thing to remember is that you're doing this for your own sake and for your own productivity. Yes, you can easily go into the settings and remove the restriction to play for an hour. But better remember why you set it up in the first place.