What is a swap file, and why do we need it?
Before we start
Save your time and let professionals resolve your issue in minutes!
Want to start solving your problem immediately? Experienced Howly troubleshooters can fix your issue ASAP. They're already waiting for you in the chat!
The benefits you'll get while troubleshooting your issue with Howly experts:
Qualified help with laptops HDD

Quick advice right in your device 24/7/365

Expert reply within 60 seconds

Clear step-by-step guidance

Limitless number of follow-up questions

Understanding and empathetic help till your laptop HDD issue is fully resolved

All answers you need in one place
While you complete some operations, the data of all running applications are not stored on the disk. Instead, it is stored in the faster RAM. With a large number of active programs, RAM can overflow, resulting in out-of-memory errors and computer crashes. To prevent this and to keep applications running even when RAM runs out, Windows and other operating systems use a swap file.
A swap file acts like a continuation of the main memory and is used to store data that does not fit into it. It is a hidden file that resides on the system disk. Windows 10 has two such files: swapfile.sys and pagefile.sys. The first is responsible for operating of built-in applications and programs from the Windows store, and the second is for software from third-party sources.
What size to choose for Windows 10 swap file
The size of the paging file depends on the amount of RAM: the larger the RAM, the smaller the file. By default, Windows manages its size automatically and does a pretty good job with it. So if there is no special reason, it is better to leave all the settings as they are.
If you want to experiment, it is worth relying on your own experience of using a PC. To do this, start all the applications you need for work and open the "Task Manager" by pressing Shift + Control + Esc. Switch to the "Performance" tab, select the "Memory" section in the side menu, and see how much of it is used.
Multiply this number by two and subtract the amount of RAM you have. The resulting number will be the optimal size of the swap file for your Windows 10. If the calculation results in a negative value, then there is no need to change the file size.
How to set up a Windows 10 swap file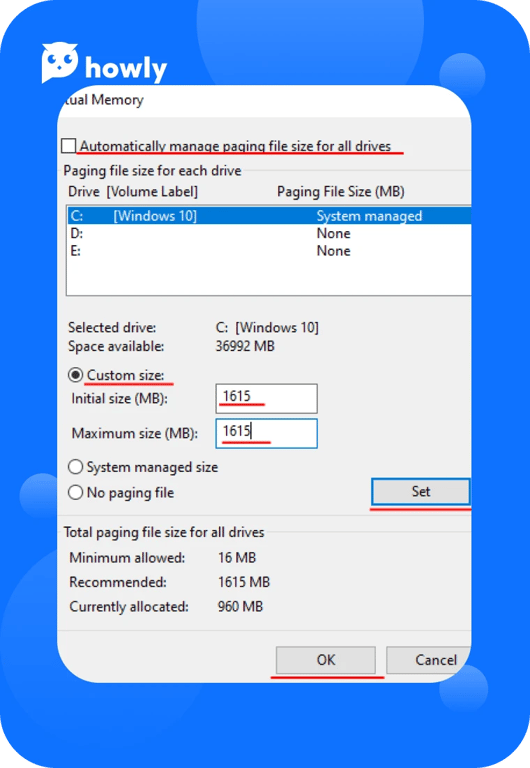 To change the volume, press Win + R, type sysdm.cpl and click OK.
Switch to the "Advanced" tab and click "Options."
Go to another tab "Advanced" and click "Change...".
Uncheck "Automatically select swap file size", click "Specify size", and then enter the minimum and maximum size in megabytes. Don't forget to click the "Set" button to save.
After this, the system prompts you to restart your computer. Click OK for the changes to take effect.
Is it worth disabling the swap file on Windows 10?
We do not recommend you do this because even with a lot of RAM, Windows still uses the swap file. If you disable it, it will cause errors when the RAM is full: applications may crash, and some applications won't start at all.