Every year we are used to the fact that the Internet is getting faster, and computers are equipped with more powerful processes. However, accidents do happen. For example, you watch a video or play a computer game, and suddenly everything slows down. In other words, lags. It could be ping spikes on Wi-Fi. And this problem will not resolve itself. You will need to understand what exactly causes it and how it can be eliminated. It sounds like a pretty complicated task, but with our help, you will quickly figure out what it is, how it works, and how to fix it. You will find all the information below.
Before we start
Save your time and let professionals resolve your issue in minutes!
Want to start solving your problem immediately? Experienced Howly troubleshooters can fix your issue ASAP. They're already waiting for you in the chat!
The benefits you'll get while troubleshooting your issue with Howly experts:
Qualified help with laptops HDD

Quick advice right in your device 24/7/365

Expert reply within 60 seconds

Clear step-by-step guidance

Limitless number of follow-up questions

Understanding and empathetic help till your laptop HDD issue is fully resolved

All answers you need in one place
What Is the Essence of Ping Spikes?
The Internet spikes are a sudden increase in the ping level above the level of the connection you usually may use. For example, if the average ping time between your computer and the game server is 45ms, but sometimes it randomly increases to 350ms, you feel ping jumps. In most cases, there is nothing to worry about. However, repeated random ping spikes should be investigated so that you can identify the problem and fix the connection.
In a video game, for example, you may find that some commands are not processed as quickly, so your character may lag a little. Or you also may notice that the action pauses and then seems to last for a while soon. Knowing your average ping can help you understand what kind is to expect, as well as exceptional levels.
What Causes of Ping Spikes Are the Most Common?
Unfortunately, this is a common problem for Windows computers. Most often, it is associated with the following issues:
Slow or unreliable Internet;
Slow connection speed;
Outdated drivers;
Network congestion;
Firewall configurations;
Damaged apps;
Limited bandwidth.
You do not always have to determine the cause of their appearance immediately. Before asking, "Why is my ping spiking?", read this article. We will try to figure out how to fix it as a way to solve it will indicate the actual cause.
How to Fix Ping Spikes: Windows 10?
Ideally, as a computer user, you want to have a low ping because you need a fast and smooth connection between the device that sends it and the device that receives and returns it. Therefore, if there is a problem with ping, it is better to resolve it as soon as possible, not to disrupt the usual process of using a computer and playing games. Here's how you can do it on Windows 10.
Using of VPN Can Help
How to get rid of ping spikes? While a VPN can slow down the Internet, it can also help clear the connection. Using it can be helpful if your ISP is blocking your Internet connection or redirecting you through a congested network. You can start using a VPN by signing up with its service provider and installing the appropriate software for them. You can purchase access to a VPN proxy server which you can then add to your computer by going to your settings and configuring sharing on your network at your Windows.
Changing Google DNS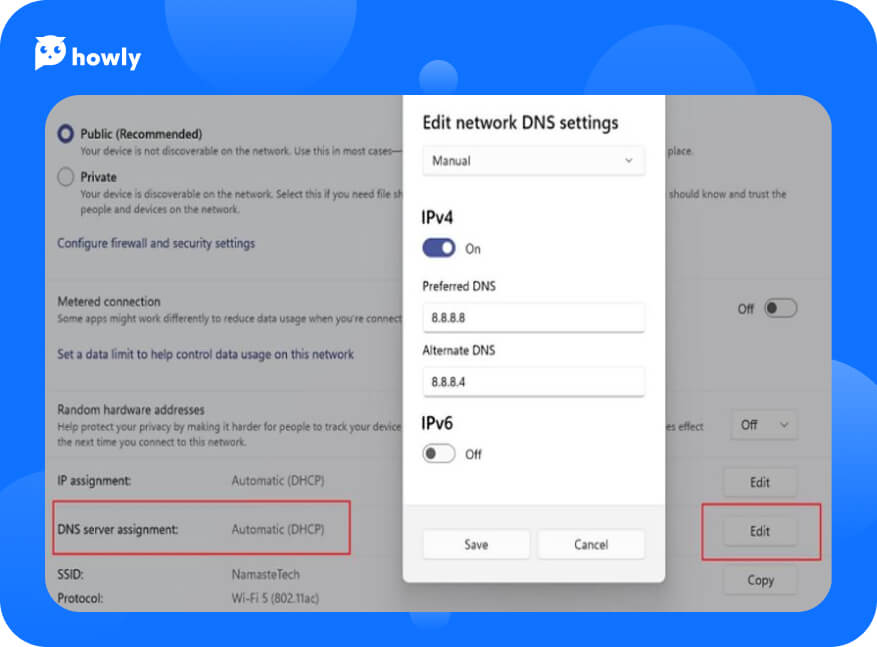 How to stop ping spikes? Google DNS is malware protection that can be one of the best ways. To activate it, follow these steps:
Press Win +;
Open Settings;
Navigate to Network & Internet;
Select WiFi or Ethernet parameter;
Look for DNS Server settings;
Click on the Edit tab.
Change from Automatic to Manual.
That is it, and you are ready to enter the Google DNS protocol by:
Preferred 8.8.8.8
Alternate: 8.8.4.4
Don't forget to save all changes.
Update PC's Network Drivers
It is always helpful to have the latest network drivers for the current version of Windows. And it permanently eliminates sudden ping spikes. While you can update the software with any third-party driver, the first step should be to check with Windows Update. You can find it on Settings; after that, click:
Advanced Settings;
Additional Updates;
Check for network driver updates.
If your computer is complete with some updates, restart it. If there are no updates, you need to contact the OEM. Usually, the drivers are listed on their website, and you can download and install them based on your version.
Check Network Adapters
Since you need to fix ping spikes Ethernet, try to correct the network adapter. If it is done correctly, you will be immediately offered proper solutions:
Go to Windows Update in the Settings menu;
Select Troubleshoot Option;
Choose Additional Troubleshooters;
Find Network Adapters and Run it.
After the troubleshooting process is complete, you can reboot the system. Try to open the program to recheck the level spikes. At this time, the error should be discontinued.
Turn Off Your Network Devices
If you want to fix Internet lag spikes, turn off other devices – tablets, phones, TV, or other computers you have. They will eventually consume more bandwidth than other devices on the same network. If you have turned off all the problems, turn it all over again. Now your job is to turn off each of the devices gradually. If the issue is resolved when you disable a certain device, such as a phone, then you understand the reason.
Security Software Needs to Be Disabled
If a firewall is causing latency spikes, turn off it or the firewall provided by third-party security software. First of all, find out which feature is responsible for monitoring web traffic. If you experience them while working on some critical tasks or programs, check the program-based rules.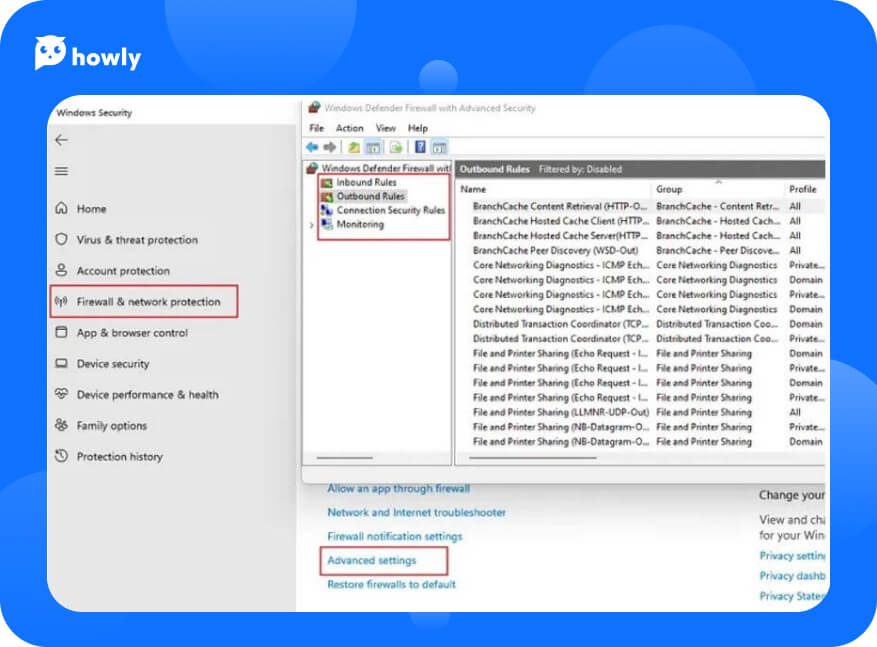 And try these options to fixing latency spikes:
Under the Outbound and Inbound rule, look for the blocked section and if it is related to your scenario.
Click on Advanced settings to open the Windows Defender Firewall window.
Allow an app through the firewall.
Close Bandwidth-Hogging Background Programs
But on newer or more powerful computers, you may not notice how background apps often slow things down. If you're having this problem more and more often, closing them might resolve it. This can be done in three simple steps, which we have described below.
Open Task Manager with combination Ctrl + Shift + Esc;
Choose the Network tab to sort it. It should be based on network utilization or bandwidth;
Right-click its app and select End task;
Check to fix lag spikes on the laptop or not.
Choosing WPA2-PSK [AES] Option
WPA2-PSK [AES] is a more modern way of encrypting the world. Since your Wi-Fi-enabled devices are most likely no older than ten years, you won't experience any problems choosing WPA2-PSK (AES). If a device stops working, you can always change it.
Type in the Admin page URL address of the router in the browser and press the Enter key.
In the Network Security section, select WPA2-PSK [AES].
Save the changes and exit.
If WPA and TKIP slow down your Wi-Fi, this option will significantly speed up, and you will forget about ping spikes in games.
Turn Off Antivirus to Check Massive Ping Spikes
Sometimes your antivirus software can interfere with the speed of your network connection and cause errors like this. You can try disabling your antivirus, and it might solve the problem. If disabling does not help, perhaps installing a new antivirus or a complete update of the operating system can fix ping spikes and improve the signal. Remember the algorithm of actions you need to register through Win + R: appwiz.cp – Programs & Features –Locate antivirus – Uninstall.
Conclusion
Now, if our readers face a similar problem, we are sure that you will cope with it perfectly. However, you do not have to face difficulties alone. You can write "My Internet keeps spiking" to certified Howly experts 24/7 and receive help. Your personal consultant will be able to give more detailed instructions and tips. But we would advise providing remote access to a specialist so that they can fix it faster. Don't worry, it's completely safe, as you give permission for certain actions and can control the whole process. Trust the solution to this and any other problem to Howly.