Voice chats are crucial in our times: it allows you to share information as fast as possible. Especially when it comes to gaming: you can be busy running an important mission but also need to give additional orders and notes to your teammates.
Before we start
Save your time and let professionals resolve your issue in minutes!
Want to start solving your problem immediately? Experienced Howly troubleshooters can fix your issue ASAP. They're already waiting for you in the chat!
The benefits you'll get while troubleshooting your issue with Howly experts:
Qualified help with laptops HDD

Quick advice right in your device 24/7/365

Expert reply within 60 seconds

Clear step-by-step guidance

Limitless number of follow-up questions

Understanding and empathetic help till your laptop HDD issue is fully resolved

All answers you need in one place
And like other popular games, Roblox has its voice chat. It has minimum requirements, is easily installable, and is accessible. Today we will show you how to use VC in Roblox
Requirements for voice chat in Roblox
To keep the chat safe for every user, Roblox creates basic requirements for them. It helps to keep the overall atmosphere mutually respectful because they can ban those who violate the internal rules. So before you start to use Roblox voice chat, check that your account fits the requirements:
Your age is confirmed. You must be 13+ years old to play the Roblox.
Verify your phone and email. They will be linked to your account. You can't create another account if you disobey the rules.
A properly working microphone. It can be a headset or a microphone and headphones. You need to use a mic on the Roblox verification process. Otherwise, their team won't allow you to enter the system.
How to verify your age in Roblox
Provide a government-issued ID, and scan the QR from the Roblox team to open the verification form and take a selfie. That's how they can match your face on documents with your real face. Here is a more detailed description of this process:
Scan the ID. It can be a residency card, driver's license, or international passport.
Download any QR scanner app. If you have a built-in QR scanner, skip this step.
Log into your Roblox and click on the gear logo.
Choose Settings in the menu.
Go to the Account Info and scroll until you find the Personal block.
Near birth date, you'll see a Verify My Age virtual button. Click on it.
You'll see a pop-up with requirements and a QR code in your browser. Scan it with your phone. Leave this tab open until the end of the process.
Tap on the Start Session virtual button on your phone screen.
Take a photo of the government-issued ID in this tab. Tap on the Shatter button to send photos to the Roblox team.
In the next window, they will ask you to take a selfie. Point your face in front of the camera and press Shutter.
Wait 2-3 minutes until the system confirms your eligibility for this service.
Go back to the browser. You'll see a Pass result if everything is OK. But if, for some reason, the system doesn't approve you, you'll see a Fail result.
Close the tab. Visit the Roblox site as usual.
If you see a Pass result, try to use another ID that looks more like your current self. But you can't re-verify immediately. You should wait for seven days until you have a chance to retry verification. Once you pass the confirmation, you can use VC on Roblox.
How to enable voice chat on Roblox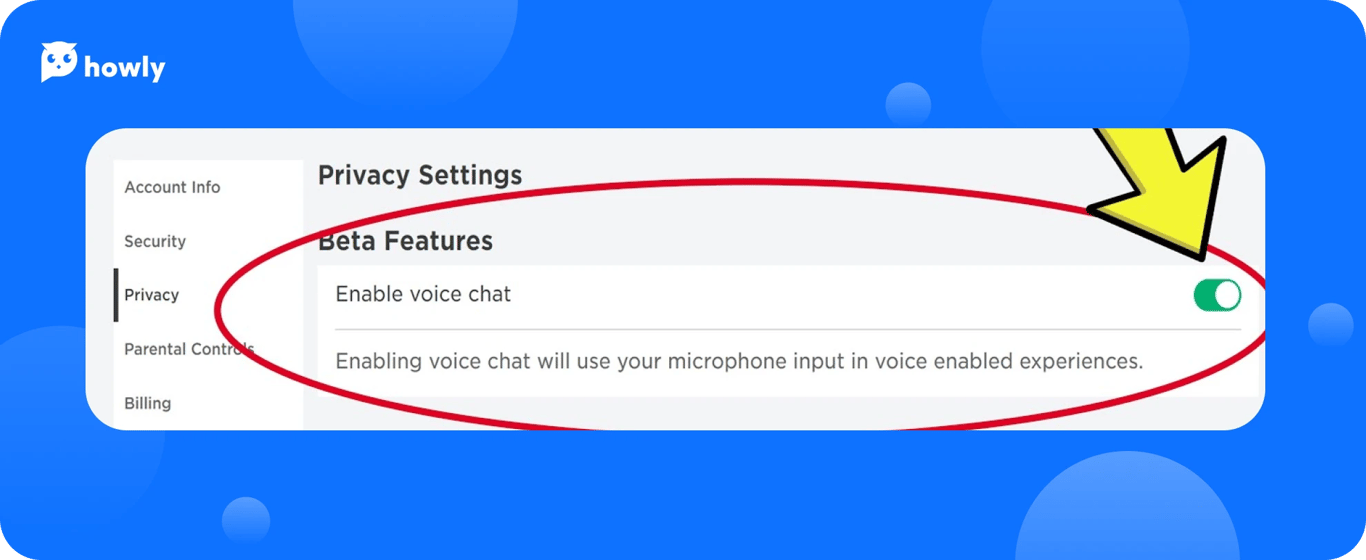 Once the system verifies the account, you can start using the mic in Roblox. Use this instruction to enable the VC:
Go to the Roblox site and log into your verified account.
Click on the gear logo and choose Settings.
Find the Privacy tab.
Scroll down until you see the Beta Features block. Switch on the Enable Voice Chat.
Roblox will ask you if they can collect your voice recording for analysis. Agree with it to continue.
From now on, you can use voice chat on Roblox. Be polite to everyone, don't abuse, and report users abusing and cursing other players.
How to use VC on Roblox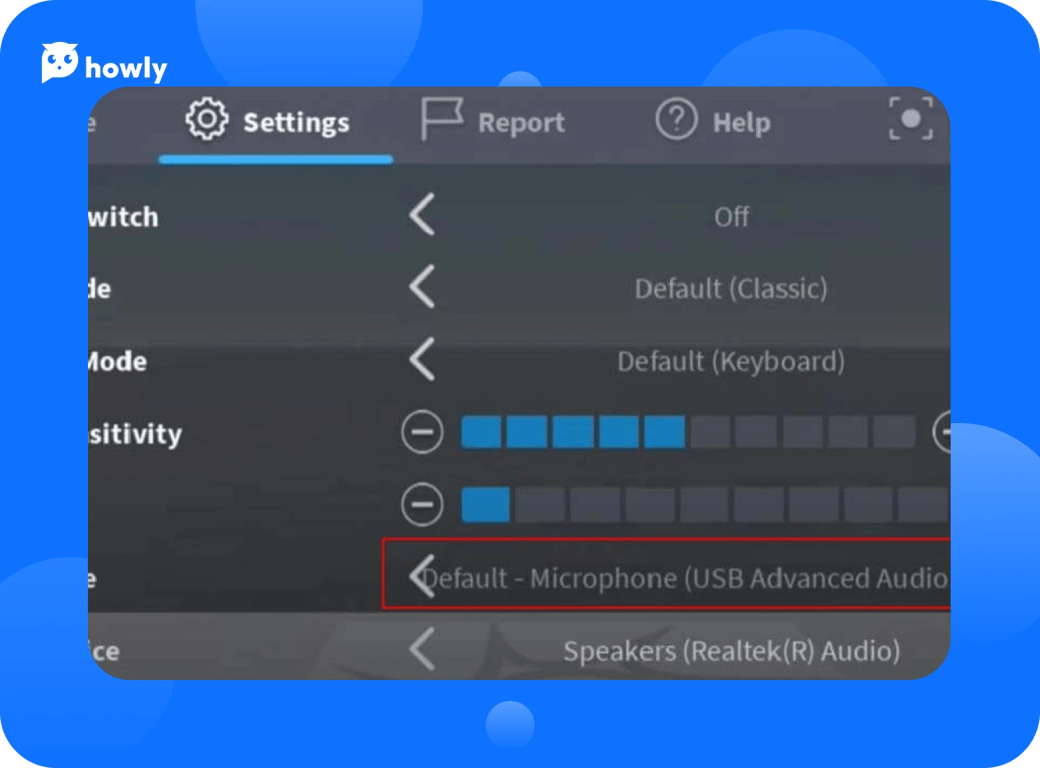 Unfortunately, some games in Roblox don't have this feature. But you can easily find many games in "VC" lists. The easiest way is to visit the Roblox listing and look at the Voice Enabled column. If it says Yes, this sub-game has voice chat.
Another way to find out which game supports VC is to open it. You may see a yellow "Beta" virtual button. It means that Roblox tests this feature in the current subgame. Usually, voice chat turns on automatically. But if it's not your case, use this instruction:
Choose a Menu in the top left part of the window.
Pick Settings.
Find the Input Device and choose your current microphone. In Output, select your speakers or headphones.
F.A.Q.
How to use Roblox voice chat on PC
Sign into your account and click on the three dots. Select Settings → Privacy → Enable Voice. Visit any game with the enabled VC.
How to use voice chat in Roblox mobile without headphones
Open Roblox mobile application and tap on three dots. Find Settings → Privacy → Enable Voice. After this, you can enter any built-in game with voice chat and talk with other people there. You can do it without a headset because your phone already has a built-in mic and speakers.
Conclusion
Some say that Roblox is not on a list of games that use microphones. But they are wrong: it's accessible to almost everyone. If you would like to use voice chat on Roblox, confirm that you are older than 13, provide your phone number and e-mail and check your microphone. When the verification is done, you can chat with other players in a friendly manner.