A GPU is vital computer hardware. Keep it with the latest drivers, so you can run apps without glitches. Unfortunately, this isn't the most straightforward task. That's why we at Howly create a guide on how to update the graphics driver windows 10. You can use it with Windows 7, 8, 11, and other versions. They would have highly-similar guidelines, so you are safe to use those instructions.
Before we start
Save your time and let professionals resolve your issue in minutes!
Want to start solving your problem immediately? Experienced Howly troubleshooters can fix your issue ASAP. They're already waiting for you in the chat!
The benefits you'll get while troubleshooting your issue with Howly experts:
Qualified help with laptops HDD

Quick advice right in your device 24/7/365

Expert reply within 60 seconds

Clear step-by-step guidance

Limitless number of follow-up questions

Understanding and empathetic help till your laptop HDD issue is fully resolved

All answers you need in one place
How to Identify the Graphics Card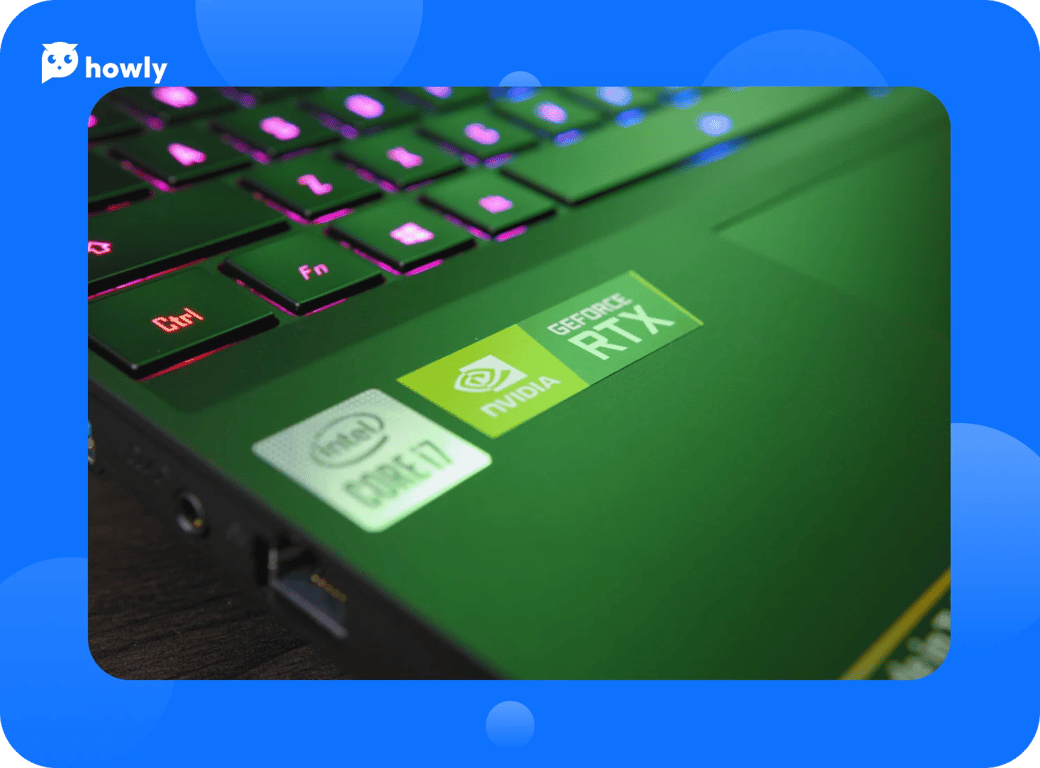 You can find the video card item on a laptop or the GPU packaging if you bought it for a PC. But what to do if you don't have this sticker? Luckily, you can find out all system specks within seconds. After this, it will be easier to find suitable software and update GPU drivers:
Click on the Windows icon.
Write System Info in the search bar.
Select Components → Display.
Take a closer look at the Adapter Description line.
If you have multiple graphics cards (some laptops often use 2+ cards), you'll see detailed info about each one of them. Powerful laptops often have 2 GPUs: integrated Intel for an office job, and discrete (AMD or Nvidia) for editing. Custom-made laptops may even have three GPUs: one integrated and 2+ discrete options.
How do I know if I have a fresh GPU driver?
Some services say you should check the date of the last update in Device Manager. They said that your PC is in fine condition if there are less than 2-3 months after the upgrade. Those reviews also said that if there are more than 3-4 months from the last update, you have outdated software and/or hardware. At this point, they usually start promoting their services for buying/renting new GPUs.
We disagree with this statement. There are dozens of video cards in the market. And as your computer gets older, there are fewer chances that it gets new driver upgrades. For instance, if your laptop has an Nvidia 940MX (one of the most popular GPUs back in 2016), the last update was in late 2020. But that doesn't mean that you should throw away your laptop.
The manufacturer supports its card for the next 2-4 years. So, the easiest way to find out if you can update GPU drivers is to find their release date. Your search term should look like " *graphic card* release".
If it's launched less than three years ago, you can find fresh drivers. But if you use old hardware, you can't update your graphics card. Prepare that your computer may start glitching from time to time during GPU-bound calculations. Once your GPU passes a fifth anniversary, it will get more and more glitches and bugs.
How to update graphics drivers: 4 built-in ways
Each Windows computer has two ways to upgrade its software. If you prefer a bulk method (all-in-one), use Windows Update. Run the Device Manager to check only the GPU.
If you don't trust built-in Windows tools, use the manufacturer's help. Visit their site to get the latest drivers. Install the official tool to automate this action. Nvidia has the GeForce Experience, while AMD uses the Radeon Software application. They are installing the latest software once it is released.
Use Windows Update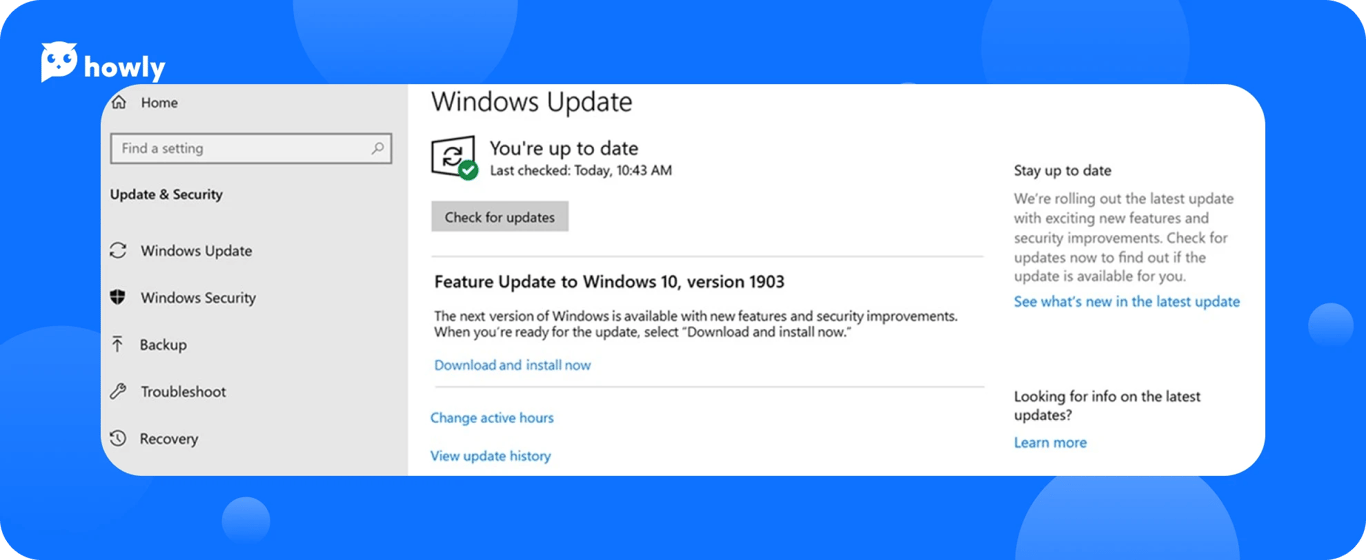 It's the fastest way to update the graphics card driver. You don't even need to launch it often. The system automatically updates itself once in 2-4 months. But if you want to keep everything in your hands, you can check for updates on your own. You'll have stable driver versions with this method. Here is your guide:
Click on the Windows logo.
Find Settings (it has a gear icon).
Select Update & Security.
Find the Update tab.
If you see the "You're up to date" memo, press on the Check for updates virtual button. It will load the latest available drivers.
Once your PC finds them, you'll see a Download button.
Pick it to start the installation process.
Unfortunately, this process won't let you update the graphics card only. It will load and install all possible drivers at the same time. It might take up to 1-3 hours to install all software. If you wish to update a graphics driver and nothing else, stick to further instructions.
Use Windows Device Manager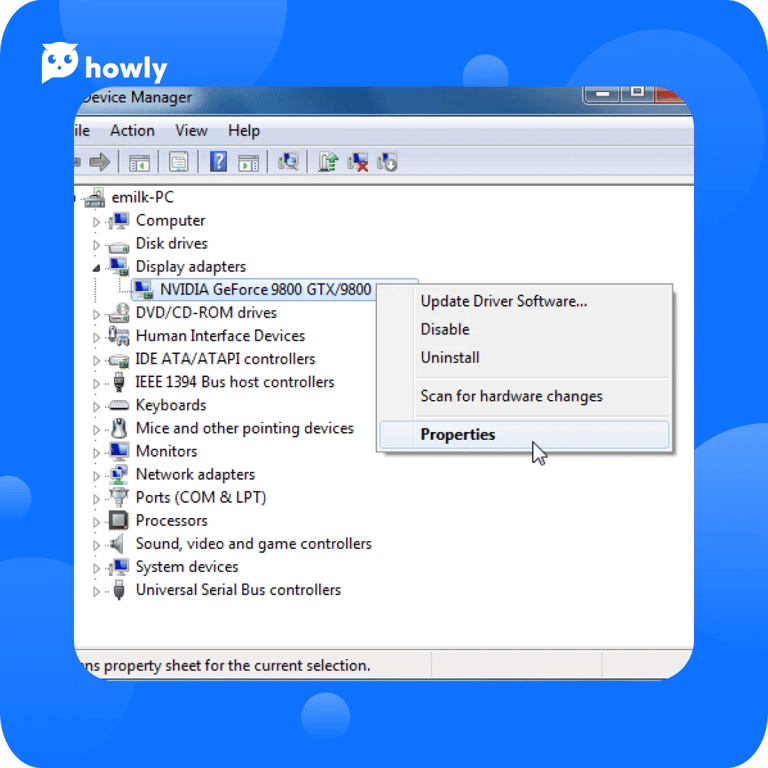 It's another common way to update your graphics drivers. You can update any driver this way, not only the GPU. Follow this step-by-step instruction to do everything properly:
Right-click on the Windows.
Find the Device Manager app
Look for Display Adapters. Depending on the hardware you may have one or multiple adapters.
Right-click on it and choose Search Automatically.
Repeat the search process for all display adapters.
If you see the " drivers are installed" memo, you have the fresh video card updates. But sometimes this method may be not as solid as others introduced in this article. So you can try other ways to keep your software up-to-date.
Download and graphic driver update online
Once you find out about the GPU brand, you can research their website to get the latest video card updates. Here is your 4-step instruction:
Right-click on the Win icon to launch the Device Manager.
Find your device adapters and type their name in the preferable search engine. Your search should look similar to this "GeForce 940MX download".
Open the manufacturer's site. Sometimes it may ask you for additional information about the computer like operating system, language, etc.
Download this driver and launch it. Follow the wizard's guidelines on the screen to update the graphics driver on your device.
Is it possible to launch auto-updates?
If you want to set graphics driver updates on auto-mode, consider using external apps. Unfortunately, no built-in tools allow you to set it right. We recommend you Nvidia and AMD applications that allow you to install graphics card drivers automatically and adjust their settings.
You may see many "driver updater" tools, but we don't recommend you use them. Those applications will constantly show you tons of ads. An unofficial app could steal the data and share it with third-party services." And the sad part about this is that you are allowing them to do this by clicking "I agree that *service name* can save and share anonymously data" while installing. So be cautious!
How to update GPU software via Nvidia or AMD tools
If you have an AMD or Nvidia card, you can check details about your next graphics card update in their apps. Nvidia users can install the GeForce Experience, while AMD users should run the Radeon Software. Use them to check for the latest updates, news, and other crucial info from the manufacturer. You can delete them anytime you want.
How to Update Nvidia GPU via GeForce Experience
This app is pre-installed on laptops with Nvidia cards. But if you can't find it on your computer, stick to the next instruction:
Search "GeForce Experience" in the preferable search engine.
Open the first link in the search. It's the official Nvidia site.
Click on the Download.
Launch the application.
Once you have this app, you are ready to update a graphics card:
Open the Drivers tab.
Choose Check for Update and wait for 2-3 minutes.
Select Install.
This process will take up to 10-15 minutes of your time. It's an effortless method to update the graphics driver on windows 10, 11, and other versions. If you don't want to check for updates now and then, use the following guide to set auto installment.
Stop/launch auto graphics driver update on GeForce Experience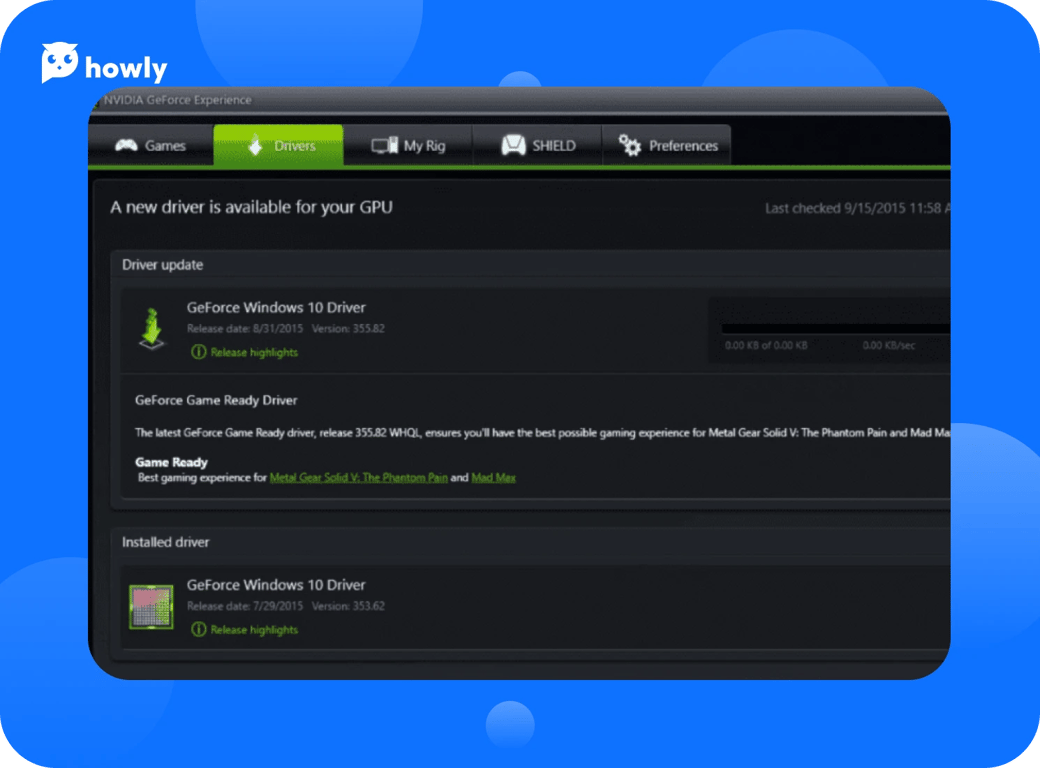 This app allows you to set auto downloads on any related software. Unfortunately, no one is safe from glitches. Even big companies like Nvidia. So, sometimes they can release a new driver with bugs.
That's why some users prefer to update the GPU manually. Here are your instructions on how to stop auto downloads:
Go to the GeForce Experience.
Click on Settings (looks like a gear)  and go to General.
Find the Downloads menu.
Uncheck the Auto-download
If you want to set the auto graphics card update, follow the same steps but check the "Auto" option. Once you have launched this setting, the app will automatically check the Nvidia servers for possible updates every few weeks.
How to Update AMD GPU via Radeon Software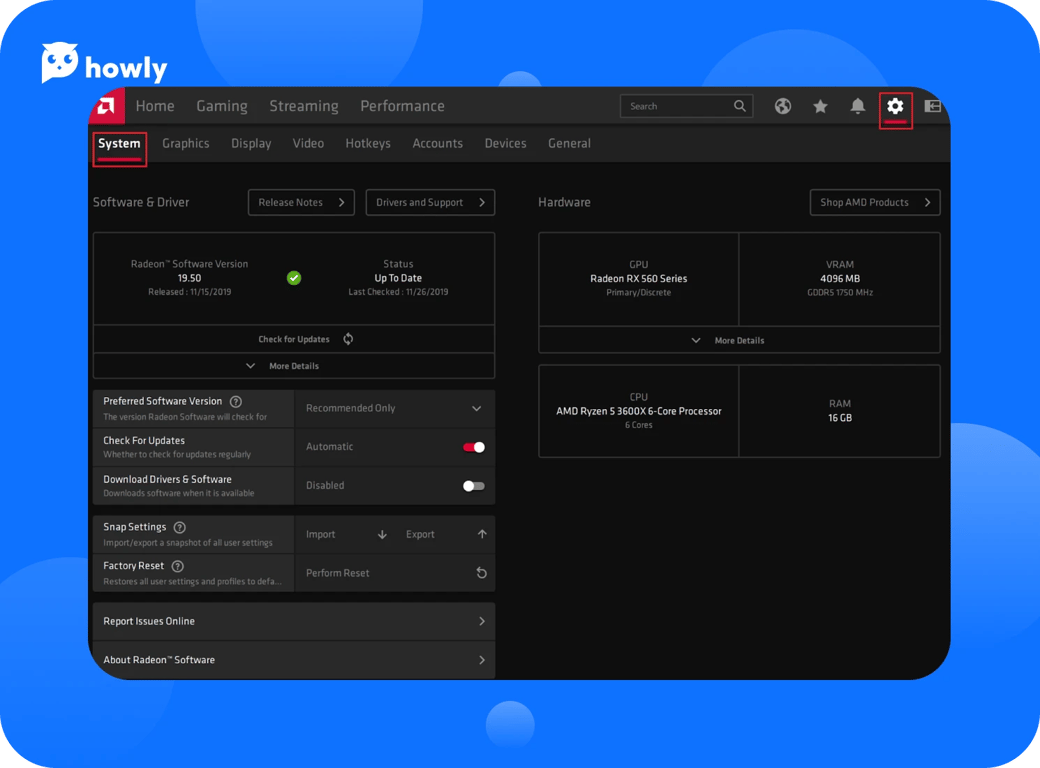 Owners of AMD-based devices should download the Radeon Software app to update graphics card drivers and adjust its settings. Usually, this app is pre-installed on laptops. If it's not, download it from the AMD website, install it, and log in. Once you have done this, use this guide:
Launch AMD Radeon.
Select Settings (it has a gear icon).
Go to the System tab.
Find a Software & Driver block and look for the Check for Updates section. Click on it.
The app will start to look for a video card driver update. Once it found it, the app began to load and install it.
Stop/launch auto-mode on Radeon Software
What can you do if you don't want to manually check for new versions? You can turn it on the Radeon Software. Use the previous instruction, but slightly change the last step:
Launch the AMD Radeon application.
Go to Settings → System → Software & Driver.
Scroll until you find a Check for updates. Switch the Automatic toggle.
From that moment you don't need to update the graphics card driver. The Radeon app will do it for you. Once you wish to stop auto-updates, stick to the same instruction but switch off the toggle.
F.A.Q.
How do I update my graphics driver with Windows built-in tools?
There are two main built-in tools for this: Windows Update and Device Manager. The first option will suit those who like to update all software "in bulk": it will load and install available updates for all drivers at once. If you want more precise upgrades, go to Device Manager and select Display.
How to update my graphics driver, if I own an Nvidia GPU?
You can do this with built-in tools. You can also visit the Nvidia website, fill in the details about your system and GPU card, then load the update as the .exe file. If you want more automation, install the GeForce app.
How to update my graphics drivers, if I have an AMD GPU?
You can use system built-in tools. Open the AMD site to discover a proper driver. The easiest way to get regular updates is to install the Radeon Software application. It will automatically find and install a suitable GPU driver update for Windows 10.
Wrapping up
Updating the graphics driver is crucial to get the best user experience. Each update increases the performance, so you can work with high-resolution content or play games without lag. There are two main GPU brands: Nvidia and AMD. Intel usually creates integrated graphic cards.
You have four ways to update GPU drivers on Windows 10. The easiest option is to use built-in apps like Windows Update tool or Device Manager. All you need is stable internet. Windows Update tool fits those who like to update all possible software in one butch. Device Manager is a more selective tool: you can choose which drivers you want to check manually.
Another common option to update the graphics driver on Windows 10 is to operate with card manufacturer resources. You can visit their site to download and install the update with the .exe file manually. Also, you can download their official apps to automate the updating process.