Why is my computer so slow? Sooner or later, this question will appear in your head after active and prolonged use of a PC or laptop. Of course, you shouldn't go out and buy a new computer, even if it is far from new and may be obsolete.
Before we start
Save your time and let professionals resolve your issue in minutes!
Want to start solving your problem immediately? Experienced Howly troubleshooters can fix your issue ASAP. They're already waiting for you in the chat!
The benefits you'll get while troubleshooting your issue with Howly experts:
Qualified help with laptops HDD

Quick advice right in your device 24/7/365

Expert reply within 60 seconds

Clear step-by-step guidance

Limitless number of follow-up questions

Understanding and empathetic help till your laptop HDD issue is fully resolved

All answers you need in one place
To avoid moments of a slow computer, for this, you need to regularly clean your PC not only from dust but also from various files and programs. We will look at several solutions to fix a slow computer and give it a new life.
Reasons why your computer is slow
To better understand the problem, let's look at the possible causes of a slow computer. There are quite a few of them, and they can be present at the same time. The most common reasons are:
Hardware problems. Over time, computer electronic components fail. Also, radiators and coolers get polluted with dust.
Not enough memory. If there is no or little free space on the hard drive, namely on the drive where the OS is installed (usually drive C), the computer starts to work slowly because the processor has nowhere to take additional memory. Also, a small amount of RAM leads to the slow operation of many modern programs. For example, a Chrome browser needs about 2-3 GB of RAM to run when you open multiple tabs.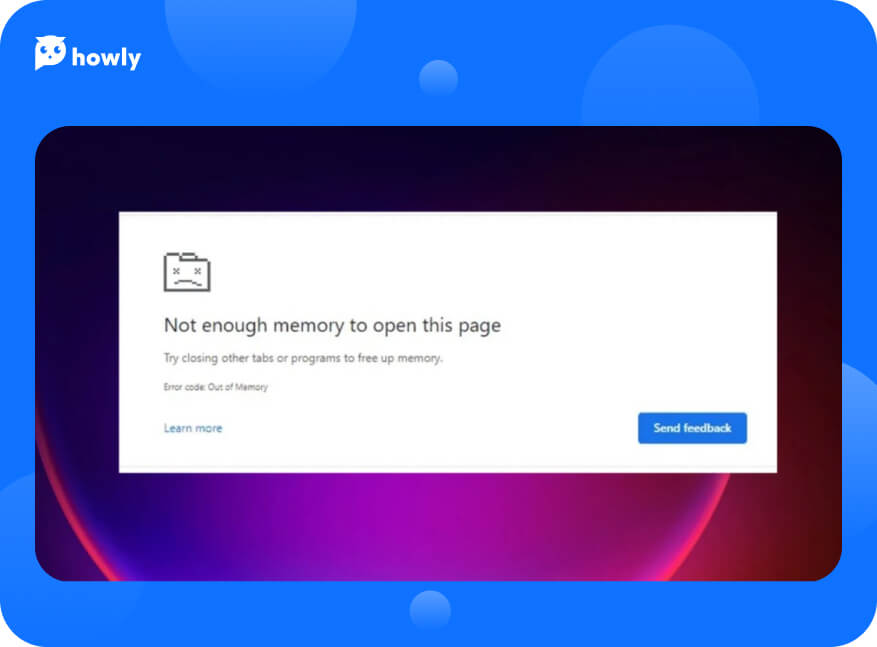 Virus on your system. The presence of malware slows down your computer because it uses your computer's resources for its own purposes. Viruses can also lead to the loss of much data to break your OS.
Old drivers. Not keeping your software up to date also results in a slow computer.
A large number of programs simultaneously load the processor. It is necessary to monitor how programs use the memory of your PC. Perhaps you do not need many of these programs anymore?
Obsolescence. Progress does not stand still, and of course, your 2010 computer will no longer be able to work productively with most modern programs. Also, unfortunately, you will not be able to play new games on an old computer.
How to fix a slow computer
So, having analyzed the reasons, we can divide the methods for solving a slow computer issue into software and hardware solutions. Software related to the incorrect operation of the OS and programs on your device. Hardware related to problems with the hard drive, processor, video adapter, RAM, motherboard, or power supply.
Clean your computer or laptop from dust
With time, dust accumulates in a PC or laptop case, covering printed circuit boards and heatsinks with its layer and clogging holes and coolers. This leads to overheating of the circuit board elements, and the equipment starts to work incorrectly. Also, over time, the thermal paste between the processor and its radiator dries out, so it must be changed regularly, at least once every couple of years.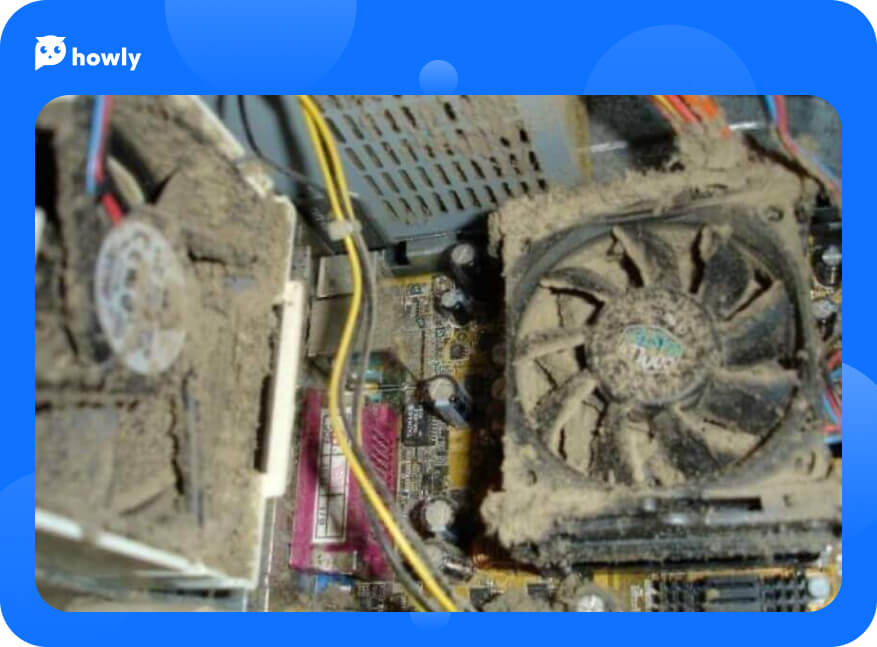 So if you own a PC, then cleaning it is not difficult. Just follow the steps:
Power off your PC. Remove the cord from the system unit and wait until all the capacitors are discharged and the flashing lights inside the system unit go out.
Remove the side cover of the system unit. You may need a screwdriver.
Take a vacuum cleaner or a special dust cleaner that blows a powerful stream of air. You can also blow hard on circuit boards and heatsinks. Never use wet rags to wipe printed circuit boards.
Check if the CPU heatsink is clogged with dust. In case of clogging, it is necessary to remove the cooler and clean the radiator.
After that, close the side cover.
Connect the power cord and turn on the PC.

If you have a laptop, of course, you can disassemble it and clean it yourself, but for this, you need to have specific skills. So, it is better to contact the service.
Check if your hard drive is full
Due to the active downloading from the Internet and the installation of many programs, the memory in the hard drive quickly ends. Many users download movies or pictures directly to their desktops for convenience. However, with this, we clog the system disk containing the operating system. This also contributes to the problem of a slow computer.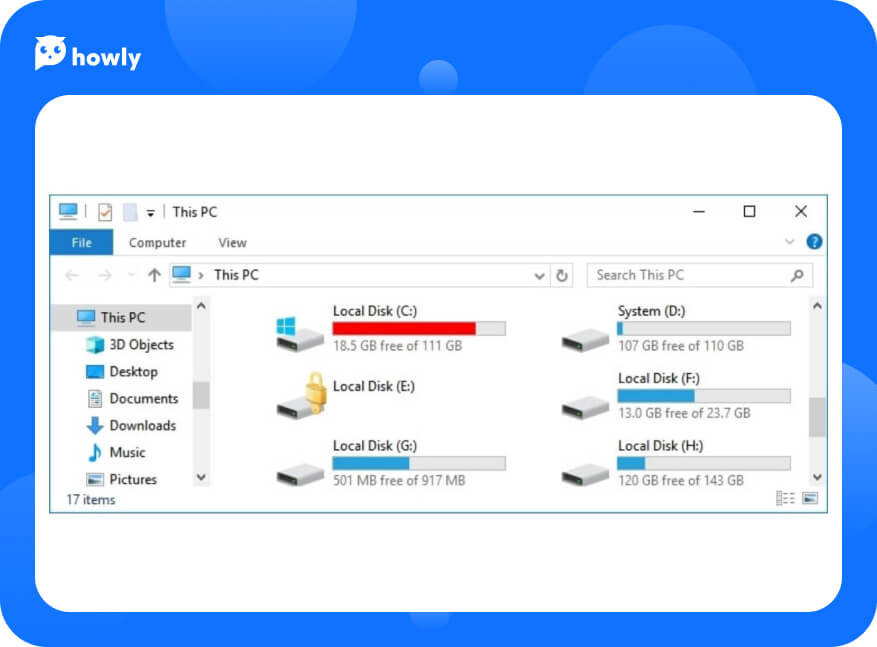 So, to check free space and remove unused programs, follow the guidance:
In the start menu, find and click on Options.
Next, click on System.
Then click on the Storage tab. Here you will see your system drives and how much memory is left free on each. It is necessary that at least 20-30% of memory is free on the main disk where the OS is installed (mainly, this is drive C).
If your entire system disk is full, delete or transfer files from it.
Defragment your hard disk drive
With the time of use, the hard disk is divided into fragments. As a result, over and over again, disk fragments are divided into smaller ones, which slows down the computer's robot.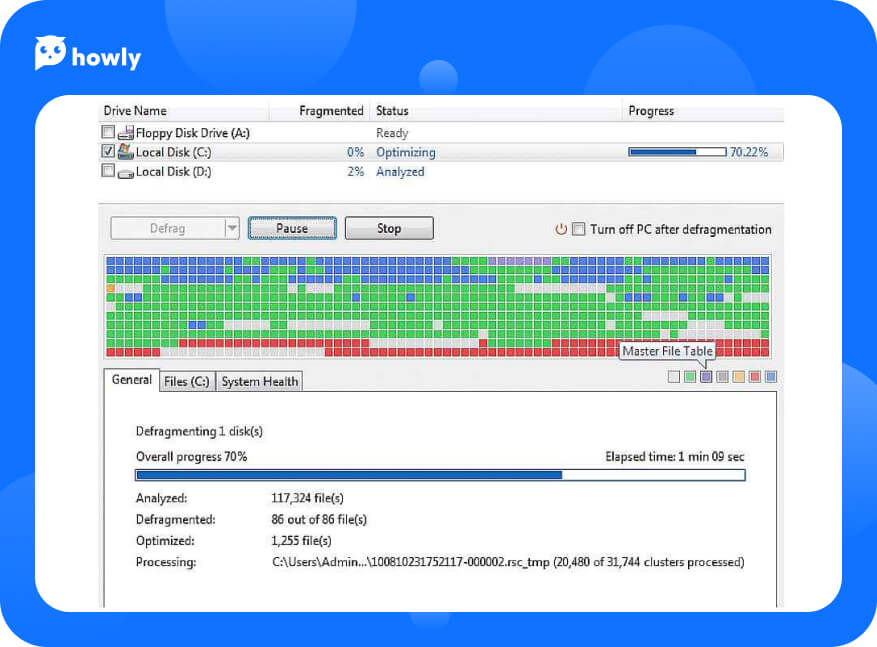 To combine fragments into large parts, you need to defragment them. To do this, follow the steps:
In the search bar, type Defrag.
Next, click on Defragment and Optimize Drives.
In the window that opens, select a drive and click the Optimize button. If necessary, optimize all disks.
Check what programs load the processor
With the help of the Task Manager utility, you can check how much memory the program is currently using and close those programs that you do not need.
To do this, follow the steps:
Press Ctrl+Alt+Del.
On the Processes tab, click on the CPU field at the top. This way, you will be the first to see the programs that use the most CPU in percentage terms.
By clicking on the field Memory, you will enable the sorting of applications that use the most RAM at the moment.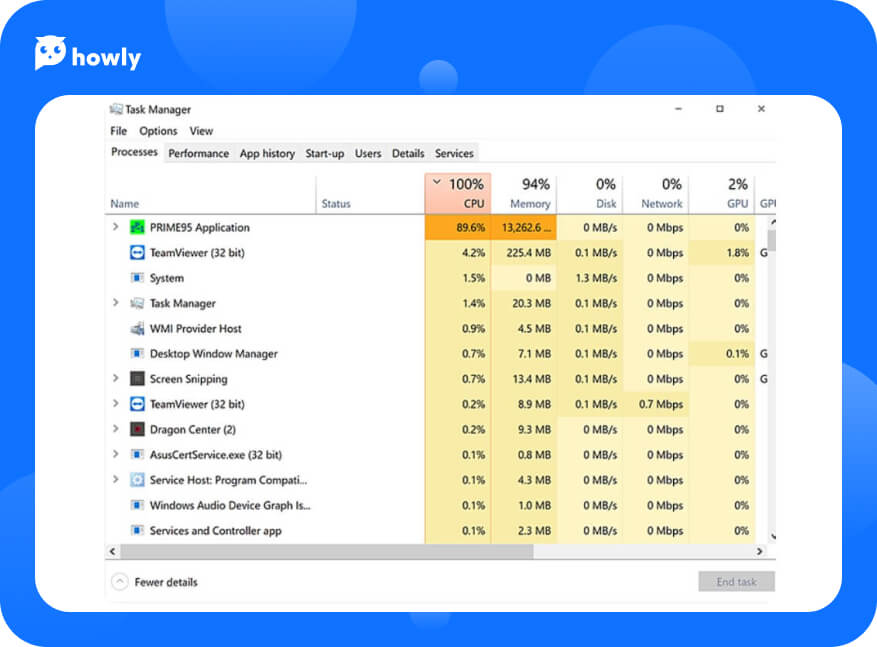 Select the memory-consuming programs that you do not use and close them. Click on the program to highlight it, and then press the End Task button.
Remove programs from the startup
Many programs after installation are added to Startup by default. This slows down the turn-on time of the computer and later loads the processor during operation.
To disable programs from startup, follow the steps:
Use the Ctrl+Alt+Del to call the task manager.
Click on the Startup tab.
All the programs used by Startup will be presented on the screen. In the Status field, you will see which of the programs are enabled and run when the computer is turned on.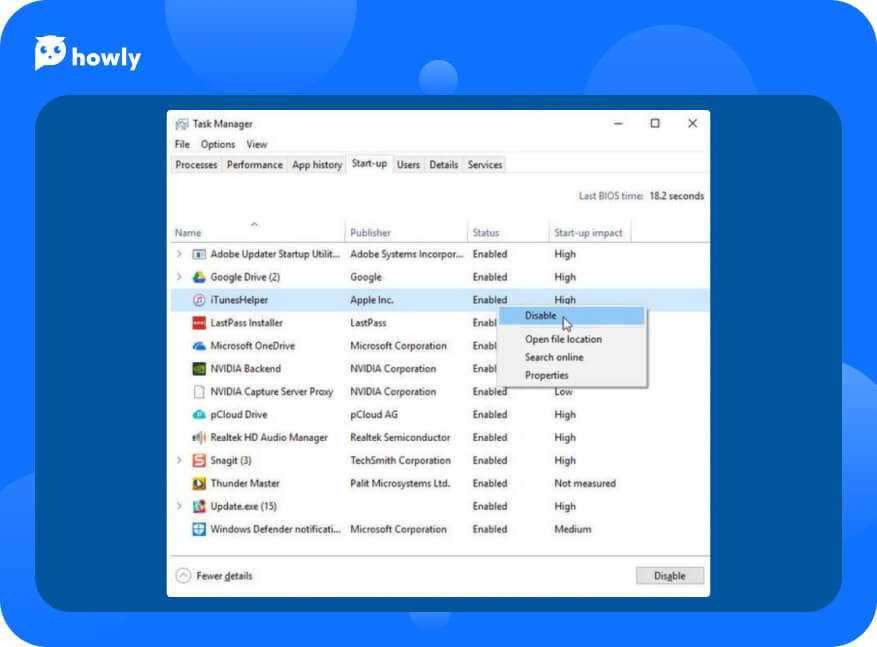 Disable programs you don't need when you start your computer. Right-click on the program, then select Disable.
Upgrade your computer
If nothing of the above helps to solve the problem with a slow computer, perhaps it's time to add RAM to it or replace components. Or maybe treat yourself to buying a new laptop or building a new PC.
F.A.Q.
What is an SSD, and how can it help to fix a slow computer?
An SSD is an advanced hard drive. Due to the removal of moving parts in the disk, it has become much faster than HDD. The speed of data transfer and processing has been increased several times. Therefore, the SSD is a good option to fix the problem of a slow computer.
How does RAM affect the performance of my PC?
RAM is a temporary memory that stores program data that the processor is currently processing. The more RAM, the faster complex programs will be processed. However, if the processor is quite old and weak, then adding more RAM will not improve performance much.
Why don't new games work on my old PCs?
As technology advances day by day, new games are created to be more beautiful and detailed in terms of graphics, but at the same time, become even more demanding on the system. Many games do not even support older operating systems (Windows 98, XP, and 7).
Conclusion
So we looked at a few solutions on how to fix a slow computer. By proceeding with the instructions provided, it is quite possible to solve the problem of a slow computer on your own. Or maybe it's time to upgrade your equipment to a more modern and new one and please yourself with new opportunities. Also, if you have a specific question, our experts will be happy to help you 24/7.