The reasons why computer malfunctions vary, and the problem is that tackling some of these reasons requires professional skills. However, you can still repair Windows 10 on your own by running user-friendly tools to handle a problem.
Before we start
Save your time and let qualified experts in Windows 10 fixing resolve your concern in minutes!
Does your Windows 10 PC become too laggy? Or maybe you can't run your favorite app? Howly experts help you to fix any Windows 10 issue within minutes! Just describe your concern and you'll get an expert solution to your issue.
The advantages you'll get troubleshooting your Win10 difficulty with Howly experts:
Specialized help with Windows 10 bugs

Quick advice right in your device 24/7/365

Expert reply within 60 seconds

Clear step-by-step guidance

Limitless number of follow-up questions

Kind and understanding help till your Windows 10 issue is fully resolved

All answers you need in one place
In some cases, the task will be more challenging. Therefore, you'll need to invoke your inner system administrator to tackle the malfunction. So, which way is the best to repair Windows 10? The answer depends on the problem's source, available tools, and your experience. Continue reading to learn more!
Does one have to be a whiz to fix Windows?
All computer users fall into three groups:
beginners;
advanced users;
professionals (we also call them gods of computers).
Beginners usually go straight to the service station every time they face difficulties. Most of them are afraid to repair Windows 10 and ask for a third-party service for help. Some of them are more proficient and become something in between novice and advanced users. We often call them "fearless" ones. They are still unsure of their skills, but with some help, they act like tech-savvy users.
Advanced users know a bit more than how to use hotkeys and can fix some points using professional guides (you'll find most of these tutorials on Microsoft support pages or our website). Professionals are computer technicians or system administrators, like Howly experts who prepared this article for you.
Thus, to repair Windows, you need some experience reading guides and working with menus and catalog directories – not more. If a PC misbehaves because of hardware damage, it's better to contact the computer service.
In addition, you'll need professional help in case your OS has non-standard features or a problem is multi-dimensional. For instance, you face an update failure, a device operates slowly during a particular session, and you hear how the motherboard beeps – and all this happens simultaneously.
In this case, you are facing an uncommon problem and it would be hard to find a Windows 10 repair solution that works for you. Hence, we encourage you to save your time and ask for professional help.
How to fix Windows 10: restore, reset, or reinstall?
Let's use a metaphor for a clear understanding of the issue. Your OS is a house. When you feel uncomfortable in it, it's you who decides which option is the best: to change the front door for more safety, change a couple of furniture items for refreshing, or reconstruct the interior entirely. The first alternative is easy to implement, and it'll work as soon as you finish your job. On the other hand, the "global" approach requires much time, and, what's more, it implies ditching all the pieces you're accustomed to and organizing your routine in a brand new way. It could be refreshing.
Choosing between a small retooling and a massive upgrade to run a repair on Windows 10, in most cases, it's more reasonable to opt for the first (if it's possible). Fixing the OS that ceases or proceeds slowly by making minor changes is more productive than reinstalling because you save all the files and functions. While searching for the solution on how to run Windows repair, depending on the problem's scale, you can:
Restore an OS. Simply go back to the point where your system works just fine. Maybe your hardware isn't suitable for the latest software. And it results in glitches. You can solve it by restoring to the latest safe backup.
Refresh OS. Allows you to complete a system repair in Windows 10 while maintaining personal data safe.
Reset a PC. It's the entire reinstallation. You're going to lose all personal information.
You'll never know when your PC will be out of order, so it's a good idea to do backups of your system regularly. Another good idea is to have a recovery drive with Windows files recorded on a USB drive or DVD. Some day you may need it to do the Windows installation.
Windows Restore
All in all, Repairing Windows 10 via System Restore is a wonderful way to make a computer function well again. The thing is that the tool creates 'restore points' allowing you to return your misbehaving PC - including installed programs, Windows registry, various system files, and settings - to the previous time point when your device worked flawlessly. Here is your instruction:
Find the search bar in Windows and enter the System restore command.
Spot the Create a restore point panel and open it.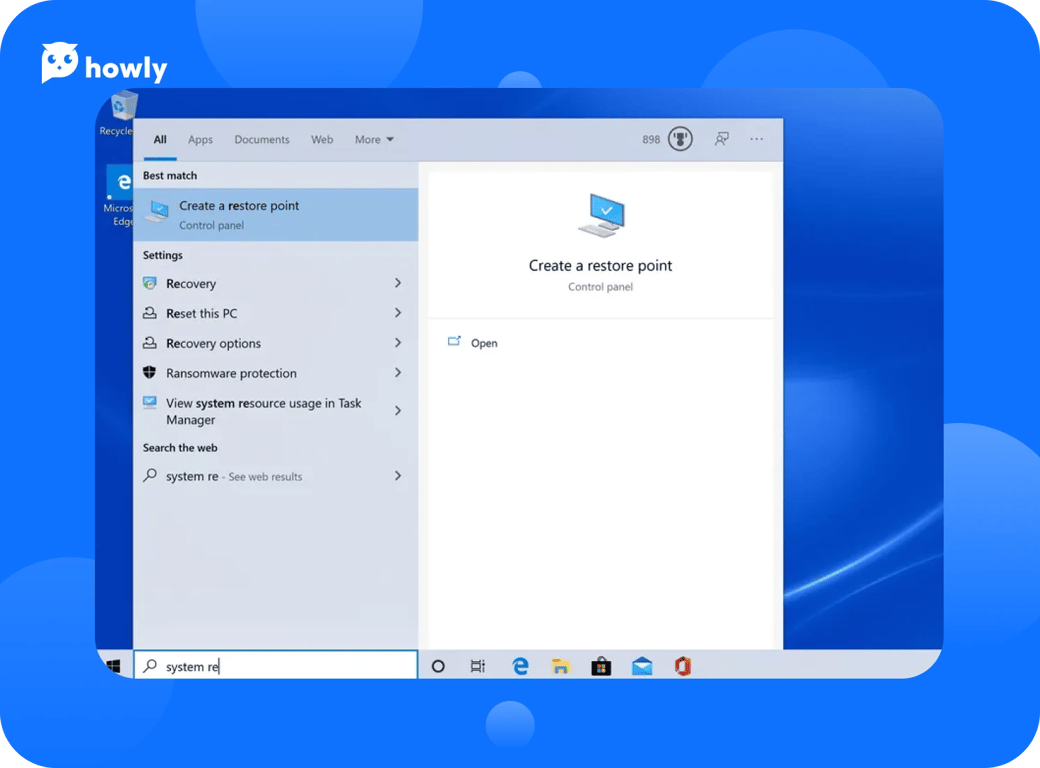 You'll find yourself on the System Protection tab. Just select your C: drive and hit Configure.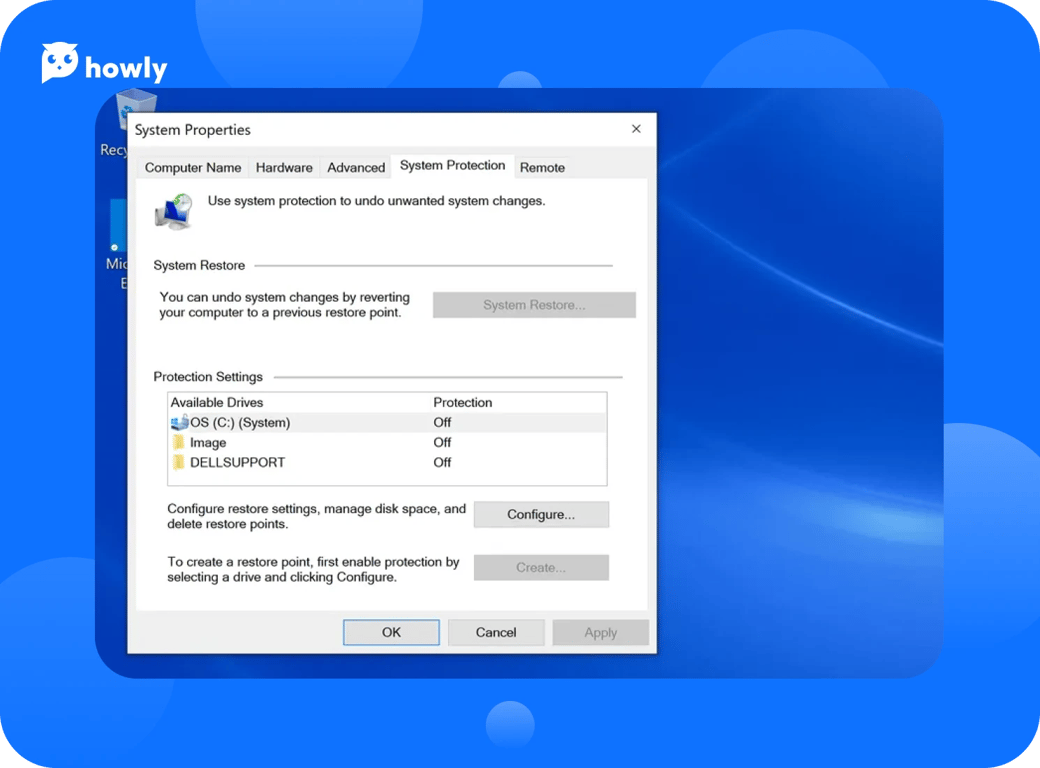 Mark the field saying Turn on system protection.
Tap Apply →OK.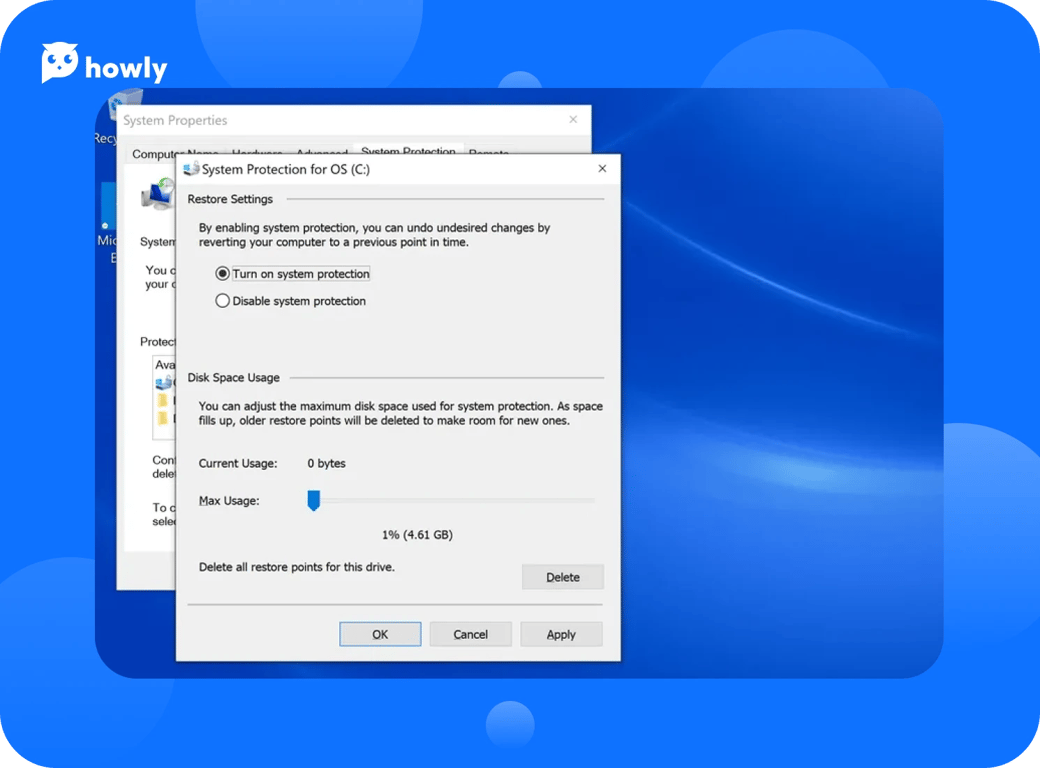 Now, you have an opportunity to perform a system repair in Windows 10 by bringing your PC back to its former state:
Access System Properties as we've described above and hit System Restore.
Tap Next in the window that pops up, and you'll see a list of different restore points → choose the one you need and hit Next.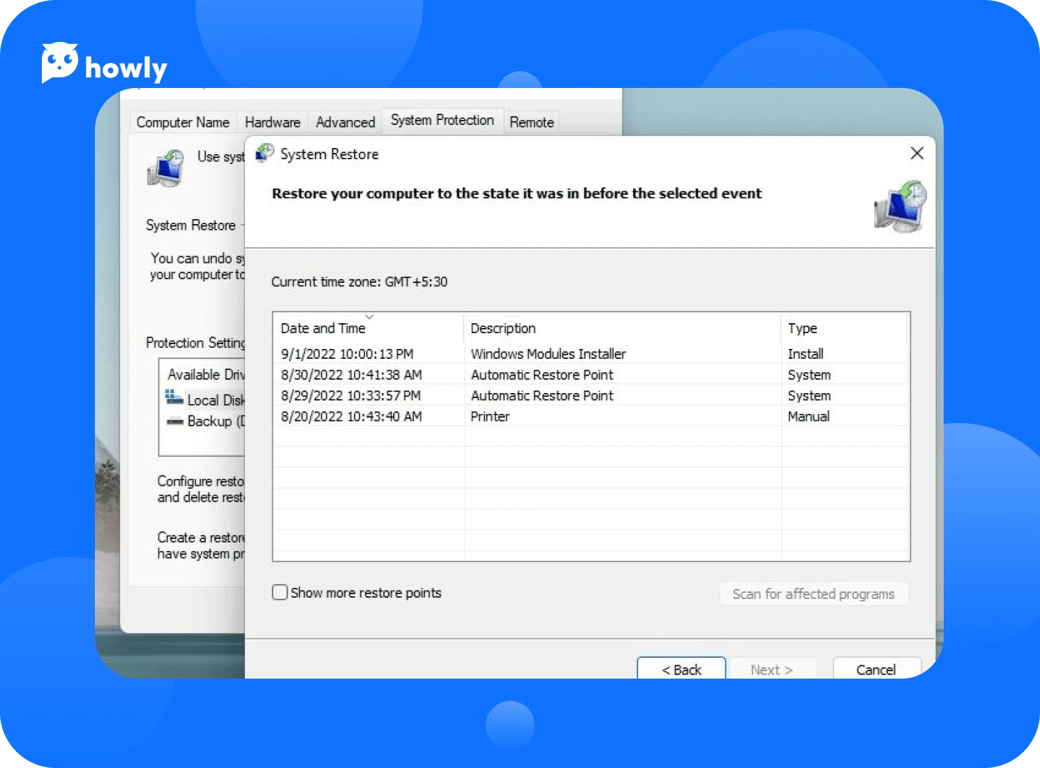 Check out all the details and tap Finish to repair Win 10.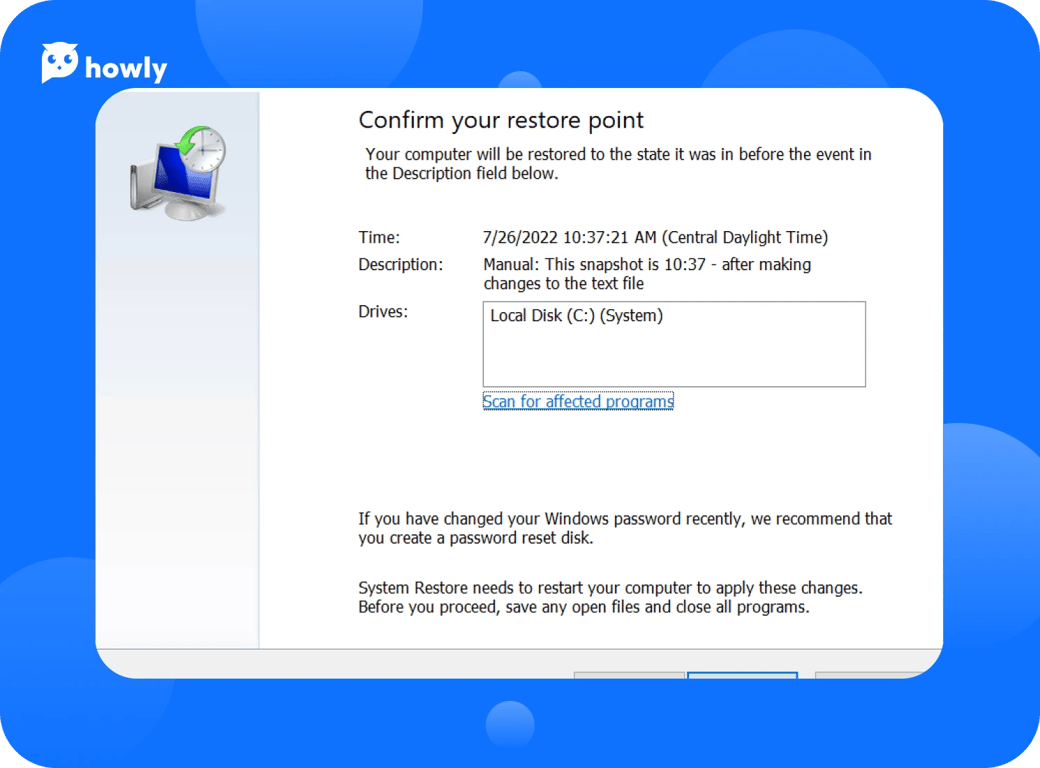 Windows Reset
It is one of the most effective Windows 10 repair options. It's a so-called fresh start which allows you to wipe everything from your PC and revert the system to the way it was when you bought the device or installed the new Windows OS. However, you can also perform a Win 10 repair while keeping your files, but we still recommend cleaning the PC completely to troubleshoot problems more effectively.
Hit the Windows icon and access Settings.
Move to Update & Security.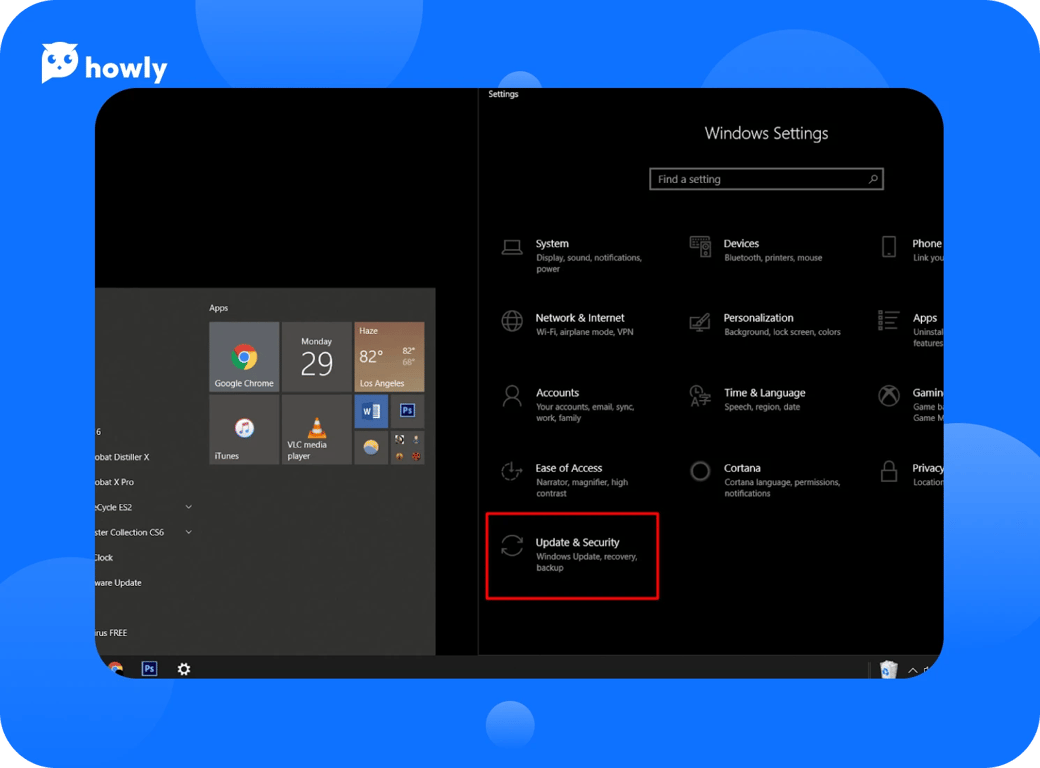 Access Recovery and tap Get Started.
Decide whether you're willing to keep your files or erase everything. By picking the first option, you'll run Windows repair in Windows 10 immediately, while the last option provides you with some additional steps. So, if you choose to Remove everything, head further.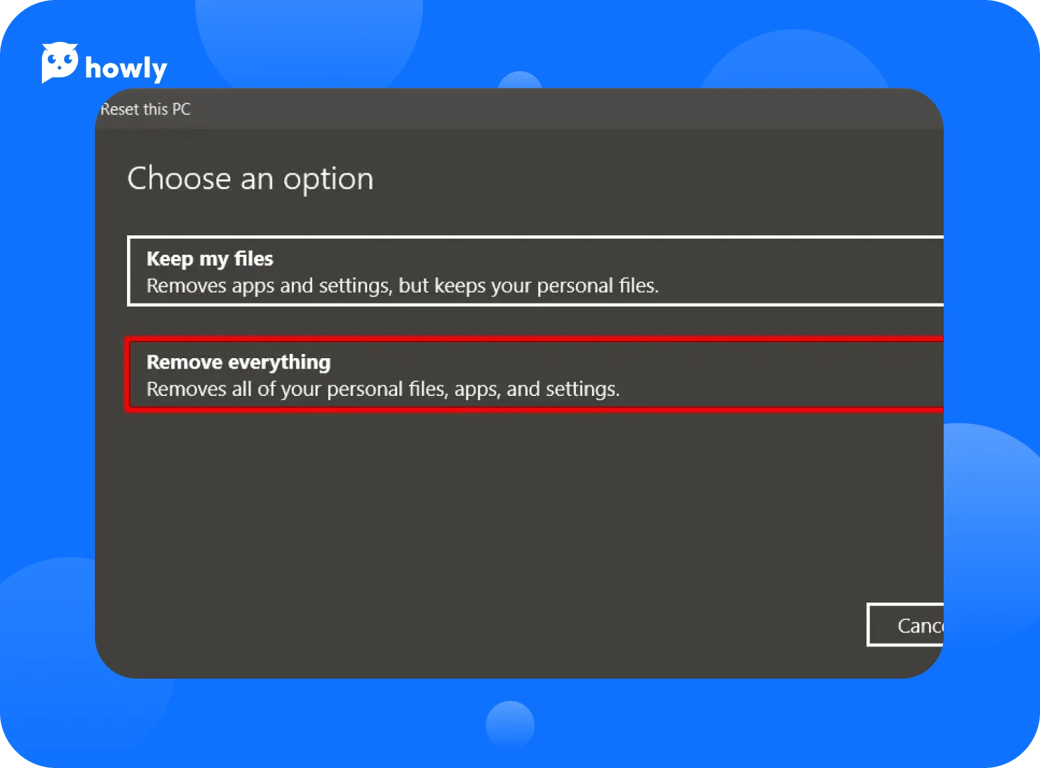 Hit Change settings to specify what drives and data you're eager to erase. Then pick Confirm.
You'll get to the warning page, just tap Next and finally choose Reset.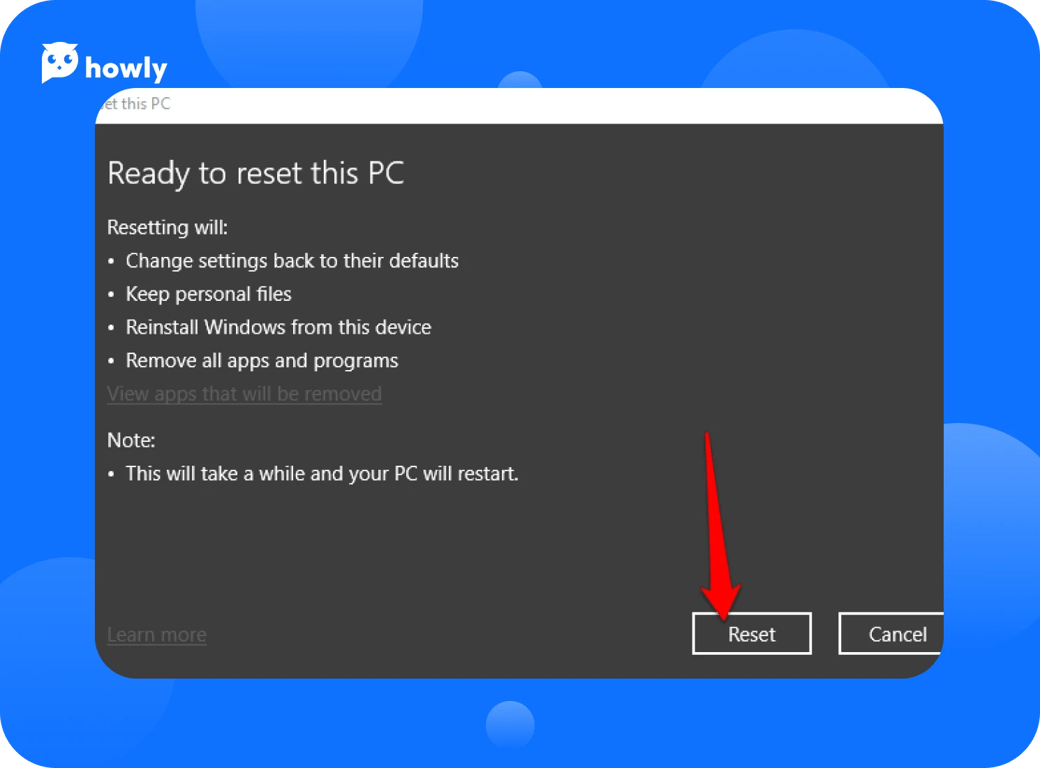 Windows Reinstall
If your PC still keeps malfunctioning, you can repair Windows 10 installation and reset the OS using the USB drive. Reinstalling will help you bring the functionality of your computer back to normal. It's a severe action, so you should be prepared for irreversible consequences:
Turn off your malfunctioning PC, insert the USB drive containing the required software, and power on the computer.
Set the preferred language, keyboard method, and time formal → tap Next.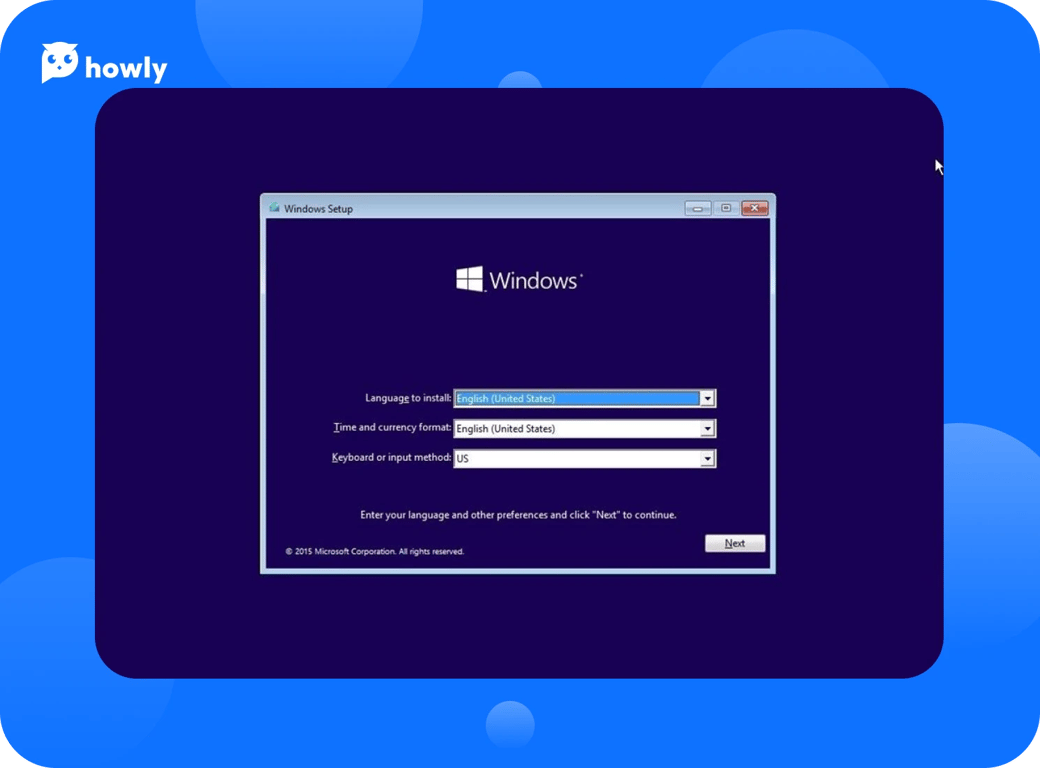 Hit the link saying Repair your computer.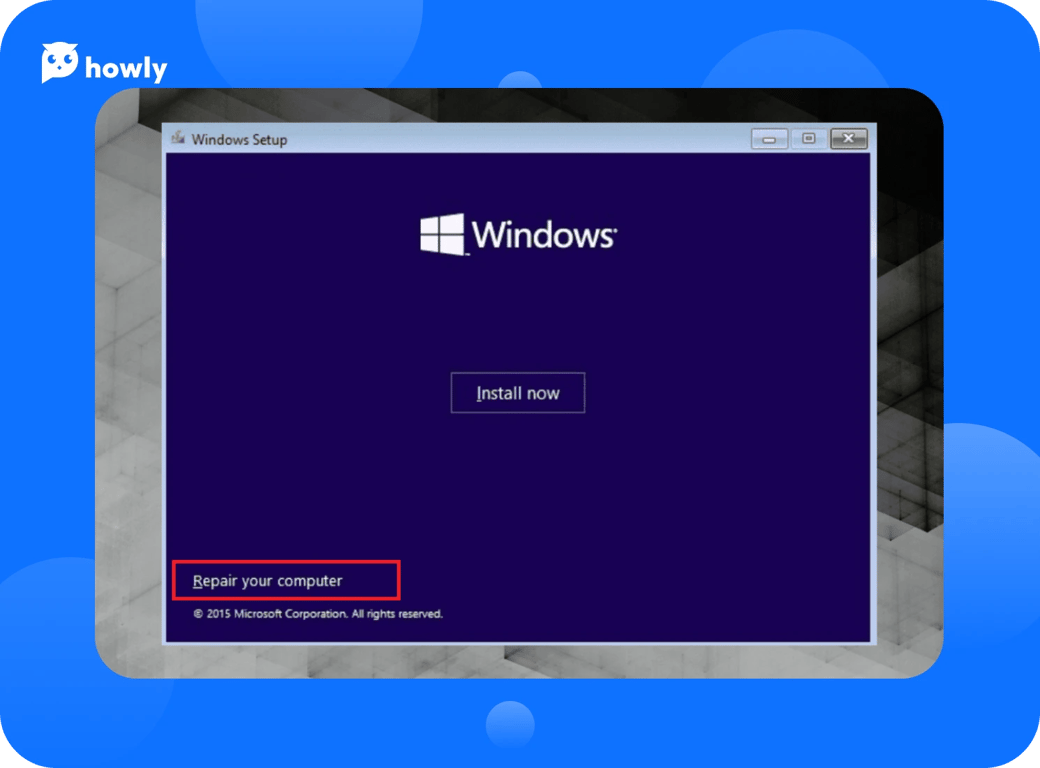 You'll access the Windows 10 repair screen. Hit Troubleshoot → Reset this PC.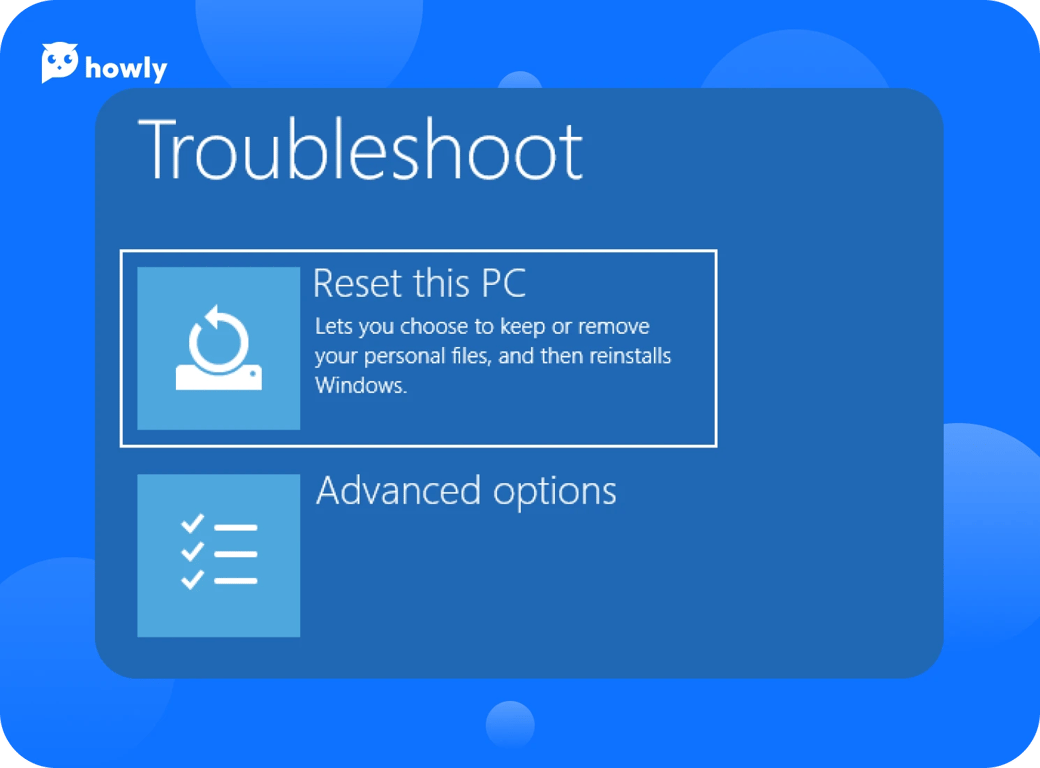 You will see two options: Remove everything or Keep my files. Both of them lead to Windows 10 system repair and reinstallation. Pick one that fits your needs.
Follow the prompts and tap Restart to begin the process.
Wait until the end of the reinstallation and configure Windows according to your preferences.
Update all hardware drivers
Drivers require regular updates to maintain the normal functioning of their PC, upgrade its features, fix issues, and improve the general OS performance. And the easiest way to refresh all your drivers at once is to use the Windows Update tool. In general, it's one of the most efficient Windows 10 repair options since you'll upgrade many other OS features thus making your computer perform well.
Access Settings and head to Update & Security.
Pick Windows Update → Check for updates.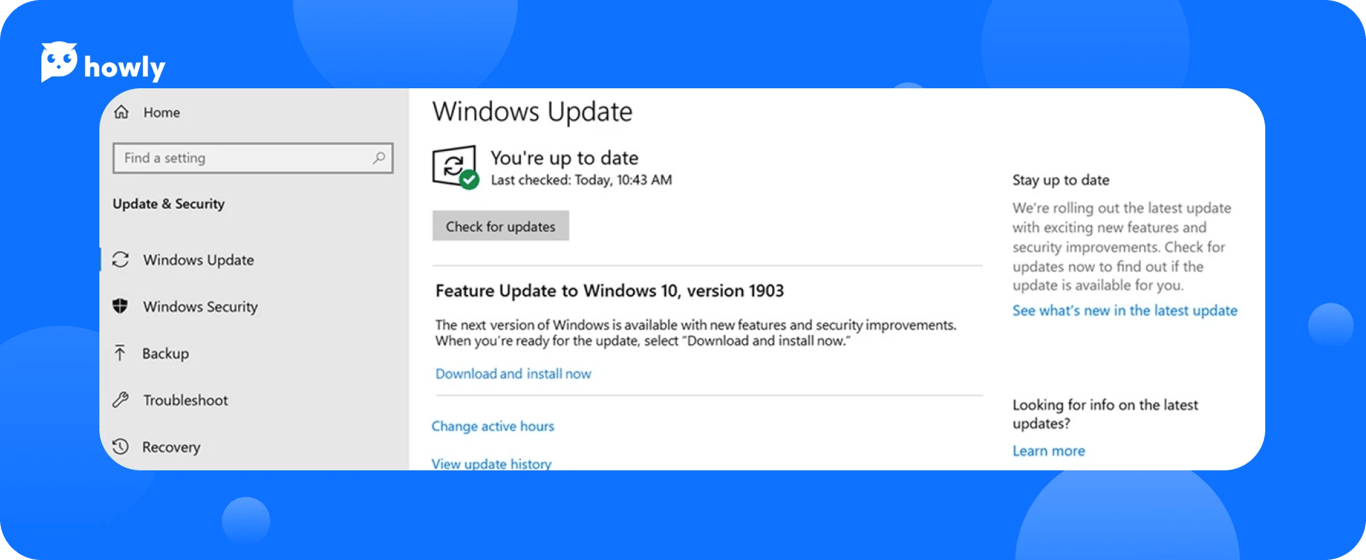 The system will start searching for the available updates. Tap Install now to download the newest software.
How to do a Windows repair with Windows Recovery Environment
Hold the Power physical key. When the circle made of blinking points appears, turn off the PC. Repeat the same one more time. Then turn it on and let it download completely. Now you're in WinRE. It's a mode that allows your PC to make a self-check and handle some errors.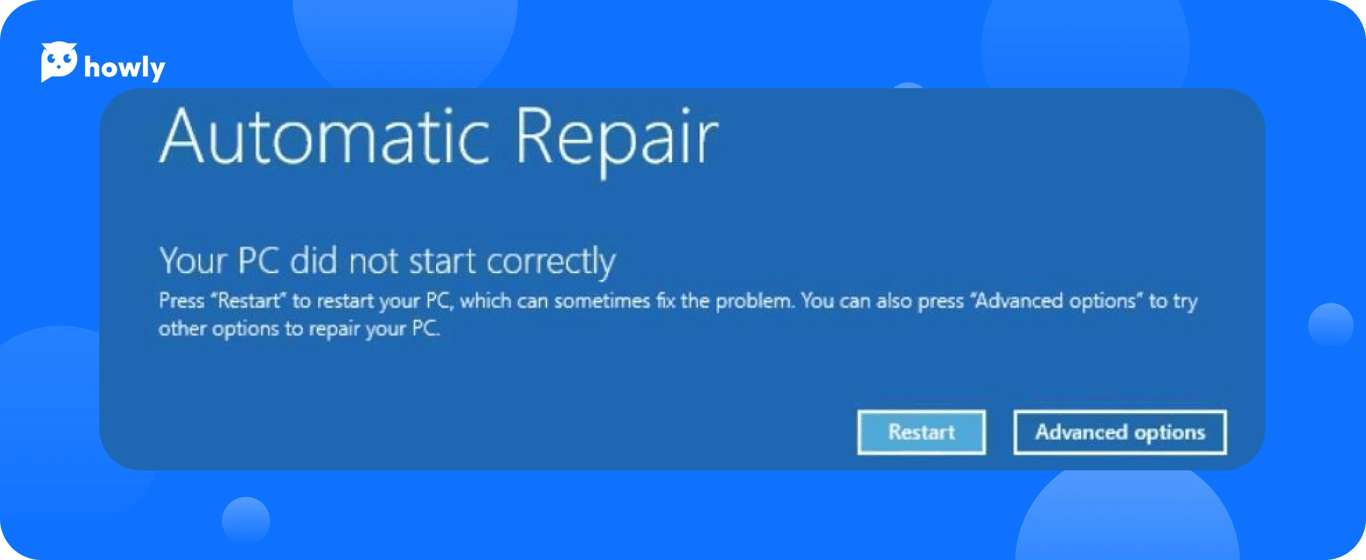 Then pick Troubleshoot → move to Advanced options.
Go to the Startup Repair option.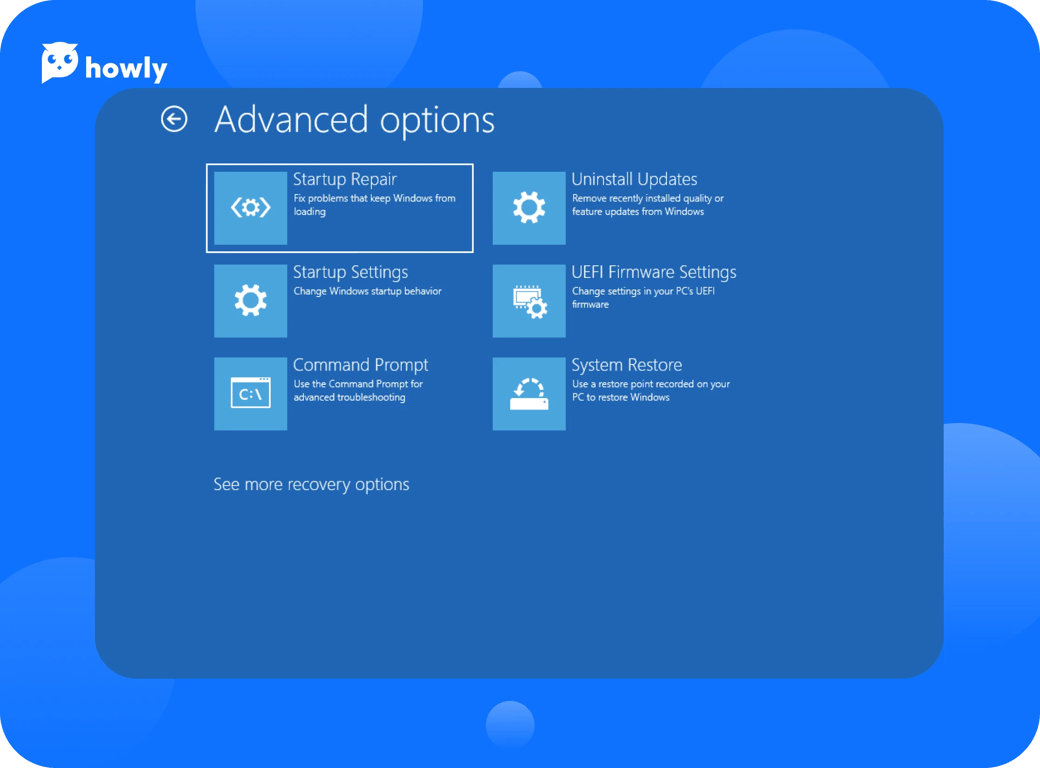 You've done it! The OS will do all the rest by itself.
From this section, you can make a system restore to repair PC Windows 10 by choosing the appropriate button. If your PC refuses to boot, you may need to use installation software recorded on a DVD or flash drive. If your laptop fails to start an OS from a USB drive, change the BIOS configuration (it's a chip on a motherboard) for a successful Windows 10 boot repair.
Plug in the bootable drive.
Hit the Power button.
Tap one of the keys to get into BIOS. Depending on your device's manufacturer settings, it can be Delete, Escape, F2, or F8 buttons. Look at the user's manual to find your option.
Follow the logic of what you see on the screen and choose the drive with the software for installation.
Click Repair computer.
How to repair the OS Windows 10 by using the Command Prompt
The main task of the Command Prompt is to interpret the user's command into a language understandable to a PC. To handle this mode, one has to have a more advanced level of dealing with software. On the other hand, by following the stepwise instructions, you can reach the final point – to make your computer work smoothly. Using this application that looks like a dialogue window, a user can solve a set of issues that require administrative rights.
There are a few options to get to the command line to do a system repair on Windows 10:
via the Start menu;
from the Advanced Options section in the Troubleshoot menu (mentioned above);
by opening the file cmd.exe in the folder with system files.

Try out one of these commands:
Fix corrupted data and complete the Windows 10 system repair;
Create a new piece of software for booting on the hard disk;
Search for errors in booting.
If you're unsure that you have enough experience for such an experiment, ask Howly experts to help you run Windows repair in Windows 10. Or at least always have a backup of files under your belt in the future.
How to run a repair on Windows 10 with SFC and DISM
Two tools are working in collaboration to organize system files:
System File Checker (SFC) detects the damages in groups of files that provide booting and correct OS operating and, in some cases, replaces the cracked files.
Deployment Image Servicing and Management Tool (DISM) fixes the "gaps."
There are two main commands able to repair Windows installation:

Enter them in the Command Prompt. The task is rather complicated and requires special skills and an understanding of the OS operation and data organization, in general, interpreting the system's reports as they are. Unless you know the language Windows talks to a user, it's more reasonable to do your best while using the more straightforward tools mentioned above and, if unsuccessful, ask for a professional service.
Try a recent backup image to repair Windows 10
System File Checker is a powerful tool, but unfortunately, it can't fix all issues. However, you can restore your system to the point where you don't have that critical problem. By default, Windows enables this feature, so you just need to visit the menu and repair Windows 10:
Write the System Restore on the search bar in Windows.
Look for a Create a restore point. It opens the System Properties window.
Pick Open System Restore and follow the on-screen guidelines to find the correct backup.
Click Restore Now and wait until the system restores itself.
Usually, all personal files stay in place after Windows 10 system repair. Windows removes updates, freshly installed apps, and application updates. Some users manually disable this feature or ask the technician to do this to get rid of annoying messages like "You should back up your system today". Here is instruction on how to create a backup, so you can repair Windows 10 by following this path:
Type System Restore on the search bar near Windows.
Pick Create a restore point → Create.
Write the description that helps you identify this point.
Click Create and wait for 10-30 minutes until the system creates a backup.
Once the process is done, you'll see the system note, approving that your Windows repair tool on Windows 10 made the new restoration point. You can also set up the backup frequency, so you will always have a point to restore.
Soft for repairing Windows 10
If none of the built-in software has helped you with Windows 10 fixes, use third-party software. They are focused on fixing software issues. We've gathered the most common tools in one place, so it would be easier to choose the most suitable option.
1. System Mechanic Ultimate Defense
It's a great application that helps you optimize and protect your PC. And one of its main features is System Mechanic which offers multiple tools that help you repair Windows 10. It removes unneeded programs, defragments hard drives, etc. Developers promise that this tool can fix up to 30 000 different issues.
It also has a built-in antivirus called Malware Killer that detects threats and repairs Win10 from spyware, adware, and viruses.
2. Restore
Another service that provides great Win10 repair tools that let you fix other apps, system documents, registry entries, and other crucial components. It also has a built-in antivirus which prevents you from catching malware. Hardware analysis tools perform hardware checks to ensure that you don't have issues with physical components.
Moreover, Restoro also replaces and troubleshoots DLL files. So, it acts as a great system repair tool for Windows 10. It works well both on modern versions like 10 and 11 as well as on oldies like XP and Vista.
3. Fortect
Optimization tool that protects your computer from most threats, cleans up the junk, and repairs Windows 10 broken files. Replacing crucial files helps to overcome system problems even before they start to show to you. An intuitive interface eases your troubleshooting and repairing processes.
4. Outbyte PC Repair
Great optimization software for repairing Windows 10. Advanced system scanner looks for potential issues and resolves them. Outbyte removes system clutter and fixes errors and invalid registry entries, including DLL errors, app crashes, and other problems that encourage you in looking for a Windows repair tool for Windows 10.
This application also has driver management and software updates tools, so you won't miss any updates. Keeping your software as fresh as possible secures the systems. You may not even need to look for ways to repair Windows 10 in the first place.
5. Ashampoo® WinOptimizer 19
It's a comprehensive optimizing tool that helps you to maintain the great performance of your Windows computer. System optimization tools clean up the computer of unnecessary files, and broken registers and optimize system settings.
Internet analyses provide great troubleshooting tools that could prevent virus contamination. All those actions help to repair Windows 10, so you don't need to restore it in the future. One-click optimization eases this process to the max.
How do I repair Windows 10: the bottom line
Plenty of reasons can lead to OS operation failure, and the reason defines the tools that you should use to troubleshoot the problem. To repair Win 10, a user has a set of tools and detailed guides. Some of the features, such as the Windows Recovery Environment, require little skills, and even a person with zero experience in Windows 10 fixes can use them. Other options – for example, in-depth file check or reinstalling the system – require a more advanced approach. Thus, you may consider involving third-party experience. The general rule to avoid data loss because of OS failure is to make a backup regularly.
F.A.Q.
Is Windows 10 repair tool free?
FixWin 10 is a free utility that helps you fix most of the common Windows 10 issues. This standalone utility can fix about fifty Windows 10 problems.
Does reinstalling Windows delete everything?
By using Reset This PC, you can do a fresh install to reset Windows 10 and keep personal files, or remove everything. By using installation disk to perform a clean install, your data won't be delete, but will be moved to Windows.
Can you reinstall Windows 10 without a disk?
If you want to reinstall Windows 10 without CD drive, you can use USB drive. You can choose to create a recovery drive using built-in tool. But if you want to reset your PC, you should tick back up system files to the recovery drive option. And the USB drive must be at least 16GB in size.
Conclusion
Computer malfunctions can arise from various causes, and resolving them can sometimes necessitate the expertise of a professional. Nonetheless, there are instances where you can utilize the built-in Windows 10 repair tools operating system to remedy an issue yourself.
In most cases, it would be enough to use built-in tools.
If they seem too complex for you, use third-party options. They have an intuitive interface and are user-friendly even from the beginner's perspective. If none of those solutions have helped you restore your Windows to the point where you don't have such a problem.