No doubt, Instagram is among the most popular visual content platforms. If your Instagram is not working, it might disrupt your communication, leisure, and even work.
Don't worry! We will explain how to deal with it in this article.
Restart the app or your device
Close Instagram on your mobile phone or tablet. If there are too many active apps on your device, close them. Open Instagram again. If Instagram doesn't load after that, restart your device.
Check your Internet connection
You might wonder: "Why won't my Instagram load anything, but I can see direct messages and receive notifications?"
If that describes your situation, refresh the feed once again. If your Instagram is not loading pictures or videos, you probably have some problems with the Internet connection.
Switching to cellular data or another Wi-Fi can solve your problem. Also, loading Instagram pictures might become slow if you use VPN.
Update Instagram
Facebook and Instagram won't load if you haven't updated them for a while. To fix that, go to the App Store or Google Play to check if the latest Instagram version is available to install. App updates can solve many security issues and remove bugs.
Log in using the desktop version or a different device
Some errors and restrictions apply only to an app on a particular device. In this case, Instagram won't open, and you may experience issues while logging in or using the app.
Open Instagram in a browser or on another device. If you don't remember your password, reset it. Just use the "Forgot password" button and follow the instructions.
Check if Instagram works globally
Instead of googling "Why doesn't my Instagram work at all?", visit the "DownDetector" page. Here you can check Instagram's network status. This platform provides statistics about services and websites based on users' reports.
If Down Detector shows that Instagram is not working globally, you just need to wait for some time. Instagram servers might be down for a while. Usually, it takes not more than a couple of hours to get the app back on track.
Clear Instagram cache and app data
Have you ever cleaned your cache?
Corrupted data in your cache can explain why Instagram is not working. You will need to delete all the app data on your device. Don't worry - the content you have posted in your account won't disappear. It is safely stored on Instagram servers.
Here is a step-by-step guide for Android users:
Settings → Apps & Notifications →  Instagram → Storage  & Cache → Clear Cache.
If you have an iPhone, you need to reinstall the app. Here's how to do it:
Tap and hold the app icon.
Select the "remove app" or "-" sign.
Go to the App Store and download Instagram again.
Enable Instagram permissions
Instagram needs to use certain device functions and resources to work properly. If your Instagram doesn't load, disabled permissions might be the reason. They include access to photos, camera, microphone, and cellular data.
Guide for Android users:
Settings → Apps & Notifications → Instagram → Permissions
Change the status to "Allow only while using the app"
Guide for Apple users:
Settings →  Instagram.
Turn on the permissions.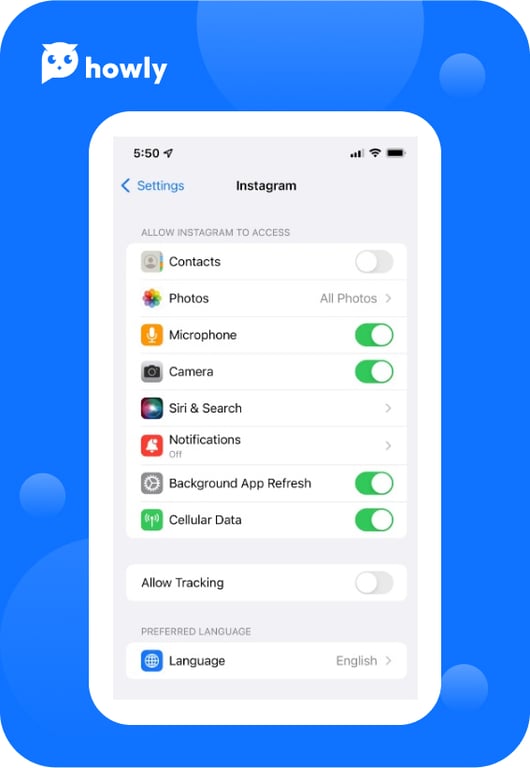 Set your date and time
If the date or time on your phone is wrong, Instagram and Facebook won't load because they encounter conflicting data. Just make sure that your date and time are set automatically.
Check if your account is restricted
Suspicious activity can be the reason why your Instagram isn't working. Artificial intelligence tracks Instagram users' actions to protect the community from bots, spam, and malicious software. Instagram might temporarily restrict your activity to see if you will continue to perform the same action.
Typically, you see the "Action blocked" message if your account is temporarily restricted. It can last from several days to a week. During this time, you might not be able to follow, post, like, or comment.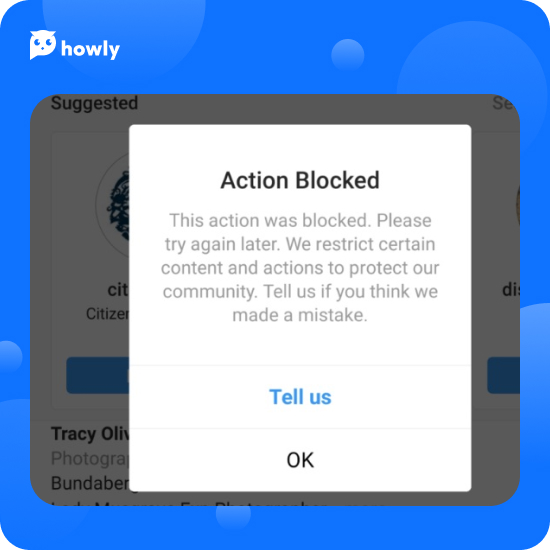 Here's why your account can be blocked:
You've followed or unfollowed too many users recently.
You've liked and commented on too many posts.
You've used bots to boost your account.
Your content violates Instagram rules.
You've used banned words or phrases.
Somebody reported your account.
You've used too many hashtags or banned ones.
You've used third-party services that require your login information.
Somebody else uses your account in a different location.
You've reached Instagram's follow limit of 7500 people.
Instagram doesn't disclose its antispam limits. All we know is that they are much stricter for the accounts that have been recently created.
Why isn't your Instagram loading a particular account?
The answer can be rather unpleasant but simple. It probably means that the owner of this account has restricted you.
Check the Known Issues section
Some of the Instagram issues are rather common. That is why Instagram Help Center created a special list of known issues with solutions. Use the Web version if Instagram doesn't load on your phone. You can also Google the error you see and find out whether there is a solution to it.
Contact Instagram Help Center
If none of the above has worked, report the problem to Instagram customer support.
Choose "Settings" in the three-lined menu in the top right corner. Go to the "Help" section. Then you can choose your problem and add some comments if you wish.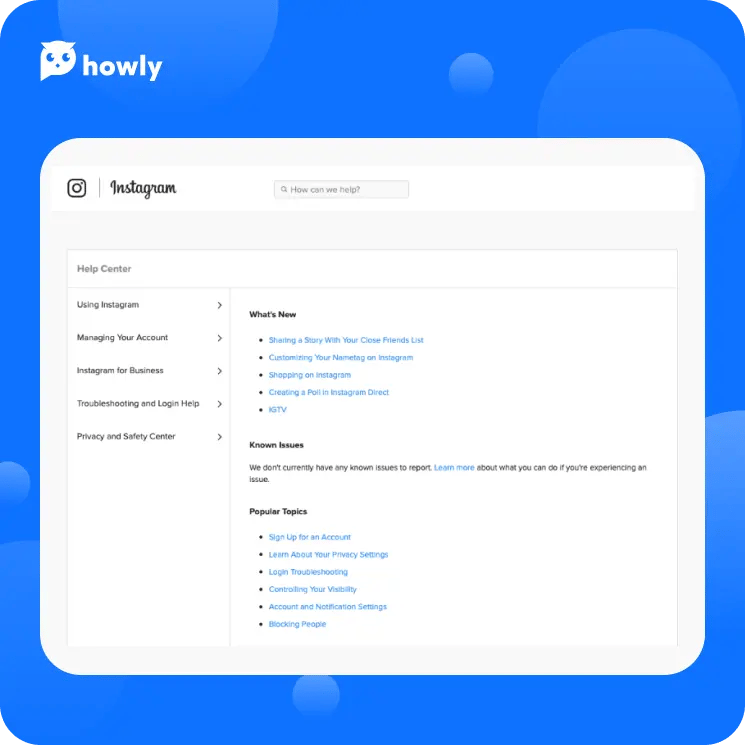 Bonus tips
Delete the link in your Instagram bio
This little trick can help you solve the same issues as when your account is action-blocked. Instagram's AI might decide that the link is suspicious and restrict some features. Just remove the link for a couple of days.
Switch to business or creator profile or vice versa
Go to Settings → Account. Select "Switch to professional account" or "Switch account type" at the bottom. You can also try changing your profile status to private or public.
Link your Instagram account to Facebook
Why won't Instagram load posts on Facebook? Connecting or reconnecting your Instagram and Facebook profiles can solve issues with Facebook permissions. Here's how you can do it:
Open Facebook in the browser and disable all Instagram permissions. (Skip this step if your Facebook or Instagram weren't connected).
Delete Facebook and Instagram apps on your phone.
Install the apps and connect them again.
Remove devices connected to your account
Having too many devices connected to your profile can be seen as suspicious activity by Instagram algorithms. It can also be the reason why Instagram isn't working on some of the devices.
Follow these steps to see the full list of devices: Settings → Security → Login activity.
Take a break from Instagram
There is no need to check on the app every minute. After reporting the issue, take your time and wait for an answer. Also, there is no need to google why your Instagram is not working 10 times a day. Relax and consider it a break from social media.
Create a new account
A new account will allow you to keep following the people you are interested in and use other Instagram features. Sometimes there's just no explanation why Insta isn't working. If you have tried every possible method and nothing has solved the issue, creating a new Instagram profile will be the best decision.
F.A.Q.
Why is my Instagram format different?
The change to your feed comes from an update that replaced the standard 1:1 square ratio with a new 9:16 ratio and alternate ratios increased to 4:5.
Why is Instagram not updating on my phone?
To fix this, press and hold the Instagram icon and then tap the app info when it appears. Select "Mobile data & Wi-Fi" and turn off unlimited data usage. Then restart the app and see if your channel is now working.
How long does an Instagram ban last?
The standard ban time is 24-48 hours. The duration depends on the degree of violation. Also, the ban can be extended if you continue to violate Instagram policies.
Conclusion
Now you know how to fix your Instagram effortlessly. You have a plan and multiple troubleshooting methods to deal with the issue yourself. If you have already tried all the methods above, it is highly likely that your problem is solved or will be solved soon. In other cases, turn to Howly experts - they will help you fix any software problem you face!