Can you imagine that to contact a friend, you will need to send a letter by mail or a telegram? Now such methods of communication are not very popular. Everyone has a smartphone (Android or iPhone) to contact someone in 2-3 minutes. "Why does my phone say "Invalid Sim?" Our experts receive such messages quite often. People panic and do not know how to solve the problem because they are essentially left without communication. Thus, they ask themselves "what does invalid Sim mean?" and start looking for quick solutions. Of course, it is scary, but do not despair. You can quickly resolve the situation yourself. But for this, you need to know the "invalid Sim" meaning, why it appeared, and how to fix it. You do not need to google each question separately, and all the answers are in our article.
Before we start
Save your time and let professionals resolve your issue in minutes!
Want to start solving your problem immediately? Experienced Howly troubleshooters can fix your issue ASAP. They're already waiting for you in the chat!
The benefits you'll get while troubleshooting your issue with Howly experts:
Qualified help with laptops HDD

Quick advice right in your device 24/7/365

Expert reply within 60 seconds

Clear step-by-step guidance

Limitless number of follow-up questions

Understanding and empathetic help till your laptop HDD issue is fully resolved

All answers you need in one place
What does it mean when your phone says "invalid Sim"?
We want to immediately clarify that the problem with an Android or iPhone invalid Sim card does not affect other functions of your device in any way. You can still take photos, scroll through the Instagram feed, read the news, etc. However, you cannot make calls. So what does an invalid Sim card mean? It simply means that your phone does not have a Sim card inserted, that the system does not recognize it, or there is no connection. This problem will not go away, and you will need to take specific steps, which we will discuss later.
Is there any difference between invalid Sim card on Android and iPhone?
Indeed, the operating systems of Android and iPhone are different, and each of them has a number of its own features. However, a Sim card problem can occur regardless of your smartphone. The reasons and ways to resolve it are identical. Therefore, whether you have Samsung, Oppo, or iPhone, the action algorithm will be the same. So why does it say invalid Sim? Keep reading!
Why is my Sim card invalid: common causes?
This problem is impossible to predict. You will only know about it when your phone displays a similar message, "The Sim card with the information you provided currently has an invalid status."
There are many reasons why this might happen.
Problems with the Sim card itself. For instance, the microcircuit is damaged, or you incorrectly inserted it into the phone slot.
Hardware problems. For example, the card reader component is defective.
Software errors. For example, you have not updated your gadget, and it has an old version of the system or complex applications.
The network does not unlock the phone. Because of this, it may not function as needed with other card carriers.
Unfortunately, the exact cause in your case will not be discoverable until you fix it. However, all methods are safe and will not make your device worse. You can also contact the Howly tech team and get a prompt answer to the question "why is my phone saying invalid Sim?" It takes little to identify the problem.
How do you fix an invalid Sim card on Android or iPhone?
You can do the steps described below in any order because this is not a sequential guide. All steps are safe and aimed at troubleshooting an unworking Sim card, not making it worse. You can rely on us and our experience.
Solution №1: try to restart a phone
The easiest way that immediately comes to mind is to restart your phone. It is effortless action. Most phone models have a lock button you should hold for a few seconds. If yours don't have this button, google how to restart your device or ask Howly experts to assist you. Once you've done this, the screen will display several options. Select "Restart." Once your phone reboots, check if the problem persists. If not, let's move on to other possible solutions.
Solution №2: eject and reinsert your invalid Sim card
Users often encounter an invalid Sim iPhone or Android message if the card is seated improperly in its tray. Luckily, the whole procedure of its reinstalling is simple, and you can handle it at home without visiting the service center. So how to reinsert the invalid Sim card on Android or iOS devices?
Remove your phone's case, power off the device, and take a special tool for Sim card ejection (if you don't have one, grab a simple paperclip).
Spot the card tray, which looks like a narrow oval.
Insert the ejection tool into a small recessed hole and gently press until you see how the tray pops out.
Move out the tray and remove your Android or iPhone invalid Sim.
Check the card for damage or cracks and insert it back into the tray.
Put the tray back into its slot and press until it gets in place.
If your Sim card is located under the battery, pull it out, detach the card, and set it back in place. Turn on your device. Is the phone saying invalid Sim after that? Then it's not your solution.
Solution №3: update your software
If the phone says invalid Sim, chances are it's an outdated or buggy software to blame. This is one of the most common causes of the problem on both Android and iPhone. And by updating the system version, you can eliminate all possible glitches and thus fix the invalid Sim card. The steps for Android and iPhone are presented below.
For iPhone:
Open Settings and head to General.
Pick Software Update.
Select an available update option and hit Install.
For Android:
Move to Settings.
Scroll to the bottom and open Software Update.
To end the procedure, tap Install.
If no update option is available, it means your phone already runs the latest version. And since you're still wondering, "why does my phone say invalid Sim", move to other solutions to fix the problem.
Solution №4: check a different Sim card on your smartphone
If you have the opportunity to check a different Sim card, be sure to do it. If your phone is reading it, chances are your Sim card is faulty. Try to check it on another phone. If it knocks out the error, you'd better buy a new card to make everything work as needed. Probably, it has been damaged. However, sometimes it happens that both tests were successful. Then why does the "Sim card not valid" notification appear on your phone only with this Sim card, and how to fix it? In such a case, it would be a more efficient result to seek professional help.
Solution №5: check and clean your Sim card tray
Keep bothering with the question "why does my iPhone say invalid Sim?" Perhaps you need to clear the cache (unuseful memory) on your device to fix the problem. Android owners may also find such a solution handy. On all phones, it is virtually identical to the process.
For Android: launch Settings → hit Storage → pick Internal Storage → select Cached Data.
For iPhone: launch Settings → move to General → pick Storage.
Then, in both cases, press the Delete button. Usually, the Sim card malfunction is immediately eliminated. However, note that you may need to restart your phone again. If it does not work, let's find another idea on how to fix an invalid Sim card on Android or iPhone.
Solution №6: try to switch an Airplane mode on and off
According to statistics, in 55% of cases, this is the way to eliminate the arisen bugs. Try to change the Airplane mode settings by switching it on and off. For this, you need:
Swipe your finger from top to bottom on the screen.
Select from the menu to display the icon display plane.
Turn mode for at least 30-60 seconds.
Disable airplane mode and just wait until your phone finds an available network.
If the problem persists and the "Google Fi - Invalid card" or another similar message continues to appear, proceed to the next step.
Solution №7: check and select the correct network operator
Your phone may fail, or you can select an inappropriate network operator. Therefore, you need to fix an invalid Sim card by following the below-mentioned steps:
Launch Settings of your device.
Head to Mobile Networks. In this menu, you'll see data roaming settings, your network mode, etc.
You need to select a network operator.
Search for the network you need.
After the search is complete, you will receive a list from which to choose your network.
Solution №8: set is chosen network mode to auto
Another nice method to fix an invalid Sim card on Android is to switch the network mode. If you have a manual, change it to automatic. It is not difficult to do this. In Settings in the Mobile networks menu, go to Network mode and pick the very first option that pops up. Usually, it is LTE/WCDMA/GSM. If the problem is not resolved immediately, wait a while or restart your phone again. If the problem persists, move on to another solution.
Solution №9: reset network settings
The phone saying "Invalid Sim", you don't know what else to do? You can reset settings. This solution also helps with other network problems. The procedure with various phones is slightly different. For example, on Android, you need to find General management in Settings, tap Reset, and then pick the button to Reset network settings. Once you do that, confirm your decision. Some phone models have an alternative reset option in the Advanced menu.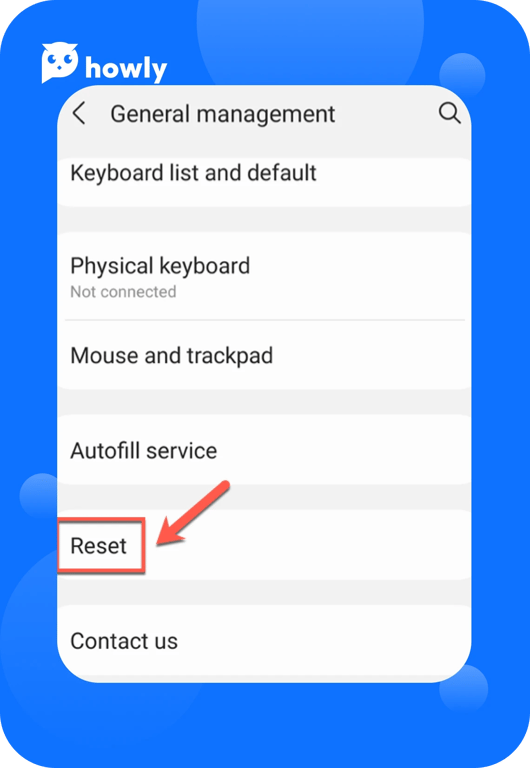 If you have an iPhone, you will first need to disable iCloud Keychain. You need to:
Open Settings.
Choose Apple ID profile.
Select iCloud.
Choose Keychain and disable it.
Otherwise, you may lose passwords for all devices. Furthermore, the algorithm is the same as that of Android. So, why does it say "Invalid Sim" in this particular case? Problems with networks can be due to the use of unsafe connections.
Solution №10: activate Safe Mode
Encounter the error "er05 invalid Sim"? Safe Mode can help you deal with it!
On Android, press the button you typically use to turn on the device. When the Disable icon pops up, long-press it. The Safe Mode icon will become available later. Click on it to reboot your device in safe mode. You can then turn off the mode effortlessly by simply restarting the gadget.
On iOS devices, turn your phone off and then start the system by turning it on. When the screen turns on and the system launches, long-press power on and volume buttons altogether until the Apple icon appears. Safe Mode will automatically be enabled.
If the controls are slightly different depending on the device model, you can quickly check the needed instructions on the website of your mobile device manufacturer or ask for professional help.
Solution №11: do a factory reset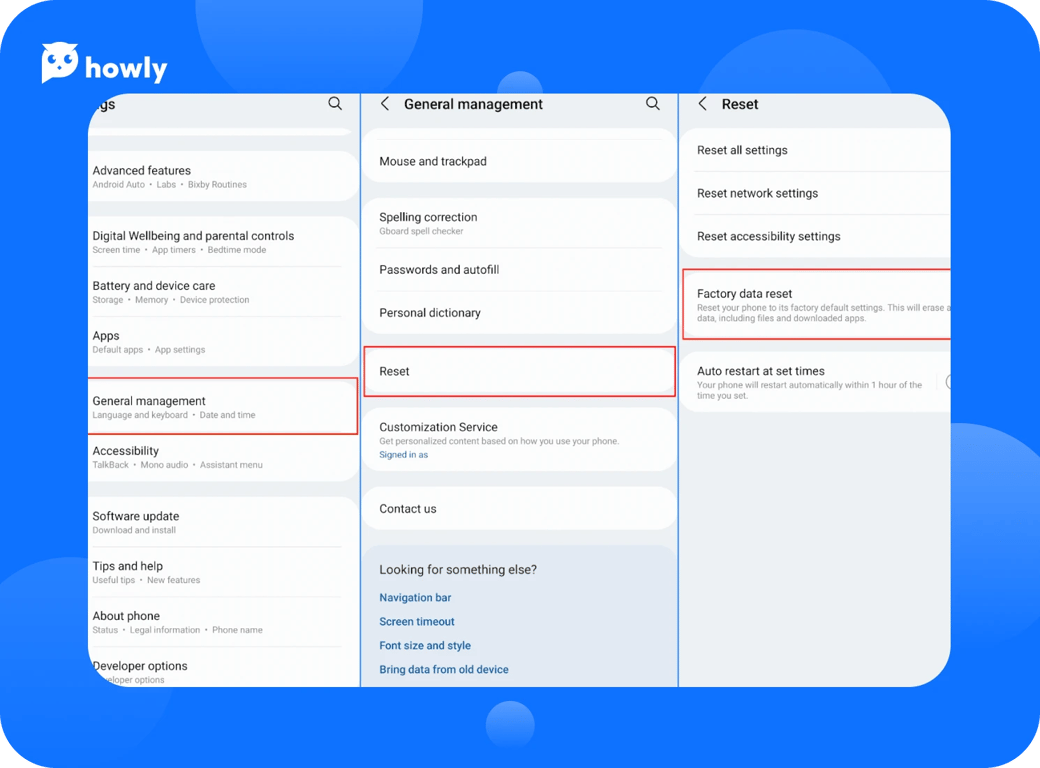 When you Google "hidden menu invalid Sim card," plenty of articles will advise you to do a factory reset. But you can turn to this when no other simple method works. It will delete all data stored in the internal memory, applications, and current settings of your device. The retrieved state is the default state of the widget when it is new. Before proceeding to the procedure, ensure all valuable information and files are backed up to the cloud or to a flash drive and that your device is fully charged. The data will be deleted, and the process can take hours.
But if you are sure that it is the only way to save your phone, follow the next steps:
Open Settings.
Choose General management.
Pick Reset.
And activate Factory data reset.
If you have an iPhone, it can be done even in free steps. After you open Settings, choose General and tap Transfer or Reset iPhone. Now your phone is like a new one, and the problem is solved. In case nothing changes, and you're still racking your brains over the question "why does my phone keep saying invalid Sim?", you have no other option than to ask for help.
Solution №12: contact reliable support
Invalid Sim means some severe problems with your phone, especially if any of the described methods can't fix it. A reliable company with experienced and certified employees will be able to sort out the problem much faster. And they will tell you right away what you need to do. You can also contact your carrier and ask them "why does my phone say invalid Sim card?" Although it often happens that they do not understand the problem in more detail and immediately advise replacing the faulty card with a new one. But what if the problem arises later with a new one? Constantly changing them is not an option. Therefore, always try to look deep into the issue and not be satisfied with too simple solutions.
F.A.Q.
What to do if my SIM is invalid?
It's likely that you inserted the SIM card into the tray incorrectly. Try taking the card out and putting it back in. If that doesn't work, check out the tips above.
It's likely that you inserted the SIM card into the tray incorrectly. Try taking the card out and putting it back in. If that doesn't work, check out the tips above.
Try adjusting or resetting your network settings. Moreover, clean the debris from your SIM card tray. Turn off airplane mode and then check your phone in safe mode. If nothing helps, do a factory reset.
Will my data be lost if I remove the SIM card to clean the tray?
No, all your data is stored directly on the SIM card. Removing it won't affect your information in any way. So you can safely take out the slot and clean it.
Wrapping up
So, what is an invalid Sim? It is an incorrect operation of the sim or phone itself. You can't make any calls or text messages, and it is a real problem in the 21st century. It is not necessary to fix this issue on your own. You can always delegate it to certified Howly specialists who can repair the invalid Sim card on iPhone or any Android device quickly and efficiently. Guides on the Internet are great options, but the industry doesn't stand still. So you might have a phone model that's newer than it was when someone wrote the step-by-step instructions. With a personal Howly consultant, such problems will not arise because you will be prompted with an algorithm specifically for your model.