Do you have severe Facebook issues or see someone violating every possible guideline and want to contact a Facebook representative? It's not the most straightforward process, but it's still possible! That's why we are gathering all ways you can contact Facebook agents. Stick to Howly's instructions, and everything will work out!
Before we start
Save your time and let professionals resolve your issue in minutes!
Want to start solving your problem immediately? Experienced Howly troubleshooters can fix your issue ASAP. They're already waiting for you in the chat!
The benefits you'll get while troubleshooting your issue with Howly experts:
Qualified help with laptops HDD

Quick advice right in your device 24/7/365

Expert reply within 60 seconds

Clear step-by-step guidance

Limitless number of follow-up questions

Understanding and empathetic help till your laptop HDD issue is fully resolved

All answers you need in one place
How to contact Facebook: 4 possibilities
You have four options to communicate with Facebook representatives: over the phone, via other socials, by writing a complaint via email, or by sending a report via Facebook Support. You may not get an answer if you call a hotline or tag Meta on socials. But you have a chance to get a response if you write an email or fill in a request via Help Center.
Unfortunately, there is no Live Chat with Facebook support anymore. They had this option back in 2021-2022 for business accounts. But for today, you can't talk with their representatives in real time.
Contact Facebook support over a phone
It's not the most common way of contacting Facebook support, but it's working. Beware that in this case, you may wait 30-40+ minutes and still don't get an answer from the agent. If you want to try your luck, use those numbers to call Facebook support:
+1 650-543-4800;
+1 650-308-7300.
Сontact Facebook help via email
Another way to chat with Facebook representatives is by using email. Facebook prefers other communication methods, so they don't promote this way. But you still can contact Facebook email support with different requests:
press@fb.com: email for media-related requests;
records@fb.com: it's the email of the law department;
appeals@fb.com: if your content is blocked, use this email to contact a representative;
abuse@fb.com: once you see content that violates guidelines, send a link to it to this email;
datarequests@fb.com: use this email to request Facebook what data the service has about your accounts;
ip@fb.com: you can send an email here if you have questions about intellectual property on Facebook;
phish@fb.com: this email is used to report phishing content.
Contact on Twitter
If you are not afraid to share your complaint in public, tag official Facebook accounts on the Twitter platform. There is no guarantee that they will respond to you, but it's worth trying.
If you know some official public representative figures from some departments, you can tag them too. It increases your chances of getting an answer. But don't spam actual persons: there is a high chance that they may block you.
We recommend contacting Facebook support by tagging @Meta, @FacebookApp, and @Messenger. If your post becomes relevant and viral, there is a chance representatives notice you and answer you publicly or in direct messages.
Use Facebook's Help & Support Menu
It's the official way to get help on Facebook com. It may look tricky, but you'll get the answer once you stick to Howly's guidelines. Unfortunately, Meta disabled the Facebook live agent even for businesses. So the only way you can contact Facebook support live chat is to report some issue. But even in this case, you may wait for an answer for hours or even days.
Get Help on computers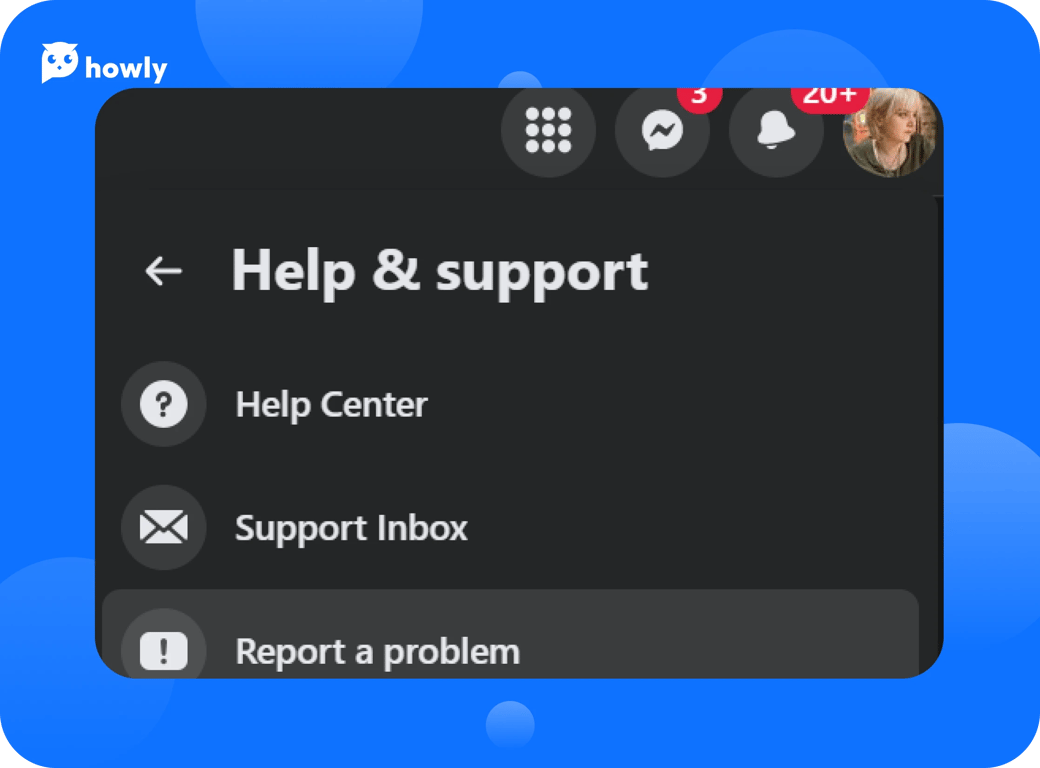 You can use this method on any operating system and any browser. Just make sure that you have a stable internet connection:
Sign into the Facebook site and click on your profile picture.
Choose Help & Support.
Once you enter this menu, you'll get multiple options:
Help Center. It will open a Help Center with dozens of Meta-related guides.
Support Inbox. Here you'll find important messages about the account status and responses to all your requests.
Report a Problem. Here you can report some service issues, share your other Meta-related complaints and give feedback.
Select the last option if you want to have a conversation with Fb.com support. After this, choose "Give feedback" or "Let them know about a broken feature". Write your complaint and wait until the agent answers you. Unfortunately, this isn't an online chat on Facebook, but you'll get an answer from a representative.
Get Facebook's Help on iOS and Android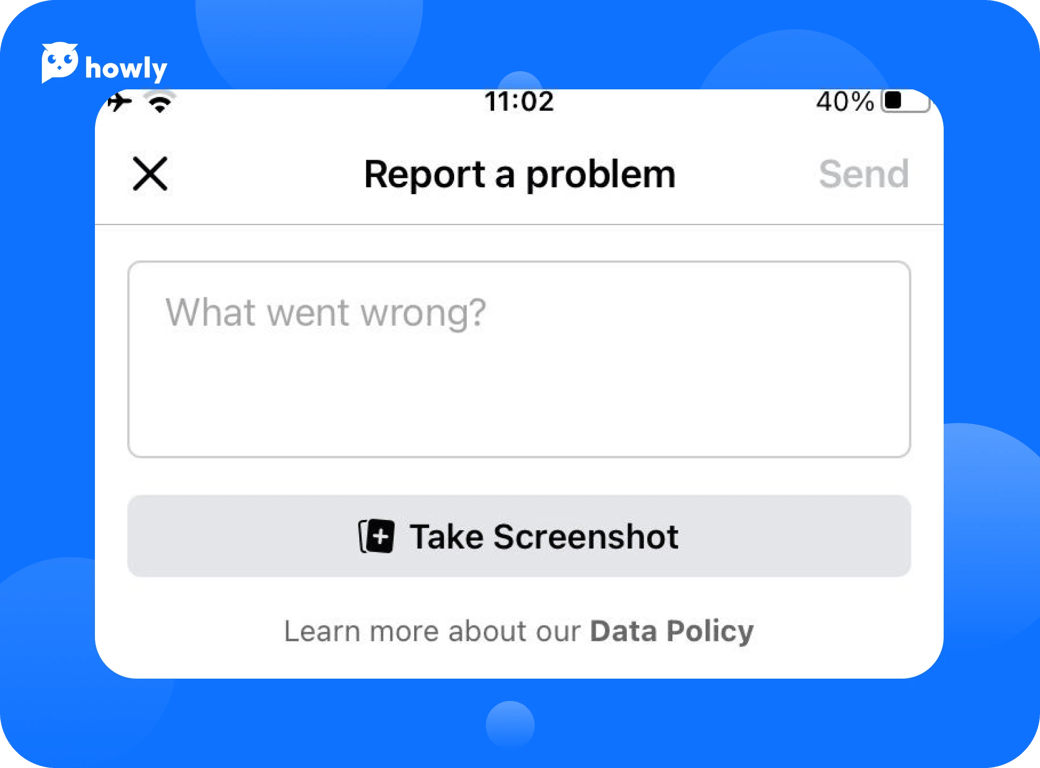 Another way to contact Facebook is via the official mobile application. Here is how you can do it:
Open a Facebook application.
Tap on the bottom right Profile icon. It looks like your profile picture with three horizontal lines.
Choose Help & Support.
Tap on the Report a Problem. You'll see a long list of possible issues. Select the one that fits you most.
Write a complaint and add screenshots if you want.
Tap on Send and wait until Meta-agent answers you.
You'll see an answer in a Support Inbox. You can find it in the same window as the Report option. Usually, the representative answers within a week. But it may take up to 10-20 days to get a response from the Facebook customer service chat.
F.A.Q.
Does Facebook have live chat support?
Sadly, you can't chat with a Facebook agent in real time. It's not available anymore. There was a Facebook live chat support in 2022 for businesses, but they decided to shut down this communication route.
How do I contact Facebook by phone?
As for now, there is no way to contact the support team by phone. Use other ways instead.
How to contact Facebook support?
You have four ways: over the phone, via email, via Twitter, or by writing a report from Facebook Support Menu. If you want to get an answer, write an email or a report. You'll get a chance to chat with Facebook support.
Wrapping up
As for 2023, you have four ways to contact Facebook support: call a hotline, tag them on Twitter, write an email, or fill in a report from the Facebook Support menu. Beware that the first two methods don't guarantee that you will get an answer.
There are too many people trying to get live Facebook help over the phone. So there is no guarantee that you'll get an answer immediately (or within an hour). You may also write a complaint on Twitter and tag official Facebook and Meta profiles. If your post gets viral, you have a high chance of a representative answer.
But if you want a guaranteed response from a Facebook agent, try conservative measures. You can get in touch with FB by writing them a letter to the correct department. Another way to communicate is to send a request to Facebook's Help Center. In both cases, you'll wait approximately 4-7 days for an answer. Sometimes, you may wait up to 10-15 days. But in most cases, you'll get an answer.
Unfortunately, there is no online chat on Facebook, even for business accounts. Meta shut down this option back in 2022. So now you have to wait for a response from a representative.