From your Google search history, anyone could know you better than friends. Especially when it comes to some consistent period.
Before we start
Save your time and let proficient specialists in Google search fixing resolve your difficulty in minutes!
If you can eliminate tedious problems, why don't you do it? Why should you spend hours googling and internet surfing if the answer is here, right at your fingertips? Open your web app and chat with proficient Howly professionals. They are available 24/7. Any tech questions about Google.
The pros you'll get fixing your Google search concern with Howly experts:
Qualified help with clearing Google search history

Quick advice right in your device 24/7

Expert reply within 60 seconds

Clear step-by-step guidance

Limitless number of follow-up questions

Patient and friendly help till your Google issue is fully resolved

All answers you need are in one place.
Browsing history helps Google to gather this data into enormous massive. It's used to analyze human behavior, etc. Google learns about how people search and make choices, how they choose content. On the basis of this data, Google shows ads that suit the best for clients' needs.
Fortunately, Google introduces tools to erase information in your device and account. The senior Howly specialists wrote this article for you to use these tools to clear your Google search history.
Removing from your Google account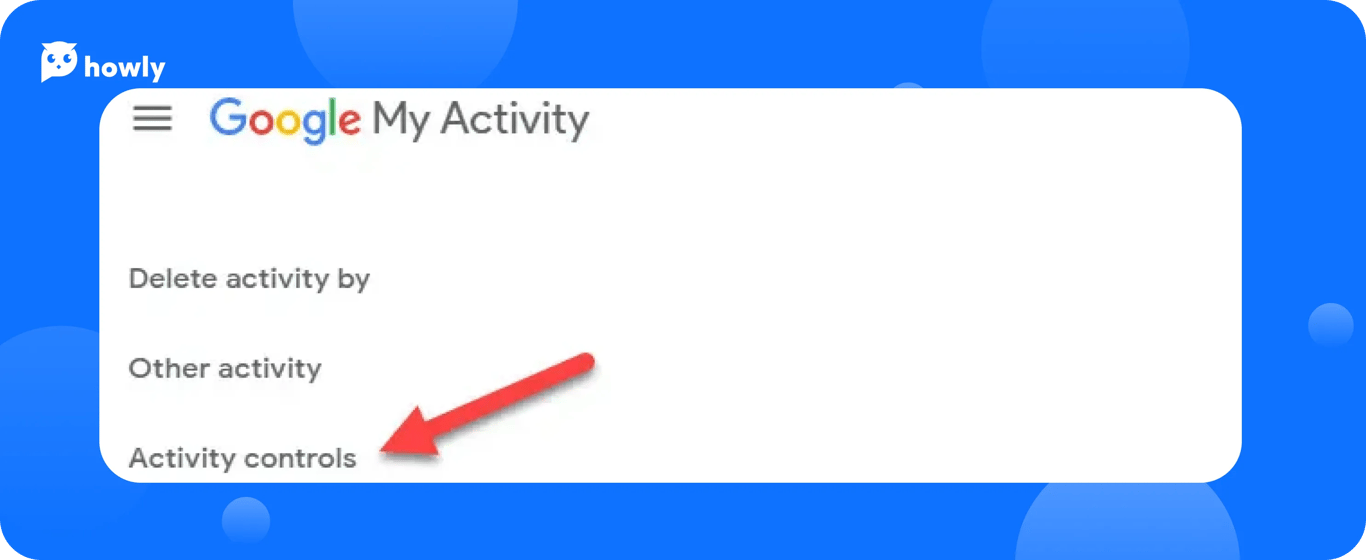 There is a quick option to keep your browser more private. Go to myactivity.google.com from any web browser. There, you can erase the data from your Google account. This site presents the data that Google knows about you.
Open My Google Activity page, and select the Activity Controls bar.
Look for the Web & App Activity option, and pick Manage All Web & App Activity. Now you can see all your search choices are listed. Besides, if your Android and Chrome are linked with the same account, you'll see all apps and websites.
Delete them by pressing the X sign depicted near them. For a bulk Google search history deletion, filter the list to include only content you want to get rid of. Hit Delete for the results for the last hour, day, all time, or any chosen number.
Here you are. Your history is deleted. However, doing it every time by hand might be a tedious task. We recommend automatizing the process. To know how to read further.
Clearing Google search history on iPhone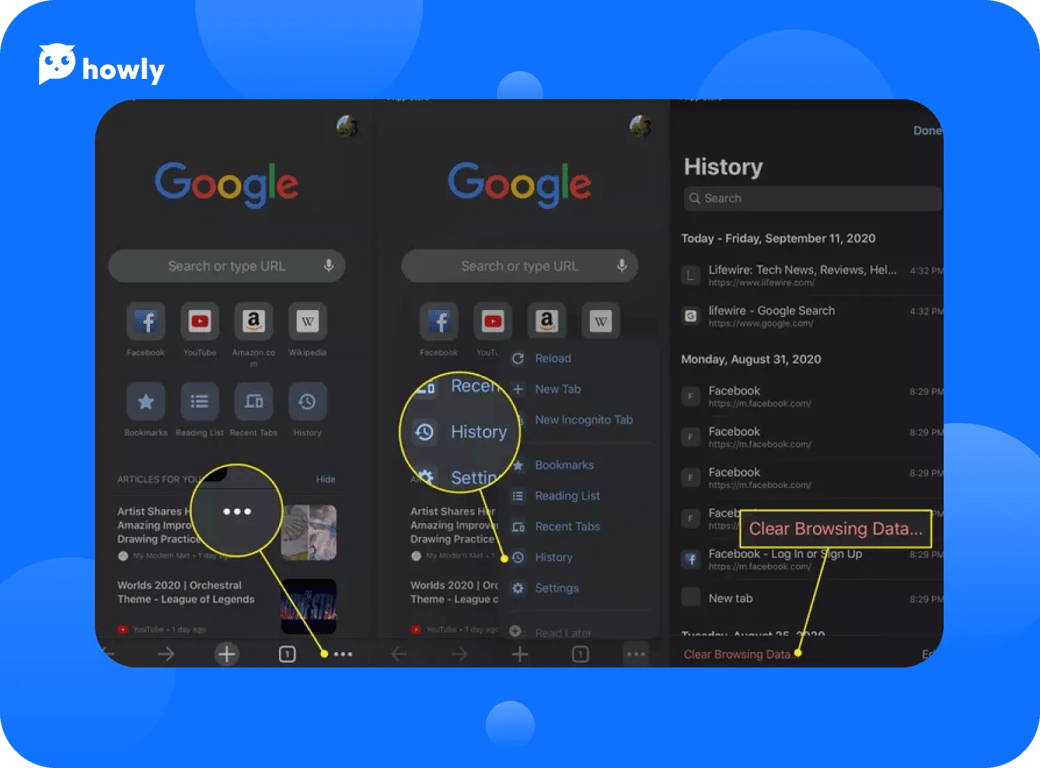 Furthermore, Google apps on iPhone let you clean history Google search. That is what you can do with it.
Go to the app and pick the button of your account.
Select Search History among the options.
Pick the drop-down button of Delete above.
Voilà. The history is deleted.
Google history clearing on Android phone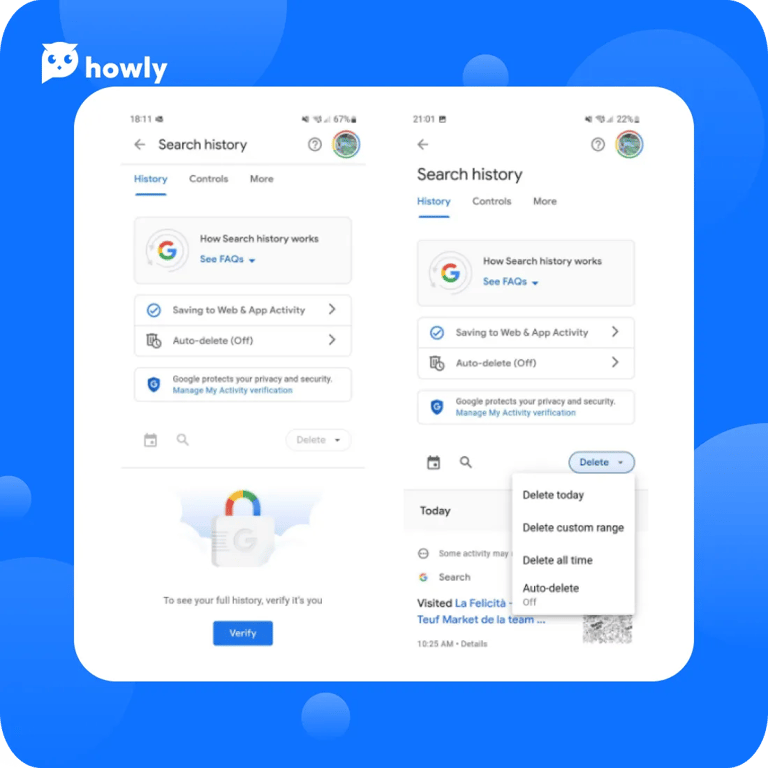 Erase your recent searches with just a few taps on your phone screen. Follow the steps below to learn how:
Start the Google Search app on your phone.
Hit your account icon.
Pick the History of searches.
Tap the Verify button to prove your identity.
Opt to Continue and then enter your login and password.
Pick X near each item you want to delete.
Hit Delete and choose the period of clearing Google search history. It may be today, custom range, all time, etc. Moreover, you can pick an auto-delete. The latest option lets you erase the data automatically for a certain time period.
No matter what you select, the data will be removed.
Clear out each item
If you want to keep some search results for future needs, use a selective erasing Google history. Do the following to clear a single search item:
Hit Edit in the History tab.
Spot an item you plan to clear in the list. Press a circle next to it to mark it.
Press the Delete button below.
Pick Done on the right.
With this procedure, you can choose which item to clean and save the necessary data for future searches.
How to clear search history on Google automatically
The auto-delete settings are very useful and convenient for clearing your search data. Use them on all devices. They work fine with web browsers and apps as well. Here's how to do it.
Open a web browser.
Go to the Computer & App Activity page.
Look for Auto-Del.
Command Automatically delete activity older than and choose a period. It can be 3 months, 6 months, one and a half years, or 3 years.
Choose Next. And Confirm.
Now, you don't have to go to the settings each time and clear Google search. The software will make it for you.
F.A.Q.
How do I look at my searches?
Open Google Chrome and pick History from the menu. One more way to do it is to click Ctrl+H. This command will reveal the Google search history for you to revise or delete.
Why can't I delete my search history?
Older versions of Chrome have a bug preventing erasing. In this case, the troubleshooting is updating the browser. After you get the latest version, you can try again.
How do I choose Google history delete all in my Chromebook?
The procedure is pretty much the same. Go to Google Chrome and press the menu button. Choose to Clear browser data. This option deletes it all. If you want to pick the things, you want to keep, uncheck them in the list and hit Delete.
Summing up
Data security starts with the right habits. Consistent Google history clearing is one among them. For more privacy, we recommend altering your settings so that your browsing data is erased after some time. This is the alternative to using a private mode. In this mode, your browser doesn't save the Google searches at all.
For more useful security advice, read our blog posts and contact the Howly support. They're waiting in the chat 24/7 to help you in resolving all technical issues you might face instantly.