Before we start
Save your time and let professionals resolve your issue in minutes!
Want to start solving your problem immediately? Experienced Howly troubleshooters can fix your issue ASAP. They're already waiting for you in the chat!
The benefits you'll get while troubleshooting your issue with Howly experts:
Qualified help with laptops HDD

Quick advice right in your device 24/7/365

Expert reply within 60 seconds

Clear step-by-step guidance

Limitless number of follow-up questions

Understanding and empathetic help till your laptop HDD issue is fully resolved

All answers you need in one place
Avid book lovers do find Kindle Unlimited useful since the program offers access to a great number of titles to read at their convenience and keep for a long time. However, these are all the perks of the service. Although KU trumpets over 2 million ebooks, the collection leaves much to be desired. What's more, the products of the greatest publishing houses are simply unavailable in some countries. That's why Howly experts observe an increase in queries about how to cancel Kindle Unlimited UK or Canada. The situation in the US is no better. In addition, the program is expensive and can't work Internet-free. All of this makes you want to say goodbye to Kindle Unlimited as soon as possible, but how to do it? Howly is here to save you!
Typical Kindle Unlimited how to cancel problems
Besides the fact that Amazon is slightly deceiving about unlimited access to books in their Kindle program (although the limits are still obvious), the process of unsubscribing is hardly the easiest. So if you're just about to go mad while trying to cancel your Amazon Kindle Unlimited, you're certainly not alone. These are the common troubles of other KU users:
continuation of payment withdrawal after unsubscribing;
absent cancellation option;
kindle unlimited trial fails to cancel;
issues with refund crediting;
auto-renewal fails to stop.
Have one of these or any other trouble? Or maybe you need prompt guidelines on how to cancel Amazon Kindle Unlimited on your device? Howly experts offer instant help and a case-by-case approach to any subscription issue!
How to cancel Kindle Unlimited on Amazon
The official Amazon website is just about the only way to get rid of your Kindle Unlimited subscription. And at the same time, the browser you use doesn't matter since the instructions remain the same. Howly experts have described the process step by step so you can get through it without any problems.
Follow this link https://amazon.com to open the official website.
Enter your account (the button will pop up on top of the page).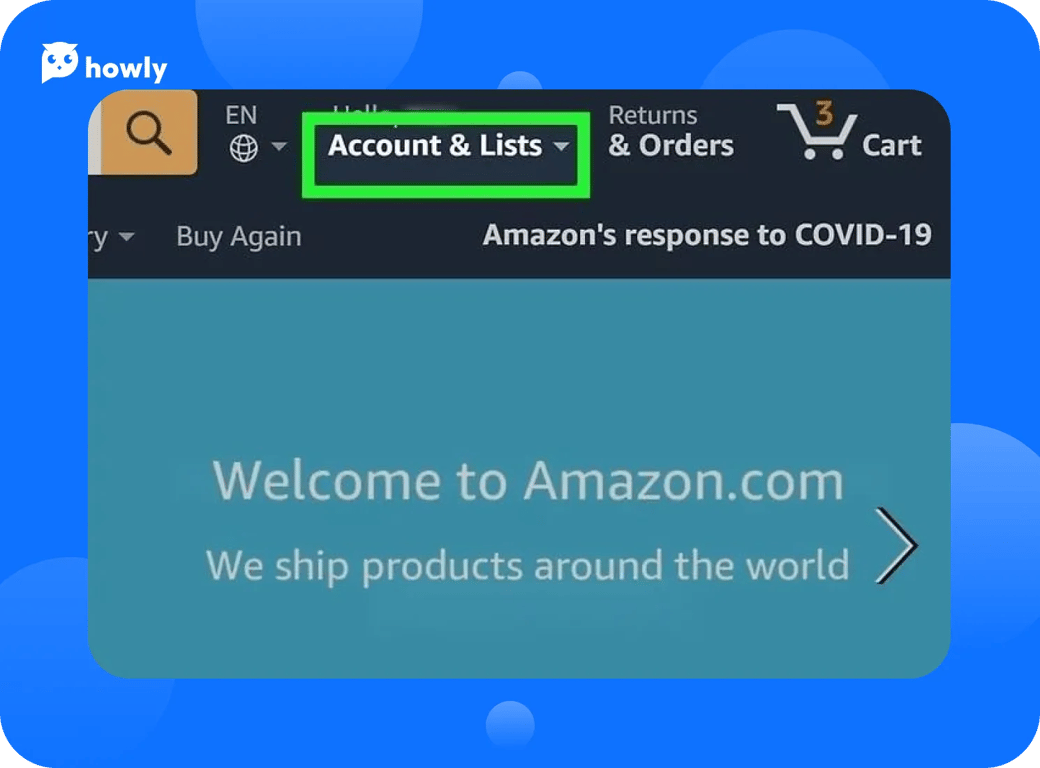 Mouse over the same section to open the pop-up menu and pick Kindle Unlimited.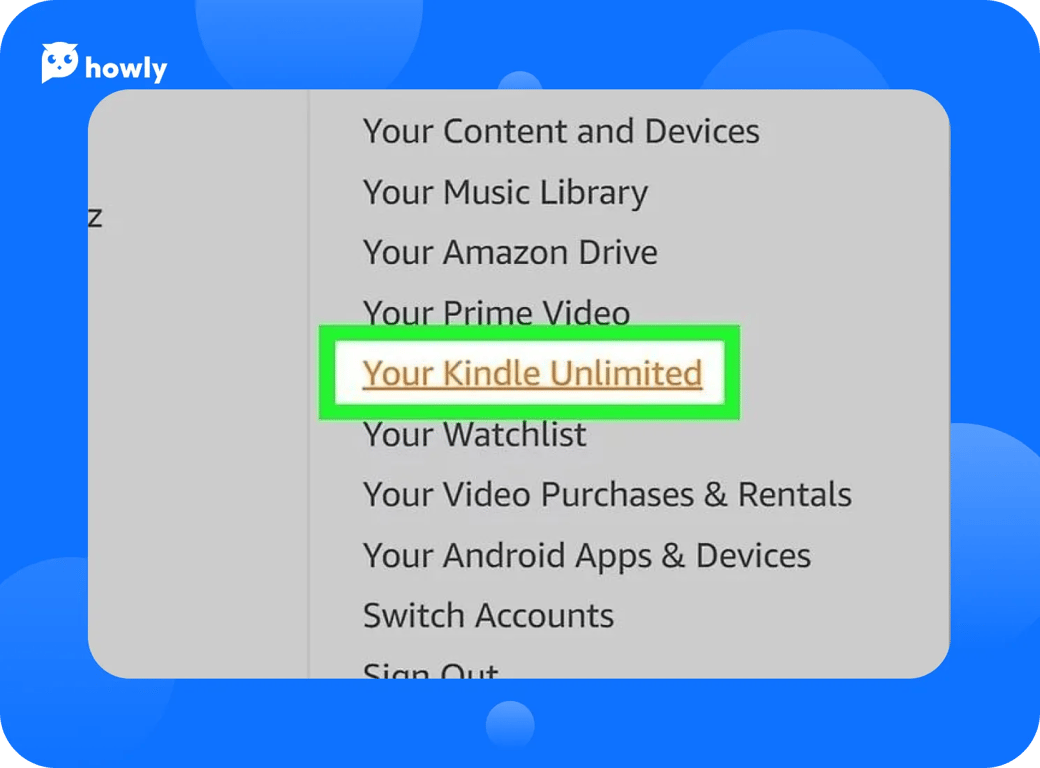 So you get to the page which offers various setting options and contains all the information about your membership. The needed section is located on the left of the screen. Spot the button with the inscription Cancel Kindle Unlimited Membership and tap it.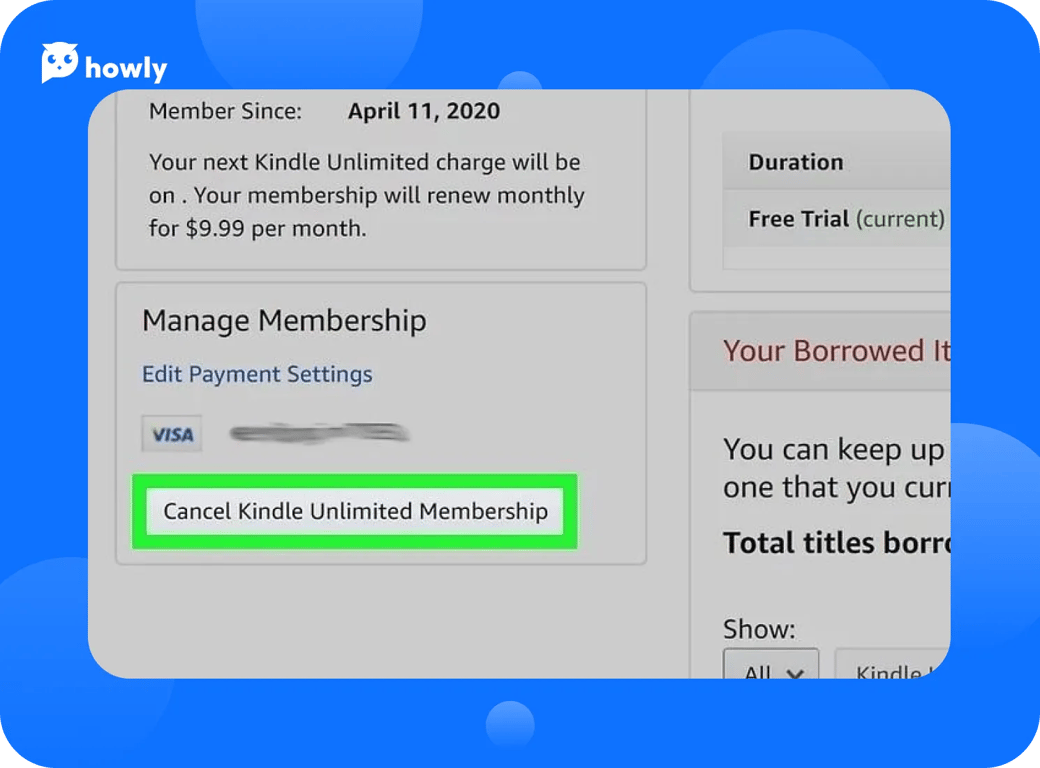 Finally, you find yourself on the confirmation page. All your borrowed books will be shown here. Just confirm your desire to cancel Amazon Unlimited Kindle for good.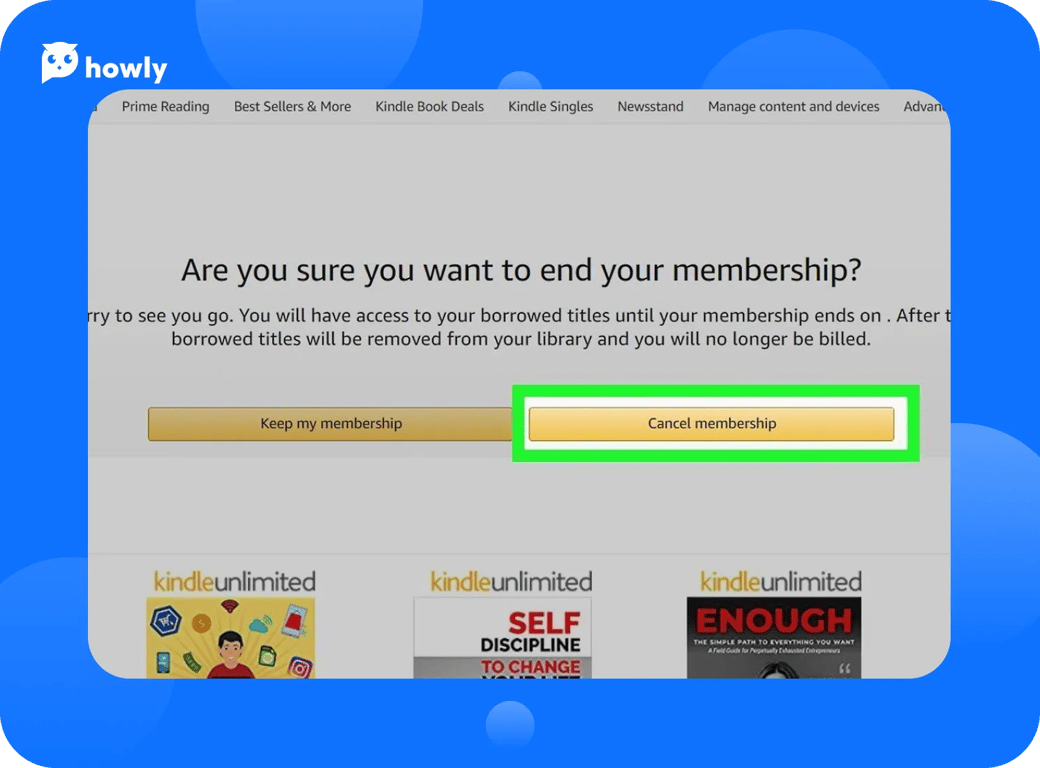 How to cancel Kindle Unlimited on iPhone & Android
A huge number of users reach out to Howly asking how to cancel Kindle Unlimited on my iPhone. Indeed, it's actually a bit challenging since the Amazon company has removed the unsubscribe option from the Kindle app. So all you can do is complete the process right in the Amazon app. The below-mentioned guidelines on terminating a Kindle Unlimited subscription also work well on different devices with Android OS.
Click app icon on your phone home screen.
Open the pop-up menu at the top leftward corner.
Enter the profile settings by picking Your Account.
Scroll until you find Memberships and Subscriptions (almost at the end of the list).
If you don't see your membership, hit the corresponding button as demonstrated below.
Pick Kindle Unlimited.
Get down the page to the Manage section and hit Cancel My Kindle Unlimited Subscription.
Once doing that, click on the confirmation message, and you're free.
FAQ
What happens if I don't discontinue the Kindle Unlimited free trial?
The Amazon company presents a Kindle Unlimited 30-day trial for anyone willing to try out its features and check the available book library. If you don't cancel your free subscription, you'll be charged a monthly payment. It's important to resign from your membership at least 24 hours before the billing date so as not to pay for it.
Can I get a refund after terminating Amazon Kindle Unlimited Canada?
The company's refund policy acts the same irrespective of the country where you live. So, you can get your money back if you unsubscribe within the first 7 days of your paid membership. But if you pay for a 12-month subscription and want to cancel it in half that time, no one will return your money.
Will I still have access to my books if I refuse my Amazon Kindle Unlimited subscription?
Unsubscribing automatically removes all borrowed books from your account, and the same applies to your notes and bookmarks. However, the service keeps your annotations just in case you want to renew your subscription later. If you re-subscribe and notice that all your details are lost, contact support to fix the issue.
Conclusion
Most people subscribe to Kindle Unlimited because of the temptation to access millions of ebooks and magazines. But disappointment isn't long in coming. Be that as it may, our guide will help you escape from Amazon KU via both PC and smartphone. If you're looking for more information on how to cancel Unlimited Kindle, Howly is your way to go. We solve all customer problems online, quickly, and reliably.