Amazon FreeTime is an ingenious addition to the extensive Amazon pantheon which provides an immersive collection of digital children's entertainment. This platform is easy to use for both parents and kids. What's more, the service has ridiculously cheap subscription costs. But why do customers want to cancel FreeTime Unlimited? Even though the platform is pretty good in theory, it proves to be far from impressive once you sign up and start using it. Many people complain that the content filtering is poor, while others are unsatisfied with the technical aspects of the app and report frequent video/game crashes and various system bugs. Some users also unsubscribe because they're unhappy with the offered entertainment collection or simply because the child grows up, so the service becomes needless.
Before we start
Save your time and let professionals resolve your issue in minutes!
Want to start solving your problem immediately? Experienced Howly troubleshooters can fix your issue ASAP. They're already waiting for you in the chat!
The benefits you'll get while troubleshooting your issue with Howly experts:
Qualified help with laptops HDD

Quick advice right in your device 24/7/365

Expert reply within 60 seconds

Clear step-by-step guidance

Limitless number of follow-up questions

Understanding and empathetic help till your laptop HDD issue is fully resolved

All answers you need in one place
Thankfully, subscription cancellation is easy and takes minutes. Moreover, you can complete the procedure in several ways. Hence, we'll show you how to cancel Amazon FreeTime Unlimited from a computer and your Kindle Fire tablet. Let's clarify things!
How to cancel Amazon Free Time via device
If your kid has an Amazon tablet, you can cancel FreeTime on Kindle Fire without special effort. Hence, you'll terminate the subscription immediately, so keep in mind that the collection of entertainment will be unavailable from this moment. However, Amazon still keeps the content you've purchased even after cancellation, so your child will manage to access it anyway. At the same time, the company offers a full refund for the whole remaining period of your subscription, and this is a great advantage. So, how do you cancel Amazon FreeTime on a Kindle device?
Grab your Kindle Fire, touch the top of the screen, and swipe down -> hit Settings.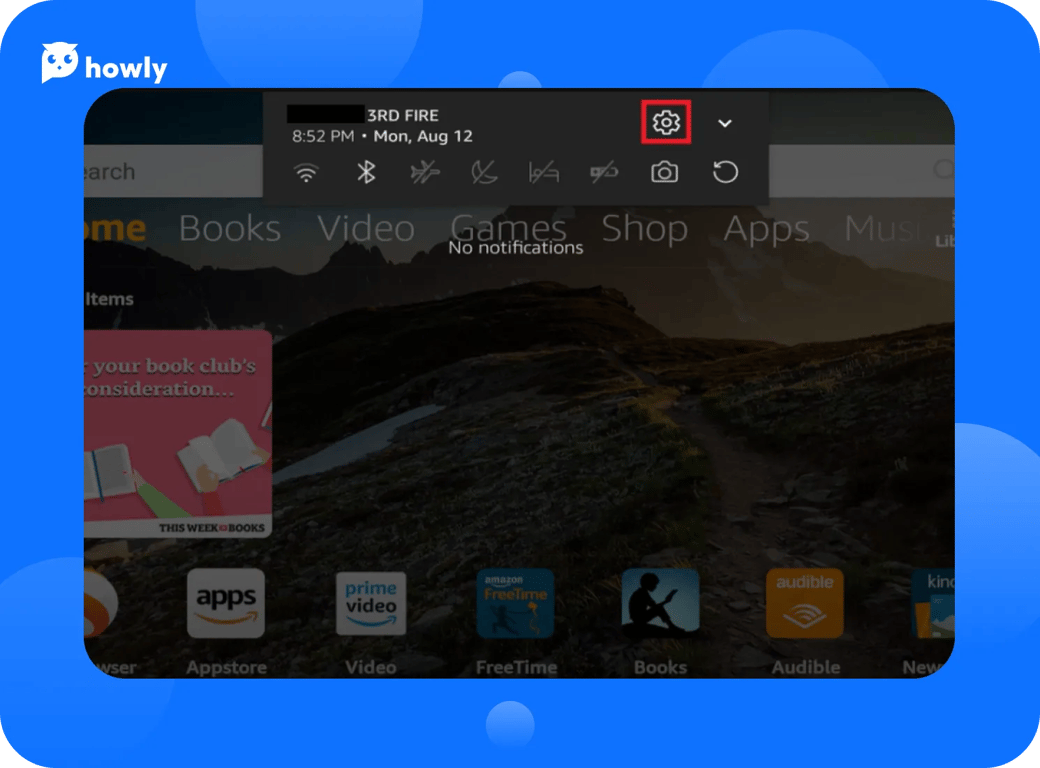 Move down the screen until you spot Profiles and Family Library – enter the tab.
Move to the very bottom of the page, and you'll see all your Amazon FreeTime profiles. Tap the child's subscription you want to cancel.
Once you access your child's profile settings, move down the page and hit Manage Your Subscription.
The next window will pop up in the middle of the screen – pick Cancel Your Subscription.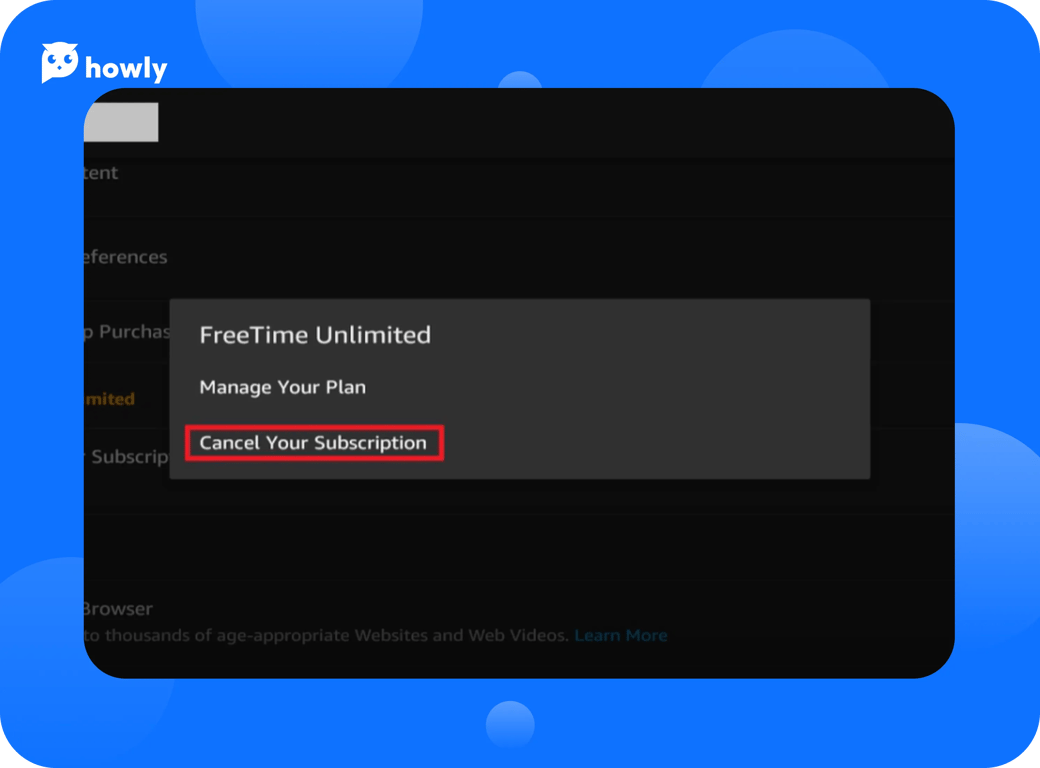 Pick Unsubscribe to cancel FreeTime Unlimited and remove the account.
How to cancel Amazon FreeTime without device
While the process of subscription removal via Kindle Fire is pretty convenient, many people are still looking for quick guidelines to cancel Amazon FreeTime Unlimited without a device. Indeed, there's an alternative method, so you can break ties with this kid's service using your desktop computer (or perhaps even a laptop, smartphone, etc.), and the result will be the same – you'll end your membership for good and receive a refund. Hence, if your Kindle Fire is broken or you currently have no access to the tablet, catch the instructions to cancel Amazon FreeTime from a computer.
Now, you have two options to manage your FreeTime membership – pick Cancel Subscription.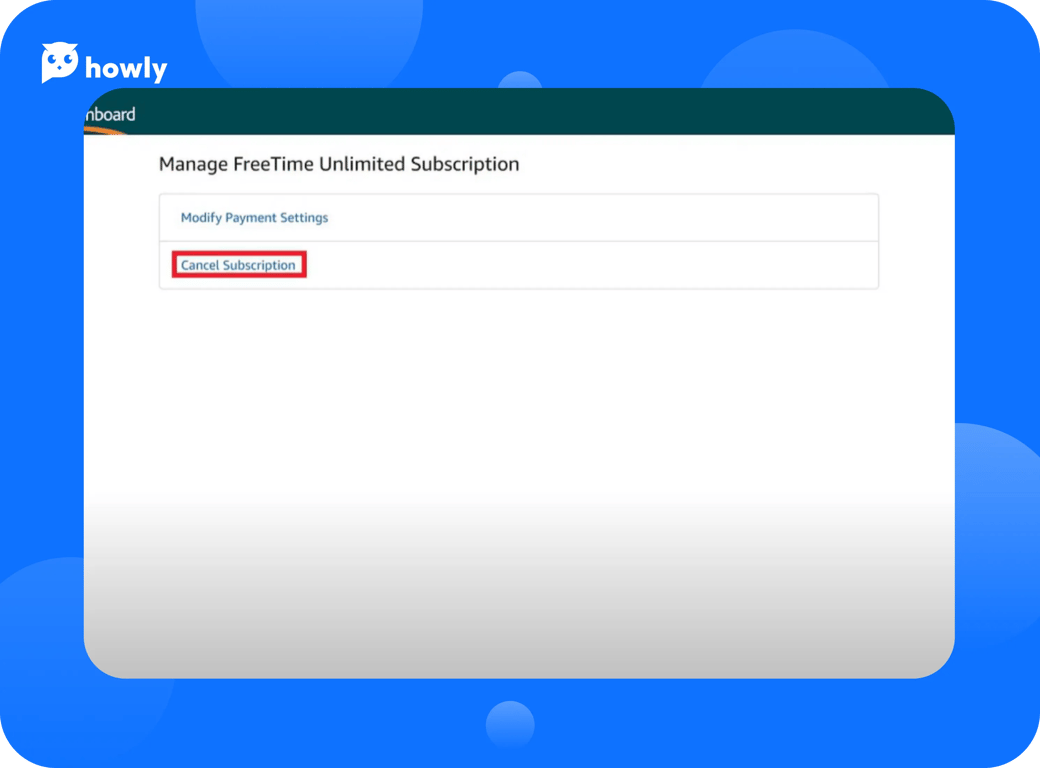 The next window shows the details of your entertainment collection. But you'll hardly regret leaving, so tap Yes, go to cancellation page.
Amazon wants to know the reason for your subscription termination – let them know what's wrong and tap Submit and confirm cancellation to complete the procedure and cancel Amazon FreeTime without Kindle right away.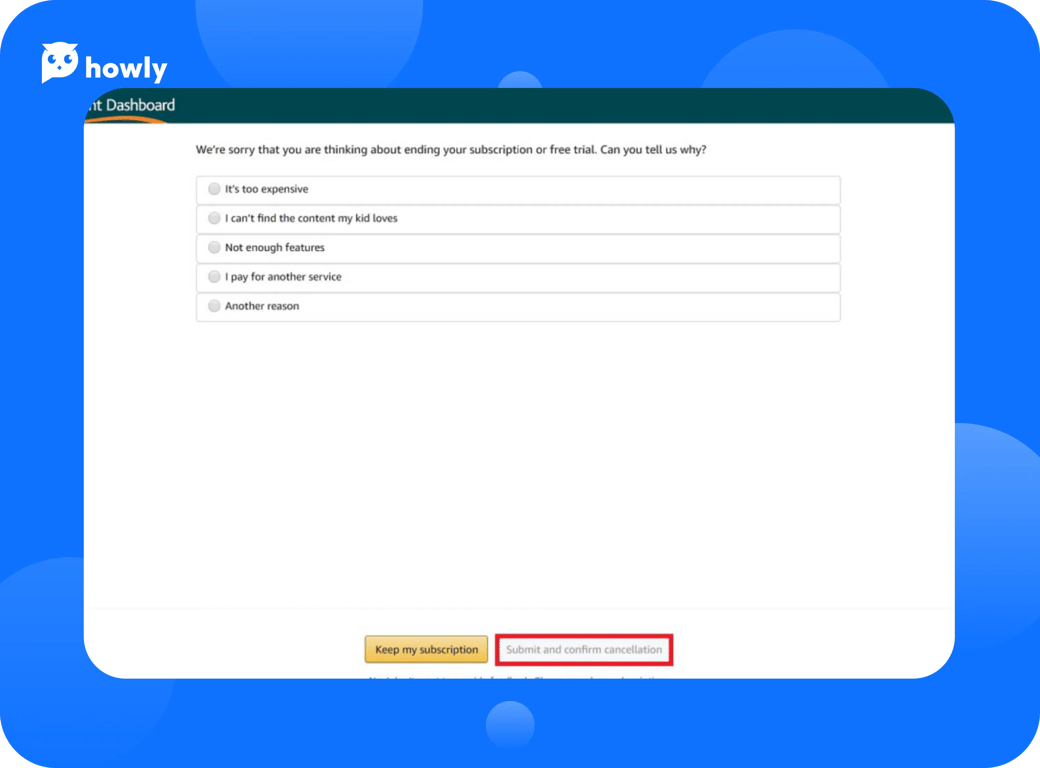 F.A.Q.
Can I terminate Amazon Prime to get rid of my FreeTime Unlimited membership?
Amazon Prime and FreeTime Unlimited are two different services offered by the same company. Even though Prime members enjoy discounts for FreeTime, you need to cancel your sub separately. After all, if you cancel Amazon Prime without unsubscribing from FreeTime Unlimited, they'll keep charging your credit card anyway.
What if I'm unwilling to cancel Amazon Free Time now? Can I put it on hold?
Amazon prohibits such actions. If you're unwilling to cancel Amazon FreeTime, you have only two options to consider – continue using the service, or remove your account and then resubscribe when you need access to the kids' entertainment again.
How do I cancel Amazon FreeTime without a device and without a computer?
You can also cancel FreeTime using your iPhone or Android. Alternatively, there's always an opportunity to speak with Amazon support, the more so their number operates 24/7. Thus, call 1-888-280-4331 or text them at cs-reply@amazon.com at any time you want.
Conclusion
That's all you need for a successful membership termination. Cancel Amazon FreeTime without a device, via a Kindle tablet, or through your mobile phone whenever you consider the platform useless. Besides, there are plenty of alternative services your child may like even more, so the choice is wide. Any questions left? Get instant answers from Howly experts! Our techs are well-versed in Amazon subscriptions and will handle your trouble in minutes.