In general, Adobe Inc. designed Creative Cloud as a handy service for managing mobile and desktop applications and cloud-based tools for UX and graphics design, advanced web development, and photo/video processing and editing. It's a hub for over 20 widely-used apps, including such popular titles as Photoshop, Adobe Express, Animate, Acrobat Pro, Illustrator, Fresco, and InDesign. But why do users reflect on how to cancel my Adobe Creative Cloud account? The point is that such a variety of software often proves to be excessive for those who don't need an extended collection of Adobe programs. What's more, the apps are targeted at professionals and may be difficult to master for the novice. The offered plans are also hardly cheap, and not every user can afford to keep them. Thus, Howly suggests the simplest solutions to discontinue your subscription with no hassle online from a desktop computer or phone. Let's get into the matter!
Before we start
Save your time and let professionals resolve your issue in minutes!
Want to start solving your problem immediately? Experienced Howly troubleshooters can fix your issue ASAP. They're already waiting for you in the chat!
The benefits you'll get while troubleshooting your issue with Howly experts:
Qualified help with laptops HDD

Quick advice right in your device 24/7/365

Expert reply within 60 seconds

Clear step-by-step guidance

Limitless number of follow-up questions

Understanding and empathetic help till your laptop HDD issue is fully resolved

All answers you need in one place
Failures to cancel Adobe Creative Cloud free trial or sub: what issues users face
It would seem what may be difficult in subscription cancellation? Unfortunately, problems still arise. And it doesn't even matter whether you're struggling to cancel an Adobe Creative Cloud free membership or yearly subscription. Howly experts offer assistance for all Adobe services and are well familiar with issues users commonly encounter when terminating Creative Cloud. You can explore them too, on the list below:
troubles receiving an automatic refund for a monthly sub;
a refund for a yearly sub isn't credited;
cancelation fee issues;
problems removing the service from PC;
inability to change or cancel an Adobe Creative Cloud plan;
account issues;
cancellation problems when terminating a sub via phone.
Can't find your issue on the list? That's not a big deal for Howly! We have the power to tackle any Creative Cloud problem in a minimum time.
How to cancel Adobe Creative Cloud on computer & phone
Creative Cloud isn't for everyone, and there's no point in paying for something you aren't eager to use. Thus, after trying the service for the first time, many people comprehend that it's not what they were looking for. So they start bothering with the issue "how to cancel my Adobe Creative Cloud free trial?" In general, everything is easy, and the procedure is identical for both purchased and free memberships. Your subscription type also doesn't matter. So let's find out how to cancel Adobe Creative Cloud for teams or separate users:
Log in to your Adobe account. Since you have no opportunity to end your membership via the interface of Creative Cloud, you need to use the Adobe website.
Head to Help & Support. You'll spot the tab on the top panel – click it to enter the drop-down menu. When you see the available options, pick Manage my plan to access the details. You'll locate it in the Common Tasks subsection.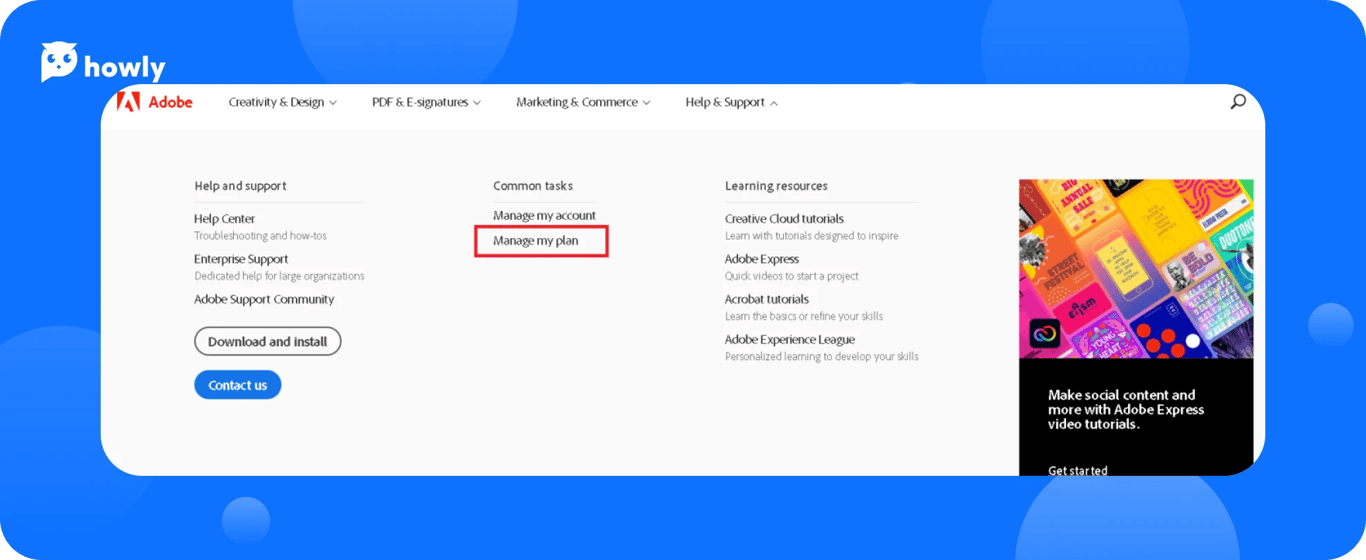 Select Manage Plan. If you've purchased different Adobe memberships, you'll see all of them here. Just spot Creative Cloud and hit Manage Plan.
Hit Cancel Your Plan. You'll have a list of available actions to manage your Adobe plan. So you can change, upgrade, or cancel a membership for Adobe Creative Cloud – go for the last option.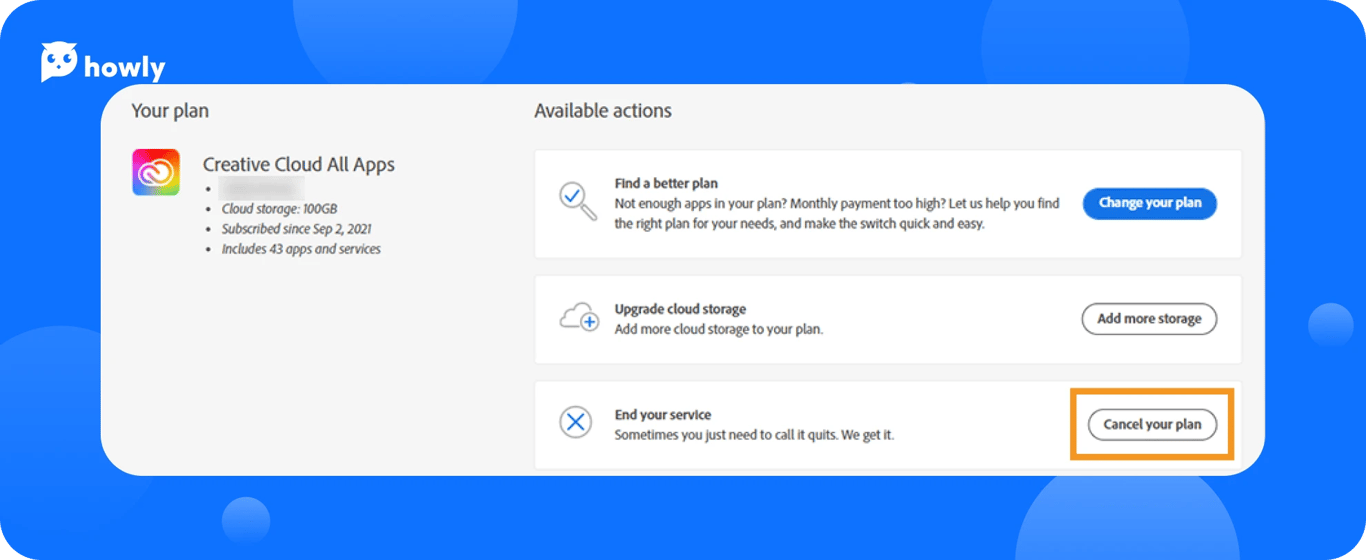 Provide feedback. Adobe doesn't bother you will long, tedious questions. You just need to leave your feedback by marking the appropriate checkbox. If none of them fits you, just hit Other and write down your reason for ending the membership. Once you do this, tap Next.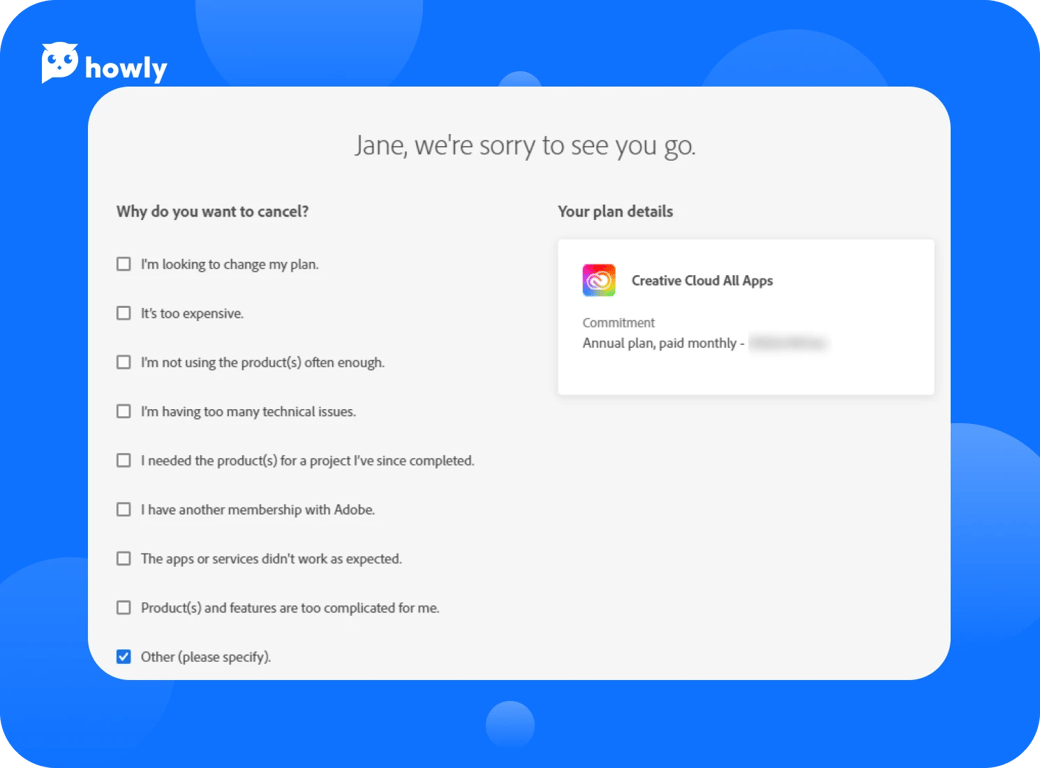 Confirm termination. Here, Adobe notifies you about the perks you lose by choosing to cancel the Adobe Creative Cloud membership license, including access to apps and increased storage space. If you don't change your mind, move on. The service will also suggest you several other subscription offers, politely refuse by hitting No Thanks.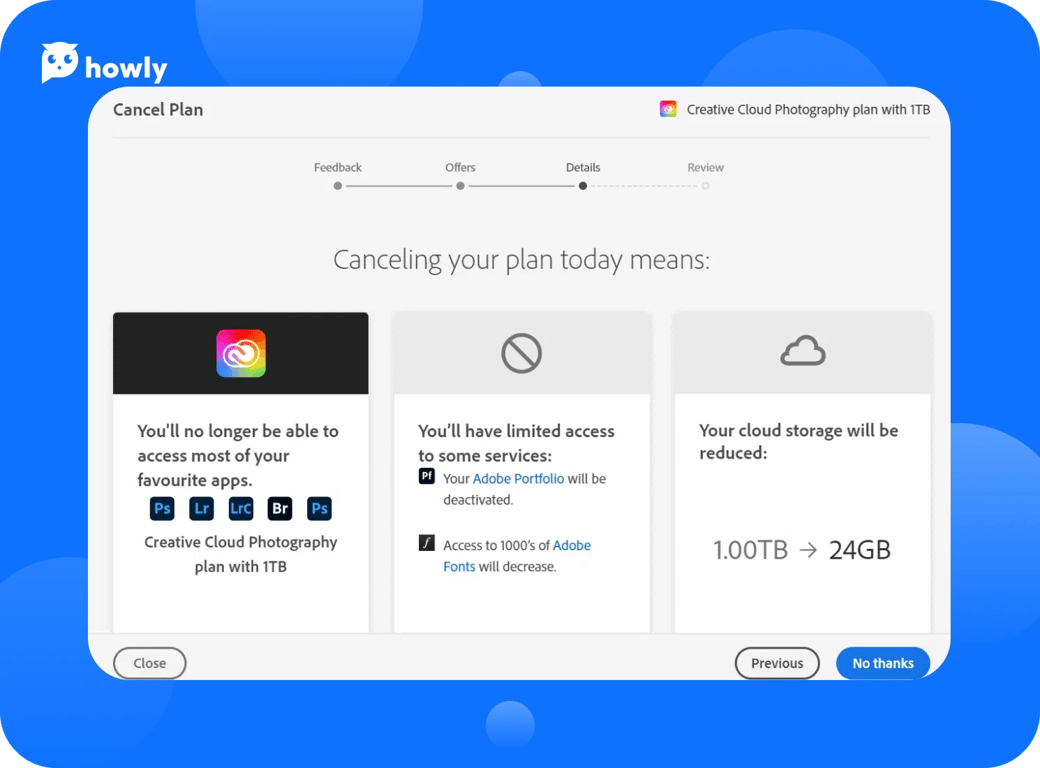 Check the details. Review the provided details about what you can expect after cancellation and pick Confirm. The information about your refund is also indicated here. Then, consider which features you still can use and hit Done.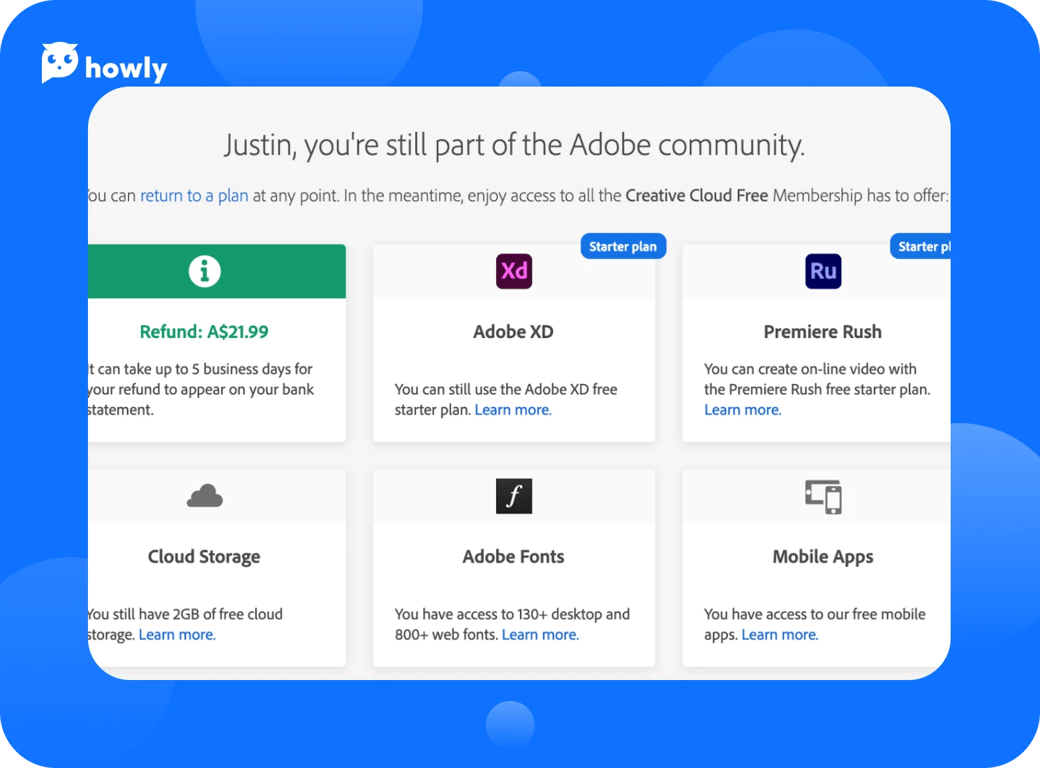 F.A.Q.
Can I be eligible for a refund once I cancel a subscription to Adobe Creative Cloud?
You won't manage to get a refund if you cancel an expired Adobe Creative Cloud membership or terminate the plan after 14 days of its activation. At the same time, you don't have to perform any additional actions, as the funds will be returned to your bank card automatically in one payment.
Is it possible to cancel Adobe Creative Cloud without penalty?
The termination of a monthly subscription comes with no penalty. You'll pay a fee only in case you cancel the Adobe Creative Cloud yearly subscription. The charge is equal to 50% of your remaining membership balance.
What to do if I've managed to self-cancel an Adobe Creative Cloud account during that 14-day period but still can't obtain a refund?
You won't qualify for a refund if you've already got your money back. Another possible reason why Adobe refuses to return your funds is that you purchased your subscription via a different service (a third-party reseller). In this case, you need to contact the reseller to solve the problem.
Conclusion
Whether you find the majority of Creative Cloud features unnecessary or just want to save money on editing apps, you can manage your Adobe membership and deactivate it at any time. This guide reveals all details concerning the issue and offers the best solution to cancel your Adobe Creative Cloud account. If some annoying problem still bothers you, Howly is ready to solve it for you. We'll match you with our highly-qualified tech expert instantly, so you'll get your issue fixed in mere minutes!