Do you want to change the system settings of your PC? To do this, you need to go into the BIOS. This article contains step-by-step instructions for different types of devices to help you. You'll also find a troubleshooting checklist that you can use if you run into trouble. Let's learn how to boot into BIOS from your device!
Before we start
Before we start
Save your time and let skilled professionals in BIOS access problem-solving resolve your case in minutes!
Do you want to change the BIOS settings but can't access it? Then it's worth turning to a pro. They can help you access and change the settings correctly so you don't make mistakes. Chat with the Howly experts, who are available 24/7 to answer your questions about BIOS access.
The advantages you'll get repairing your BIOS access with Howly experts:
Expert help with BIOS access

Quick advice right in your device 24/7/365

Expert reply within 60 seconds

Clear step-by-step guidance

Limitless number of follow-up questions

Kind and understanding help till your BIOS access problem is fully resolved

All answers you need in one place
What is BIOS?
The BIOS is the system you need to start your computer. It starts when you turn on your device and helps in the exchange of data between the operating system and the devices that are connected. In simple words, it is an intermediary between the OS and the hardware. This includes not only the device but also the hard drive, the mouse, the printer, the adapter, and much more.
When you turn on your computer, the BIOS starts to test the boot devices and then starts the system. You could say that this system controls the diagnostic centers when you turn it on. In the process, it checks for the presence and availability of major system devices. At the same time, the state of RAM, processors, and memory storage devices is checked in parallel. If all elements have passed the check, the system starts and your device begins to work.
Most computers and laptops now have a BIOS. Even though new and improved systems are being developed, global manufacturers are staying true to the old and tried and tested way of doing things. The type of device and its configuration does not matter at all, because the BIOS is built into the motherboard and functions regardless of the presence of the operating system. To open BIOS, you need to determine the type of your software and find the correct instructions in the following blocks.
Why do you need to get into BIOS?
Computer BIOS performs many important functions and in case one of them is broken you need to fix it. The main functions include:
Testing when your laptop or computer starts up.
Locating the operating system.
Ensuring that the drivers work correctly when the operating system starts.
Setting up the CMOS at startup.
Some of the steps can be set up on their own. After saving your modified settings, the instructions that are given to the hardware to work will be changed. This is what users want to get to BIOS for. Here are a few features you can configure yourself:
Changing the memory settings of the device.
Adjusting the processor settings.
Checking the amount of free and used memory.
Update BIOS.
Activate or deactivate system resource control.
Adjusting fan speed.
Checking system temperature and voltage.
Manually adjust CD/DVD/BD drive settings.
You can configure your notebook or computer in the way you want it to work by changing these functions. For this, you need to go to BIOS. In the next block, you will find convenient instructions for each type of device. Use them to easily access and change the settings.
How to open BIOS on any type of device
How to get into BIOS Windows 11
With the latest version of Windows 11, it's not easy to get into the BIOS when you turn it on. This is due to changes in the way the operating system works. Don't worry, you can open Windows 11 BIOS with the settings as well. This is ideal for those who don't have time to press the button when turning on. Here are handy instructions to help you:
First, right-click on the Start button. This will open a menu where you have to select System.
Next, you need to select Settings. From the left menu, select Restore.
Now, on the Recovery Options tab, you should select Restart Now.
The restart process will now begin. Wait until it finishes to see the menu from which you should select Troubleshooting.
Now click on UEFI Firmware Settings, after going to Advance Settings.
Then click on Reboot again, and then go to the Start menu. The last step is to press the F10 button. Done!
This method is the most reliable and will help you to enter BIOS. Even though there are many steps, it is very easy, and the process will take you no more than a few minutes. This method is perfect for Windows 11 but you can also try it with other operating systems.
How to get into BIOS Windows 10
To enter Windows 10 BIOS, the instructions from the previous block may work for you. But there is also another proven and convenient way that you can create a shortcut with which you can regularly access the BIOS in a few clicks. You can create a shortcut on your own. Here are detailed instructions on how to create one on Windows 10:
First, go to your desktop and left-click on the mouse. This is where you should select Shortcut.
In front of you will open a window on the location of the item, where you should enter this command: shutdown /r /fw. You can just copy the text from here. Confirm the action.
Now go back to the desktop, where you already have the shortcut you created. For your comfort, you can sign the name of the shortcut to your liking. Right-click on the shortcut and go to Properties.
Now click Run as Administrator.
The next step is to go back to the Properties settings and click Apply. And to complete the creation, you will need to click OK.
Now every time you need to log into the BIOS, you can just open this shortcut. This will help you get access quickly and in just a few clicks. For your convenience, you can choose a separate image for the shortcut so that it is always easy to find.
How to go into BIOS on Windows 8
The instructions for accessing the BIOS settings are very similar to those for other versions of the operating system. However, there are slight differences. So if you are running versions 8 and 8.1 of Windows, follow the steps below:
In the bottom right corner, find the Charms bar. Here you will be able to use the gear icon to go to the settings.
Here you need to select Change PC settings. At the bottom, you will see a Click Update & Recovery button which you should click on.
In the menu that opens, you will see three blocks. Go down to the last one - Advanced Setup.
This section contains the Restart Now button. Click on it and your process will start the restart process. Be prepared that all open windows may not be saved, so it is worth taking care of this and saving everything in advance.
When you turn it on, you will be taken to the settings menu. This is where you need to select Troubleshoot and go to this menu. Here click on Advanced options and go to the next step.
On the tab that opens, you will see the UEFI Firmware Settings button and confirm.
The last step is to click on Restart. That's it. After restarting, your device will go to the BIOS menu. Here you can make changes with your mouse or with the arrow keys on your keyboard.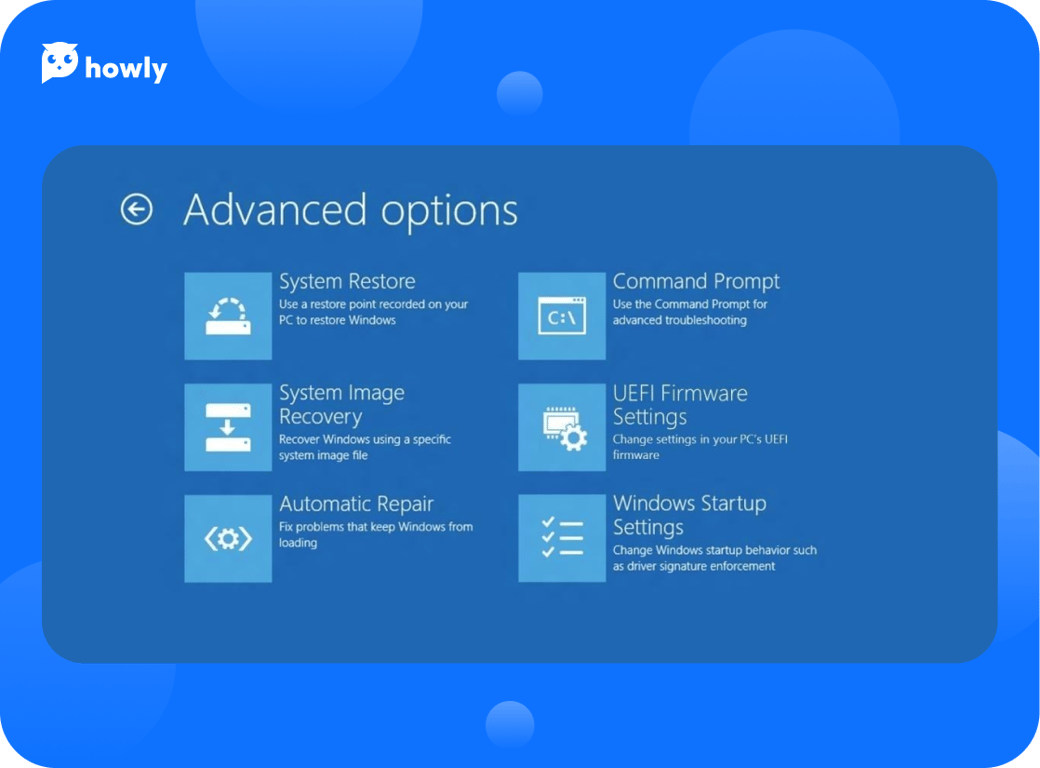 How to access BIOS on Mac
The BIOS itself does not exist in Apple laptops. Instead, there is EFI - Extensible Firmware Interface. There are also many functions and tools available to configure the Mac. But you have to be very careful when making adjustments and changes here. If you don't know enough about it, it's better to ask for help from professionals online. After all, a wrong change can completely stop the work of the device or create severe difficulties.
There are several ways you can get to the BIOS on your Mac. Here's the easiest of them all:
Turn off the device completely and then turn it on.
While turning it on, you need to hold down the command and option buttons. At the same time, hold down the O and F keys until the system starts up.
You will now be presented with a settings screen that has tooltips built in. Follow these to change the desired settings.
You can also access your Mac's Settings using any external device (such as a DVD or flash drive). Then you need to
Turn off your device and insert your external drive. Now turn on your device.
Press and hold the C key while powering on. You will be presented with a dialog box where you have to follow the built-in prompts.
How to boot into BIOS with Linux
You can also use your Linux device to start BIOS. It is important to note that the login process may differ depending on the model of the device, but in general, the principle is the same. The process is very similar to that of Windows, so if you have previous experience with this type of Operating System then you should be fine. Follow this step-by-step guide:
First, turn off your computer. Now press the power button and watch the screen. As you boot up, you should see a message here about what the BIOS button is. This is different for different laptop models.
Once you are in the BIOS, use the arrow keys to try and navigate through the available options.
When all changes have been made, press Save and Exit. But be careful and make changes only when you are sure you know exactly what you are doing. Unreasonable changes can have a negative impact on your computer.
Hint! If you do not see what button you have to press to access the BIOS, you can press F2, F10, F12, Delete, or Esc. One of them is probably the right one for your computer model. But keep in mind that you have to press the key at the right time. If you miss the moment, you will not be able to access it even if you press the right key.
Entering BIOS — troubleshooting advice
Many users may experience difficulties when they try to access Windows 11 BIOS or other types of operating systems. In the process, you may get different types of errors, which are related to different breakdowns or malfunctions. For example, you may get a message about:
Boot Failure;
Hard disk error;
Missing OS.
If you encounter such a problem, you can try to solve it yourself. Here are some ways to help you. You can try all of these methods if one of them doesn't work.
Perhaps your USB drive is not bootable
If you have configured your drive as the master boot device and the drive you insert into your notebook or computer has no programs to boot from, it will fail. If this happens, you should just remove all the drives and try to boot the pc BIOS again.
Change the boot order
Some users only need to change the boot order to fix boot errors. To do this, go to set the drive boot order. Here you can see what the boot order is now. We recommend putting in an optical drive first. With these steps, you should be able to fix the problem.
Remove and reinsert the BIOS battery
This might sound complicated but it solves most of the problems with access to the BIOS setup. To do this, you will need to disassemble the back of the device and remove the battery. Here's what you need:
First, unplug all external media, take out the cables and wires that are connected, and unplug the device from the power supply.
Use tools to remove the back panel or housing of the device.
Locate the BIOS battery, it is located next to the motherboard.
After a few minutes, put the battery back and close the back panel or corks of the device.
Now try to turn your laptop or PC back on and boot up BIOS. This should work fine.
If you have problems with the boot to BIOS, and you can not cope on your own, it is worth using the help of professionals. And you don't have to look for a repair center near you. You can get help from Howly experts online. That way, you can solve the problem in just a few minutes under the guidance of professionals. That way, you can avoid mistakes and solve your problem quickly.
Conclusion
Congratulations! Now you are a true BIOS expert and know how to access BIOS from any type of device. There is also a useful cheat sheet in the article in case you run into difficulties. It describes ways to solve the most common errors. Summarizing the article, it can be concluded that to access it, you need to go to Settings. Here in Recovery Options, you should click Restart Now. After restarting, you will get access.
Also, to simplify access, you can create a shortcut and your device will take you to the BIOS after opening the shortcut. On Linux, you can simply use a dedicated button. And on Mac, there is no BIOS, but there is a similar system setup tool.