CHKDSK will always help you if your hard drive starts to malfunction or show bugs. CHKDSK.exe (check disk) is a standard built-in Windows utility for checking hard drives for errors. You can run CHKDSK in Disk Management, Command Prompt, and Windows 10 File Explorer.
Before we start
Save your time and let professionals resolve your issue in minutes!
Want to start solving your problem immediately? Experienced Howly troubleshooters can fix your issue ASAP. They're already waiting for you in the chat!
The benefits you'll get while troubleshooting your issue with Howly experts:
Qualified help with laptops HDD

Quick advice right in your device 24/7/365

Expert reply within 60 seconds

Clear step-by-step guidance

Limitless number of follow-up questions

Understanding and empathetic help till your laptop HDD issue is fully resolved

All answers you need in one place
However, it happens that something goes wrong when working with CHKDSK, and you see a notification message: Errors found. CHKDSK cannot continue in read-only mode. This prevents your disk manager and command prompt from looking for errors on your hard drive. But don't despair - Windows 10 read-only problem has a solution! We will tell you how to fix this error so that your computer works well. Moreover, you will learn some useful tips on how to use CHKDSK properly.
How to Use CHKDSK
CHKDSK is an important utility that allows you to extend the life of your hard disk and increase its speed, so every Windows user should be able to check their media with secure built-in tools. Let's consider several ways to check disks from a running OS and command line.
Checking disks in running Windows
To check a hard drive using CHKDSK in a running OS, you must:
Step 1. Enter This PC, right-click on the desired partition, and hit Properties.
Step 2. Find the Tools tab and click on the Check button.
Step 3. When the process is completed, click the Show Details button.
You can analyze the full information and results of the disk check in the Information column.
Checking disks using the command line
Sometimes you may need to run CHKDSK from the command line. This will allow you to check and repair the disk if the Windows GUI is not available. To check disks using the command prompt, you need:
Step 1. Use the installation disk or bootable Windows flash drive, select the language, and click System Restore. Once in the recovery environment, click Troubleshoot.
Step 2. Сlick the Command Prompt button in the Advanced Options window.
Moreover, you always have the opportunity to run the CHKDSK utility via the command line from a running Windows. It is important to remember that for the full-fledged usage of CHKDSK, you should run the command line only on behalf of the administrator. Otherwise, CHKDSK will check the disks without fixing the identified problems.
You can also run the command prompt as an administrator in another way. Just right-click on the Start button and then select Command Prompt (Admin).
Commands for Working with CHKDSK
/f - check the file system and automatically fix the errors found.
/r - search for bad sectors on the disk, restore the content (command requires the mandatory key /f, command example: CHKDSK c: /f /r).
/x - disable the disk before checking, the descriptors of this disk will not be checked (command requires the mandatory key /f, command example: CHKDSK c: /f /x).
/i - perform a less strict check of the index elements, CHKDSK performs a faster but less thorough check.
/c - skip checking cycles inside the folder structure.
/l: size - change the size of the log to the value specified in kilobytes.
/b - reset the scan results, re-scan the previously found bad sectors of the hard disk (the /r key is required, command example: CHKDSK c: /f /r /b).
To find out all the options for the CHKDSK utility, run the command: chkdsk /?
Possible Causes of CHKDSK not Running
To solve any problem, you first need to figure out why it appeared. Experts identify 5 main reasons you may be witnessing the "Errors found. CHKDSK cannot continue in read-only mode" problem. So, let's consider them in more detail.
The error may appear when trying to run CHKDSK on some external hard drives. The hard drive may have some damage and therefore be inaccessible.
The disk has a read-only file system.
CHKDSK cannot run because the volume is used by another process running on your PC.
Some system files may be damaged or missing, causing CHKDSK to fail to run.
The disk is infected with malware or a virus.
How to Fix the Bug of CHKDSK Cannot Continue in Read-Only Mode
CHKDSK is used by many people because of its simplicity and efficiency. However, as practice shows, not all users know what to do when CHKDSK cannot run in read-only mode. But this Windows 10 read-only problem has a solution. Meet 7 best options on how to solve it!
1. Schedule a CHKDSK restart
Step 1. Find Command Prompt and run it on behalf of the administrator.
Step 2. Type chkdsk c: /f /r at the command prompt and press Enter. Do not forget to replace "c" with the letter assigned to the disk you want to check.
Step 3. You will be asked if you want to run CHKDSK after reboot.
Step 4. Type Y and then hit Enter.
Step 5. Reboot your computer. This time, CHKDSK will run automatically. The utility will scan and fix CHKDSK errors found on the hard drive of your Windows PC.
2. Close all programs and files
It often happens that CHKDSK cannot run because the volume is used by another process in Windows 10. So, close all programs, processes, and files that may be using or accessing the target disk. Do this every time you are going to use CHKDSK.
You can also press Ctrl + Shift + Esc to open Task Manager in Windows 10 to check what programs and processes are running in the background. Right-click the suspicious application or process and select End task to force close the program.
3. Run a malware/virus scan
We also recommend you open Windows Defender or install third-party antivirus software to scan your disk for malware or viruses. CHKDSK won't run if the hard drive is infected with malware or a virus. After that, you can run CHKDSK /r c: at the command prompt again to see if the error has been resolved.
4. Run SFC Scannow command
If the system files associated with CHKDSK are damaged or missing, this can also cause the CHKDSK not working problem. To deal with this, you can run the built-in Windows SFC utility at the command prompt.
Press Windows + R, type cmd, and press Ctrl + Shift + Enter to run the command prompt on behalf of the administrator.
Type sfc /scannow in the command prompt window and press Enter to find and repair damaged system files.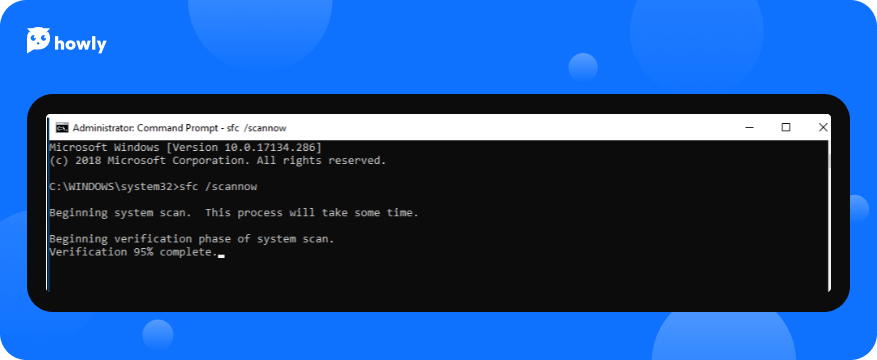 5. Remove read-only mode using Diskpart
It happens that Windows cannot run disk checking on this volume because it is write-protected. So if you find an error while performing a CHKDSK check on a hard drive, you can change the hard drive from read-only status to read-write status.
Step 1: Open a Command Prompt on behalf of the administrator.Step 2: Enter each of the following commands one by one at the command prompt. Press Enter after each command.
diskpart
list disk
select disk + number (number of your disk in the disk management)
attributes disk clear readonly
Now try to restart CHKDSK.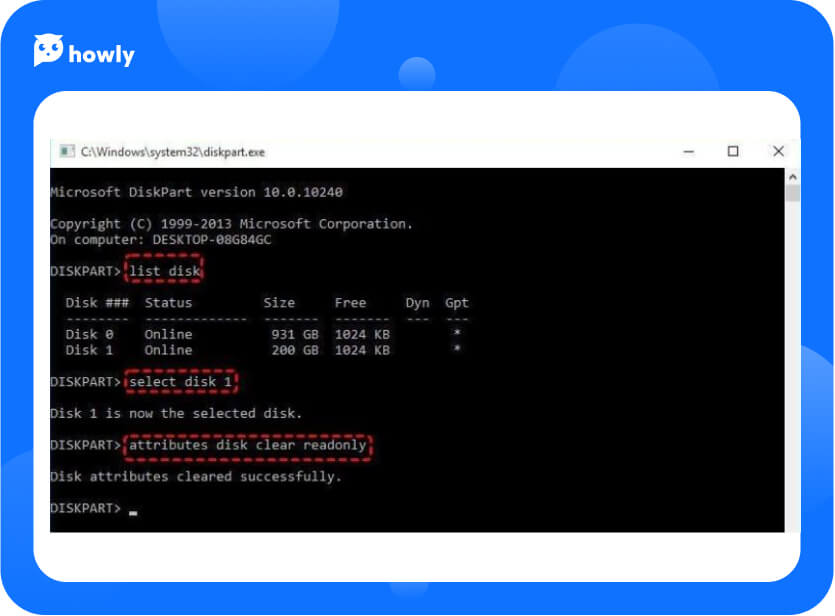 6. Use Disk SpeedUp to remove all hard drive errors
Diskpart failed to clear disk attributes read-only? Try subsidiary software to resolve the issue. Disk Speedup is a disk optimization tool that defragments and cleans disks of trash. Even the free version of the program improves response and loading time and eliminates all errors related to hard drives. This takes some load off your disk and helps you keep running the CHKDSK command.
How to work with Disk SpeedUp:
Step 1. Open the program and find the Disk Optimization tab.
Step 2. Select the disk you are going to defragment. Please note if you want to defragment the disk, choose Direct Defrag. Do not select the system disk and SSD drive.
Step 3. After the program finishes checking the disk, you will receive the results of the check and will be notified if defragmentation is not required.
Step 4. Review the detailed report of the full system check process.
This is how you scan and defragment your disk and resolve the problem of Diskpart clear read-only not working.
This is not all the features of Disk Speedup. The program also has Clean, Disk Tools, and Duplicate Files tabs. If you want to clean your system, go to these tabs one by one and scan the selected disk to get rid of the trash and remove unnecessary files to increase the storage capacity of your disk. Thus, you can not only fix all the errors on the hard drive but also clean temporary logs and cache, which will ultimately make the work of the system even more efficient. It is a nice idea to use Disk SpeedUp if you can't run CHKDSK for whatever reason. The program will fix this and any other remaining hard drive problems.
7. Use a free alternative to scan and fix disk errors
If you want to scan and fix disk errors but CHKDSK does not run, you can try another scan tool called MiniTool Partition Wizard. It is the best hard disk partition manager compatible with Windows that allows you to check and fix disk errors in a few clicks. Its Surface Test feature will also help you find bad sectors on your hard drive. Moreover, you can use MiniTool to manage your hard drive and its partitions. For example, create/delete/format/resize a partition, copy a partition or disk, move OS to SSD, check hard disk read and write speed, analyze space usage, and more.
Download and install MiniTool Partition Wizard on your Windows computer and check out the following guide to help you work with the utility and fix disk errors.
Step 1. Launch MiniTool Partition Wizard and click Run to enter the program's main interface.
Step 2. As you can see, the program displays all detected hard drives. Right-click on the target partition and select Check file system => Check and fix found errors => Start.
Step 3. You can also right-click the target partition, select Surface Test, and click Start. So, the MiniTool Partition Wizard will automatically check for bad sectors on the disk.
F.A.Q.
Why is chkdsk in read-only mode?
Sometimes, the CHKDSK read-only mode is caused by the hard drive that it's checking is read-only. To run CHKDSK not in the read-only mode, you must change the drive from read-only status to read and write in the Windows command prompt.
Why is my hard drive suddenly read only?
The cause of the "Read Only" behavior is due to the format of the file system. Many storage devices such as USB drives and external hard disk drives come pre-formatted in NTFS because a larger number of consumers are using them on PCs.
How do I check disk for errors using CMD?
Run CHKDSK from Command Prompt. Type cmd (Command Prompt) in the Start menu search bar, then click Run as administrator. Type chkdsk and hit Enter. CHKDSK will scan for drive errors and let you know if it found any you should repair, but it won't try to fix them without a command.
Final Thoughts
CHKDSK, or check disk, is a lifesaver for any hard drive problem. The CHKDSK analyzes the integrity of the file system on your hard drive and tries to fix any system errors. In fact, the CHKDSK command proves to be the most useful for solving any storage, file system, and hard drive problems. But when scanning the operating system or some external storage devices, you may see a notification "Errors found. CHKDSK cannot continue in read-only mode."
Many users have no clue about why this happens, do not know what to do in such a situation, and find the issue really difficult to solve. The causes of the problem may vary – CHKDSK cannot run disk checking because it is write-protected or is being used by another program, perhaps the disk is damaged or infected with malware, some files are missing, or the C drive is read-only.
We have told you about 7 reliable ways of what to do if CHKDSK does not work. So now you can solve this problem easily and quickly and avoid possible difficulties in the future. If you found this article helpful, please share it with your friends so they know what to do if CHKDSK cannot continue in read-only mode in Windows 7, 8, or 10.