This article focuses on the main outcomes each Windows software provides to assist in finding originally reserved Windows recovery keys.
Before we start
Save your time and let professionals resolve your issue in minutes!
Want to start solving your problem immediately? Experienced Howly troubleshooters can fix your issue ASAP. They're already waiting for you in the chat!
The benefits you'll get while troubleshooting your issue with Howly experts:
Qualified help with laptops HDD

Quick advice right in your device 24/7/365

Expert reply within 60 seconds

Clear step-by-step guidance

Limitless number of follow-up questions

Understanding and empathetic help till your laptop HDD issue is fully resolved

All answers you need in one place
What is BitLocker?
Microsoft BitLocker strengthens the system and document security by reducing illegitimate data transfer.
Customers can use BitLocker to encode all of the records on the disk that Windows is placed on, preventing hacking or security breaches.
What is my BitLocker recovery key?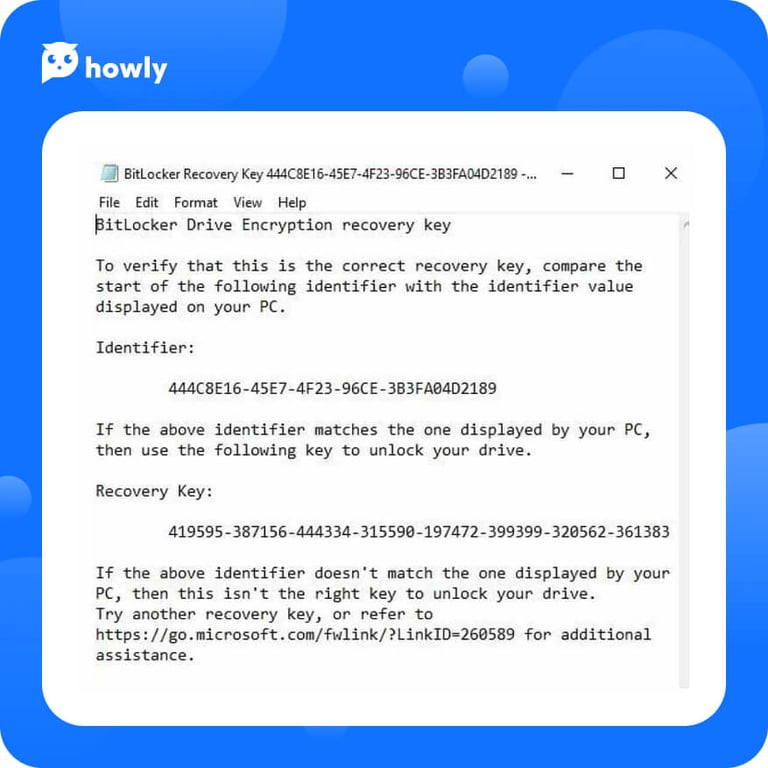 Once Windows notices an unsecured try to access the system, it requires a Microsoft recovery key. This extreme measure is designed to protect your files. This may also occur if you make corrections to your operating system, installed apps, or bloatware that BitLocker cannot distinguish from malicious activities.
Even if you are the registered owner of the computer, BitLocker may still ask for additional confirmation in the form of the Windows recovery key. This protection measure is implemented to verify that someone accessing the system is authoritative.
Also, if anything shifts in the boot setup, BitLocker keeps an eye on it. Mostly, services with Thunderbolt 3 (TBT) and USB Type-C ports are affected by this problem. BitLocker asks you for the key to ensure the safety of your device when it detects a gadget in the boot list or an external drive connected.
How did BitLocker get enabled on my device?
We have three basic explanations for how BitLocker became enabled on your PC or laptop:
Your PC or laptop is one of the new models that enable device encryption. So before security was installed, your BitLocker recovery key had been automatically added to your Microsoft account.
The buyer or supervisor of your computer set up BitLocker security (sometimes known as device encryption) in the Settings or Control Panel. When BitLocker was turned on, the owner could choose where to save the key or, in the event of device encryption, it was mechanically added to their Microsoft account.
Your computer's BitLocker security was turned on by the company or institution that controls it (as of now or previously). The company in this situation might already have your Windows recovery key.
Also, on every Dell gadget, BitLocker is activated automatically during system installation or by a website operations manager during domain arrangement.
The presence of a recovery key is required as part of the BitLocker registration process. You must restart your computer via one of the Windows 10 troubleshooting solutions if you can't find the necessary Microsoft recovery key or if you can't undo a factory reset that might have made it necessary. But note that every document will be deleted if you reinstall your computer this way.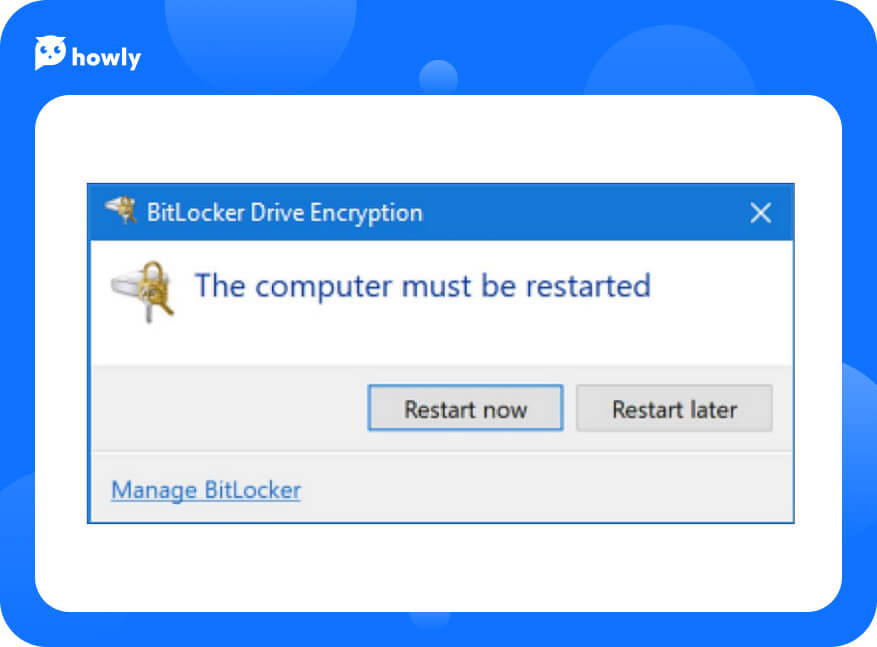 Where can I search for the BitLocker recovery key?
The Windows recovery key may be located in any of these spots, based on what the system has chosen when accessing:
In your Microsoft account. To find your BitLocker key, enter the Microsoft account using another gadget. If you have a newer version of the operating system that can support accurate hardware encryption, the recovery key will probably be in your Microsoft account.
Note: If another person set up BitLocker security for your device, the recovery key might be found in their Microsoft profile.
On the paper. When BitLocker was installed, you might have printed your recovery key. Search where you leave your important documents.
On a USB. Link the USB disk drive to the secured computer and apply the instructions. Use a separate platform to view the code if you kept the BitLocker key as a text file on the memory stick.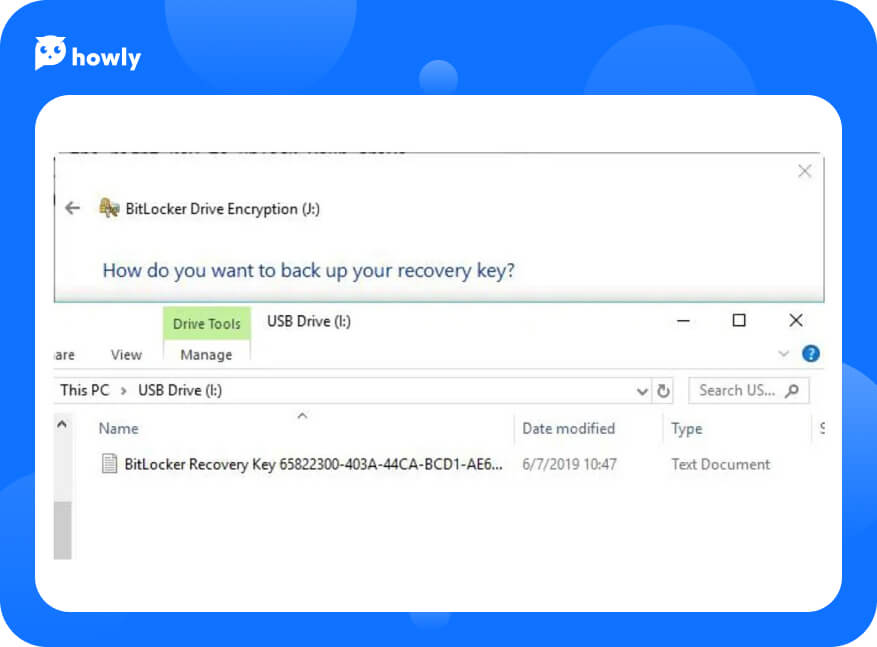 In an Azure Active Directory account. The Windows recovery key may be kept in the Azure AD account connected to that establishment if your computer has ever signed in to that institution that used a job or student email. You might be able to view your recovery key on your own or by getting in touch with a network administrator.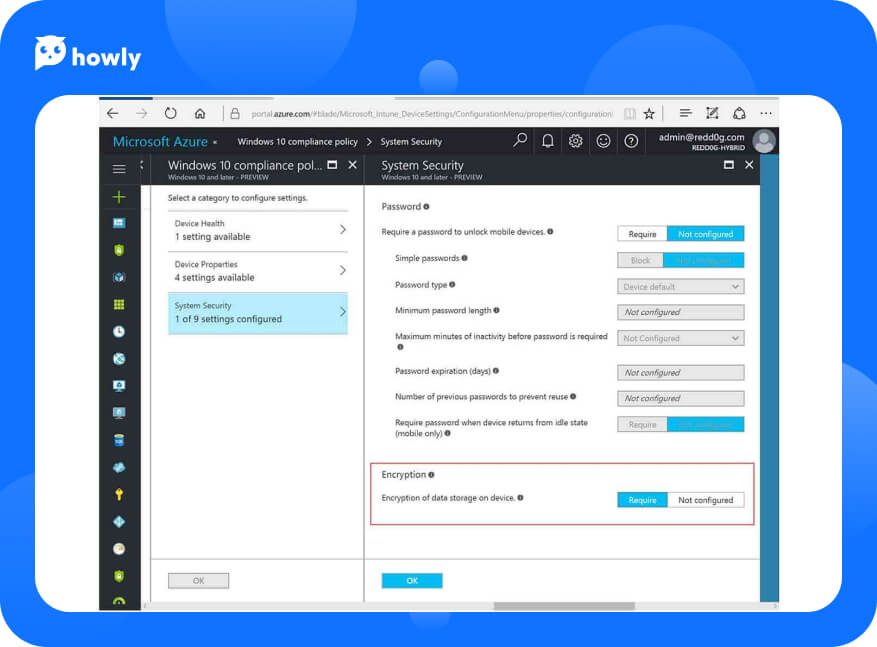 F.A.Q.
Can BitLocker be hacked?
It can be hacked if someone finds out your Bitlocker recovery key.
How to remove BitLocker from my laptop?
Click Start, select Control Panel, System and Security, and then BitLocker Drive Encryption. Locate the drive where you want to disable BitLocker Drive Encryption and click Turn Off BitLocker. A message will appear stating that the disk will be decrypted and that decryption may take some time.
How many times can you fail BitLocker?
You have 32 attempts to enter the correct code. After 32 attempts, the system is blocked.
Conclusion
If BitLocker is having trouble opening the drive, you could use a Windows recovery key to proceed. The numerous support options for uncovering your recovery key are described in this article to help you find previously saved Windows recovery keys.