You can't do without an Amazon account if you're going to make purchases or sell your goods and services via the platform. Therefore, a blocked Amazon account might cause a lot of headache and prevent you from performing your trading goals. For example, customers can't receive their orders, while sellers get their businesses frozen. Such an annoying issue must be solved as quickly as possible.
Before we start
Save your time and let professionals resolve your issue in minutes!
Want to start solving your problem immediately? Experienced Howly troubleshooters can fix your issue ASAP. They're already waiting for you in the chat!
The benefits you'll get while troubleshooting your issue with Howly experts:
Qualified help with laptops HDD

Quick advice right in your device 24/7/365

Expert reply within 60 seconds

Clear step-by-step guidance

Limitless number of follow-up questions

Understanding and empathetic help till your laptop HDD issue is fully resolved

All answers you need in one place
So, how to recover a locked Amazon account? If you're seeking fast and effective solutions, you're in the right place. Once you read this guide, you will understand the key stuff concerning the problem and all nuances to handle it.
Do you wonder "Why is my Amazon account on hold?" This guide also reveals the reasons for your ban and shows how to get your profile unlocked.
Why is your Amazon account on hold?
Did you get your Amazon account on hold and now can't supply online business for your customers? Then, it's extremely important to puzzle out the reason for the problem and clarify what went wrong if you're eager to avoid client losses and massive financial hit. Learning all the ins and outs of the issue helps you comprehend how to get your Amazon account off hold and get back to business as soon as possible.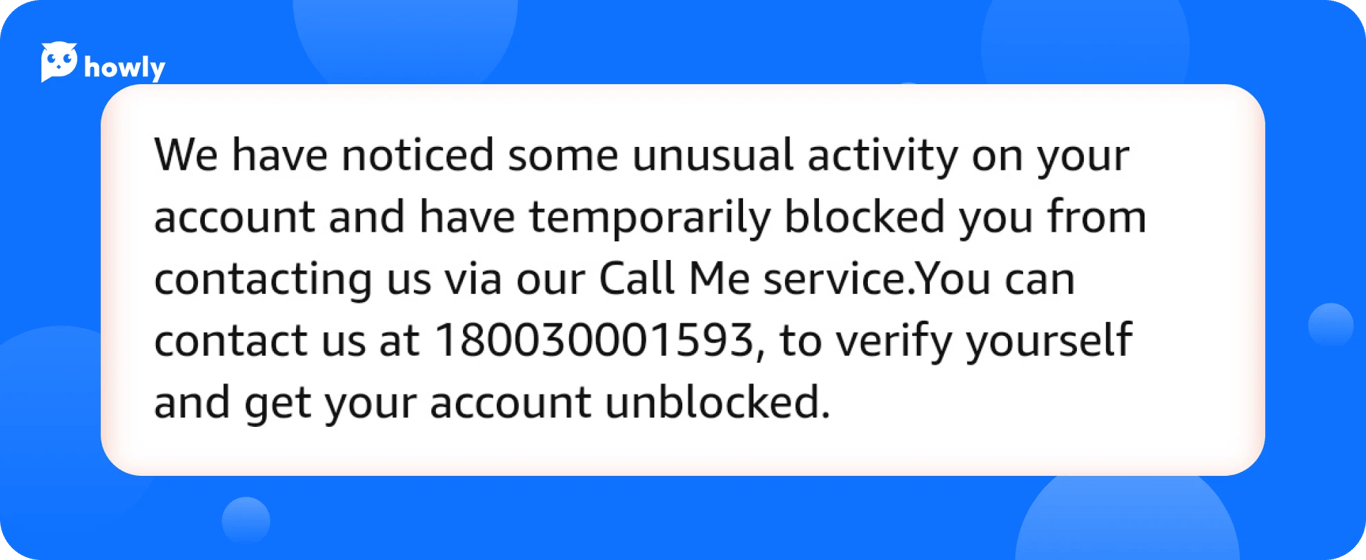 You provided invalid information to Amazon
Whether you've provided fake information to Amazon deliberately or mistakenly, this is one of the most obvious reasons for putting the Amazon account temporarily on hold. People decide on such dubious things having different intentions, but a locked account is equally annoying anyway. Most platform users provide invalid information because of the fear of not being allowed to do their businesses. Thus, they mistakenly believe that the only way out is to give Amazon fake info, including:
Wrong name
Inappropriate shipping address
Invalid billing address
Many traders keep doing such manipulations and then rack their brains over the question "why is my Amazon account on hold?" The thing is that after placing an order on the platform, the system verifies your billing address and compares the data with your credit or debit card details. In the case of any inconsistencies, you'll be prohibited to run any business activities via the site, since your Amazon account is temporarily on hold now.
However, many still claim that there are no problems with invalid contacts. But that's not the case. Indeed, even in case system algorithms failed to note your illegal operations, they'll detect such  activities anyway a bit later and thus, put your Amazon account on hold temporarily.
There's no point in blaming the marketplace for excessive vigilance or neurotic nitpicking. After all, the service undertakes measures to protect users against possible scam activities and malicious schemes when making a mistrustful Amazon account locked. Moreover, the company cares about its reputation and services since they invest considerable amounts in their anti-scam policy.
Your number of returns is suspiciously high
Like other online marketplaces, Amazon keeps track of traders' returns. So the more frequently your customers send goods back, the higher the probability of encountering the locked Amazon account after the order has been returned once again. Thus, sellers should focus more attention on the quality of their products and services to lower the number of returns to a minimum and protect themselves from potential bans.
"Why does Amazon keep locking my account for the mere reason that my returns are high?" you might wonder. The thing is that clients send goods back with no charge, but the company pays for shipping. And no one wants to finance the mistakes of others. So, Amazon keeps track of your returns. And if the statistics of your sales success leaves much to be desired, there's nothing surprising in the locked Amazon account after an order is returned.
You make too many orders at once
Once you sign up for the Amazon marketplace, it's better to avoid making dozens of orders right away if you don't want to face a situation when your Amazon account is temporarily locked. The anti-fraud algorithm can ban you for being too active and ordering more than 10 goods immediately on your first day of platform usage. Some customers are lucky to move it through. But, do you actually want to risk your account?
How to forget about the issue "My Amazon account is locked"? The best way is to start small from 3 - 5 orders per day and then systematically boost your buying activity, making up to 40 purchases in the long run.
Therefore, the more orders you make from one Amazon account, the higher the probability of getting a ban. This is the crucial thing to keep in mind to prevent obtaining your Amazon account locked for security purposes. Hence, you should set yourself a limit of about 20-30 daily operations to prevent future problems.
You use various IP addresses to enter your account in different locations
"Amazon locked me out of my account!" Although this may seem unfair, but...
There are people who resort to unscrupulous practices and begin to open Amazon accounts from multiple locations via various IP addresses with the purpose of sharing their profiles with partners. Technically, this can't be called a crime. But Amazon perceives such actions as something highly questionable and starts thinking that your profile is hacked. So what do you get? Right, your Amazon account locked suspicious activity.
The probability of getting a ban is especially high if orders are placed out of your operational location. Thus, sharing your profile with someone is quite unreasonable and risky. To say more, some sellers continue such practices even when their profiles are unlocked. Thus, no wonder so many traders wonder "why does Amazon keep putting my account on hold?"
You perform suspicious activities with gift cards
There were situations when the Amazon account locked gift card activities. And it's not surprising.
Gift cards are rising in popularity. Sellers use them to attract customers, while clients hunt for them to decrease the cost of goods and products. However, every marketplace imposes certain rules concerning their gift cards. Amazon is no exception. To say more, its rules are even stricter than with other online retailers - the company imposes clear regulations for gift cards and keeps tracking how users follow them. Therefore, when trading experts encounter complaints that "Amazon blocked my account" from newly-registered buyers/sellers with gift cards, they recommend ceasing to use the cards until their accounts earn a solid reputation.
Who has the power to unlock your Amazon account?
Who is empowered to unlock anAmazon account? Of course, the first thing that may come to your mind is to apply to customer support. After all, regular service managers bear no responsibility for fixing such issues. Therefore, you have several scenarios to resolve the problem quickly and effortlessly. Now, consider your options for initiating the Amazon account unlock and continue your selling/buying activities hustle-free.
Contact Amazon through email
You can send a request via email to get a hold of Amazon customer service. The process is simple and familiar to everyone. So to get in touch with a specialist, write an email to the address cs-reply@amazon.com and describe your problem with a locked Amazon account as thoroughly as possible.
But keep in mind that this method is a bit slow because of a number of external factors such as time zone differences, managers' business, and the like. In general, the whole process of fixing customer problems in such a way takes several days. If you find it inconvenient to contact Amazon email, proceed to the next options.
Contact Amazon via phone call
Use the 1-888-280-4331 number to call Amazon customer support and tackle your problem. The number is available 24/7. However, do not expect an instant connection with their specialists. Indeed, it might take you a bit more time to fix the Amazon account on hold than you think. First, you will deal with a bot and will be able to speak with a real person only after minutes of persistent calling. In addition, your phone number must be linked to your Amazon account as you'll need to verify a code or follow a link that will be sent to you. Once you do this, you will be able to speak with their specialist and ask "how long will my Amazon account be on hold" or get an answer to any other question that bothers you.
Contact support via live chat
Online chat turns out to be the quickest and easiest way to get in touch with a specialist if your Amazon account is temporarily on hold. This is what you should do:
Access the Amazon's help page and pick the Something else button.
Login to your account and then pick the "I need more help" option
You will get to a new page and receive an automated message from the Amazon bot. Type "Talk to a representative"
You will get two options to choose from: chat with an associate and call request.
Choose to chat with a representative and ask them what to do if your Amazon account is on hold.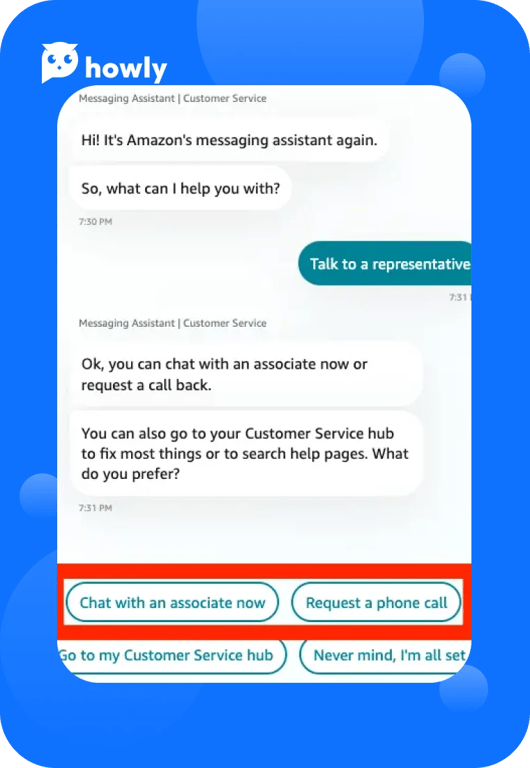 All presented methods are legit to delete an Amazon account on hold. However, Howly offers one more solution to take things to their proper places. So, keep reading our guide to know how else you can unlock your Amazon account.
Send documents online
Any platform user has an opportunity to upload documents right on the site to verify their personal data, such as billing and shipping address, name, etc. Before submitting papers, ensure you're using your Amazon account locked-email. After that, follow the guidelines:
Open the email to access the information about your account.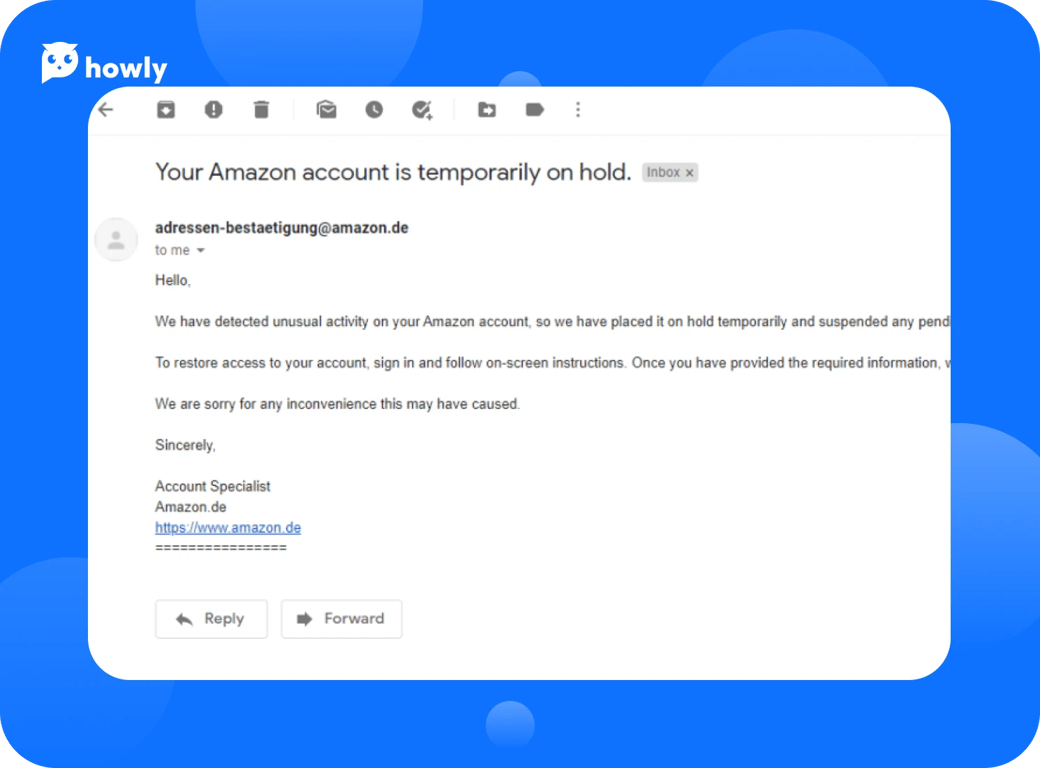 Spot the verification email for your order dispatch.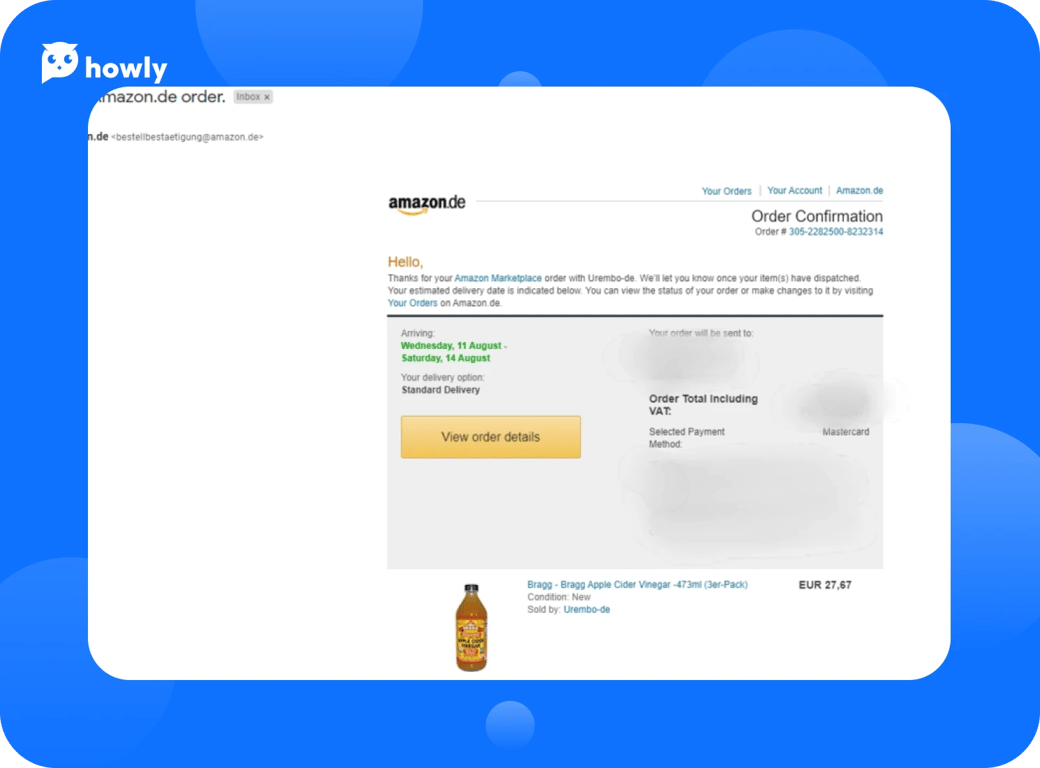 Follow the link given to you to unlock your Amazon account temporarily.
Enter any trader's page and try purchasing some product right away. If the system unexpectedly tells you about the Amazon account hold, proceed to the next step.
Hit "Add document".
Attach and submit the required papers.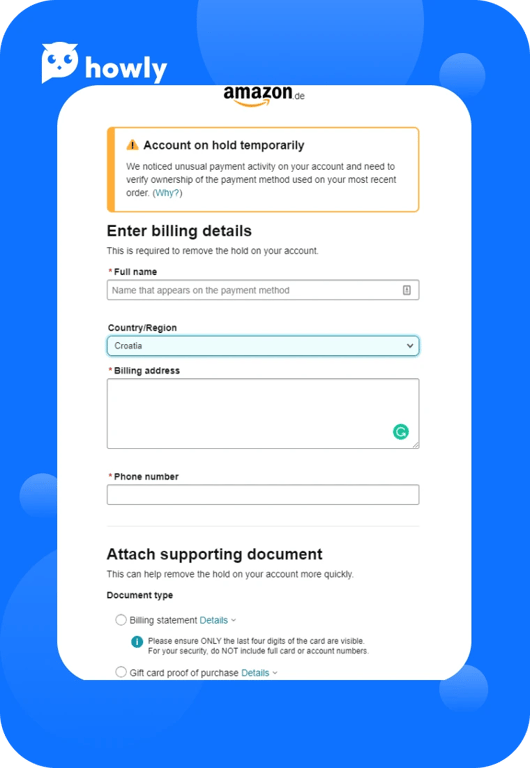 Still wondering how to get my Amazon account off hold? Apart from the options mentioned above, Amazon offers to solve the problem via fax. However, this method is less effective since your documents may be sent to the wrong department. So it may be better to opt for another Amazon account on hold solution if you want to deal with the issue as soon as possible.
How to manage your Amazon account properly after it's unlocked
Once you comprehend how to get your Amazon account unlocked, you should manage it properly to avoid future bans:
Cease to use the benefits of the Prime service
A Prime account isn't good for everyone as it's typically used for unique businesses. This tip is especially relevant for those involved in trading. Since the marketplace pays for shipping, it thoughtfully monitors your activities and regulates them strictly.
Use different accounts to operate with various IP addresses
Register several Amazon accounts according to the number of your orders. Experts recommend using VPN and VPS to operate your profile details with the help of multiple IP addresses.
Try to use gift cards less often
Reduce the usage of gift cards to avoid bans. For example, the anti-fraud algorithm will not detect suspicious activities if your deposit is up to $200 via your voucher.
Include low-cost items into the range of your products
This is a good preventive strategy to reduce the risks of being banned and facing great money losses. It may become one of the critical factors in your income growth.
F.A.Q.
How long will Amazon hold your account?
If you change your bank account information, Amazon applies a one-time three-day payout delay starting on the effective date of the change.
Can Amazon keep your funds forever?
Amazon may freeze funds permanently. This is due to a breach of the Amazon agreement. For example, fraud or the sale of counterfeit goods.
Can I reopen a closed Amazon account?
If your account is closed, it will no longer be available to you or anyone else and cannot be recovered. If you later decide to start using Amazon again, you will need to create a new account.
Let's sum it up
Once you've learned "why did Amazon put my account on hold?" and restored the control over your account, it's important to comply with the rules and terms of the marketplace to prevent any possible issues in the future. In addition, do not forget to inform your customers about the essence of your problem, telling them honestly that Amazon put my account on hold, but the issue is now solved. Thus, you'll save your client base. Moreover, check the integrity of information on your account, including billing details, bank cards, and other data to make sure everything is okay with your unlocked Amazon account.