It would seem that such a simple feature as time must work perfectly. But Windows may crash at any moment, no matter what version you use. And it happens that you turn on the automatic time setting, but the clock still works incorrectly. Thus, you face temporary bugs or consistently wrong time after starting your PC or laptop. And the endless Windows clock resetting can be quite annoying. So how to deal with the problem once and for all? Howly experts have prepared the best solutions on how to fix time on Windows 10!
Before we start
Save your time and let professionals resolve your issue in minutes!
Want to start solving your problem immediately? Experienced Howly troubleshooters can fix your issue ASAP. They're already waiting for you in the chat!
The benefits you'll get while troubleshooting your issue with Howly experts:
Qualified help with laptops HDD

Quick advice right in your device 24/7/365

Expert reply within 60 seconds

Clear step-by-step guidance

Limitless number of follow-up questions

Understanding and empathetic help till your laptop HDD issue is fully resolved

All answers you need in one place
Common Windows 10 clock issues
The Windows clock can sometimes act strangely. That being said, there is a large number of reasons why your computer time is wrong, as well as the types of Windows clock problems users experience. Therefore, we'd like to bring to your attention the 10 most common bugs reported by the owners of Windows computers.
Computer clock is a few minutes slow;
Computer clock is a few minutes fast;
Wrong time zone issues;
Windows 10 clock is out of sync;
Incorrectly set date/time on new PC;
PC clock customization errors;
Wrong time in BIOS settings;
Laptop clock isn't working;
Missing time icon on the taskbar;
Computer is stuck at a specific time.
Easy ways to fix time on the computer
The wrong computer clock is one of the easiest problems that can happen to Windows devices. You don't need to have any technical skills or bother with PC settings to deal with it. Just follow these simple instructions on how to fix computer clock errors, and you will manage to solve the problem in a couple of minutes!
Set the proper time zone
If the clock on your Windows computer is several hours behind or ahead of time, while the minutes are displayed correctly, this indicates a wrongly set time zone. In this case, even if you change the time manually, it will still sync with a specific time zone and be incorrect when you restart your PC. And so, to change the time zone, you need:
Right-click on the time and date icon (you can fin it on your taskbar).
Then click Adjust time and date.
After that, choose the necessary time zone in the drop-down window.
Enable Set time automatically.
Reboot your PC.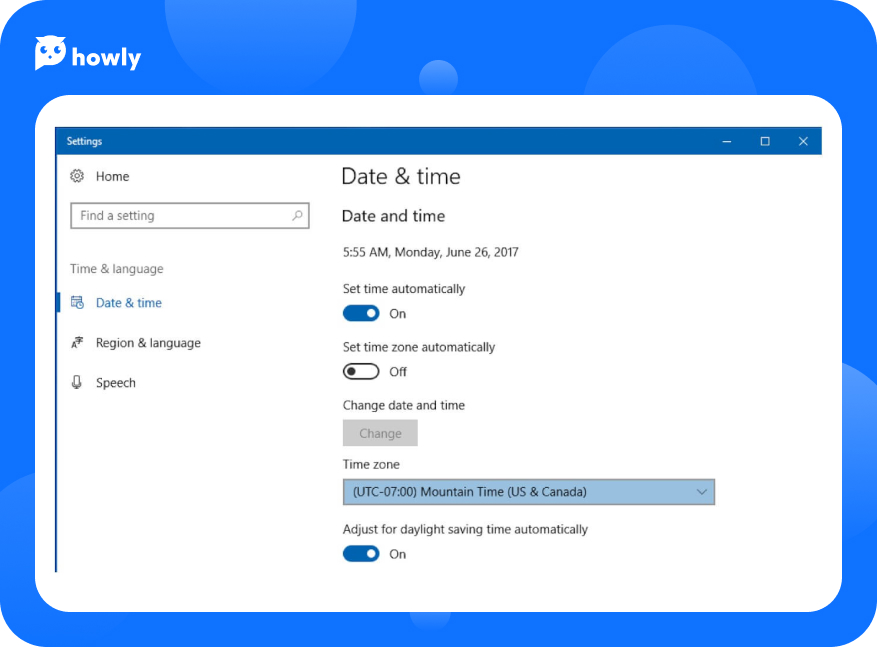 Sync your clock with a time server
If you don't know how to fix the time on your computer and your clock is always a couple of minutes fast or slow, changing your sync settings might fix the problem.
Open Time and Language settings and go to the Region section.
Tap on Additional date, time, and regional settings, and you'll get to the Control panel.
Enter the Clock and Region section and find the Set the time and date option. Then choose it.
Next, open the Internet Time tab. Find there Change Settings and click on it.
Check out the drop-down window and select the option you need.
Click Update Now and then OK.
Go to the Services utility by pressing the Windows button.
Find and right-click on the Windows Time option.
Select Properties.
There, choose the Automatic Startup type, tap on Start, and then OK.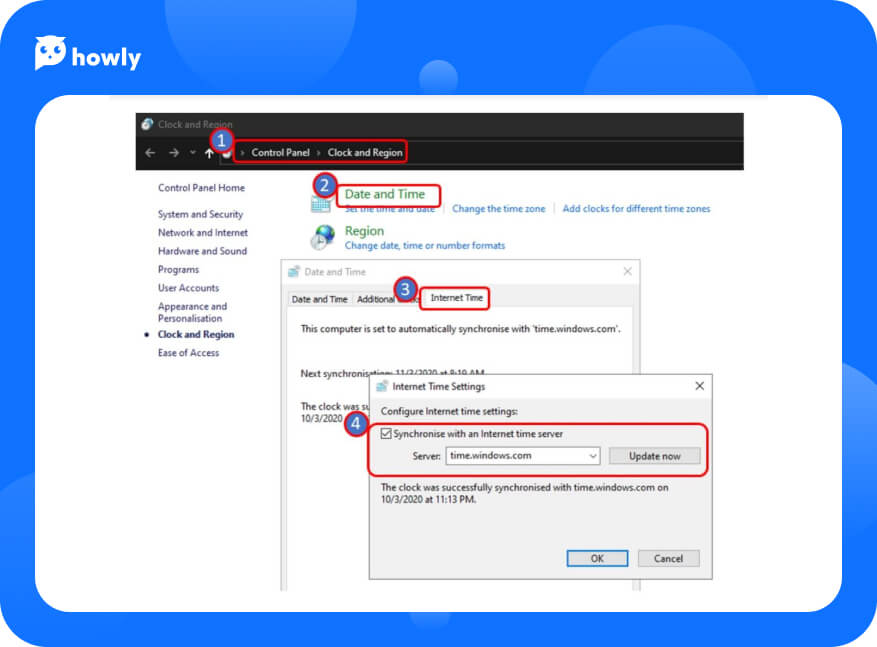 Change your CMOS battery
This is a good option on how to fix the time on your PC if it is old enough and you keep facing the same problem: the clock displays 00:00, and the date is set to January 1 each time you boot your personal computer. The fact is that the CMOS battery supplies power to the CMOS chip responsible for the storage of system configuration data. And the chip starts to lose this information if the CMOS battery wears out and stops working. Therefore, you need to purchase a new battery and install it on your motherboard. It's not difficult at all. If you don't know how to do this, contact Howly specialists for an online consultation.
Adjust time in BIOS
Most often, the wrong Windows 10 time is associated with operating system bugs, but it happens that the glitch lies somewhere in the BIOS. Thus, if the time settings in the basic input/output system are set improperly, don't expect your Windows clock to work well. The location of the system time option in the BIOS depends on your device. You can find it in your motherboard's manual.
And so, do the following:
Enter the BIOS by pressing one of the F-buttons. Most often, it's F1, F2, or F10, but sometimes it can also be Delete or Esc buttons. Just google which one suits your device. Note that you should enter the right button during system boot – before the Windows logo appears.
Find the Time or Clock option.
Adjust the settings and click Save & Exit by pressing the corresponding button.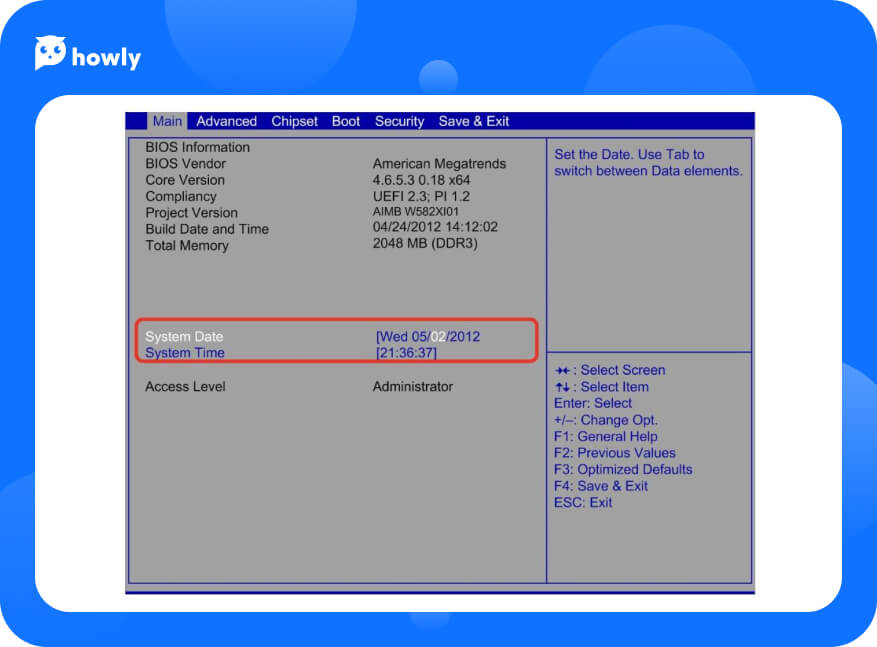 Update your Windows 10
An old Windows version may cause a lot of bugs, including with time and date. So if your computer clock is wrong, we recommend searching for the latest system updates. How to do it?
Open Settings.
Click the Update & Security section.
Select the Windows Update tab.
Check for updates by clicking on the same name button.
Install the suggested updates.
Reboot your Windows device.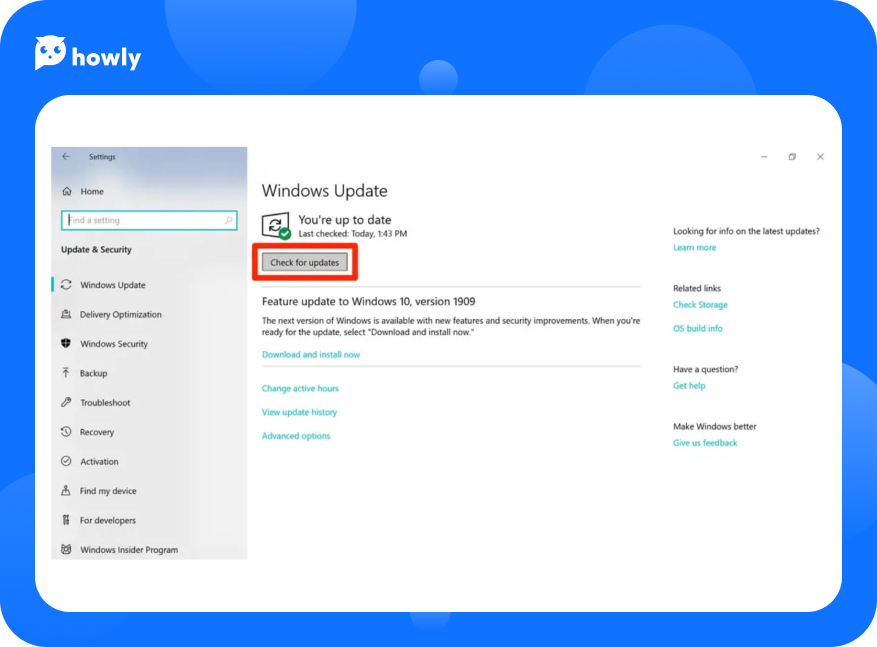 Check the system for viruses
Malware is one of the common causes of wrong computer time. A deep PC scan will help you spot and eliminate various threats, thereby improving the operation of your device. So download a reliable antivirus (or run the program if you already have one) and scan your system. When the process is completely finished, reboot your PC.
Final thoughts
Although incorrect Windows time may seem like a minor problem, it can lead to a variety of bugs and indicate a more serious system error. Not to mention, it's quite annoying to set the clock each time you boot your PC. But we've told you how to resolve the issue, so troubleshooting won't take long. Thus, if your Windows time is wrong, use our instructions to fix the problem as quickly as possible, or send us a chat message to get online advice from a live person!