When you find your Lenovo laptop screen flickering, you can become very irritated. And you are not alone! This problem has been reported by a lot of Lenovo laptop owners.
Before we start
Save your time and let professionals resolve your issue in minutes!
Want to start solving your problem immediately? Experienced Howly troubleshooters can fix your issue ASAP. They're already waiting for you in the chat!
The benefits you'll get while troubleshooting your issue with Howly experts:
Qualified help with laptops HDD

Quick advice right in your device 24/7/365

Expert reply within 60 seconds

Clear step-by-step guidance

Limitless number of follow-up questions

Understanding and empathetic help till your laptop HDD issue is fully resolved

All answers you need in one place
There are several potential causes for this problem. You may have the Lenovo screen flickering if your BIOS or drivers are outdated or are in the wrong version. This situation could also arise if your laptop's hardware isn't functioning properly. Let's find out what you can do to fix the flickering screen of your favorite Lenovo laptop today!
Update BIOS
Your Lenovo's BIOS (Basic Input/Output System) regulates the interaction between the operating system and the software. If it's out of date, you can find your Lenovo screen flickering. Inspect if your issue is resolved by updating your system.
Note: Please back up your data before changing the BIOS.
To reboot your BIOS, follow this guide:
Visit the official Lenovo technical support webpage.
Use the search bar to look up the item you are using.
To extend this section, choose Drivers & Software and then click on BIOS/UEFI. Once you have selected the most recent BIOS upgrade, choose the eye-shaped icon.
Click on the download icon.
Access the transferred 'exe' document. Installing the BIOS upgrade on your laptop involves following the on-screen directions.
Reboot your device and check if the display turns back on.
Update your display drivers
Old versions of your drivers may also cause the Lenovo screen flickering problem. To update drivers, choose between two methods:
Auto update. Non-tech savvy Lenovo customers will be able to modernize drivers with reliable technology in a matter of several button combinations. Automatic driver updates are quick, effective, and take all the uncertainty out of the process. You may even save and recover your old drivers in the event of any mistakes.
Manual update. Select the appropriate driver for your system software and 'Other', then apply it by sticking to the steps outlined beneath. Note that to use this strategy, you'll need some computer knowledge. If it's challenging for you, turn to Howly experts for help!
Automatic driver update
You can immediately scan for open updates and individually download them on your Lenovo with the Driver Update Utility tool. And you can even use the paid version to automatically apply all required driver updates.
Get Lenovo's Driver Update Utility.
To start the application, click on its icon. After that, it will run a computer diagnostic to find any problematic drivers. A  page like this one will appear: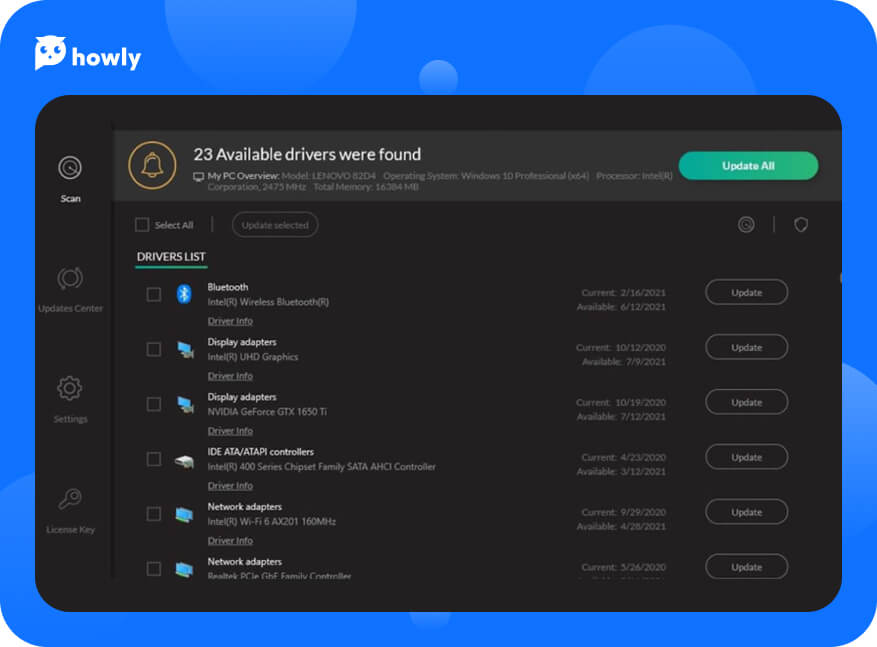 Select your driver and then choose the Update option. It will instantly download and install the right model. Or, you may use the Update All option at the bottom instead to have all the system's out-of-date or inaccurate drivers renewed and downloaded in a matter of seconds.
Manual driver update
Select from the Lenovo "Other downloads" or browse through the driver database to get the relevant driver, particularly Windows 10 drivers, for your operating systems and individual "Other type".
There are many various file structures and file attachments for available updates. You might have uploaded an EXE, INF, ZIP, or SYS package, for instance. There is very little difference in the installation process for each file format. Visit Lenovo Driver Support Page to view educational videos that will go over the process of downloading drivers for you, depending on their document extension.
Fix external issues
A bad cable connection or external influence is also likely to cause the issue with your Lenovo computer monitor.
Check to ensure there are no magnets near your laptop because a magnetism might cause the display to flash.
Verify that your laptop's internal cords are correctly connected to your monitor. Move your screen lightly to check if it blinks. If it happens, you must take off your laptop's cover and reattach the cords.
Check your display settings
If your device's display configurations are not set up correctly, your Lenovo device could flash or go dim. Therefore, you may try changing your screen's resolution to see if that helps fix the Lenovo laptop screen flickering.
To access the Settings, use Windows + I buttons.
Pick the System sub-category from the list of choices.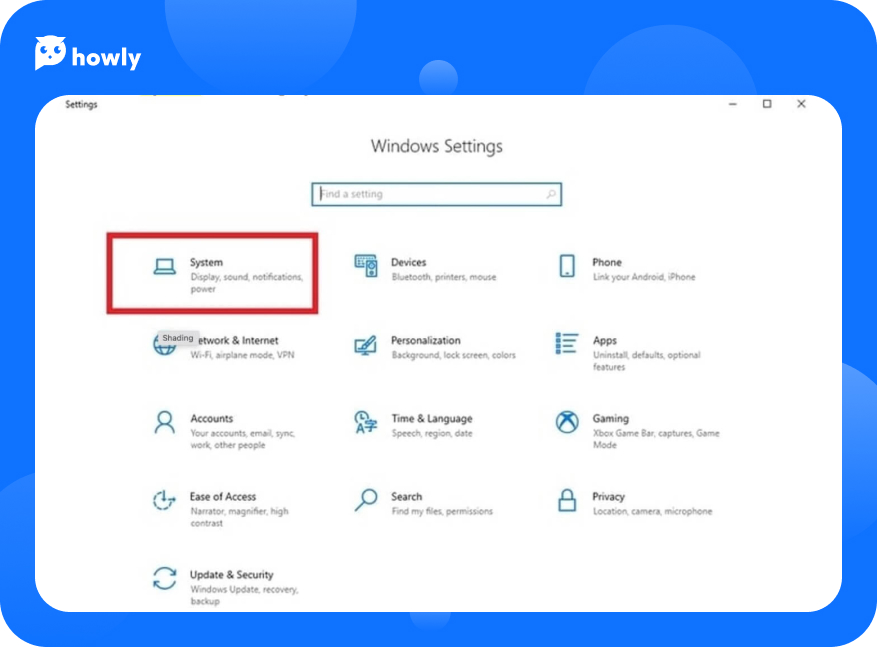 Navigate to the Display resolution choice on the right side on the first Display page, and then select the suggested screen resolution from the widget.
Reboot your PC after completing the previous methods to understand if the Lenovo flickering screen is still present.
F.A.Q.
Can a broken graphics card cause the screen to flicker?
The video card can actually cause the screen to flicker. The problem arises if your graphics card wears out and needs to be replaced. Another reason may lie in the outdated drivers.
Does screen replacement fix Lenovo flickering problem?
Screen replacement can help you get rid of flickering only if your problem is hardware-related. Otherwise, the screen will continue to flicker until you find the true cause of the problem. We've already covered how you can do this, so consider the information above.
How to fix my Lenovo screen if it is flickering at a low brightness level?
Sounds like you've encountered a problem with display drivers. Try to update them and then reboot your Lenovo. Another repair option is to adjust the brightness settings by turning off the adaptive mode (adaptive brightness).
Conclusion
The Lenovo screen flickering situation occurs frequently, making it difficult for people to control their work when the screen is not accessible. When the Lenovo IdeaPad screen flickers, it's possible that the issue isn't in the device's hardware but rather in its software in some cases.
We hope that this guide helped you fix your monitor. But if not, contact our experts to get the customized solution to your case!