Have you encountered a Samsung TV not connecting to Wi-Fi? Don't panic, you can solve the problem yourself. This article compiles the main reasons that could lead to this problem, as well as 10 solutions that you can do on your own and in a few minutes.
Before we start
Save your time and let qualified experts in Setting Samsung TV troubleshooting resolve your issue in minutes!
The process of setting up your TV can be delayed due to the complications that arise when you connect to the Wi-Fi. To avoid wasting your time and to easily solve problems, get help from the experts online. Howly pros are available 24/7 to answer your questions about Setting Samsung TV.
The benefits you'll get fixing your Setting Samsung TV difficulty with Howly experts:
Professional help with Setting Samsung TV

Quick advice right in your device 24/7/365

Expert reply within 60 seconds

Clear step-by-step guidance

Limitless number of follow-up questions

Patient and friendly help till your Setting Samsung TV issue is fully resolved

All answers you need in one place
Why won't my Samsung TV connect to Wi-Fi? Possible reasons
The network you connected to is incorrect
One of the common reasons why Samsung TV not connecting to Internet is the wrong Wi-Fi network. This happens when, for example, you might accidentally connect to the wrong network at home. This happens if you have a large list of networks available. So it is very easy to confuse your own and your neighbor's networks, especially if they have similar names. So in case of a Samsung TV not picking up Wi-Fi problems, you should double-check exactly which network you have chosen to connect your TV. it is very important to choose your home network to make sure it works correctly.
You entered the wrong password
Yes, sometimes due to inattention or haste, you may enter the wrong password. And in general, the process of entering a password is troublesome and complicated. Especially if the password consists of many letters and numbers. So often Samsung TV Wi-Fi not working is precisely because you have made a mistake when entering your password. To fix this, you should double-check the password you typed. It is better to clear the password field and try to enter it again, with special attention to detail. Once you correct the error, the problem will be solved.
You have an activated VPN
Often, users faced with Samsung TV can not connect to the Internet because they have an activated VPN. Of course, this mode is very useful for encrypting signals, but can significantly interfere with the connection. Why? Firstly, VPN significantly slows down the network, and if the initial speed is not high enough, then you can not connect to the Wi-Fi. Also, some content can be blocked in the region, which is set in the settings of the VPN, which causes Samsung TV connect to Wi-Fi problems. Therefore, check and disable the VPN and then try to reconnect.
Your TV is not in a Wi-Fi coverage area
This is one of the most common problems that arise during the m-connection process. Sometimes your TV is located too far away from the router, so the signal does not reach you. If you encounter Samsung TV won't connect to Wi-Fi, first, find out what the coverage area is. Try moving your router or repositioning your TV so that it is closer to the router. This way the internet signal will be more stable and the problem will be solved.
Router failures
Why won't Samsung TV connect to Wi-Fi? The problem may be caused by a faulty router. Maybe the problem is with your router and its connection. And there is also a chance that there is a breakdown on the line. To check this, try connecting to your Wi-Fi from another device: your phone, tablet, or computer. If connecting from another device also causes a problem, then the router is definitely at fault. If you encounter Samsung TV not detecting Wi-Fi, you should contact your provider and explain the problem. When the router malfunction is fixed, the TV connection will be fine.
Router needs new firmware
Sometimes Samsung smart TV won't connect to Wi-Fi because your router firmware is out of date. This can make it difficult to connect Wi-Fi to any device. To find out if your firmware is out of date, contact your ISP's support team. If this is the case, you'll need to update firmware, which you can do yourself, or get help from a professional. Once the router firmware is updated, try to reconnect. The problem should be solved.
External interference damages the network line
Sometimes Samsung TV doesn't connect to Wi-Fi is caused of something interfering with the network connection line. This is a rare phenomenon, but it is also worth paying attention to. Interference can be caused by completely different devices. One of them is the microwave oven. During operation, the microwave's waves interfere with the signal, which can cause you to have trouble connecting. Therefore, if you suspect that your appliances may be causing external interference, it is worth disconnecting or relocating them.
Something is wrong with the DHCP settings
Often, errors in DHCP settings can cause Samsung TV won't connect to Wi-Fi. Faults can cause IP address allocation to devices on the network. Maybe DHCP is not activated on your router, or it is not set correctly. Then you will not be able to connect and access the Internet correctly. So to fix "Samsung TV cannot connect to Wi-Fi", check the DHCP yourself or trust a professional to do it.
Problems with network encryption
In some cases, the reason why your Samsung TV can't find Wi-Fi is because of network encryption. Each network has its type of encryption. And sometimes the Samsung TV settings are incompatible with individual encryption methods. This is especially common if you have a TV model that is several years old. Then it may simply not be compatible with today's encryption methods. In this case, to fix the Samsung TV wont connect to Wi-Fi, you need to change the encryption method to an older one so that it is compatible with your version of the TV.
How to fix Samsung TV wont connect to network
Restart the TV
This is the first thing you should do if you have a Samsung TV wont connect to Internet is to turn your TV off and on again. Simply unplug the power cord and then wait a few minutes. Then plug the unit in and use the remote control to turn on the device. The main thing is not to turn the TV on right away, but to wait enough time. That's it, now the problem should be solved.
Tip: If you are uncomfortable pulling the plug out of the socket (for example, if it is in a difficult place), you can turn the device on and off using the remote.
Set up the data
Sometimes it happens that the date and time on your TV can be wrong, so Samsung smart TV can't find wireless network. And many users do not even suspect that it is the time and date that caused the error. After all, if the data on the router is up-to-date, and the TV is incorrect, this can prevent the connection. To correct the situation, find the Clock Mode option in the settings. Here you can manually set the current time. Confirm the action, switch the TV off and on, and check if the connection is restored.
Check that the router is working properly
The second step you need to take if you find that your Samsung TV won't connect to the internet is to check your router. It happens that connection failures are caused by third-party problems with your network or router. First, check if you can connect to the network from other devices. Then try turning off and on the router's power cord. It's also worth calling your ISP's support team to see if there are any problems on the line. After that, maybe your Samsung TV won't find Wi-Fi problem will be fixed.
Run a network diagnostic
If you think that the reason Samsung smart TV not connecting to Wi-Fi is a network problem, try to diagnose the connection. And this can be done using your TV, without any additional devices. First, you need to go to Settings, and then go to Network Diagnostics. This process will take a few minutes, be prepared. Diagnostics will help to check all components of the connection and let you know if there is a problem in any of the areas. If the test does not find a problem, then you should move on to the next steps.
Reset the network settings
Another way to help you solve Samsung TV does not connect to Wi-Fi is to reset the settings. You will be able to reset all the network settings that were set before the basic ones on your TV. And you can do it yourself, using just your TV, and having a few minutes to spare. First, go to settings and click on the Reset Network Settings button. You will then be able to enter the network settings from scratch and fix Samsung TV not finding Wi-Fi complexity. After this procedure, all temporary glitches and errors will be eliminated, and the connection will be restored.
Reset the TV
If you often encounter the error Samsung TV wireless connection failed, then a good solution is to do a reset and return the TV to the factory settings. But before that, you should back up your data if it is important for you and you want to save it. Then go to settings and go to the factory reset function. This will take a few minutes, then the TV will reboot. After that, you will need to re-enter all the settings and reconnect to the Wi-Fi. And finally, Samsung TV can't find wireless network error should be solved.
Try changing the DNS on your router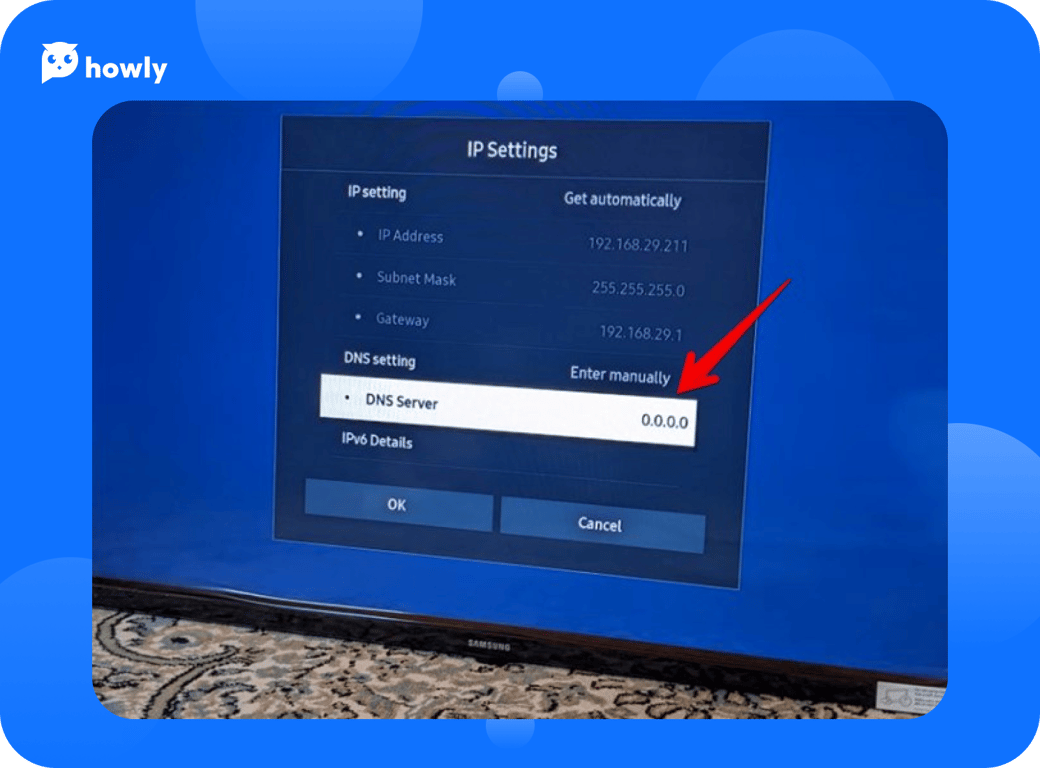 If you think your Samsung TV stopped connecting to Wi-Fi because of malfunctions of your router, then you can try changing your DNS. By doing so, you will be able to fix the situation and restore the connection. To do this, you will need to:
Go to Settings and then select Network. Now you need to click on the Network Status button.
Now click on IP Settings. Here you will be able to set it to "Automatic".
Next, scroll down to the DNS setting tab. This is where the default setting is automatic, you need to switch to manual.
In the field that opens up, type 8.8.8.8.8 and confirm.
Then turn off and on your TV and check if the wireless connection failed Samsung TV error is resolved.
Changes the position of the TV and the router
There is one reason why Samsung TV not showing Wi-Fi networks. The reason is that your TV is located too far away and out of range. Because of this, the signal can be constantly interrupted or disappear at all. In this case, the phone and computer, which are closer to the router, the Internet works fine. In this case, you need to either move the router or change the position of the TV. This way, the signal will be stable, and the error will no longer occur.
Check which network you have chosen and check the password
Yes, users often find that Samsung TV wireless network connection failed due to trivial inattention. You can accidentally confuse the network with your neighbor's, especially if they have a similar name. So the first thing to do is to double-check which network you have chosen. It is also worth paying attention to the password. Entering a combination of letters and numbers can be troublesome and very easy to make a mistake. So try to keep a close eye on the characters you are typing. Many users who have managed with Samsung won't connect to Wi-Fi precisely because they have corrected the mistakes.
Do a network test on the TV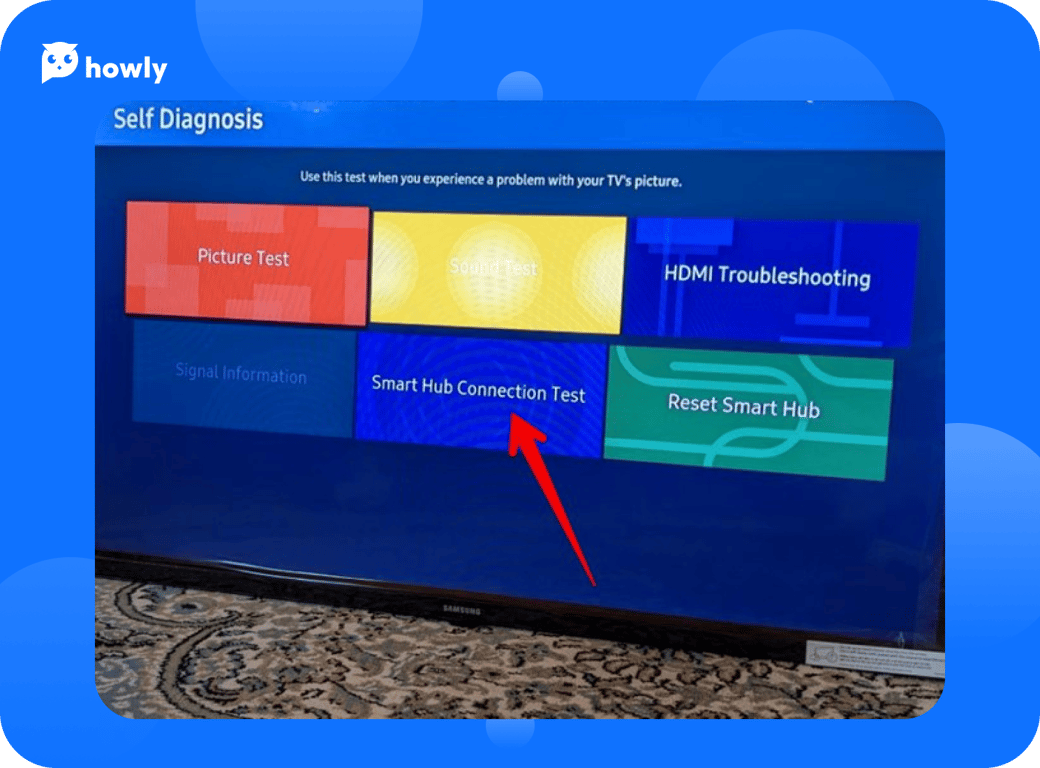 Another way you can fix a Samsung smart TV can't connect to Wi-Fi is to do a quick test. You can run a Smart Hub connection test yourself, which will check the network status and fix it if needed. To run it, you need to go to the Device Care tab in the settings. Here you will see Self Diagnosis, click on it. And at the end, you need to select one button — Smart Hub Connection Test. Now wait for the test to pass and you will get the result. If the system finds faults or malfunctions, then you will be prompted to fix them.
Samsung TV connection tips and tricks
The process of connecting your TV to the Internet can be challenging. So here are some useful hacks to help you through the process and make your actions easier:
Don't worry if you don't have an adapter to connect the Internet to your TV. An adapter is a drive that you can plug into your TV to provide a connection to the network. If you don't have a separate adapter, it's worth checking if this feature is built into your TV model. Usually, modern devices do not require an additional adapter but have one built in. This way you can connect using the settings without additional devices.
You need the remote control to connect to the Internet and to do anything else with the TV. It helps you to enter settings, navigate menus, select the desired tabs, etc. But what to do if your remote control is broken or lost? Samsung has a great solution. You can install a remote control app on your iPhone. Choose the one that's adapted to your type of device (iPhone, Android) and check if it's compatible with Samsung. These apps have the same functions as regular remotes and will help you control your TV easily and easily.
If you have problems with the connection, and you can't solve them with the suggested ways, you can contact Samsung support. You can find the contacts on the official Samsung website, under "Service Center Contacts". Here you will be offered several options for contacting the team, and you can choose one of them. For example, you will be offered a contact phone number to call, email for emails, and the addresses of the nearest service centers where you can ask your questions in person.
If you need more help, you can get expert help online. This way, you can save time and get professional help online. This way you don't have to wait for a response from official support, and you can get help right now from the comfort of your home. Howly experts are on call anytime and will support you with any technical issue.
F.A.Q.
How to connect Samsung TV to Internet?
To connect your TV to the network, you need to go to Settings and go to Network. Here, you select the right network and enter your password. But before you do this, make sure that the signal is sufficient to connect.
Why my Samsung TV won't connect to Wi-Fi but works on my notebook?
If you have some troubles while the other devices have a good connection, then your router is too far away. The connection may be unstable and intermittent because of the distance.
How to connect old Samsung TV to Wi-Fi?
In case If you are using a TV that was released several years ago, you can also connect using the settings and network connection in the same way. If not, you can use an adapter.
Conclusion
Wow! Now, you are a real pro when it comes to connecting your TV to the Internet. So if you encounter Samsung TV won't connect to Wi-Fi, just use the tips in this article to fix the problem. Let's summarize what you need to do to resolve the difficulty. To identify the cause of the problem is the first thing you need to do. Most often the cause is breakdowns and the need to reflash the router or other problems which you can fix yourself. Then you should move on to fixing the problem according to its cause. You can help by rebooting the TV, reflashing the router, changing the TV position, etc.
Use this article so that you don't face Samsung TV unable to connect to Internet difficulty again. Save it and keep it handy to be able to solve the problem at any time.