Do you love VR games and have a handy Oculus Quest 2 gadget? Then here are the main features of the headset that will make it easier to use. Here are 12 useful tips and tips to make using the headset efficient and engaging.
Before we start
Save your time and let professionals resolve your issue in minutes!
Want to start solving your problem immediately? Experienced Howly troubleshooters can fix your issue ASAP. They're already waiting for you in the chat!
The benefits you'll get while troubleshooting your issue with Howly experts:
Qualified help with laptops HDD

Quick advice right in your device 24/7/365

Expert reply within 60 seconds

Clear step-by-step guidance

Limitless number of follow-up questions

Understanding and empathetic help till your laptop HDD issue is fully resolved

All answers you need in one place
Oculus Quest 2 beginners guide
If you're an avid gamer, you probably know about the cool headset Oculus Quest 2. It allows you to use different games in VR format. You can also use the headset to view tutorials, watch videos, view the browser, and much more. Thanks to the virtual environment effect, playing games is much more fun and learning materials are much easier to remember.
When you buy the headset, you get the headset in a set with two touch controllers. These are needed to effectively track and record your movements. There are two versions of Oculus Quest, the first and the second. They are very similar, but the second version has improved features.
Main Oculus Quest features
Oculus Quest 2 has many cool and unusual features that are useful for gamers and beyond. Here are a few of the most useful and cool ones:
Oculus Quest 2 has many cool and unusual features that are useful for gamers and beyond. Here are a few of the most useful and cool ones:
Audio is built directly into the headset, so transmitting audio immerses you in the game or video.
Use movements to control games. The headset has Touch controllers that track your hand movements.
You can track the effectiveness of your workouts and reach your goals with the headset. You can learn more about this in the tips and tricks section.
Also, you can control your game with voice commands. This creates an immersive, controllable experience.
12 best Oculus Quest 2 tips and tricks
Download games simply!
After the first installation, you may need to install the first games. Use this one of the easiest Oculus Quest 2 tricks to make installation quick. Install the official Meta Quest app on your smartphone and control your headset with it. You can set a task to install new games and you're all set. That way you don't have to spend extra time sorting out the settings inside the headset.
Broadcast the image from the headset to the TV
If you think only one person can enjoy a headset, you're wrong. In fact, it can be a great idea for a family night or a party with friends. You can easily broadcast from your headset to your TV screen with one of the awesome tips and tricks for Oculus Quest 2. Before you do this, you need to know exactly whether your TV is casting-compatible. You can set up the broadcast using the official app. At the top you will find the Casting button, you should click on it and select your TV. Done!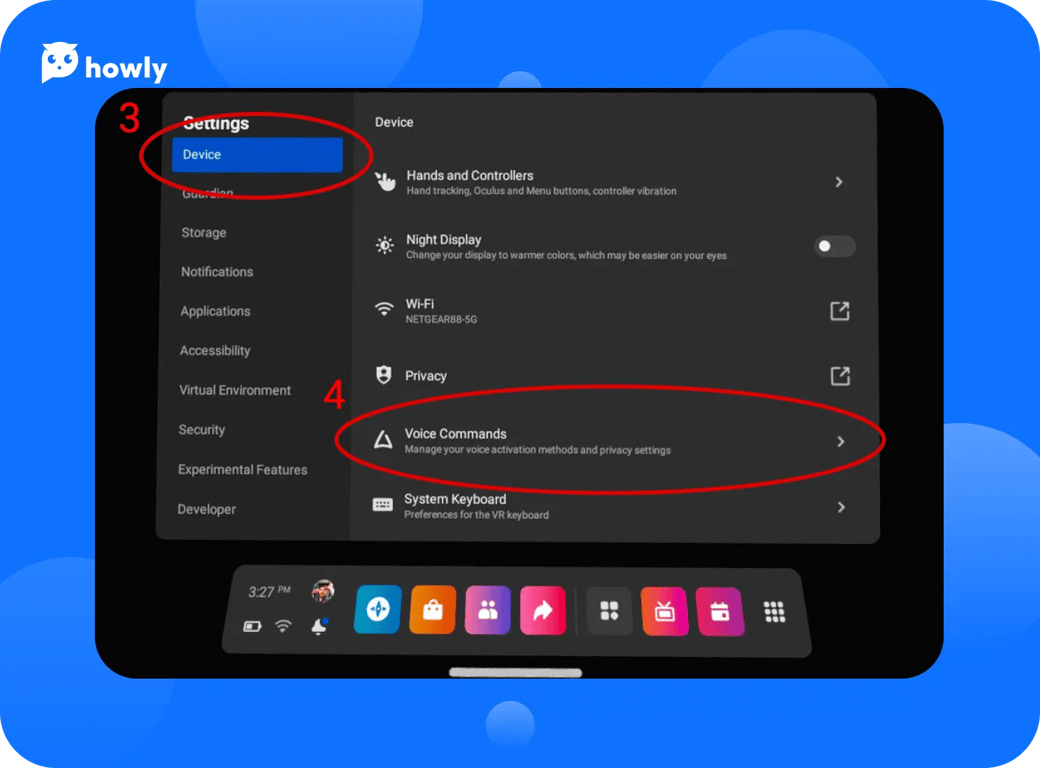 Control the headset with your voice
You can control your headset not only manually or with an app. One of the best things to do with Oculus Quest 2 is voice control. Here's a quick tutorial to help you do just that:
With the headset on, locate and press the menu button on the controller.
In the menu that opens, find the tab with the voice commands.
Find and select the Start Setup button. You will now receive built-in prompts to help you complete the setup.
Find new friends in your account
With a Meta account, you can easily find and add new friends. To make this process easier, you can use one of the Quest 2 tips. Log in to your account using Facebook. That way, you can find your Facebook contacts in Meta Quest and add them. What you need to do:
Open the app and sign in with Facebook.
Go to the Menu and find the People button. Open the tab.
Here you'll see your Facebook friends who also use Meta Quest, and you'll be able to add them.
You can also search for your friends using their nicknames and the search bar.
Lifehack! You can share your profile on Facebook, Instagram, and Twitter to make it easier for your friends to find you.
Change settings in a second
Changing settings on your Quest 2 is quick and easy. Now let's uncover one of the coolest Oculus Quest 2 features. You can easily open the quick settings menu by finding the Oculus button and clicking on the area on the main panel. Here you can change basic settings in just a few clicks, without having to go to the Settings app.
Creating your dream body with Meta Quest 2
Few people know that their gadget has so many healthy Oculus Quest 2 tips. One of them will help you monitor the effectiveness of your workouts. To do this, you need to use the Move app, which is built into your headset. You can easily find it on the home screen. To start using it, you'll need to enter all the input information: height, weight, and other body parameters. You should also select the workout settings and the goals you want to achieve. The headset app will track your progress, which you can view on your iPhone.
Take a quick screenshot
If you're a fan of screenshots, you can take them on your headset as well. Keep this one of the most useful tips for Oculus Quest 2. It's very easy to do, here are handy instructions:
Find the Share button on the main menu.
Here you will see how to take a screenshot. While the screenshot is being captured, the indicator light will be on. The screenshot will be saved in your iPhone, which is synchronized with the headset.
If you want to take a screenshot quickly, then you can just press the side button on the right. Then select the right trigger on the screen and you're done.
Then you can share these screenshots on your social networks and gamer chats to show off your gaming achievements.
Connect your favorite devices to the headset
If you are used to playing with aids, then you will benefit from this one of the best Quest 2 tips. You can easily connect your joystick, mouse, or even keyboard. It is important that your auxiliary tool has the ability to connect. Here is a handy instruction for you:
First, you need to find the Experimental tab in Settings.
Once you are there, find the Bluetooth pairing option and double-click.
Now, the device you want to connect must be activated for synchronization.
On the headset screen, you will see the desired device in the list of available devices to connect. Select it and wait until the pairing is complete. That's it!
Don't worry about the kids during the game
If your child loves playing Quest 2, but you're worried that some games are too "dangerous" for them, then catch this one of the coolest Oculus Quest 2 hidden features. You can set parental controls and make sure your child doesn't find games 18+. You will need to upgrade to software version V53 to install it. Only in this version in Settings, you will be able to set parental control. After installing this feature, you will be able to control what your child will search for on the Internet and which games to choose.
Looking for secret functions
There are many Oculus Quest 2 hidden features that not all users know about. So it is worth paying special attention to them. To find the hidden features, you need to go to the Main Menu. Then go to the Experimental tab. This is where you'll find useful and important features that few people know about. For example, here you can change the mode from day to night and vice versa, and a useful function Air Link allows you to connect your headset to your computer or laptop without additional wires.
Keep your headset updated at all times
You can always keep your device updated and make it very easy. To do this, you need to know one of the main Quest 2 tips and tricks. With this feature, your device will update to new software as soon as it becomes available. Here are simple and easy instructions for you to activate this feature quickly and easily:
First, you'll need to go to the Main Menu, and then go to Settings.
Go to the Software Update tab (find it on the left).
Now take a look at the screen. If you have updates available, you will have an Update button available. Click on it and wait a while for the update to install.
Receive notifications from your iPhone on your headset
Yes, yes, that's right, you can get phone notifications on Quest 2 without taking your eyes off the game on your headset. And it's very easy and simple to do so. Here are the instructions to help you display notifications from your smartphone:
First, you need to open the Meta Quest app on your smartphone.
Here, you need to go to the Devices tab and select Oculus Quest 2 in the list of available devices.
In front of you will open a tab with the available features. You need to select and open Phone Notifications.
You will now receive built-in prompts to help you finalize the function.
The second step of the setup concerns Quest 2 itself. You need to:
On your headset, you should go to settings and then go to the Notifications tab.
Here, you should select your smartphone and click on Activate Notifications.
That's all. In just a few actions, you managed to activate the display of notifications from your phone to your headset.
F.A.Q.
How to update Oculus Quest 2
To update the software on your device, you can go to Settings and then find the function under the Software Update tab.
How to set up phone notifications on Oculus Quest 2
You can easily get phone notifications on Oculus Quest 2. To do this, you first need to go to the Phone Notifications tab in the official app on your smartphone and activate the notifications. Then do the settings on the headset and find the Activate Notifications function.
Do you need a pc for meta quest 2?
No, you don't have to have a computer at all to use the headset. All you need is an account and the official app. But you can connect your PC to expand the list of features.
Conclusion
Congratulations! Now you know the main Oculus Quest 2 tips and tricks and can use this device more effectively. There are tips for playing games, for learning, for surfing the Internet. Use them to make using Quest 2 easy and fun.