Meditopia is an app for those who want to improve their emotional and mental well-being through regular meditation and mindfulness. The program has more than three million users, who are allowed to meditate and exercise, take weekly courses, use music tracks for self-study and use various programs to solve specific problems. For Meditopia's reputation, the feedback from such a huge number of subscribers is the best advertisement since almost all of them positively evaluate the service.
Before we start
Save your time and let professionals resolve your issue in minutes!
Want to start solving your problem immediately? Experienced Howly troubleshooters can fix your issue ASAP. They're already waiting for you in the chat!
The benefits you'll get while troubleshooting your issue with Howly experts:
Qualified help with laptops HDD

Quick advice right in your device 24/7/365

Expert reply within 60 seconds

Clear step-by-step guidance

Limitless number of follow-up questions

Understanding and empathetic help till your laptop HDD issue is fully resolved

All answers you need in one place
Application features
The main advantage of Meditopia over other similar apps is that it offers more than just a one-time solution to a specific task, such as stress relief or improved sleep. The service contains more than 1000 meditative practices for deep immersion and mindfulness, that is, continuous tracking and focusing on experiencing the present moment without engaging in thoughts of the past or future.
Meditations are available in nine languages. They have a different focus and cover all areas of human life, from sleep quality and world perception to relationships and setting life goals. The goal of Meditopia is not to provide temporary relief from a problem but to give a user permanent access to the tools that form mental equilibrium and mental stability.
The app offers
More than 1000 teacher-led meditation sessions;
New practices and motivational phrases every day;
Recording personal achievements by measuring awareness and taking notes;
Communication with like-minded people;
Reminders for the session;
Simple, intuitive interface;
The presence of a dark theme.
All meditative practices are grouped according to the focus of action
Stress;
Anxiety;
Sleep;
Self-assessment;
Motivation;
Adoption;
And many others.
What else?
The app has a large list of relaxing music to help you relax, fall asleep quickly, and exercise independently. For fans of "white noise," there is a collection of more than 100 sounds.
In addition, the app contains a built-in timer for self-meditation sessions. You can set the desired duration of the session, choose the appropriate music, and meditate according to your program.
A facilitator guides prepared meditations. The quality of rest directly affects all areas of life, so a significant part of the appendix is devoted to meditations for sleep, mastering new relaxation techniques, and breathing and visual exercises.
There is also a "Stories" section, where you can listen to short stories, excerpts from classical literature, essays, and fairy tales. Take special note of bedtime stories suitable for children and adults. With their help before bedtime, you can travel to a wonderful world of adventure and become a participant in the wanderings of different corners of the world. Despite the brightness of impressions, they are well-soothing and allow you to sink into sleep gently.
Another advantage of Meditopia is that it has a dark mode. A bright screen prevents you from relaxing, so such applications are considered less effective. The dark theme, on the contrary, eliminates glare, relieves eye strain, and helps you get to rest faster.
Principle of operation
Meditopia is optimal for beginners and those who have practiced meditation for a long time and regularly. After installing the app, you will be prompted with several questions to help the app select the appropriate practices for you.
Set your goal
The application can be adjusted to the appropriate life situation and the need to solve a specific task. Meditopia has special programs for exercises in the office and outdoors, preparing for an important event, and calming down before an exam or a job interview. You can also choose the type of exercises according to your goal: "breathing", "gratitude", "deep sleep", "compassion", "stress relief" and many others (more than 150 directions). Taking the user's preferences into account, Meditopia recommends the appropriate meditation.
Choose the type of session
For those who don't have enough time, short 3-minute sessions are offered, which are grouped into separate sections:
In transportation;
For the responsible moment;
To increase concentration.
Many experienced meditators prefer to practice on their own with the sounds of nature. You can turn them on and do breathing exercises or just relax, getting rid of unnecessary thoughts. The selection is very diverse, but all sounds are pleasant to listen to.
It is also possible to set a timer for 5, 10, or 20 minutes.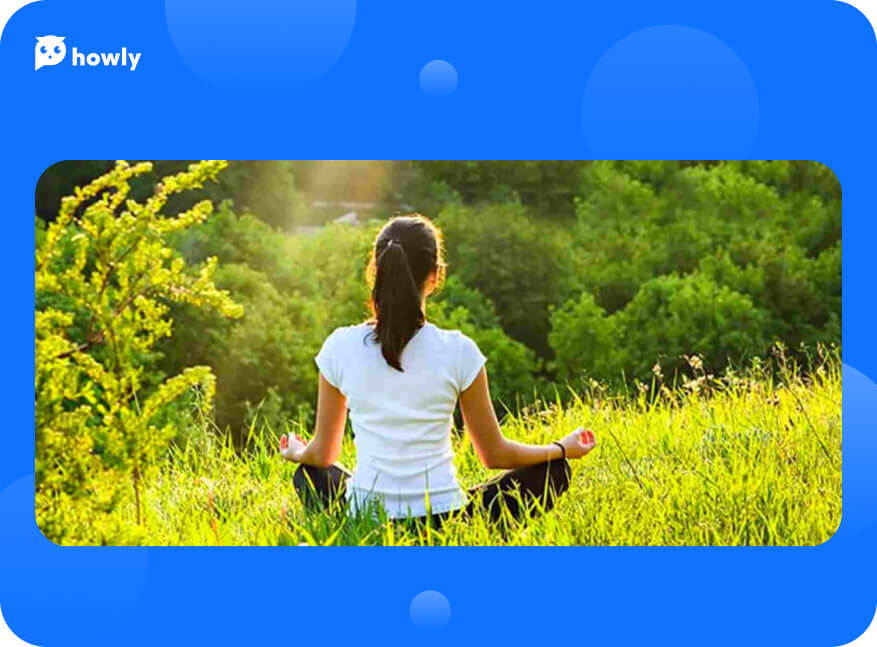 Practice breathing
Before you begin meditating, it is advisable to practice breathing. For this purpose, there is a special timer-type program that allows you to adjust the breathing cycle. It instructions when to inhale, hold air, and then exhale. This a great feature for beginners who need to learn how to control their breathing.
Note that there are only 4 free tunes in the app to which you can meditate or relax, and the rest will be available after you pay a subscription.
New to meditation? Read the tutorial!
A separate section is for those new to the world of meditation. It contains tutorials with recommendations on consistently performing the necessary actions to relax and achieve your goals.
Control your sleep
In the sleep section, one session (for a good rest) is open for free. A deep sleep session becomes available after you pay a subscription fee.
But even with the free version, you can fall asleep quickly, sleep soundly, and easily wake up in the morning.
Subscription
Meditopia is free to download and install. Immediately after launching the program, a test period of 7 days is provided, then you will be charged for the subscription and its renewal.
The subscription is renewed automatically on the last day of the current period. You can cancel it before the beginning of the day (24 hours before the charge).
Overall, Meditopia is a great app for relieving stress, improving sleep quality, and incorporating self-discovery. The app is characterized by different content, quality sound, and a bright design. With its help, you can quickly learn to meditate and practice mindfulness or listen to relaxing music to achieve relaxation and soothing after a day of work or a stressful event.