If the iPad screen does not respond to touch, it doesn't necessarily indicate some severe damage. The failure may cause a device freeze or run some applications incorrectly. To determine why the touchscreen is malfunctioning, perform an initial diagnosis of the gadget.
Before we start
Save your time and let professionals resolve your issue in minutes!
Want to start solving your problem immediately? Experienced Howly troubleshooters can fix your issue ASAP. They're already waiting for you in the chat!
The benefits you'll get while troubleshooting your issue with Howly experts:
Qualified help with laptops HDD

Quick advice right in your device 24/7/365

Expert reply within 60 seconds

Clear step-by-step guidance

Limitless number of follow-up questions

Understanding and empathetic help till your laptop HDD issue is fully resolved

All answers you need in one place
If you find that the screen is damaged or there are scratches on the tablet's body, you should contact qualified professionals. Mechanical damage to Apple equipment can lead to the malfunction of internal elements. In such cases, you need an experienced craftsman to define why the screen isn't working.
What can cause a sensor to freeze
The touch screen often stops responding to your fingers due to system failures. Here are the most common causes:
Malicious files on iPad;
Software faults;
Jailbreak installed incorrectly;
Some applications do not work correctly.
Any of these causes can lead to problems with your device's touch glass. If the iPad screen is not responding to touch due to hardware issues, then professional repair and replacement of defective parts are needed.
Apple representatives recommend refraining from downloading applications, programs, and games from unverified sources because it can lead to system freezing too.
Ways to recover your gadget
If the touchscreen doesn't work because the application freezes or the software fails, then you can repair the device yourself.
Here are some effective and safe ways:
Forcibly close all active applications;
Perform a hard reboot of the device;
Clean your screen;
Make a 3D touch setup;
Try software recovery.
Sometimes the iPad touchscreen doesn't work because the display is very dirty. Before restarting the device or taking it to a service center, carefully clean the glass from dust and dirt.
Also, the tablet may stop responding to finger pressure due to excessive cooling or overheating of the device. Leave the tablet switched off at room temperature for 20 minutes to get your gadget working again.
Stages of a hard reset
A hard reset of your iPad gadget will clear the RAM and update all processes. This method will not cause any damage to the motherboard or microchips.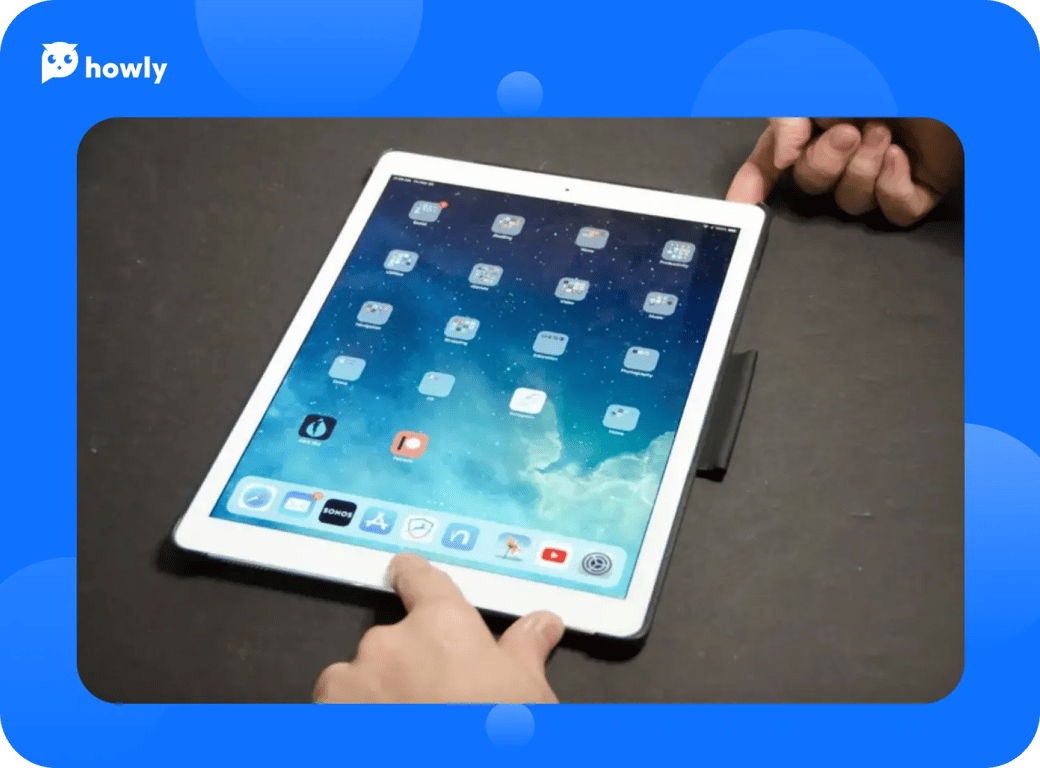 To reboot your iPad, follow these steps:
Unlock the device.
Press the "Power" and "Home" buttons for 10 seconds
After the logo appears, simultaneously release the buttons.
This shutdown is suitable for all models of Apple tablets.
Try a software update if the device still needs to unlock after rebooting or if the touchscreen does not work well.
Stages of downloading new software:
Turn on iTunes.
Connect the tablet to the laptop.
Select your device in iTunes.
Select the "Overview" category and click the "Refresh" tab.
Moreover, your Apple device has a wireless software update feature. To launch it, charge your gadget, connect it to the Internet, and select the "Software Update" category in the main settings.
If even this doesn't help your touchscreen work properly, there can be an issue with the motherboard, chips, or damaged display module.
Professional repair from Howly performers
Only qualified specialists can accurately and qualitatively eliminate hardware problems. On this site, you can find experienced technicians who will take into account the technical parameters of your device and will eliminate any screen issues. Howly professionals will determine why the gadget has stopped responding and immediately provide you with instructions on how to repair the iPad touch screen according to the manufacturer's recommendations.