Unfortunately, sooner or later all computers start to slow down. This applies to Macs as well - despite all the claims that macOS is better optimized than Windows. However, there are certain steps you can take to speed up an Apple computer that is slowing down. The most common include:
Before we start
Save your time and let professionals resolve your issue in minutes!
Want to start solving your problem immediately? Experienced Howly troubleshooters can fix your issue ASAP. They're already waiting for you in the chat!
The benefits you'll get while troubleshooting your issue with Howly experts:
Qualified help with laptops HDD

Quick advice right in your device 24/7/365

Expert reply within 60 seconds

Clear step-by-step guidance

Limitless number of follow-up questions

Understanding and empathetic help till your laptop HDD issue is fully resolved

All answers you need in one place
uninstalling unnecessary programs;
clearing the system cache;
disabling Spotlight.
But all these tricks will have little effect if you own an old Mac with an internal HDD. The thing is that hard drives are noticeably slower than modern SSDs. This is especially noticeable with newer versions of operating systems. For example, my 2014 iMac with OS X Mavericks was very fast, but after upgrading to El Capitan or Mojave the system became incredibly slow. A clean reinstallation of macOS from scratch did not help at all, and working with the computer became resolutely impossible. Even the unfortunate TextEdit would open with a delay. And while some Photoshop was starting up, you had enough time to clean up your room.
If you've faced a similar issue, the most obvious solution is to move the system to an SSD. But there is one obstacle: installing an SSD in the iMac case is a tricky task because not everyone can disassemble this device by ungluing the screen. Taking the iMac to a service center is also not desirable: SSD installation is done only at unauthorized service points which are less reliable. And the price of this procedure, frankly speaking, is bitey.
But there is an alternative - to connect an external SSD to the Mac through a USB cable. However, all in all, this solution is more suitable for owners of iMac monoblocks than for owners of MacBooks.
Appliances you will need
Judging by the information provided by Apple, data transfer speeds via USB 3 and USB 3.1 first generation in iMac can be up to 5 Gbps. This is quite enough to connect an SSD drive as a system drive. In principle, the iMac also has a pair of Thunderbolt 2 connectors with a claimed speed of up to 20Gbps. But SSD adapters for them are not usually available and cost more, so we will take all the actions with a simple USB 3 port.
You will need an SSD disk, a case for it, and a USB cable. When choosing the SSD, keep in mind that you can not chase after an expensive and wildly high-speed drive: anyway, the USB port will be a bottleneck, preventing it from unleashing its potential. Therefore, it is better to save some money because even a budget SSD will still work much faster than your hard drive.
You don't need a particularly high-capacity drive either: the operating system and programs will be placed on it, and all documents, photos, and videos will be sent to the freeing HDD. So you can limit yourself to a 120 GB drive or even less. If you have an old SSD left over from an upgrade, it will do just as well. The only thing you will have to buy is a SATA to USB adapter.
How to reinstall the system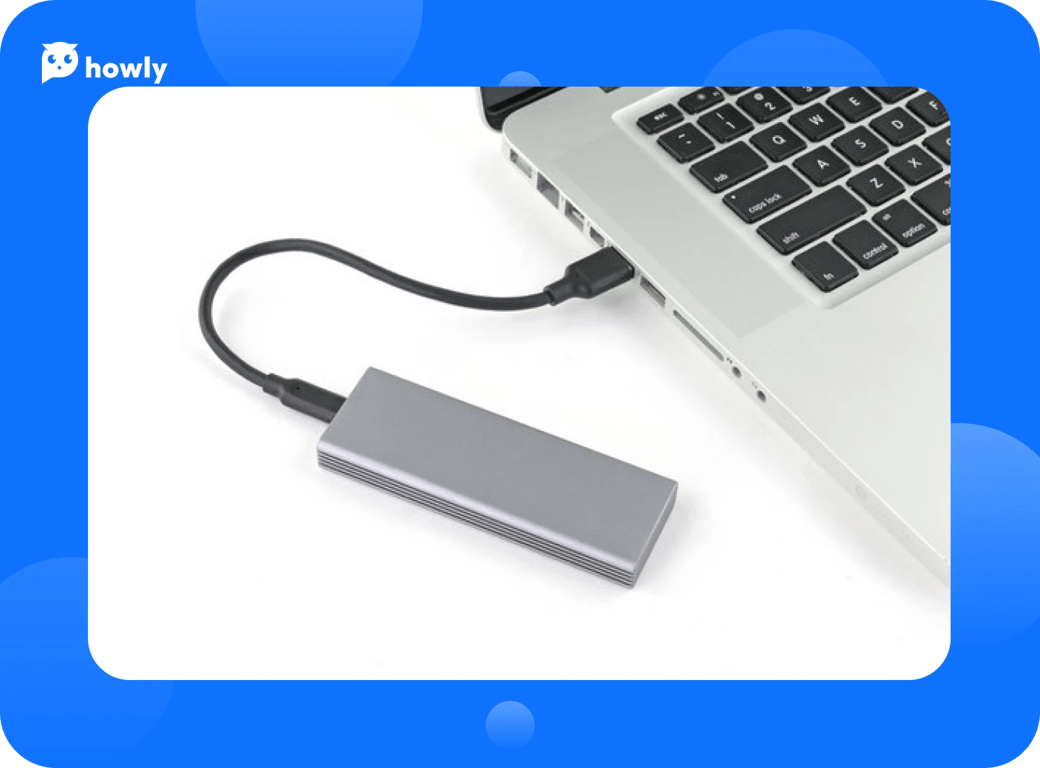 Firstly, back up all the documents, files, pictures, videos, and other stuff that has accumulated on your Mac. You can do this with the built-in Time Machine tool, or copy your folders manually. For this, you will need another external drive because your Mac's built-in HDD and your new SSD must be formatted.
Install the SSD in the enclosure, then plug it in through the included USB cable to your Mac. Open "Disk Utility" and format your SSD to APFS format if available, or to "Mac OS Extended (Journaled) with GUID partition scheme" (on older versions of macOS).
Now reboot your Mac. Immediately after completing the process, press and hold Command + R. The macOS utility menu will appear. Select the Reinstall macOS option.
Click "Continue," then accept the terms of the license agreement. You will be prompted to choose a drive to install macOS. Specify your new SSD - it's highlighted in yellow. Click Install.
The installation will take some time. When it finishes, your computer will reboot. But what will probably happen is that you'll see your slow, old system boot up. That's because your Mac doesn't know yet that it must now use an SSD as your primary drive.
Therefore, abort the process and Shut down the computer. Then reactivate the device and press the Option key. Wait until the boot manager window appears.
You will find two disks with your macOS systems installed: the old and the new ones. The latter will be yellowish. Press and hold down the Control key, then click the SSD drive - now it will always boot from it by default.
Wait for your new operating system to boot (you won't have to wait as long with the SSD). Now you need to erase the old HDD to free up the built-in hard disk for your data. To do this, open "Disk Utility" again, select the HDD there, left-click on it, and click "Erase". Specify the APFS format and Confirm erasing.
Done, you now have an extra hard drive for your data.
How to migrate a user profile
Finally, you can move your home folder to the freed hard disk. This is an optional step but if you want all your documents and files to be automatically saved on the HDD, it's worth doing.
Open "System Preferences" → "Users and Groups". Click on the lock and enter your password. Now right-click your username in the left pane and click "Advanced Settings".
In the "User folder," click "Select", create a new folder on HDD with your name (without Cyrillic letters), specify it, and click OK. Then log out and log in again and your folders will be transferred.
Now the system boots in 30 seconds - on the old HDD the waiting time could be 5 or even 10 minutes. All applications - and even the heavy Photoshop also start without delay. So if you don't want to take your Mac to a service or install the SSD yourself, an external drive is a great compromise.