They may not be the trendiest devices in 2023-2024 but still works as well as at the beginning. Google still sells them at a discount, so. Eventually, they have become one of the best devices in their budgets.
Before we start
Save your time and let professionals resolve your issue in minutes!
Want to start solving your problem immediately? Experienced Howly troubleshooters can fix your issue ASAP. They're already waiting for you in the chat!
The benefits you'll get while troubleshooting your issue with Howly experts:
Qualified help with laptops HDD

Quick advice right in your device 24/7/365

Expert reply within 60 seconds

Clear step-by-step guidance

Limitless number of follow-up questions

Understanding and empathetic help till your laptop HDD issue is fully resolved

All answers you need in one place
When you look at them, they are mostly the same: highly similar designs, cameras, and screens. So it's hard to catch the difference between Pixel 6 and a Pixel 6 Pro. Today, Howly experts test those Androids to show you the similarities and differences between those two phones, so you find out which suits you the best!
A fair comparison of Pixel 6 vs Pixel 6 Pro specs
They are great devices that fit both general users and people from creative industries. They have a great camera and working memory that will be enough for editing and other high-consuming apps. They have slightly different batteries and performance. Today we'll have a deep dive into the comparison of these two devices.
Price and release date
For most people, price is a degerming factor in what device they will choose for the next 3-5 years. As for today, both Pixel 6 options are budget-friendly. You can find a basic Pixel 6 with 128 Gb RAM for $319-399. The average price for Pixel 6 Pro with the same RAM will be $500 to $700.
In today's market, those prices are considered a middle-class option. And it's fine because those 2 phones were flagman just a year ago. Both devices were released on October 2021, so their sales peak was in the winter-spring of 2022.
When we take the Google Pixel 6 vs 6 Pro comparison with other devices with similar specs, we see that Google phones are budget-friendly. They both have one of the greatest hardware for their price.
Memory and storage
If you consider storage beware that there are no distinctions between Pixel 6 and Pixel 6 Pro. They both have 128 Gb and 256 Gb memory without a chance to expand it via microSD. But you can use cloud services.
But you can find a noticeable difference between the Google Pixel 6 vs Google Pixel 6 Pro's RAM (working memory. The basic Pixel 6 has 8 Gb RAM which will be enough even for editing 4K video in real time. On the other hand, Pixel 6 Pro runs on 12 Gb RAM, which help you edit faster or use multiple high-consuming apps simultaneously.
Battery and charging
Battery performance is one of the essential aspects of any device. There is no point in having a phone with great hardware but a dead battery that you must charge 2-3 times daily. We are pleased to tell you that this story does not apply to Pixel phones.
The basic Pixel 6 has a 4 614 mAh battery that can last 20-30 hours under casual activities like 1-2 hours talking, 2-4 hours watching online videos, and 1-2 hour browsing.
Pixel 6 Pro has a battery of 5 003 mAh, which Promises to keep up to 48 hours on a single charge. While in reality, it has a battery life of 25-35 hours and it's OK. This phone has more consuming hardware.
Both devices support fast and wireless charging. You can get half of the charge in 40 minutes by charging by wire and 50-60 minutes if you choose the wireless option.
Performance
They use Google's custom Tersor chip (Processor) which is specifically designed to deliver AI tools that improve the user experience even after release.
Both phones have powerful RAM (working memory): 8 Gb on Pixel 6 and 12 Gb on Pixel 6 Pro. It's more than enough for gaming and editing. But you'll get slightly better performance in hard-consuming tasks on the Pro version.
While comparing Pixel 6 and Pixel 6 Pro graphics performance, we will see that they are almost identical, despite different RAM. It happens because they run on integrated Mali-G78 GPU which will be great for any graphics-intensive task.
Display and design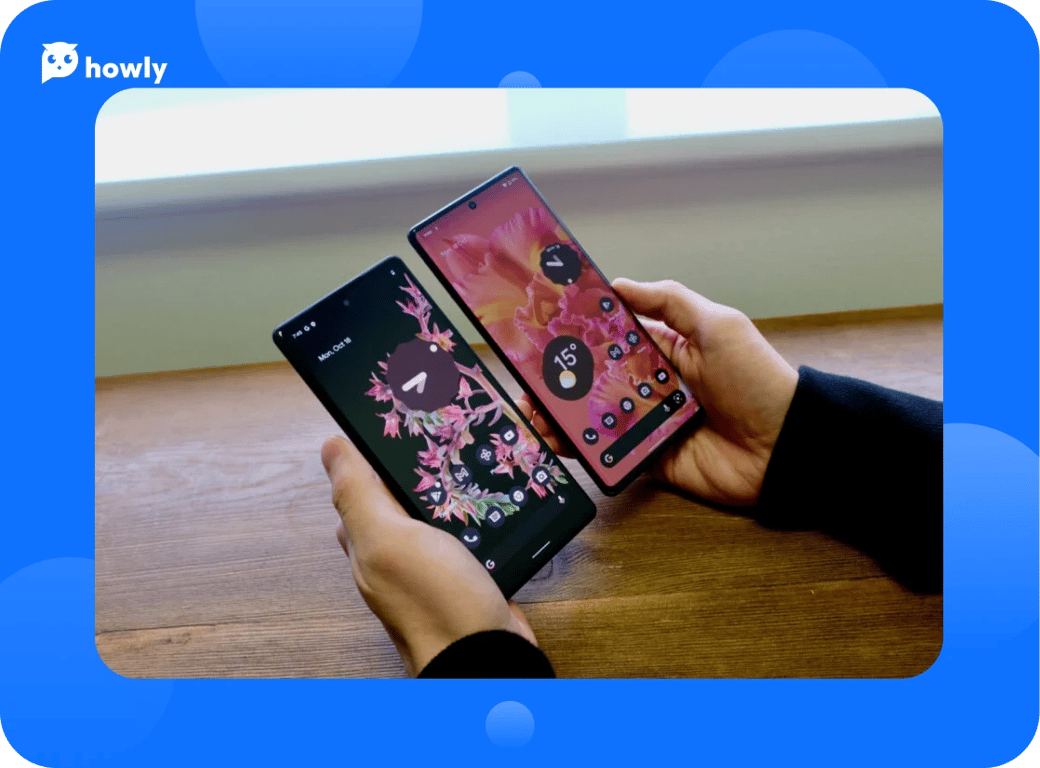 Both devices look almost identical: they are monoblocs with a noticeable camera block on the back. They follow traditional Pixel design choices, making a camera the most Prominent design feature in the device.
The differences between devices start from their color choices. Basic Pixel 6 is available in black, grayish green, and pinkish gold, while Pro is available in black, white, and light-yellow shades.
They have a different number of cameras. While Pixel 6 has two lenses, Pixel 6 Pro has three lenses. But since they are all located in the wide black bar, it's hard to notice
They also had slightly different display sizes, so you can't switch cases. Pixel 6 has a 6.4-inch screen with FHD+ resolution and a 90 Hz refresh rate, while Pro Provides you with a 6.7-inch display with a QHD (4K) resolution of 120 Hz FPS. So what does it mean in real life? Who wins a battle of screens: Pixel 6 Pros vs Pixel 6?
The Pro option has a better screen: you'll see more details and movements in video, games, and apps animation will look slightly smoother. But if you don't work with photos or videos on your phone, you don't see much difference between displays.
So in this part of the battle "Google 6 vs 6 Pro," both devices are on par. General users don't even notice a difference between screen quality, while people who are related to the media industry still get great results on both devices.
Cameras
The crucial difference between Pixel 6 and 6 Pro hides in their cameras. They are fine, but still quite different. Both phones have slightly different lenses and different software features to enhance pictures.
Camera/lenses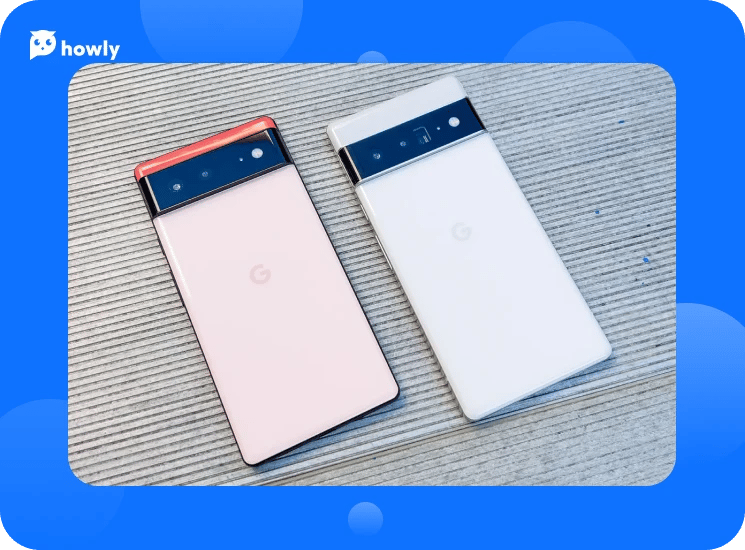 It's the main stumbling point for those who are torn apart by those devices. Here we've compared Pixel 6 and Pixel 6 Pro lens specs between each other to ease your choice:
Front camera. Pixel 6 has an 8-megapixel camera. The Pro version has a 12-megapixel lens with a wider field of view, so you can catch even more objects in your selfies.
Main camera. Both devices have a 50-megapixel camera, but the Pro option has a camera with a larger sensor size. In short, it catches more light in dim environments, so you'll have less noise in the evening pictures.
Ultrawide camera. Both devices have a 12-megapixel ultrawide lens, but the Pro version has a wider sensor and field of view. It means the camera catches more objects in light and dim environments.
Telephoto lens. The basic Pixel 6 doesn't have this camera, while the Pro version uses a 48-megapixel lens with 4x optical zoom.
In the camera's battle "Pixel 6 vs 6 Pro" the overall winner is the 6 Pro version. It has a camera that can catch more objects even in dim environments. Its telelens allow you to capture distant objects. It gives you more chances to catch moving objects, which can be useful while filming sports, dances, or other rapidly moving objects.
If you are working in the mobile photography industry or running your blog, Pixel 6 Pro gives more room for creativity. But if you are a general user who takes photos periodically, both devices work equally great.
Camera features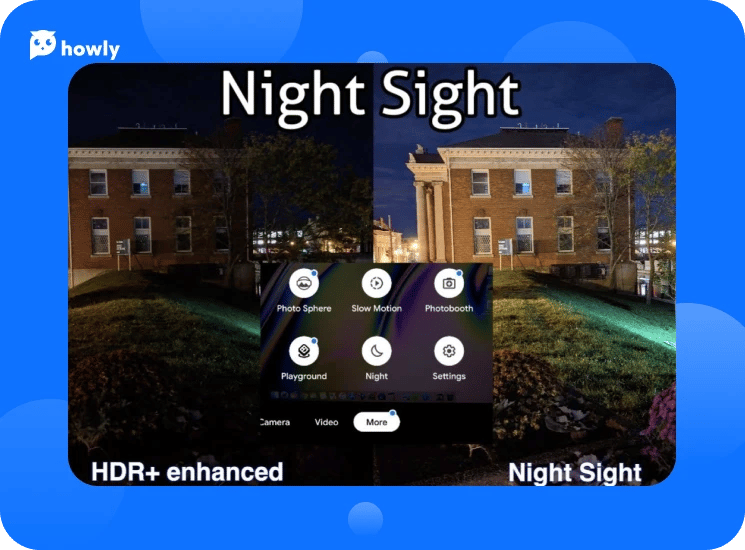 It's a widely known fact that most mobile phones have highly similar hardware on their cameras, so you should take a closer look at camera-related software. It gives you a better understanding of what you can shoot with that device. Before we have a deep dive into comparing, it is worth noting similar digital features:
Night Sight. Both devices have a night mode that enhances pictures made in a dim environment.
Google Lens. Both phones have a built-in Google Lens that allows you to identify objects and translate text from 50+ languages in real-time.
Magic Eraser. Tool for his removing things on photos that have been made on Pixel.
Dual Exposure. You can separately adjust shadows and brightness on your photos.
Locked Focus. Both phones can lock the focus on the object, track it and move around the frame.
But what are the distinctive features of a more upgraded version? Here is the camera software difference between the Google Pixel 6 and 6 Pro:
Face unblur. It's the AI-based technology that sharp, enhances, and beautifies blurry photographs with people in them.
Motion Mode. AI tool that can "freeze" action on photos, diminishing motion blur and making more sharper images of moving subjects.
Video
When we find out the Pixel 6 vs Pixel 6 Pro differences in photo shooting, it's time to examine video features. Both devices can shoot up to 4K at 60 frames per second. They also have optical and electronic stabilization which reduces the shakiness of the footage. You can maintain a clear and bright image by enabling the HDR+ feature.
But at the same time, the Pro option can give you much more than the basic version:
Audio Zoom. This tool allows you to zoom in on some subjects and enhance the audio from them at the same time.
Microphone directional control. This AI-based tool lets you choose which sounds or voices to record during the video.
Pro-Res Video Recording. You can record video with the same codec, as film cameras.
This examination of Google's Pixel 6 vs 6 Pro shows that both phones have great video quality. But if you like to film blogs or other content, the Pro option suits your needs more than the basic version.
F.A.Q.
What is the Pixel 6 vs Pixel 6 Pro release date?
They were released back in October 2021. As for today, they are no longer flagship smartphones, but they both are great upper-middle-class options for a fair price.
What's the difference between Pixel 6 and Pixel 6 Pro?
The key distinction between those two devices hides in software and cameras. The Pro option has more RAM, a larger screen, and an additional telephoto lens for zoom.
Who is better at photo and video: Google Pixel 6 vs Pro?
They both have a great camera. But the Pro version has an additional telephoto camera with 4x zoom that allows zooming in photos without losing image quality.
Pixel 6 vs Pixel 6 Pro: conclusion
Despite those two phones being no longer flagships, they still run on cutting-edge technologies. Both devices run on Google Tensor which brings AI technologies into the real world. But the first major distinction between Google's Pixel 6 vs Pixel 6 Pro comes into place when we look at the devices.
The Pro option has different colors, a slightly bigger screen, and an additional camera. On the hardware part, it has more RAM and a higher screen rate. But it has a bigger capacity, so it holds the battery well even 2-4 hours longer than the classic Pixel 6.
When we compare Pixel 6 and 6 Pro, we see they have the same 128 Gb and 256 Gb built-in storage options without a chance to expand it with a microSD card. But you can do it with software measures, such as Google Drive, Dropbox, or other clouds.
In a nutshell, they are great options for general users and people who work with media. But Pixel 6 Pro gives you more room to create.