What does "not registered on network" mean? It means that you cannot make calls or write text messages from your phone. And the problem is most likely related to the SIM card. Agree, it is a very unpleasant situation, especially when our phone is the main source of communication. So let's look into this problem in more detail.
Before we start
Save your time and let professionals resolve your issue in minutes!
Want to start solving your problem immediately? Experienced Howly troubleshooters can fix your issue ASAP. They're already waiting for you in the chat!
The benefits you'll get while troubleshooting your issue with Howly experts:
Qualified help with laptops HDD

Quick advice right in your device 24/7/365

Expert reply within 60 seconds

Clear step-by-step guidance

Limitless number of follow-up questions

Understanding and empathetic help till your laptop HDD issue is fully resolved

All answers you need in one place
Why Is My Phone Saying "Not Registered on Network": Common Causes
Such a message can appear for a variety of reasons:
Firmware problem.
Damaged or disabled SIM card.
Incomplete operator settings on the phone.
The smartphone does not recognize the SIM card.
Don't worry, we know how to fix the "not registered on the network" issue on Android smartphones - Samsung, LG, Xiaomi, etc. Just continue reading.
"Not Registered on Network": How to Fix
We will describe the main solutions that, in most cases, can fix the problem. Start from the first one and continue trying to solve it.
Restart Your Android
If you have problems with your phone, you want to resolve them as quickly as possible. Regardless of the situation, the first thing that may come to your mind is to restart the phone. Indeed this action solves many problems, including your phone's not being registered on a Network. However, it is not something that we do every day, so if you forget how to reboot your phone, try the steps below:
Find and hold down the lock button. Usually, it is left or right of the phone.
The screen will display the power off and restart option, select the appropriate.
After your phone restarts, check whether the problem is resolved. If not, follow other steps.
Turn off Wi-Fi for 30 Seconds
If you want to fix "not registered on network" on Samsung or other Android smartphones, try to turn off Wi-Fi. Sometimes there are technical problems with your device. And turning off Wi-Fi for 30-60 seconds will help the phone reboot and eliminate inaccuracies. It looks like the algorithm of actions can help if you temporarily turn on and turn off the Airplane mode. However, this method helps more with invalid SIM cards.
Wireless Connection Should Be Switched
The previous advice didn't help you solve the "not registered on the network" issue? Then, try to switch off the wireless connection. Swipe down from the top of the screen and tap the Airplane icon. It will activate airplane mode. Let your phone stay like this for 30 seconds to 2 minutes. Turn off Airplane mode in the same way. Your phone will start a new connection and search for available networks. And the problem may be solved.
Re-insert the Phone's SIM Card
Remember what was happening with your phone before the problem appeared. It may have fallen, or you have recently bought a new SIM card. The problem may occur due to an incorrect location. We think that you have already guessed that you just need to re-insert the SIM card.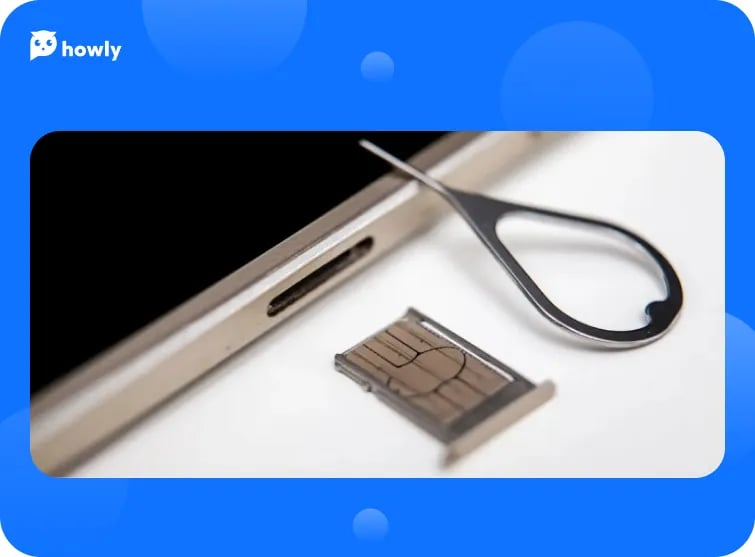 However, do not rush. After you pull it out, check it for mechanical damage, as well as the slot itself, where it is usually located. Maybe it's dusty and needs to be cleaned. After these simple manipulations, re-insert the SIM card, turn on the phone, and check if the problem is resolved. If not, let's find out how to fix the network not registered issue.
Try a New SIM Card
The next thing you can do is check if your SIM card is corrupted. To check this, try using a different one on your phone. First, remove the current SIM card from the phone. Insert a new one and make sure your smartphone is connected to the network. If so, the problem is with the first SIM card. Visit the operator's retail store, and they will be able to replace your defective one with a new SIM card. If the phone still does not connect to the network after connecting a new SIM card, you need to repair it.
Reset Your Phone's Network Settings
If your phone is not registered on a network, the problem may be in network settings. Thanks to the network settings, you can connect to any available and secure Internet network. However, if you have a problem, you may need to reset the default settings and install them manually. If you do not know how to connect to your Wi-Fi network after a reset, follow the instructions shown in the photo:
Open Settings on your phone.
Select System and Reset options.
Select "Reset Wi-Fi, mobile, and Bluetooth".
Select your SIM card and confirm the settings reset.
Select Your Preferred Network Type
Continue asking, "Why does my phone say "Not registered on network"? Don't worry, we still have solutions that may work for you!
Just remember how the Internet connection developed. First, 2G appeared. Then 3G replaced it. And now all devices are connected to 4G or even 5G. However, the latter is considered a relatively new network. And therefore, it is not yet available in all regions of the country. That can be the reason why your phone says "Not registered on the network." If it's so, then the solution is very simple:
You need to go to the Settings of your mobile phone and select the Wi-Fi & Network menu.
Then go to Sim & Network.
And choose the network that suits you.
You can also set up an automatic search. In other words, if you travel to an area where 4G is not available and only 3G works, the phone will switch automatically - and you won't make the same mistake.
Are Your Phones Registered on the Network?
In some cases, an error can directly result from account problems. It usually shows up as an account that is not set up correctly or configured by the operator. If you are a new user and have just joined the current network, your carrier may still activate your account. Be sure to call them and ask if this is the case. You may need to provide them with your phone's IMEI number and SIM number, so ensure you have this information ready before contacting them. In this case, all you have to do is wait until they do what they are doing.
Software Updating
If you want to fix "Not registered on network" on Samsung Galaxy or any other Android, you may need to update the software. Phone developers are constantly updating their operating systems. They consider the errors in previous versions and improve the new ones. If you have not updated the operating system on time, then you may experience this or any other error due to a malfunction of some functions or applications. They usually update automatically. However, if you have had problems with the Internet or not enough memory, do not forget to update the system when the opportunity arises. Look at the picture for the action algorithm and solve the "Not registered on network" problem.
Settings — System — System Update — Checking for updates.
Manually Update and Choose Your Carrier
Modern mobile devices can independently find the right operator. But if you see the message that your phone is not registered on a network, you need to consider this option as well. A failure occurs, and your phone has chosen a different operator – because of this, you get an error. Before doing any extreme measures, select the desired operator manually.
Go to your phone's Settings.
Select Wi-Fi & Network.
Right after the Wi-Fi function, click on Sim & Network.
Your phone will display all available mobile operators. Just select yours.
Turn on the Phone's Safe Mode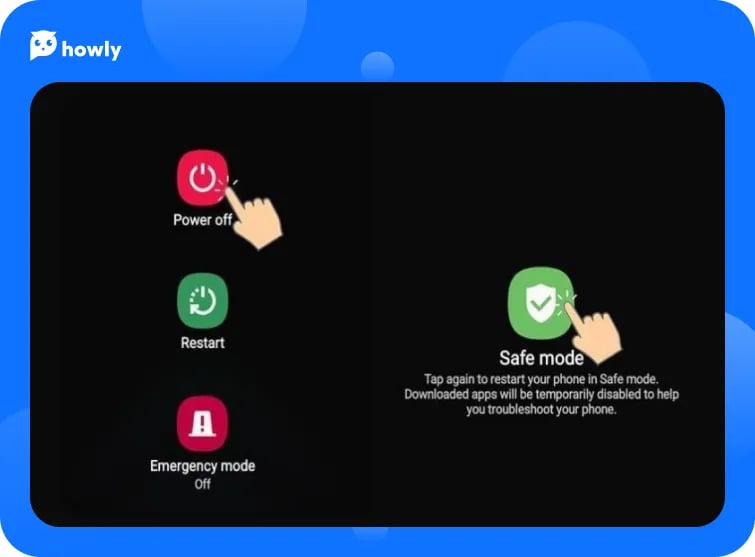 If you are wondering "why my phone says "Not registered on the network," there can be several reasons, but safe mode can help you fix it. If you are ever with a problem with blue screens, you are familiar with the safe mode. It limits the functions and features of your device but makes it possible to solve the problem.
How to turn on the safe mode? For most smartphone models, the instructions are similar: hold the lock button, and then hold power off. On the screen, you are prompted to move into safe mode and activate it. You can, in the same way, turn it off.
Ask for Assistance
You can always contact your provider and ask: "How do I register my phone on a network?" However, in our experience, they do not often seriously address the problem, other than listing the tips that we have already described with you. Therefore, we suggest looking for help from online services that deal with consulting with such issues. They can help you online and even solve the problem for you. Howly is one of such services. Here you can gain access to thousands of qualified experts. It's a fast, safe, and reliable way to solve any issue you have.
Factory Reset
If any of the methods can't help you to fix the "phone's not registered on a network" issue, it is time to reset your device to factory settings. What does it mean? When you first bought your phone, there was no data on it. All application contacts files you downloaded by yourself throughout your use. This step will delete all of this data with your permission, and you need to register a phone on the network again. Therefore, before proceeding, be sure to back up your personal data that you would not like to lose. Scroll through the settings menu to the end and press the corresponding reset button.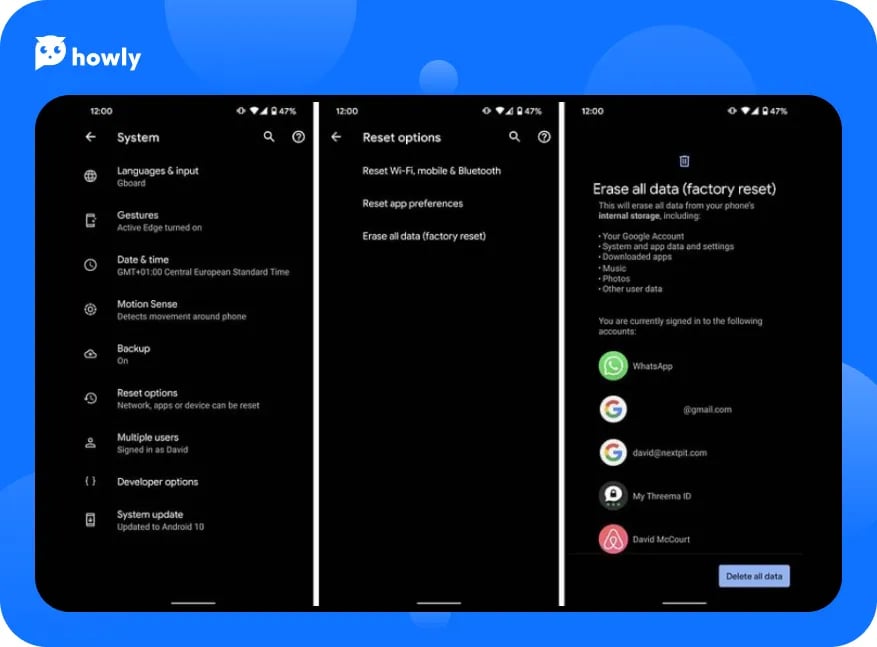 F.A.Q.
What should I do if I still see a "Not registered on network" error after replacing the SIM card?
If you inserted a new card and the error still bothers you, it means that the problem isn't with the SIM card. Fix the firmware issues to deal with the error. Follow the above-mentioned tips. They should work well for you.
What if the "Not registered on network" error occurred after a system update?
This is a clear sign of a bug in the update package. Try rolling back the system to a previous version or reinstalling the firmware. If you have no idea how to do this, contact Howly for a quick consultation.
Can I solve the "Not registered on network" problem myself?
Absolutely! In addition, it won't take you long. In most cases, the problem is a faulty SIM card. You can easily recognize what is wrong by following our instructions. Feel free to ask for help if all this seems too complicated for you, Howly is always happy to help!
Conclusion
The "Not registered on network" message means that your mobile phone cannot be used for communication. We hope that our advice helped to resolve your situation. If not, feel free to send us a message. The Howly experts will wait for your questions. You can ask how to solve "not registered on the network" or any other issue. We are happy to help you!