Nowadays, the phone is always at our fingertips, and we use the device primarily to keep in touch with others. So notifications are almost like a window to the world that keeps us informed. And when phone alarms don't work, many users start freaking out and frantically surfing the Internet, looking for an answer to the question, "Why am I not getting notifications?"
Before we start
Save your time and let professionals resolve your issue in minutes!
Want to start solving your problem immediately? Experienced Howly troubleshooters can fix your issue ASAP. They're already waiting for you in the chat!
The benefits you'll get while troubleshooting your issue with Howly experts:
Qualified help with laptops HDD

Quick advice right in your device 24/7/365

Expert reply within 60 seconds

Clear step-by-step guidance

Limitless number of follow-up questions

Understanding and empathetic help till your laptop HDD issue is fully resolved

All answers you need in one place
The problem isn't new, so tech geeks have long come up with effective troubleshooting solutions – you'll find the best ones in this article. Let's get right to it!
Best fixes for "iPhone notifications not working" bugs
In a world where you're trying to keep up to speed with the latest events, missing an important email, message, or call seems dreadful. Unfortunately, the "iPhone alerts not working" problem does happen. Moreover, it's not tied to a specific phone model and can be triggered by many causes. It doesn't even matter if the notification issue is related to a certain application or the system as a whole – solutions do exist.
So now, we'll answer the popular question, "Why am I not getting notifications on my iPhone?" and analyze the best fixes to troubleshoot the problem once and for all!
Flip Ringer/Silent switch
This is the first thing to do to fix the "iPhone not playing notification" issue. The fact is that the turned-off Ringer switch sets your gadget to Silent mode, and you no longer hear notifications even though you receive them. Therefore, check the button before proceeding to other repair solutions:
Spot the Ringer/Silent switch above the volume buttons.
If the button is down (you also see an orange background), your phone is in Silent mode.
Switch it up to activate Ring mode.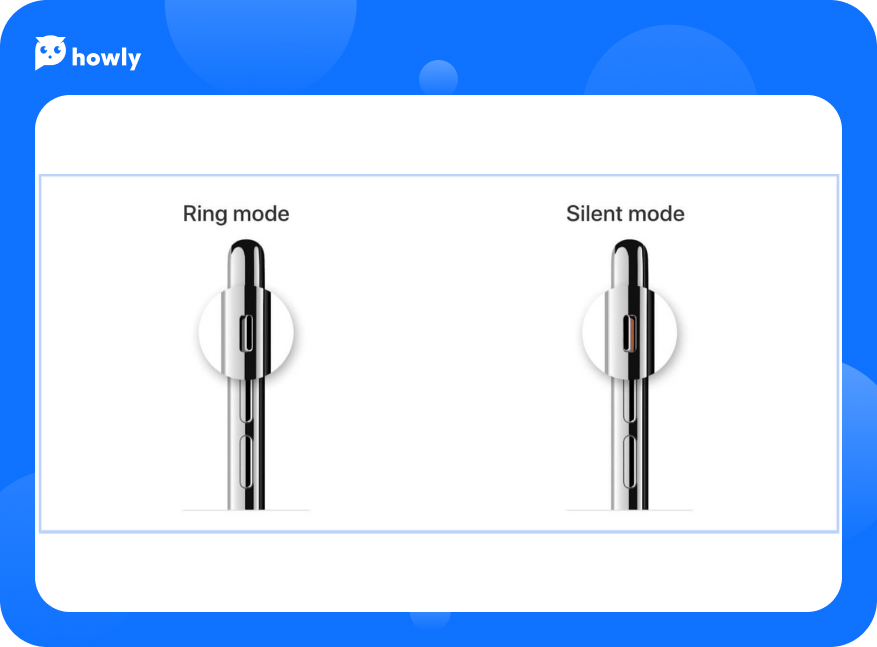 Try a quick phone reboot
Rebooting is a universal solution to many iPhone problems. This is a must-try option that can work wonders if you face a minor system bug. After all, a large number of running processes or corrupted temporary files are some of the most common reasons for notifications not showing on iPhones.
In this case, a one-minute reboot will do the trick:
Find the Power button and hold it down.
Move the slider to the right to initiate shutdown.
Wait at least 20 seconds and start the phone.
Check iPhone network connectivity
Most often, the main culprit for "notifications not working" iPhone problems is a weak or missing Internet connection. And this is quite understandable. After all, how can you receive a message or an email if you don't have access to the network?
Here's how to detect and fix the problem:
Launch Settings and hit Wi-Fi.
Check to see if the Wi-Fi switch is on.
If you aren't connected, seek out the preferred network and tap on it.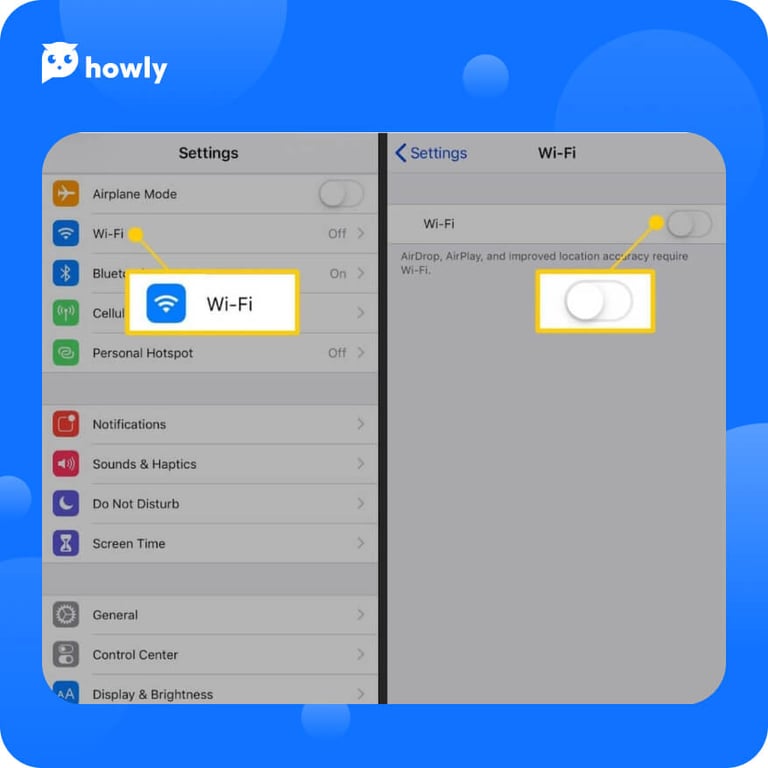 What about cellular connectivity? It's still easier!
Swipe down the screen and enter Control Center.
Find the Cellular button and check if it's green (as in the picture below). If no, tap on the icon to turn it on.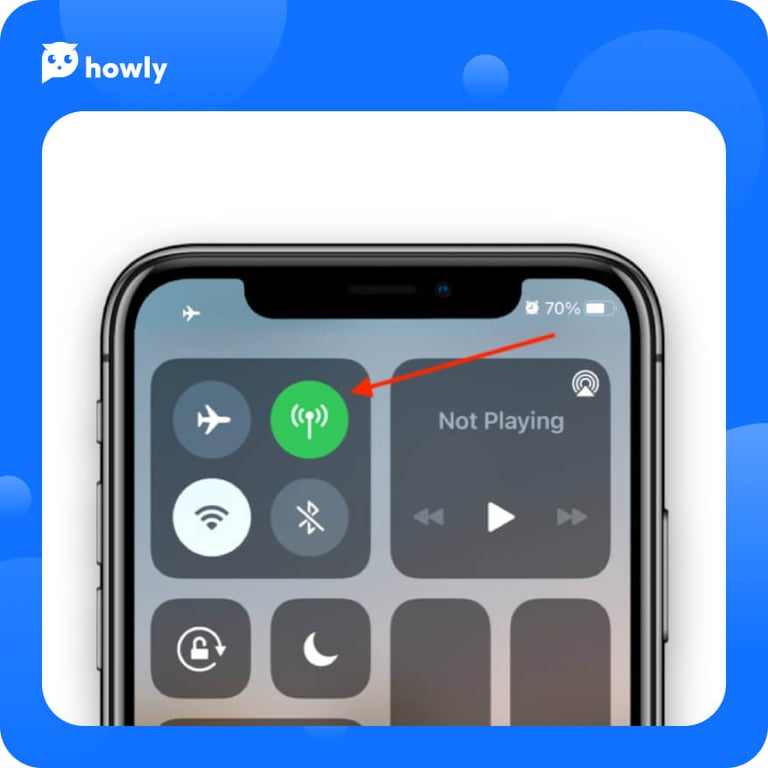 Turn off the Focus mode
Many iPhone owners wonder, "Why aren't my notifications working?" without even suspecting that the reason is so simple – activated DND (Do Not Disturb) or Focus mode. The feature is useful for certain purposes (e.g., driving) as it allows not receiving notifications on your iPhone when you don't need them. But you could just forget to disable the mode, so the phone alerts still don't work. Or maybe you activated the Do Not Disturb mode by accident.
Anyway, the solution is simple:
Open iPhone Settings and find the Focus or Do Not Disturb tab (the name depends on your iOS version).
Tap Do Not Disturb.
Hit the switch to turn off the mode.
Allow app notifications
If you face an "iPhone not showing notifications" issue linked to a specific app, let's say WhatsApp, chances are you've disabled the pop-ups. After all, alerts are set individually for each application. Thus, you'll never get notifications from all the iPhone apps running on your phone until you allow it.
So how to set app notifications? Here are the steps:
Run iPhone Settings, locate the Notifications tab, and tap on it.
Find WhatsApp (or any other app your iPhone not getting notifications from) and tap on it.
Activate the switch to Allow Notifications.
Update the faulty app
The question "Why aren't my notifications working?" usually arises among people who haven't updated a particular application for a long time. For example, some social networks such as Instagram or Telegram require constant updates, and their outdated versions start to glitch, lag, or stop showing notifications.
However, the situation can be easily fixed:
Enter the Apple Store.
Tap on your profile icon.
Find the suggested update for your problematic application and tap on the appropriate button to upgrade the program to the new version.
Get the ultimate iOS update
Just like an outdated application, an outdated iOS also starts to crash, resulting in various system lags, app failures, and the "push notifications on iPhone are not working" issue. So if you find yourself in such an unfortunate situation, it's time to update the system to make your phone work flawlessly. Consider the guidelines on how to make this work:
Launch iPhone Settings > hit General > choose Software Update.
Is the update already available? Hit Download and Install and wait for your iPhone to finish updating the software.
When the installation process is complete, restart your device and see if the "not working notifications on iPhone" issue is resolved.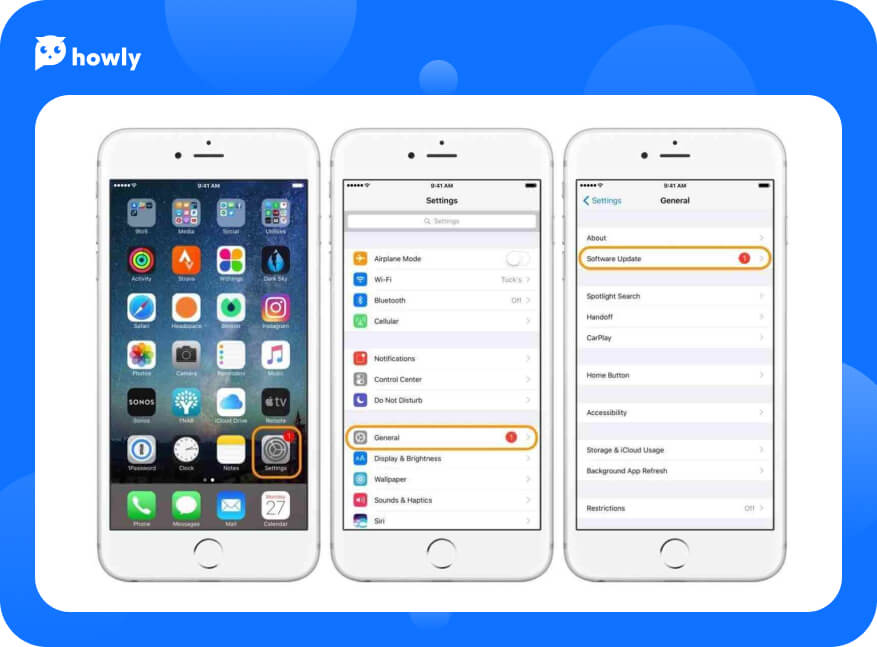 Adjust the Low Power mode
Many iOS fans have wondered, "Why are my notifications not showing up on iPhone?" but then admitted that the problem was caused by Low Power mode. Indeed, the feature helps save battery on your phone but operates by disabling notifications and some background processes to make your device work longer without charging. The below steps will help you disable the mode:
Enter iPhone Settings > scroll down until you find the Battery tab > tap on it.
Hit the toggle button to turn off the Low Power mode.
Now you know all the effective solutions on how to fix notifications on your iPhone. We hope this information served you well and helped you hear your phone alerts again. If some notification issue is still tormenting you, Howly experts can provide you with instant help via online chat and come up with an individual solution to your problem. Stop racking your brains, you aren't alone!
F.A.Q.
Why am I not getting any notifications on my iPhone?
The most common causes of non-working iPhone notifications include Internet connection issues and turned-on Do Not Disturb, Low Power, or Silent mode. The problem may also lie in the muted application itself or a system error.
Can I see deleted iPhone notifications?
Absolutely. Past notifications are stored on your device. Swipe down the screen from the top left corner – and you'll spot all notifications there, including the deleted ones. They'll be filtered by applications and days. Just click on those you need to open them.
How to delete all my iPhone notifications?
Access the Notification Center by swiping down the screen – and you'll see all your notifications. Swipe left to remove one group of alerts. Long-tap the "X" icon to remove all notifications at once.
Summary
We know how it feels when you have no notifications on your iPhone. And it's even worse when the technology isn't "your thing," and you don't have enough background to repair the problem. Therefore, we've introduced simple guidelines that don't require any additional skills to complete. Let's summarize what you need to do to fix iPhone notifications:
Turn on the Ringer mode;
Reboot your phone;
Turn on Wi-Fi or cellular data;
Deactivate Do Not Disturb mode;
Allow notifications from a muted app;
Update a faulty application;
Update your iOS;
Don't use the Low Power mode.
These methods work for any iPhone model, so feel free to use them when looking for trouble-free ways to repair iPhone notifications!