Startup problems are common in Windows systems. It happens due to various reasons: MBR and CMOS issues, too harsh antivirus protection, app glitches, broken registry, etc. It may become even more dramatic when you see the "Automatic Repair couldn't repair your PC" error.
Before we start
Save your time and let professionals resolve your issue in minutes!
Want to start solving your problem immediately? Experienced Howly troubleshooters can fix your issue ASAP. They're already waiting for you in the chat!
The benefits you'll get while troubleshooting your issue with Howly experts:
Qualified help with laptops HDD

Quick advice right in your device 24/7/365

Expert reply within 60 seconds

Clear step-by-step guidance

Limitless number of follow-up questions

Understanding and empathetic help till your laptop HDD issue is fully resolved

All answers you need in one place
But don't worry, in most cases, it's a fixable issue. You can fix Windows 10 startup problems at home within 20-30 minutes. Just stick to further instructions from Howly experts!
How to fix the not working startup repair on Windows: 9 efficient solutions
You can't open the repair menu for various reasons. But most of them are software-based, so you can fix it at home with a fine troubleshooter!
Firstly, restart the computer: this easy action clears temporary documents. If this didn't help, manually call Startup Repair.
Update apps and vital drivers. Old software is one of the most common causes why startup repair couldn't repair your PC on Windows 10.  The next step is to boot only the essentials in the Safe mode. If you can access the Advanced Repair menu, check the settings. They may be the source of the problem. But if this didn't help you, provide more severe actions.
Try the System Checker. Adjust the Boot Configuration and restore the MBR document. Run the DISM to adjust Windows installation media.
If none of those actions helped you, consider a factory reset. This action removes everything from the PC. But if your Windows 10 advanced startup is not working even after this, it may be a hardware malfunction. Contact Howly technicians to get personalized instructions.
Restart the PC
Restart your computer to fix PC startup problems on Windows 10. This action removes temporary documents, including possible corrupted ones.
You can also try a hard restart. Turn off the computer as usual. After this, unplug it from all cords, including the power one. Wait for 2-3 minutes. Plug everything back. If you have a laptop, take out the battery from it. If this is not possible, leave the laptop until its battery dries out. Charge it and try to use it as usual.
Manually launch Startup Repair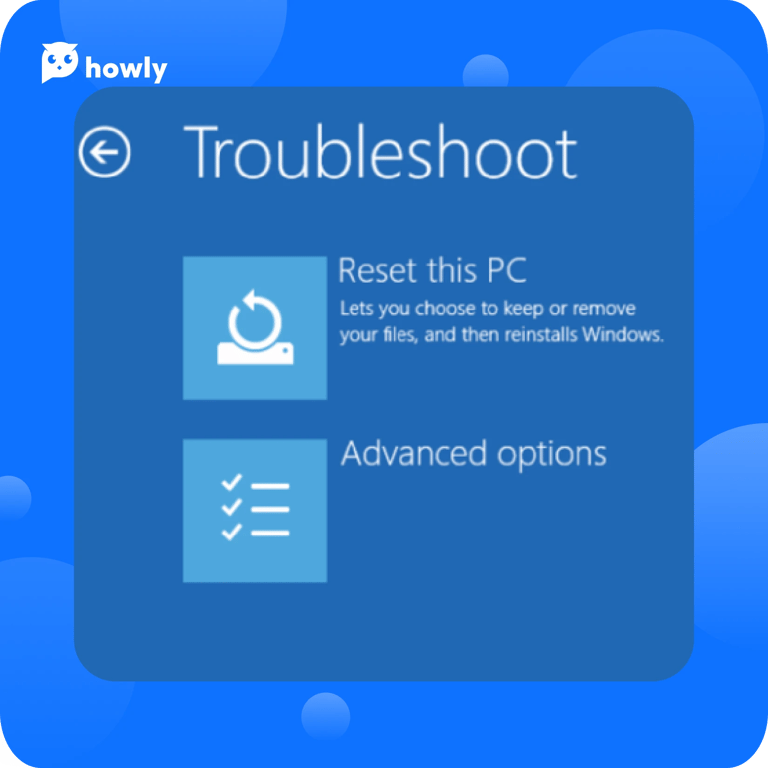 It's another common way to deal with a failed Windows 10 repair. You can call for a built-in repair tool in three ways:

You have to open a Recovery environment, there are 2 ways:
Reboot from settings. Follow this path: Windows → Settings → System → Recovery → Advanced.
Hold CTRL + ALT + DEL. It will redirect you to the Switch User display. Click on the virtual POWER key. Press the Shift and choose Restart.

OR
Hard shut down while booting. Start up the computer as usual, but once the system begins to load, hold the POWER until the device switches off. Repeat it thrice

Then in the Recovery environment, you have to:
Select Troubleshoot -> Advanced options -> Startup Repair.
Select your account and press Continue.
Once you run the tool, stick to the instructions on the display. The Windows system automatically scans all drives and looks for system files to repair. If the tool finds a problem there, it fixes it and notifies you.
Update drivers
Old software is a common reason for glitches, including not working Windows Startup Repair. However, you can update all drivers in less than 10-15 minutes.
Go to the Device Manager app. Right-Click on Windows and choose it from the drop-down menu.
Update display, network, and processor devices. They are most crucial. Right-click on the device and pick the Update option. Repeat until you check every device.
If the system marks that it has the latest drivers, try more severe actions to fix computer startup problems in Windows 10.
Load on the Safe Mode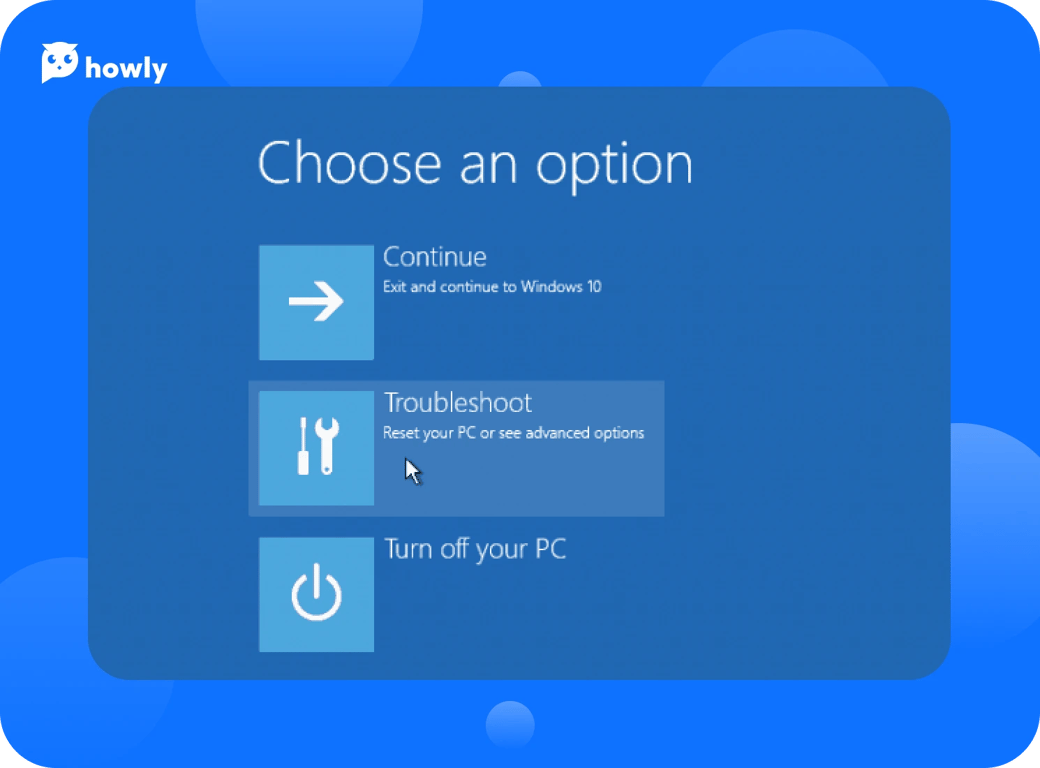 During it, the system loads in its core state, with basic drivers. Use the Startup repair while you are in Safe mode. If it fails, the problem hides in the system itself. It has wrong default settings or glitches in basic drivers. It causes the problem when Windows 10 startup repair is not working. The easiest way to run Safe mode is from the settings:
Click on Windows. Select Settings (it looks like a gear) → Update → Recovery → Advanced Startup → Restart.
While the system is booting, you'll see a Choose an option menu. Follow Troubleshoot → Advanced options →→ Startup Settings → Restart.
You'll see a list of possible loading options. Press the 4 or F4 physical buttons to boot in classic Safe Mode. If you want to use the internet (to load drivers, etc), hold 5 or F5 to load networking SM.
Rebuild BCD & repair MBR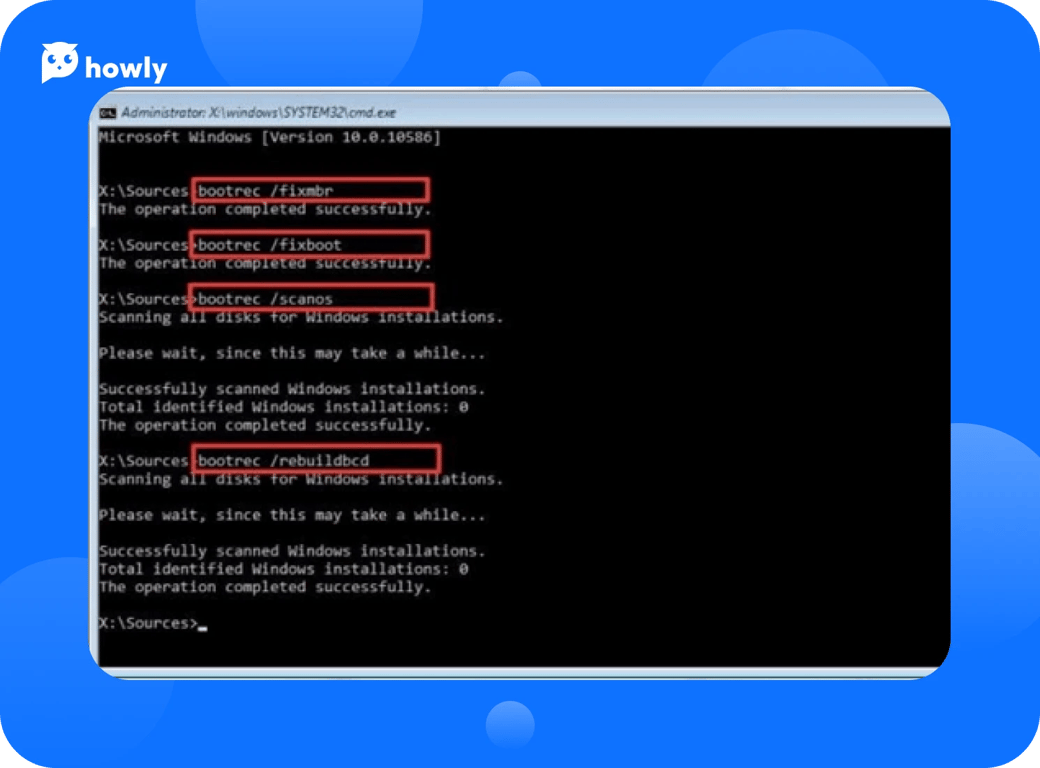 Those actions adjust the boot configuration and the master boot record document. It could be why Windows 10 repair is not working on your PC. First of all, go to Recovery Environment (you may check  how to access it, using instructions above).
Once you select Troubleshoot -> Advanced Options, choose Command Prompt. Windows will ask you for a system password. After you enter it, you'll see the prompt. Type the next commands:
bootrec.exe /rebuildbcd
bootrec.exe /fixmbr
bootrec.exe /fixboot
It reset Boot Sector to default, which fixes failed startup repair on Windows 10.
Use the Disc Checker
This built-in tool helps you to find various issues, including the broken system repair of Windows 10. It scans the system for broken system data to restore:
Click on the Windows logo.
Type Command.
Once you see the Prompt, right-click on it.
Select Run as admin.
Paste the sfc /scannow
To start a scan, press the physical Enter button.
Run the DISM tool
It's the most severe software action that you can make. It removes all user data and bring back the basic state and settings of Windows:
Click on the Windows logo and select Settings → Update & Security.
Go through the Recovery → Reset → Keep.
But if you want to delete everything, select Remove everything. It wipes every piece of information on the PC and downgrades Windows to the version that was at the moment when you set it.
F.A.Q.
Why couldn't the Startup Repair fix my computer?
Your PC has software glitches due to outdated system apps, drivers, or corrupted files. Once you fix them, you'll have a perfectly working startup repair feature.
Why couldn't the Automatic Repair your PC?
It's mostly a software issue. You may face this glitch when your system has corrupted or is out of crucial system files, or runs with old apps and drivers.
Why does Windows 10 Startup Repair fail, even when I restarted the system?
It mostly happens due to old software and corrupted data. Troubleshoot system glitches, and it will resolve the problem.
Final thoughts
There are many reasons for not working Windows Repair. Usually, it's outdated software and drivers, settings glitches, and corrupted documents. Reboot the PC and manually call a Startup Repair. Update applications, check drivers, and load the system in Safe mode. It loads Microsoft Windows with basic drivers and default system settings.
If you still have a not working Automatic Repair on Windows, the source of the problem hides in the system. Run the system checker and rebuild the BCD and adjust MBR. Use the DISM tool to adjust Windows installation media.
If nothing helps, consider a factory reset. It's the most severe software action that you can do. It deletes everything from the computer and downgrades Windows. After a hard reset, you'll have the same Windows version as at the installation moment.
But if even after this Startup Repair on Windows 10 is not working on your PC, contact Howly experts. Tell them all details of your situation, so they will give you a tailored troubleshooter.