So you are faced with the problem of replenishing the JailATM account of your significant others. Do not worry – we will consider the causes and possible solutions to this problem. Please note that, in this system, funds are credited to the account within 1-2 days. The most common problems with adding funds to JailATM are:
Before we start
Save your time and let professionals resolve your issue in minutes!
Want to start solving your problem immediately? Experienced Howly troubleshooters can fix your issue ASAP. They're already waiting for you in the chat!
The benefits you'll get while troubleshooting your issue with Howly experts:
Qualified help with laptops HDD

Quick advice right in your device 24/7/365

Expert reply within 60 seconds

Clear step-by-step guidance

Limitless number of follow-up questions

Understanding and empathetic help till your laptop HDD issue is fully resolved

All answers you need in one place
Problems with logging in to your account;
Transaction failure;
Incorrect card information;
Rejection by the bank;
Failure of the ATM;
Lack of funds in the account;
Incorrectly specified recipient data.
The most common reason why the JailATM account won't let any funds be added is that the funds were credited to another inmate by mistake. In this case, you should contact the person that owns the account to which the funds were sent.
Another reason why you may have problems with adding funds to the JailATM account is that the transfer limit is exceeded. According to the law, an amount of money greater than $300 per week cannot be transferred to a resident's account. The exact amount of funds may vary depending on the institution.
Also, note that JailATM only accepts Visa and MasterCard cards. So you may experience problems trying to replenish the account by any other payment methods.
If you get an error during the payment process, saying "Payer Authentication has failed", you need to sign in to your account or be authenticated.
Adding or changing payment card information in JailATM
If you have lost access to your card or simply replaced it, then you may also encounter a problem "the account does not allow funds to be added to the JailATM".
To add a new payment method, follow the guide:
Sign in to your JailATM account.
Click on the My Account tab.
Next, expand the Settings field.
Then click on the Payment Methods line.
Select the New tab.
Fill in the fields with information about your payment card.
​​If you would like to use this card to pay for your messaging subscription, please mark it in the box.
After that, click on the Save button.
If you need to change or delete your payment system details, follow these steps:
Log in to your JailATM account.
Click on the My Account tab.
Next, expand the Settings field.
Then click on the Payment Methods line.
Choose which payment method you want to remove or change.
Then click Edit.
Make changes to the fields and click Save.
If you need to remove the card, click on the Remove button.
Note: Before deleting a card, you need to give up on this messaging subscription.
Contact JailATM Support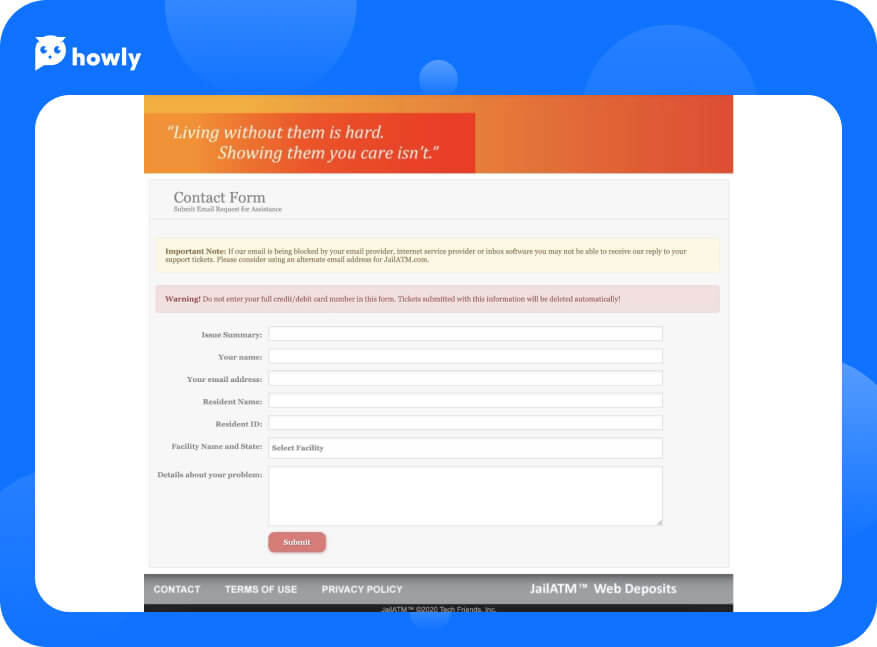 If our advice hasn't worked for you and you still face the "account do not allow funds to be added to the JailATM" problem or need other help, contact Jail ATM support. To do this, follow the link and fill out the form.
And if you want to get more personalized and quick help, contact our experts. They are waiting for your questions in chat round the clock!