If you've recently got a Cricut machine and are eager to turn your creative ideas into reality, connecting the device to your PC is the first step. This guide will walk you through the simple process to connect Cricut to a computer. Whether you have Cricut Maker, Cricut Joy, or Cricut Explore, we've got you covered. So, take a look down below to learn how to pair the cutting machine without problems.
Before we start
Save your time and let proficient specialists in Cricut troubleshooting resolve your difficulty in minutes!
Sometimes, even a simple device setup can take a lot of effort and time due to some hidden issues. You can easily avoid it by asking for help from qualified specialists in Cricut troubleshooting. Contact Howly experts any time of the day and get professional assistance!
The pros you'll get resolving your Cricut difficulty with Howly experts:
Professional help with Cricut

Quick advice right in your device 24/7/365

Expert reply within 60 seconds

Clear step-by-step guidance

Limitless number of follow-up questions

Patient and understanding help till your Cricut difficulty is fully resolved

All answers you need in one place
Pairing Cricut with a Windows PC
Let's start with instructions on how to connect Cricut to a computer with Windows OS. There are two methods to do it: via Bluetooth or by using a cable. You can find detailed instructions down below. And make sure to set up Design Space on your PC beforehand. You'll need it to set up a connection.
Via Bluetooth
Connect a Cricut via Bluetooth to a PC if you prefer a wireless connection. To do so, follow these steps:
Power on your Cricut and place it near your computer (not more than 15 ft away).
On your PC, navigate to the Start menu → Settings → Bluetooth & Other Devices.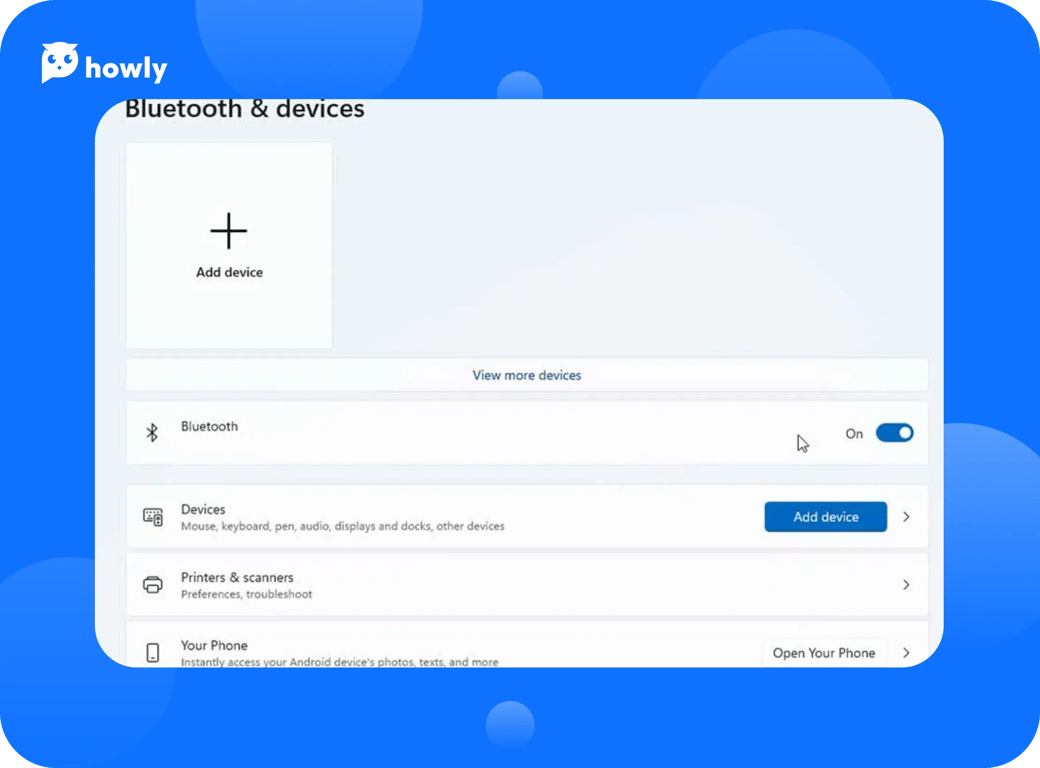 Activate Bluetooth, select Add Device → Bluetooth.
Wait until your Cricut device appears in the list and select it.
The last step is to go to the Design Space app → New Product Setup and finish setting up the connection.
Using a USB cable
Is the Cricut Maker Bluetooth pairing not working? You can connect your cutting machine utilizing a USB cable. It usually comes with a cutting machine. Once you have a cable, do the following:
Power on your Cricut.
Link the machine to a computer using the cable.
When your device is connected, go to Design Space and choose New Product Setup. Wait until it completes.
Keep in mind that this method is not suitable for Cricut Joy, as this machine can be paired only by using Bluetooth.
Connecting Cricut to a Mac PC
For Mac users, there are 2 ways to connect Cricut to a computer: Bluetooth or USB cable, same as for Windows. But, the process is slightly different. So, check our step-by-step instructions to pair your machine with a Mac PC.
Via Bluetooth
For a Cricut Maker wireless connection to a Mac PC, you should download Design Space first. Then, follow the steps below:
Power on your Cricut and place it near your computer (not more than 15 ft away).
On your PC, navigate to the Apple menu → System Preferences → Bluetooth.
Activate Bluetooth and pick your Cricut from the list.
Go to the Design Space application and finish the setup following the prompts.
Using a USB cable
If Cricut is not connecting to a computer wirelessly, or you simply find this method inconvenient, connect the device to your computer with a USB cable. But, as Mac PCs don't have a USB port, you'll also need to use an adapter. Here is a guide:
Press the Power button on your cutting machine.
Utilizing a USB cable and an adapter, link the cutting machine to your Mac.
Install Design Space, open it, and choose New Product Setup. Wait until your Cricut appears as a connected device.
Note, that sometimes Cricut won't connect to a computer via a USB port. For example, Cricut Joy can be paired by Bluetooth only.
F.A.Q.
Can I connect a Cricut machine to my PC via Bluetooth?
It depends on what machine model you have. Cricut Explore Air/ Air 2, Cricut Joy, and Cricut Maker have Bluetooth, while Cricut Explore and Explore One models don't.
Where is the pair button on Cricut Maker?
There is no physical Cricut Maker pair button on the device. Instead, you can activate Bluetooth through the settings on your PC or mobile device.
Conclusion
Now, you know how to set up Cricut Maker and other models. If you want to pair your devices wirelessly, remember to ensure your cutting machine has built-in Bluetooth. Or, utilize a USB cable included with the device.
And if there is an issue with the Cricut software, feel free to contact Howly specialists via chat. Get professional help and resolve any issue much faster!